Curtis Brown Creative review—are its writing courses a good fit for you?
Curtis Brown Creative writing academy has developed actionable, inspiring courses that will benefit both budding writers and experienced wordsmiths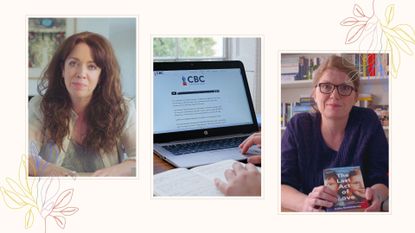 (Image credit: Future | Curtis Brown Creative)
Curtis Brown Creative courses are well thought out, inspiring and will undoubtedly improve your writing and confidence
Reasons to buy
+

Run by a reputable literary and talent agency

+

Prestigious, experienced teachers

+

Range of price points and course lengths to suit most

+

Excellent online user experience

+

Continued access to the course and materials after completion

+

Support for technical issues is readily available

+

Readymade critique group provided

+

Supportive environment
Reasons to avoid
-

Tutor feedback costs extra on short courses

-

Feedback is not given by the named teacher

-

You'll need to commit at least one day a week to get the most out of the courses
Curtis Brown Creative in numbers
20+ courses available
3 free mentoring schemes
160 major publishing deals for students
£125 starting price point
There are hundreds—if not thousands—of writing courses available, but Curtis Brown Creative's courses are frequently recommended by writers and industry insiders alike. We road-tested some of their most popular programs to find out what enrolled students can expect to help you decide if the courses are a good fit for you.
Curtis Brown Creative offers a wide portfolio of courses that range from 1 day to 6 months in length. Prices start at an accessible £120, but there are also some fully-funded places available for under-represented writers too. Topics range from the broader novel writing to more specific genres, so chances are whatever your literary ambitions—be they to craft one of the best books of 2022, or a page-turner good enough to earn accolades like one of the best thrillers or best romance books of the year—there'll be a course that appeals.


Why is Curtis Brown Creative so popular?
Curtis Brown Creative is a writing academy founded in 2011 by the Curtis Brown agency, which represents some of today's most successful writers (we won't bore you with an expansive list but Margaret Atwood, Jojo Moyes, and Marian Keyes are all on their books).
Since then, more than 160 graduates have secured publishing deals. Former students you will likely recognize from bestselling books lists include Jessie Burton (The Miniaturist), Jane Harper (The Dry), Nicholas Searle (The Good Liar), Kirsty Capes (Careless), and Bonnie Garmus (Lessons In Chemistry).
The most famous course in their stable is the Writing Your Novel course—a selective application course that takes six months. You can complete this in person in London, or online from anywhere. However, the most popular Curtis Brown courses are the short ones, which anyone can complete. They run for an average of six weeks and are delivered by some of the best authors in the business.
The Curtis Brown Creative courses we tested
The woman&home team tested two Curtis Brown writing courses in 2022: the six-week Writing a Memoir course, and the six-week Writing a Psychological Thriller course.
1. Writing a Memoir
A bestselling memoirist shows you how to put your life on a page
Specifications
RRP: £210
Teacher: Cathy Rentzenbrink
Course duration: 6 weeks
Application criteria: None
Start dates: Rolling throughout the year
Tutor feedback included: No
Delivery: Online
Reasons to buy
+
Warm, motivating instructional videos that are easy to follow
+
Useful writing exercises that are transferable to other types of writing
+
Clear teaching modules and notes that solidify learning
+
Mobile friendly so you can participate on the go
+
Student forum is confidence building
Reasons to avoid
-
You only get professional feedback on your work once in random rotation
-
In-depth feedback costs extra
-
If you want to progress to the longer selective course the enrollment dates may not align
This course was reviewed by Kelly Bowerbank, former editor of womanandhome.com
For years I've had a vague idea for a memoir and empowering feminist book floating around inside my head. I couldn't pin it down though, it felt fleeting. I could see it in my peripheral vision but when I tried to examine it properly it would vanish. Occasionally I'd write a few paragraphs on my phone when the mood struck, but there was no coherence and no direction.
This course appealed because it boldly claimed I'd have at least 3,000 words, a book outline and synopsis in six weeks. For someone who'd scribbled a total of 500 words over a three year period that felt punchy, but exciting.
What I liked about the course
The course was delivered by Cathy Rentzenbrink, through a series of warm and encouraging videos and written exercises. She was authorative but also someone you'd like to go to the pub with with. Her demeanour made it easy to absorb the information. While there was no interaction with her during the programme, the course materials anticipated most of my questions, and some useful examples were provided almost every step of the way which helped get me started on each task.
Writing a memoir can be particularly challenging if you're writing about an experience(s) from a long time ago, which I am. The modules helped me overcome initial stumbling blocks around memory recall, with a series of easy to follow exercises. I learned how to use meaningful objects, music and places to excavate my story. A lot of the writing exercises felt transferable to other types or writing too so I'll keep them to refer to for other projects.
Six weeks doesn't sound like much of a commitment, but if you want to get the most out of the program then you'll need to dedicate at least a day a week to it. I found I enjoyed it so much that my time on the tasks and the forum regularly crept beyond that. I'm a working parent with two kids so I snatched time to do this where I could, on trains, outside gymnastics classes, in the queue at Pret. The mobile friendly platform and forums made it easy to dip in where I had a few spare moments. It also meant it was easy to see when you had comments or feedback, which after weekly submissions were what I lived for!
At the start of the course I was desperate for professional feedback, but I quickly realised that a lot of the value of this course is the emphasis on peer feedback from your fellow students. I gained a lot of knowledge from the course modules, but I learned just as much from reading others work and listening to other peoples thoughts on my work. There was an assortment of people in the group, from journalists to retired grandparents, former teachers to business owners, salsa dancers and everything inbetween. And in that range of backgrounds was where the magic happened. We all started tentatively with our feedback, applying what we had learned carefully and constructively through our own lens and experience, but we found our enthusiasm and grove soon enough. There were 20 or so of us on the course and 13 of us made it into a WhatsApp group after. We chat almost daily and plan to keep the critiquing going. The course was worth it to meet these people, but I also achieved the promised outline, Synopsis and 5,000 words that I was proud of (66% over my goal!).
What I didn't like about the course
Professional reader feedback is given once randomly throughout the course, unless you pay extra. Your assigned reader is an industry expert but not the named tutor. Because it's done randomly you don't have any say on which piece of writing they assess, which some people may find disappointing.
However, given the cost of the course this level of feedback isn't surprising. And I found reading the weekly feedback for the other students, which is shared publically on the forum, really useful. The insights, while specific to the piece they were critiquing, often had lessons that were applicable more broadly within the group. And because the level of engagement and quality of student feedback was high in my group I felt I still got a lot of ideas for how to improve my work.
By the end of the course I had the bit between my teeth and I would have loved to apply to the selective three month memoir writing course. However, a cohort had recently started and the next intake had not been scheduled, that took the wind out of my sails. It would be great it dates for courses students might feed onto were published several months in advance.
Do I recommend this course?
Yes, I loved the course and got a lot out of it. I'd recommend it to anyone with an idea for a memoir who's looking to kick start the creative process or to people wanting to refine an existing project. Personally, I'd definitely complete other Curtis Brown writing courses in future too.
What about the written report and tutorial
For extra fees you can get a 500 word report on your submission and a tutorial.
After you've cranked out several thousand words that doesn't feel like a lot of feedback but it's laser focused, actionable and constructive. It caught blind spots and technical issues that peer feedback missed.
I liked that you could add this as an additional purchase at any point during the course too. Initially I didn't think I'd need it (or want it), but I found that by week five I'd tightened up my idea and structure enough that getting industry feedback was appealing.
If this is a personal passion project you may not feel the need for a professional critique, but if your ambition is to be published, and you can afford it, then I recommend the additional investment in your project.
2. Writing a Psychological Thriller
A bestselling author on the secrets of a twisty thriller
Specifications
RRP: £210
Teacher: Erin Kelly
Course duration: 6 weeks
Application criteria: None
Start dates: Rolling throughout the year
Tutor feedback included: No
Delivery: Online
Reasons to buy
+
Amazing insight into the brilliant mind of journalist and bestselling author Erin Kelly
+
In-depth insight into the thriller genre
+
Access to Erin's own case studies for her bestselling novels
+
Flexible deadlines so that the course can be carried out around existing workload
+
Student forum and feedback helps overcome shyness
Reasons to avoid
-
Professional feedback is limited and not from the course tutor
-
A post-course writing report is offered, but comes at an extra cost
This course was reviewed by Lauren Hughes, former deputy editor of womanandhome.com
They say that everybody has a book inside them, but I'm not quite sure what it says about me if mine involves obsession, deception and most likely a bloody murder. My escapism of choice is getting lost in the depths of twisty psychological thriller books, so if I was going to turn my hand to fiction, it was always going to be something gritty.
As a journalist with ten years' experience, penning breaking news stories doesn't phase me, nor does crafting a detailed medical explainer or emotive long read. But the thought of writing fiction gives me the chills. The doubts always seem to creep in. Will the dialog sound realistic? Haven't these plot twists been done a thousand times before? How does one ever conceive an original idea? And just how is it possible to keep creativity flowing, writing page after page? I'm sure that these fears are not unique among fiction-writing newbies, but what's the best way to overcome them? In my experience, it's looking them dead in the eye with a six-week intensive course, where you'll share your own work with other aspiring writers. Nail-biting stuff.
What I liked about the course
Erin Kelly is a powerhouse when it comes to the thriller genre—and this was a definite pull for me when looking at which course to try. While there wasn't any interaction with Erin, it was still a privilege to be able to gain insights into the thinking behind bestsellers like The Poison Tree and He Said/She Said. As a tutor, Erin is engaging and approachable. But, most importantly, her teaching is easy to understand and the key takeaways are always clear. Half the battle with planning and executing any kind of psychological novel is getting to know your characters really, really well. And it was character development where I found Erin's insights invaluable.
Making a foray into fiction writing is definitely out of my comfort zone. I approached the course with much trepidation. The format really helped with this, as breaking the process down into weekly modules encouraged me to think of each aspect of writing a novel, so it felt much less overwhelming. Some of the modules were easier than others. For example, I was full of ideas for the Hook and Premise tasks, but really struggled to think up a satisfying conclusion when it came to the Endings and Next Steps module. This will be individual to each writer, of course, but the real plus is that, due to the variety of tasks, you're likely to discover your strengths and weaknesses quickly.
I've jotted down thoughts on potential plots since I was a teenager, but have never previously had the time or dedication to sit down and actually write a chapter. Fear of failing also crept in here. But a course like this allows you to develop your characters and ideas so well that by the time you do sit down to write, the words will practically leap out onto the page. Now, I'm not saying that writers block didn't still rear its frustrating head from time to time, but I found spending more time on plot and character development gave me the confidence to actually start writing—a first hurdle that I've always fallen at before. I always thought novel writing would be much more linear, but armed with these new thought processes I can see how—with a lot of imagination and dedication—a fully-fledged work of fiction could come take shape from my garbled plot ideas.
It's worth adding that the course is exceptionally good value, considering not only the course material itself, but also the opportunity it brings to share ideas and copy with other aspiring writers. Though a downside might be that professional feedback is limited and sporadic, you do really come to value the insights of your peers and sharing the journey together creates a space that feels liberated of hierarchy or judgement. I think I would have been quaking in my boots to hear's Erin Kelly feedback on my early work.
What I didn't like about the course
With a high-profile course tutor like Erin, some course attendees may expect some level of interaction, however I felt that through the video sessions I was still able to gain a great insight into Erin's own thought processes for novel writing and the peer interaction meant the course didn't feel solitary.
This is not a criticism of the course itself, but more just an observation that if you're trying to juggle full-time work with a six-week programme, I'd think about whether you can take some time off weekly to dedicate to the course (a day should suffice), or save enrolment for a time in your life where you have more spare time. Trying to manage the workload during evenings and weekends is certainly possible, but having a bit of extra headspace weekly means you can really commit and get the most out of each module.
Do I recommend this course?
A resounding yes. For someone like me who's a keen—but nervous—aspiring novelist, it's a great entry-level programme that will change the way you approach writing. For me, novel writing became far less intimidating and I'd be keen to try other courses that are geared towards refining an existing novel, once I've honed my craft further with the skills developed during the past six weeks.
Curtis Brown Creative's most popular courses
This is just a snapshot of the most popular courses that Curtis Brown Creative runs. If your plans are to replicate the success of the Bridgerton books or to try your hand at writing one of the best historical fiction novels, or a crime or sci-fi series it's worth looking at the full list of courses. You may find something tailored to your particular genre.
Kelly is the former Digital Editor of womanandhome.com. She joined the brand in 2015 and left in March 2022. With over 15 years of experience in digital and print journalism, Kelly has worked for some of the UK's most prestigious publishers, including The Guardian, Shortlist Media, Time Inc, and now Future Publishing. She specializes in women's lifestyle and has been nominated for two PPA awards throughout her career. In the past, she had provided expert advice and comment for the BBC and Channel 4 about fashion and feminism. Kelly also guest lectures at the London College of Fashion about digital fashion media.