The Bridgerton books you need to add to your reading list ahead of season 2 of the Netflix hit
The Bridgerton books could hold the key to the Netflix drama's upcoming seasons...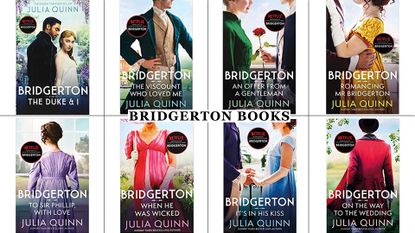 (Image credit: Future/Amazon)
The Bridgerton books are a must-read for fans of the Netflix period drama and there's never been a better time to catch-up on all the drama, romance and secrets that could inspire future seasons.
Bridgerton captured fans' imaginations from the moment it landed on Christmas Day and already we can't wait for Bridgerton season 2's release date to be confirmed. Transporting viewers back to Regency-Era London, the steamy romances, painful betrayals and flamboyant costumes brought this Emmy-nominated adaptation of Julia Quinn's books to the top of millions of people's to-watch list. Sadly, actor Regé-Jean Page has already given fans some sad news after confirming he won't be returning as heartthrob, Duke of Hastings.
Nevertheless, fans are eager to see what lies in store for the rest of the star-filled cast in the next instalment. But as we wait to see what direction Netflix will take, author Julia's best-selling series might just hold the answers to our most pressing questions...
What book is Bridgerton based on?
The hit Netflix period drama is inspired by Julia Quinn's best-selling book series of the same name. Following each of the Bridgerton siblings chronologically, the Bridgerton book series allows readers to get to know these beloved characters on a deeper level. As many fans might know, Bridgerton season 1 was more specifically based on the plotline of the first in Julia's acclaimed series, The Duke and I. This saw the eldest Bridgerton daughter, Daphne, find her perfect match in the wealthy and mysterious Simon, Duke of Hastings.
Now looking ahead to Bridgerton season 2, the official renewal announcement shared by Netflix back in January seemed to suggest that it's Lord Anthony Bridgerton who will take centre stage and "dominate the social season" in the next instalment.
Dear Readers, I dare say this may be the most exciting edition of my column yet... pic.twitter.com/jwOJwl6zQiJanuary 21, 2021
See more
This once again mirrors the pattern of the books, with Bridgerton book 2, The Viscount Who Loved Me, telling the tale of Anthony's quest to find the perfect woman for him. And with Bridgerton seasons 3 and 4 already confirmed too, it's well worth checking out Julia's spellbinding books to gain some sneaky hints at what could be coming up in future episodes...
How to read the Bridgerton books in order
1. The Duke and I
The Duke and I, published 2000.
If you loved Bridgerton season 1, then prepare to re-live the blossoming love story of Daphne Bridgerton and Simon Basset, Duke of Hastings all over again in Julia Quinn's Bridgerton Book 1. Entitled The Duke and I, this first instalment inspired the show's debut season and follows Daphne and Simon as they enter into a fake courtship. Whilst Simon seeks to avoid the marriage-minded society mothers who see him as the perfect catch for their eligible daughters, Daphne hopes to garner more interest from prospective suitors through their association. But the more they pretend to be in love, the more they come to realise they're not acting any more...
---
2. The Viscount Who Loved Me
The Viscount Who Loved Me, published 2000.
The oldest Bridgerton sibling, Anthony, has been the head of the family since his father passed away. Taking care of all the household responsibilities, he's considered one of London's most famous and enticing bachelors. Now the time has come for Anthony to find his own perfect match, but as soon as he finds her, things take a turn for the seriously complicated. She might be head over heels for Anthony, but her sister Kate is wary of the Bridgerton rogue. Kate is determined to put a stop to the marriage, though it's her who soon begins to capture his imagination.
---
3. An Offer From a Gentleman
An Offer From a Gentleman, published 2001.
Bringing together all the elements that make Cinderella a fairy-tale staple, An Offer From a Gentleman follows Benedict Bridgerton, as he meets the woman of his dreams at a masquerade ball. The woman in question is Sophia Beckett, the daughter of an Earl who has been forced into servitude by her stepmother and she never imagined she'd even be able to make it to one of Lady Bridgerton's famous balls.
After meeting Benedict, she falls in love with him, all the while knowing this magical moment will all come to an end at midnight. Though that doesn't stop Benedict in his quest to marry the mystery damsel who stole his heart that night.
---
4. Romancing Mr Bridgerton
Romancing Mr Bridgerton, published 2002.
Penelope Featherington has long had feelings for Colin Bridgerton, as all fans of Netflix's Bridgerton will know from Nicola Coughlan's brilliant portrayal of her unrequited love. Now in Romancing Mr Bridgerton, Penelope might finally get her chance to bag her man. After he returns to town from abroad, Colin and Penelope's once platonic relationship has the opportunity to turn into something more. Then Penelope learns what Colin's been hiding and her perception is forever changed. But he's not the only one with secrets and when he discovers hers, he must decide if she's really the love of his life - or his greatest threat.
---
5. To Sir Phillip, With Love
To Sir Phillip, With Love, published 2003.
Eloise Bridgerton is not one to be forced into anything and the committed spinster sister has been pretty certain that marriage is not for her. Until, that is, she starts exchanging letters with her distant relative, widower Sir Phillip Crane. After their correspondence takes a romantic turn, Eloise is astonished when he proposes marriage to her. The gesture is certainly romantic; the only problem is, they've not yet met in person. But could she have found her perfect man after all?
---
6. When He Was Wicked
When He Was Wicked, published 2004.
Michael Stirling was London's most notorious rake, but once chance sighting of the beautiful Francesca Bridgerton soon changed everything. After years of chasing women, Michael finds himself hopelessly in love for the very first time. Only for Francesca to tie the knot with none other than his cousin. Believing he'd lost his only chance to tell her how he felt, Michael's hopes are reignited after Francesca is widowed. Now an Earl and with the love of his life single, all he has to do is convince her she's the one for him. And one passionate night, it looks like he might just have his chance.
---
7. It's In His Kiss
It's In His Kiss, published 2005.
Beautiful, outspoken Hyacinth is the youngest of the Bridgerton siblings and when she crosses paths with Gareth St Clair at the Smythe-Smith musicale, things between them are forever changed. For Gareth's been left a family diary he believes holds the secrets of his past—and possibly the key his future—if only he could read it. Thankfully for Gareth, he soon finds a willing translation partner in Hyacinth. As as they uncover the truth that's been buried for so long, they soon learn that the answers they've been looking for lie in each other.
---
8. On The Way To The Wedding
On The Way To The Wedding, published 2006.
Gregory Bridgerton's time for romance finally comes in On The Way To The Wedding, though the path of true love never did run smooth. As far as Gregory's concerned, Hermione Watson is the woman for him and he recruits her close friend Lucy Abernathy to help him win her over. Only Lucy has feelings for Gregory, despite being engaged. By the time the couple realise they only have eyes for each other, she's about to walk down the aisle.
---
9. The Bridgertons: Happily Ever After
The Bridgertons: Happily Ever After, published 2013.
The Bridgertons: Happily Ever After may not be an official part of Julia Quinn's original book series but it has everything readers could hope for in a Bridgerton bonus edition. Published seven years after On The Way To The Wedding, it gives fans an update on each of the siblings' lives after their various marriages.
---
5 Julia Quinn books you should read after Bridgerton
1. The Further Observations of Lady Whistledown
The Further Observations of Lady Whistledown, published 2003.
Whilst the Bridgerton books are chronological in order of release date, Julia Quinn also released two spin-off anthologies with three fellow authors inspired by the infamous Lady Whistledown. The Further Observations of Lady Whistledown is the first of these and falls in between Bridgerton books 2 and 3 in the overall time frame. Set just before Valentine's Day, the betrayals and liaisons in the lead-up to this exciting occasion are just as exciting and scandalous as you'd expect!
---
2. The Further Observations of Lady Whistledown
This second anthology series fits chronologically between Bridgerton books 3 and 4. Featuring compelling tales, including the story of an innocent lady suddenly finding herself courted by London's greatest rogue, to a Viscount looking to reignite the passion in his marriage, there's plenty of steamy romance to keep you coming back for more this summer.
---
3. Because of Miss Bridgerton
Because of Miss Bridgerton, published 2016.
Taking you back to the world of Bridgerton ahead of the events of the main series, the Miss Bridgerton in question is none other than Billie Bridgerton. Everyone expects her to marry one of the Rokesby brothers, who have been the Bridgerton's neighbors for hundreds of years. But whilst Billie isn't opposed to a Bridgerton/Rokesby marriage, George Rokesby is not the one for her. The arrogant heir to an earldom, Billie believes he dislikes her just as much as she does him. But when the two are finally brought together, sparks fly. Soon, it seems that living without each other might not be an option any longer.
---
4. Just Like Heaven
Just Like Heaven, published 2011.
Honoria Smythe-Smith, the granddaughter of the Earl of Winstead, has nothing but a good sense of humor when it comes to her violin performance in her family's dreadful annual musicale. With her brother Daniel in exile out of the country, he's tasked his best friend Marcus Holroyd with keeping an eye on her. But it seems he's got more to handle than he bargained for after Honoria departs for Cambridge, determined to marry. With her eye on an unmarried Bridgerton, Honoria finds her love unreciprocated, giving Marcus the perfect opportunity to sweep her off her feet.
---
5. The Secret Diaries of Miss Miranda Cheever
The Secret Diaries of Miss Miranda Cheever, published 2009.
Miranda Cheever will never forget the day that the handsome Viscount Turner promised her she would one day be as beautiful as she was intelligent. Even at ten-years-old, she knew he would forever hold a special place in her heart. Now an adult, she is every bit as beautiful as he predicted, whilst he has suffered a cruel and devastating loss. Though throughout it all, Miranda has never forgotten the truth she wrote down all those years ago and the destiny that she won't allow to pass her by.
---
Books like Bridgerton you might also like
My Fake Rake by Eva Leigh
My Fake Rake, published 2020.
Lady Grace Wyatt is more than content to spend her time focusing on scientific pursuits rather than the complications of society matches. But when celebrated naturalist returns from abroad, she finds herself determined to be noticed and recruits friend Sebastian to help her catch his eye. Transforming Sebastian into a dashing rogue, Grace's feelings for him grow day by day. Meanwhile, Sebastian has long been in love with his beautiful friend—if only he knew how to tell her before it's too late.
---
Romancing the Duke by Tessa Dare
Romancing the Duke, published 2014.
Isolde Ophelia Goodnight has been raised on stories of knights, maidens and romance. Though as the years wore on, the endless possibilities she saw in her favorite story books seemed to be slipping further and further away. Now a 26-year-old woman who has never been kissed, she has given up dreaming of romance. But sometimes, it's when you least expect it that the most magical moments materialize.
---
Ten Things I Hate About the Duke by Loretta Chase
Ten Things I Hate About the Duke, published 2020.
Clever and brutally honest, Cassandra Pomfret is infamous for her strong opinions, though her frustrated father can't help hoping she would conform to society's expectations. Declaring that if she doesn't, her younger sister will not finish her debut season or marry before Cassandra, her father's plans are soon upturned by the arrival of the Duke of Ashmont. His pursuit of Cassandra is scandalous, threatening not only her reputation, but her family's too.
---
The Governess Game by Tessa Dare
The Governess Game, published 2018.
The moment Alexandra Mountbatten takes on the impossible task of transforming a pair of orphans into proper young ladies, she realises it's not discipline they need after all. All the girls really need is a loving home, though their cold guardian Chase Reynaud's heart can't seem to be reached by impassioned pleas. Now Alexandra must try to appeal to his better nature, without getting hurt herself. Clever, passionate and beautiful, her refusal to give up on Chase soon has him falling for her immeasurable charms.
Will you be giving Julia Quinn's fabulous Bridgerton books a read ahead of season 2?