Empowering feminist books that everybody needs on their reading list
These inspiring feminist books are dismantling the patriarchy, one bestseller at a time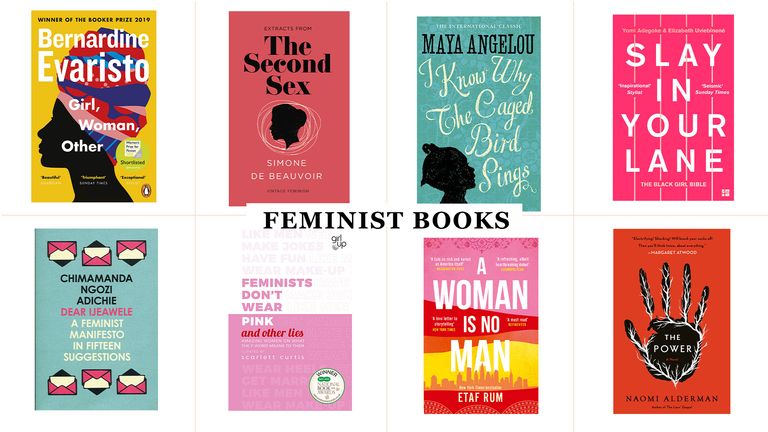 (Image credit: Future)
Written by some incredible women, these powerful feminist books explore issues of identity, equality, and liberation through the female lens. A must-read list for anyone who identifies as a woman—and anyone who wants to be a feminist ally.
Delve into the origins of the feminist movement, learn more about modern-day champions, or get lost in a fictional dystopia that highlights the stark inequalities women face every day. These are the feminist books that paved the way for how we live today—and the pioneering reads that are continuing the work in the modern day. Spanning from some of the first works of feminist literature in the 1700s to modern-day greats, we've listed these in reverse chronological order, so that if you prefer to delve into something newer like the best books of 2021 or even the best books of 2020, they're easier for you to find.
Feminist books everyone should read
Whether you want to educate yourself, your partner, your daughter, or your son in the feminist movement, these inspiring reads are certain to get readers thinking. Separated into fiction and non-fiction, this list of feminist books covers all bases, featuring core feminism philosophy (Mary Wollstonecraft's A Vindication of the Rights of Woman helped to put feminism on the map) and explorations of intersectional feminism (Bernardine Evaristo's Girl, Woman, Other is a heartbreaking and life-affirming look at the struggles of black women through different perspectives). It goes without saying that these topical reads make some of the best book club books!
And if you're looking for something to read these books on as soon as possible, see our guides to the best eReaders and the best Kindles on the market.
Non-fiction feminist books
Girlhood, Melissa Febos
Publication: 2021 | Genre: Memoir | Pages: 336
This powerful new memoir focuses on the narrative surrounding people who identify as women—and why we shouldn't pay any attention to it. At the core of the book is how society shapes young girls and the adults they become, and why the stories we tell ourselves as young women around duty, power, and pleasure are in need of a rewrite.
---
Perimenopause Power, Maise Hill
Publication: 2021 | Genre: Self-help | Pages: 336
An empowering manual to guide women through menopause and embrace the positives of 'the change', leaving no stone unturned on the topic, from perimenopause and stages of menopause, to sex and menopause.
---
Untamed, Glennon Doyle
Publication: 2020 | Genre: Biography | Pages: 352
A story of how one woman came to realize what she really wanted from life and how she went about disregarding the world's expectations of her to find happiness in her life. Glennon Doyle has become an inspirational figure and her book will encourage you to break free of the constraints of society.
---
Vagina: A Re-education, Lynn Enright
Publication: 2019 | Genre: Self-help | Pages: 240
This book equips women and girls with all the information they need to know about vaginas—and what a 'normal vagina' is—tackling taboos around the vulva.
---
Becoming, Michelle Obama
Publication: 2018 | Genre: Memoir | Pages: 464
An inspiring memoir from the former First Lady of the United States who opens up about her life and tells her story of her upbringing in Chicago all the way through to life in the White House with her husband, former President Barack Obama.
---
Dear Ijeawele, or a Feminist Manifesto in Fifteen Suggestions, Chimamanda Ngozi Adichie
Publication: 2018 | Genre: Open letter | Pages: 80
When Chimamanda Ngozi Adichie received a letter from a childhood friend asking her how to raise her baby girl as a feminist, she wanted the world to see her reply. This is her response to one of modern life's most important questions.
---
Feminists Don't Wear Pink (and other lies), Scarlett Curtis
Publication: 2018 | Genre: Collection of essays | Pages: 384
Curated by journalist and activist Scarlett Curtis, this is a powerful and diverse selection of writing from the likes of Emma Watson, Zoe Sugg, and Keira Knightley.
---
Slay In Your Lane, Yomi Adegoke and Elizabeth Uviebinené
Publication: 2018 | Genre: Memoir and interviews | Pages: 384
A guide for young Black women on how to navigate modern life, covering everything from education to work life and dating. An uplifting read that will inspire you to not only excel in life, but enjoy the ride.
---
The Second Sex, Simone de Beauvoir
Publication: 2015 (originally published 1949) | Genre: Philosophy | Pages: 140
This reworking of de Beauvoir's original, 'scandalous' text picks out key passages from the controversial book that shook 1940s Paris with its radical views on feminism. A must-read for anyone interested in the origins of the feminist movement.
---
I Know Why The Caged Bird Sings, Maya Angelou
Publication: 1984| Genre: Autobiography | Pages: 320
This pioneering text has stood the test of time and remains a bestseller to this day. This is the first volume of seven from Maya Angelou's autobiography, with this text focusing on growing up with her grandmother in the American south in the 1930s. Prepared to be enraptured by Angelou's beautiful prose and insights into life as a young American black woman.
---
A Vindication of the Rights of Woman, Mary Wollstonecraft
Publication: 1792 | Genre: Political philosophy | Pages: 352
Mary Wollstonecraft makes an argument for women's education and an opportunity for them to make a bigger contribution to society in this feminist piece of writing that fought for women's rights before feminism was even a known term.
Feminist fiction books
A Woman Is No Man, Etaf Rum
Publication: 2019 | Genre: Literary fiction | Pages: 352
The story of three generations of women living in a Palestinian-American family and the challenges they face as they are torn between love and family, culture and society, and the past and the future.
---
Girl, Woman, Other, Bernardine Evaristo
Publication: 2019 | Genre: Literary fiction | Pages: 464
A story that follows the lives of 12 different characters, mainly black women of different ages and circumstances, on their personal journeys and what they are looking for in their lives.
---
The Power, Naomi Alderman
Publication: 2017 | Genre: Dystopian | Pages: 352
A dystopian society in which girls across the world suddenly find themselves possessed with the power to inflict horrible pain with a flick of their fingers, leading them to reign over men but leaving them persecuted by fearful groups in society.
---
The Handmaid's Tale, Margaret Atwood
Publication: 1996 | Genre: Dystopian | Pages: 324
After a government coup, US society is plunged into a religious totalitarian state where women are forced into a life of sexual servitude. However, one woman fights to escape the repressive state and is left with her future hanging in the balance.
---