32 of the best feminist books and novels that everyone should read at least once
Browse our list of best feminist books for inspiring, enthralling recommendations for your next read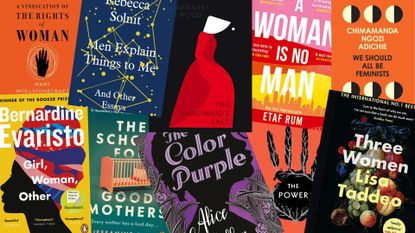 (Image credit: Future)
The best feminist books, whether fiction or non-fiction, should inspire and educate readers, encouraging them to think more deeply about themes of gender, equality and equity.
From much-loved literary classics written by women and stories of trailblazing figures fighting for equality to quintessential feminist dystopian fiction like Margaret Atwood's The Handmaid's Tale, many of the best books of all time are written by powerful feminists.
Feminist books date back hundreds of years, and while we've seen monumental changes and many waves of feminism since, the fight for gender equity is unfortunately not over. Intersectional feminism - understanding that not every woman's experience is the same, and many suffer from more than one form of oppression in their daily lives - is an integral lens through which to view gender inequality. These intersectional feminist books have the power to make readers feel represented and to encourage them to fight for change.
Whether you're looking for one of the best non-fiction books or best thriller books, you'll find something on our list.
The best feminist books that should be on everyone's reading list
These are the feminist books you should read at least once, from cult classics to zeitgeisty novels.
Non-fiction feminist books
1. We Should All be Feminists by Chimamanda Ngozi Adiche
Adichie's book-length essay is an essential starting point for anyone new to the concept of gender equality. Adapted from a widely-viewed TEDx talk and later sampled by Beyoncé, We Should All be Feminists was a pioneering text in the fight for more people to embrace the feminist movement in the 21st Century. In the very readable essay, Adichie argues that feminism can benefit people of all genders, explaining that men are also oppressed by patriarchal structures and that gender equality is truly for everyone. An important but digestible starting point, this would be a great 18th birthday gift.
2. Women, Race and Class by Angela Y. Davis
Angela Y. Davis is a political activist, academic and author who has written widely on the intersections of classism, racism and misogyny. Women, Race and Class was first published in 1981, but many of Davis's arguments still ring true today. The collection includes 13 essays that explore first- and second-wave feminism, arguing that these movements for women's liberation have largely focused on equality for white, middle-class women. Davis has written several books and essay collections that call for radical feminism in the face of patriarchal society, including her most recent, Abolition. Feminism. Now., written with her partner Gina Dent, but Women, Race and Class is a vital text for understanding intersectional feminism.
3. Three Women by Lisa Taddeo
Lisa Taddeo's debut book is often mistaken for a novel due to her descriptive prose and the intimacy with which she seems to know the three women at the heart of this book. However, the 2019 Sunday Times bestseller is actually non-fiction, a beautifully-written exploration of women, desire and class which took Taddeo almost ten years to write. The accounts of Maggie, Lina and Sloane are presented with delicacy and respect, and the book has become one of the most celebrated pieces of feminist literature of recent years, going on to be adapted for a television series which is also executive produced by Taddeo.
4. The Feminine Mystique by Betty Friedan
In 1963, Betty Friedan wrote of "the problem that has no name," referring to the discontent she had noticed among women in the 1950s and early '60s. With many women not given equal opportunity to seek and gain paid employment, expected instead to focus on domestic duties and motherhood, a growing dissatisfaction emerged. In more recent years, The Feminine Mystique has been criticized for its reductive focus on a particular group of women, however, the book is regarded as having sparked the second-wave feminist movement of the 1960s, '70s and '80s, with Friedan noted as one of the most important figures of the women's liberation movement at this time, alongside iconic feminists such as Gloria Steinem, Florynce Kennedy and Robin Morgan.
5. Hood Feminism by Mikki Kendall
In this essential deep-dive into intersectional feminism and privilege, Kendall explains that mainstream feminism too often focuses on furthering the privilege of a select few, rather than collectively fighting to include every woman in the fight towards gender equity. Arguing for true sisterhood and solidarity, this book should be required reading for any feminist.
6. Fix the System, Not the Women by Laura Bates
Laura Bates has written several non-fiction books on feminism, and is the founder of the Everyday Sexism Project - a website that aims to document examples of the day-to-day misogyny many women will recognize - but her latest is a particularly important examination of male violence and societal prejudice towards women. Arguing that we need to stop reducing acts of violence towards women as 'isolated incidents' (think of phrases like 'bad apple' or 'lone wolf' used to describe misogynist, violent men), Bates convincingly suggests that misogyny is a deeply-ingrained, structural issue, and we have to recognize it as such. Educational and inspiring, the book goes on to lay out a solution for true women's liberation.
7. Bad Feminist by Roxane Gay
Writer, professor and editor Roxane Gay published her renowned essay collection Bad Feminist in 2014 when it became a New York Times bestseller. Its title is a tongue-in-cheek nod to the inner conflict Gay feels calling herself a feminist while enjoying typically 'feminine' activities and culture, and the resulting essay collection is a hilarious, insightful, thought-provoking work that has solidified the writer as an important figure in modern feminist thought.
8. Perimenopause Power by Maisie Hill
Recognising the lack of information provided to women who go through the menopause, Hill's book is an empowering manual to guide women through the challenges of menopause while celebrating and embracing its positives. Guiding its readers through perimenopause symptoms, menopause symptoms and topics such as menopause and anxiety, this no-nonsense book is full of research, evidence and empowerment.
9. Untamed by Glennon Doyle
Part memoir, part self-help book, Untamed is the story of how writer, inspirational speaker and activist Glennon Doyle hit rock bottom and came back again, and the lessons she learned along the way. Documenting her divorce from the father of her children, and what she learned when she fell in love with her new partner, navigating a same-sex relationship alongside co-parenting for the first time, Doyle equips readers with tools for how to live more authentically. An inspirational and inspiring read, Untamed is essential reading for anyone who struggles to let go of their people-pleasing nature and the stifling expectations of society. A great book club book to get the conversation flowing.
10. Feminists Don't Wear Pink by Scarlett Curtis
Curated by journalist and activist Scarlett Curtis, this essay collection features words from the likes of Emma Watson, Keira Knightley, Zoe Sugg, Saoirse Ronan, Dolly Alderton, Lolly Adefope, Jameela Jamil and many more. Writing on what the word 'feminism' means to them, these women inspire and encourage hope in the readers of this bestselling book. What's more, it was published in collaboration with the charity Girl Up, which fights for gender equity - meaning the royalties of this book are going to a great cause.
11. Slay in Your Lane by Yomi Adegoke and Elizabeth Uviebinené
A guide for young Black women on how to navigate modern life, this book provides practical advice related to career goals, friendships, romantic relationships, personal growth and much more. Weaving together interviews with inspirational Black British women, including children's author Malorie Blackman, with anecdotes from writers and journalists Elizabeth Uviebinené and Yomi Adegoke's own lives, this is a powerful and uplifting tool book. Slay in Your Lane is also now a journal and a podcast.
12. Men Explain Things to Me by Rebecca Solnit
Writer and historian Rebecca Solnit's 2008 essay, 'Men Explain Things to Me', made her a feminist voice of a generation and likely inspired the term 'mansplaining'. In her collection of the same name, this essay is published for the first time in print, alongside a selection of Solnit's other writing, including essays on Virginia Woolf, misogyny, marriage equality, and more.
13. I Know Why the Caged Bird Sings by Maya Angelou
First published in 1969, I Know Why the Caged Bird Sings is a pioneering text that has stood the test of time, and remains a bestseller to this day. The first volume of seven from the late poet, writer and civil rights activist Maya Angelou, this book focuses on growing up with her grandparents in the American South during the 1930s. Angelou's beautiful prose is poetic and confronting, as she gives insights into life as a young American Black woman.
14. A Vindication of the Rights of Woman by Mary Wollstonecraft
A foundational feminist text before feminism had even been given its name, Wollstonecraft's 1792 argument for women's rights might seem outdated in the 21st Century, but it remains an important piece of literature for anyone interested in learning more about gender equality. Wollstonecraft writes that women should have the same opportunity as men to gain an education and to contribute to society, a radical claim at a time when women were largely seen as inferior to men.
15. The Authority Gap by Mary Ann Sieghart
An eye-opening study about unseen bias at work and every day, Sieghart's book draws on studies, polling data interviews, first-person experience as well interviews with highly successful women including Bernadine Evaristo and Hillary Clinton.
"The findings are infuriating. Sieghart's work shows, again and again, that despite more than a century of women fighting for equality, we are still held back by unconscious bias," explains Contributing Lifestyle Editor Anna Fielding in an interview with Mary Ann Sieghart.

16. Badly Behaved Women by Anna-Marie Crowhurst
Prepare to empower another woman in your life with this inspirational story of modern feminism. Taking you through the decades, Crowhurst looks at the modern women's movement, with essays from the likes of Helen Pankhurst and Emeli Sandé, and short snappy chapters such as Smashing The Ceiling and Massive Shoulderpads. A true joy to read.
Fiction feminist books
17. A Woman is No Man by Etaf Rum
The story of three generations of women living in a Palestinian-American family and the challenges they face, this New York Times bestseller flits between timelines in 1990 and 2008. Exploring ideas of cultural differences, feminism, family ties and intergenerational trauma, this universal tale is thought-provoking and beautifully written. Told from a decidedly feminist viewpoint, Etaf Rum's debut novel is a must-read.
18. The Handmaid's Tale by Margaret Atwood
Possibly the most well-known feminist dystopian novel of all time, Atwood's bestseller follows one woman's experience living in a totalitarian state where women are forced to have children against their will. While largely considered a work of science fiction, Atwood has stated that every situation in the novel was inspired by real-world examples of misogyny and the oppression of women. In 2019, 34 years after The Handmaid's Tale was first published, a sequel named The Testaments was released and won the Booker Prize alongside Bernadine Evaristo's Girl, Woman, Other. This also makes it to our list of the best audiobooks of all time.
19. Girl, Woman, Other by Bernadine Evaristo
Following the lives of 12 different characters and told through experimental prose that includes poetry, Evaristo's bestselling novel was one of the breakout hits of 2020. Each chapter focuses on a different character, but the many ways in which the lives of the characters intertwine - as they learn about relationships, sexuality, otherness, politics, and themselves - are a joy to read. Speaking about her novel in a woman&home interview in 2021, Evaristo told us, "My novel, Girl, Woman, Other, follows the lives of 12 characters, who are mostly women, black and British. If I could go back in time I'd love to give my younger self a copy. One of the characters, Amma, is loosely based on myself. Reading it would have been so reassuring, and it would have deepened my understanding of how black women can navigate different spaces. Growing up, seeing examples of other ways of living just wasn't part of the culture. We're just about getting there now."
20. How to Build a Girl by Caitlin Moran
Feminist writer and journalist Caitlin Moran's semi-autobiographical novel follows Johanna Morrigan, who dreams of being a music journalist and ends up moving to London to do so from her working-class background and loving family in Wolverhampton, changing her name to Dolly Wilde. As she enters the world of work and learns about herself along the way, Johanna recounts the ups and downs of her career and love life with hilarious honesty. This heartwarming novel is funny, charming, and would make a great 21st birthday gift for any young woman.
21. Little Women by Louisa May Alcott