The 28 books everyone should read at least once
In our list of books everyone should read in their lifetime, you'll find everything from enduring greats to popular modern reads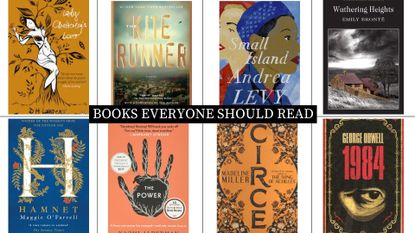 (Image credit: Future/Amazon)
It's no mean feat to select a series of books everyone should read at some point in their lives. Where do you begin? How do you choose? While no list can ever really be exhaustive—or agreed upon universally—we've rounded up books we believe cover universal themes, from a range of genres by some of the best authors in the world.
Penned by great authors, each of the novels listed here have been chosen by our expert Books Editor. You'll find many of the best historical fiction books, as well as best thriller books, sweeping love stories, and gripping dystopian reads—there is something for all preferences. All will that move you, challenge you, and thrill you, regardless of whether they were written in 1813 or 2022. So whether you're committed to reading paperbacks, or prefer using one of the best eReaders, here are the 28 books we reckon everyone should read.
28 books everyone should read
Love and romance
Love stories speak to us all on some level, because relationships—in all their beauty, complexities, messiness, and joy—are part of all of our lives. Each of these romantic novels made it onto our list because they look at love with a piercing, unflinching, and (in some cases) humorous gaze.
---
---
---
---
---
---
---
Fantasy and futuristic
Dystopian fiction allows to consider our society at a remove, although these days some dystopian novels can seem a little closer to life than we'd like to admit. But when you want to dive headfirst into an entirely different world, these great fantasy novels offer a fascinating escape.
---
---
---
---
---
---
---
Contemporary
Books that delve into the world around us, reflecting the times and society that we live in can have a truly powerful impact. Whether depicting lives lived around the corner or on the other side of the world, they are books everyone needs to read because they offer us food for thought and can help us gain perspective.
---
---
---
---
---
---
Crime and thriller
The demand for a gripping page-turner—one that will have you right on the edge of your seat—never fades. Luckily, the crime/thriller genre offers up nearly endless options.
---
---
---
---
Historical fiction
Global history is a rich source of inspiration for writers—and one that offers a specific form of escapism for avid bookworms everywhere. Whether they explore events from centuries ago, or write from more recent history, these picks are truly books everyone should read at some point.
---
---
---
---