18 books everyone should read at least once—from enduring love stories to terrifying dystopian fiction
See our list of the books everyone should read before they die—from the long-enduring greats to the modern canon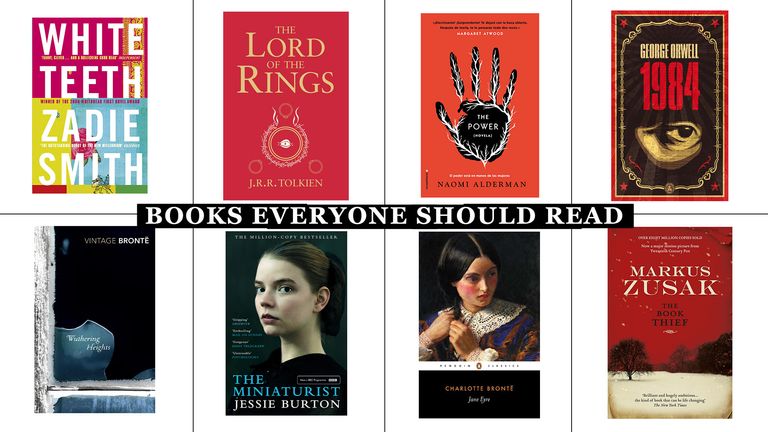 (Image credit: Future)
It's no mean feat to select a series of books everyone should read at some point in their lives. Where do you begin? How do you choose? While no list can ever really be exhaustive—or agreed upon universally, as our tastes are so personal—it helps consider a collection that explores universal themes and a host of emotions across a range of genres. These also happen to be written by some of the best authors in the world (and in history).
Do we choose our books or do they choose us? Frankly, there are a number of ways that books find their rightful home in the hands of readers—some may be read to us as children, others set texts that we study in school. There are those we choose for ourselves purely because we love the cover and those book club books that are pressed into our hands by an enthusiastic friend. Others we read simply because we think we should. Or so we are led to believe…
The truth is, there are many of us—including the most ardent and avid readers—who are yet to get lost in the pages of the all-time literary classics, instead preferring the latest releases, such as those deemed the best books of 2021. Perhaps what we're thinking is—'Why bother reading Pride And Prejudice when I've seen the BBC adaptation? Isn't Harry Potter just for kids?' and 'I don't think those literary prize winners are my cup of tea.' What we have to remember, however, is that novels become classics and books everyone should read for a reason—usually a very good one. The book in question has something special, a magic that draws readers in and absorbs them in its narrative.
Whether you read the books on this list in print or on a good eReader, you won't be able to put them down—regardless of whether they were written in 1813 or 2020. Penned by great authors, each offers some kind of insight into something bigger than ourselves. At times the books everyone should read stir a deep recognition of ourselves in certain characters or emotional responses to events. These are books that move us, through a rich and fulfilling reading experience.
From the long-enduring greats to the modern canon, here are 18 books everyone should read—with good reasons as to why…
18 (of the many) books everyone should read
Whether you prefer the best historical fiction books, the best romance books, the best science fiction books, or the best thriller books, there is something on this list of books everyone should read for all preferences. And not all of them are older classics—there are also some fantastic modern bestsellers on there that have already become iconic reads.
So whatever genre is your preference, you'll find something that will capture your imagination in this round-up.
Classic romance books
By their very nature, stories bring us together. And—much as we might not want to openly admit to being a bit of a soppy romantic—love stories speak to us all on some level, because relationships, in all their beauty, complexities, messiness and joy are part of all of our lives. Each of these romantic novels is a classic, and they make it onto the list of books everyone should read because they look at love with a piercing, unflinching and—in some cases—humorous gaze.
---
---
---
---
Fantasy and futuristic books
Dystopian fiction has been a stalwart of the best books out there for years, offering a way to consider society from a step (or two) removed. These days some dystopian novels can seem a little closer to life than we'd like to admit, and there's something disturbingly fascinating about that. But, for times when dark cycnical contemplations at the future of humanity don't quite cut it, there's always room to slink away to the other end of this genre spectrum—by diving headfirst into an entirely different world. Specifically, one cooked up as the backdrop for a great fantasy novel.
---
---
---
---
---
Contemporary fiction
Books that delve into the world around us, reflecting the times and society that we live in can have a truly powerful impact. Whether depicting lives lived round the corner from our own homes, or on the other side of the world, the seemingly mundane or the fantastical, they are books everyone needs to read because they offer us food for thought. In pausing and sitting with these stories, we can gain new perspectives and possibly even approach contemporary life from a fresh angle. These are the contemporary fiction books everyone should read.
---
---
Crime and thriller books
The demand for a gripping page turner—one that will have you right on the edge of your seat—never recedes. Luckily, the crime and thriller genre offers up near endless options for books everyone should read, so when it comes to the biggest must-reads, you can't speed past these options. Although you may speed through reading them...
---
---
Historical fiction books
Global history is a rich source of inspiration for writers—and one that offers a specific form of escapism for avid bookworms everywhere. Whether reaching deep into the annals of history, or taking their starting points in more 'recent' periods or events, these picks are truly books everyone should read at some point in their own histories.
---
---
---
---