The best eReaders for 2022—from Kindles to Kobo devices
In our expert guide to the best eReaders, we look at the pros and cons of some of the most popular models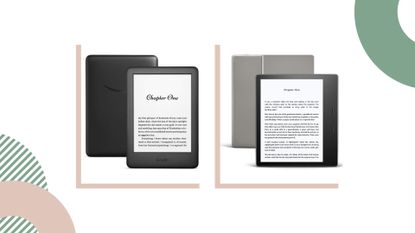 (Image credit: Future)
This guide to the best eReaders features expert reviews of the top devices—from Kindles to Kobos—to ensure you choose the right option for you.
Many of us have been swayed by the convenience, ease, and accessibility that the best eReaders offer. These digital devices, including the best Kindles, have been designed specifically for reading, which means no sleep-disrupting blue-light and a battery that won't run out on you.
In order to bring you this definitive list of the best eReaders, including the much-loved Amazon Kindle Paperwhite and the popular Kobo Clara HD, we tested the eReaders over the course of a few days. Our expert tester, Isabelle Broom, specifically assessed the devices for ease of use, connectivity, design, and overall value for money. We have also given a nod to the best tablet (as opposed to specifically an eReader) for reading on, too—as well as which eReader is robust enough for children.
How we tested the best eReaders
Why you can trust Woman & Home Our expert reviewers spend hours testing and comparing products and services so you can choose the best for you. Find out more about how we test.
We made sure to test each model included in our own homes—using them to read our own books—in order to share a true experience of using the product.
We assessed each eReader on:
Style and design—did the eReader look good, and was it comfortable and easy to handle whether we were at home, on the train, or at the beach?
Performance—we assessed each device for ease of use (including set-up), and, quite simply, how easy it was to read our favorite books.
Extra features—we also made a note of any extra details aside from the basics, such as storage space offered, whether or not it was waterproof, and whether or not you can do anything else on the device (such as watch movies).
Durability—another important factor was how robust each device was—how long did the battery last, and is it strong enough to survive a few bumps and scrapes during travel? However, it is worth investing in one of the best Kindle covers too, to make sure you device stays safe.
Value-for-money—lastly, we examined whether each of the best eReaders was worth the price. Could you get an equal or better experience for less?
The best eReaders to buy as chosen by our experts
1. Kindle Paperwhite Signature Edition
Best overall eReader
Specifications
RRP: $189.99/£179.99
Storage size: 32GB
Dimensions (H x W x D): 174 x 125 x 8.1 mm
Backlight: No—but auto-adjusting front light
Warranty: One year limited
Reasons to buy
+
Brilliant storage
+
Long battery life
+
Waterproof
+
Quick wake-up
Reasons to avoid
-
Slightly slow response time when opening a book
-
On/off button at the bottom
The Kindle Paperwhite Signature Edition is the latest model from Amazon, and is already proving popular. The new Signature Edition Paperwhite is easy to turn on—instructions were intuitive for setting up and the response time from the device is fast. The Signature isn't huge (measuring 174 x 125 x 8.1 mm), but this does make it easier to use both hands to type when logging into your Amazon account to access your eBooks.
It took longer than we'd like to land on a book (perhaps 20 seconds past our point of patience), but once were in, navigating through favorite titles was speedy and simple—the response time noticeably increased here. It's easy to adjust the font size too: by swiping across the page and you can enlarge the text up to 14 points, which should be adequate for those who might struggle with their sight.
One new feature of the Kindle Paperwhite Signature Edition is the auto-adjusting front light, which changes brightness as you move from a dark to light and vice versa. This was arguably our favorite aspect of the device during testing, as it proved incredibly useful as the sun set and the room became darker—we barely even noticed as the brightness shot up whilst reading our best eBooks. In terms of battery life, the Signature lasted for days without a recharge. And when you need to give it a battery boost, it also offers wireless charging which was unavailable on previous Kindles. It also has a great storage size as standard, and another huge, new perk—no adverts. Amazon have moved the on/off button from the top of the device to the bottom, which can take some getting used to if you're used to the older models. But aside from that and the slightly slow response when choosing a book, we'd struggle to fault this eReader.
2. Amazon Kindle
Best budget eReader
Specifications
RRP: $89.99/£70
Storage size: 4GB
Dimensions (H x W x D): 160 x 115 x 9.1 mm
Backlight: No
Warranty: 1 year limited
Reasons to buy
+
Affordable price
+
Straightforward and easy to use
+
Great battery life
Reasons to avoid
-
Screen quality could be improved
If you're looking for all the benefits the best eReaders have and aren't too fussed about snazzy extras, this basic-yet-brilliant original Kindle could be the one for you—especially if you're keen on keeping costs down. With an RRP of $59.99/£59.99, the Amazon Kindle 8th Generation is often available for under $50/£50—so it's definitely worth hunting around for offers. Once connected to WiFi, it takes less than a minute to download a new title, and you can store over 1,000 at a time. In other words, you can hoard your favorite fiction books without thinking twice.
It has a touchscreen, which makes navigating all the features far easier than it was with the buttons of old. Bookworms have long appreciated the Kindle's straightforward usability—you can have it out of the box and be reading or listening (via wireless Bluetooth headphones) within minutes. You can even highlight passages and translate words without leaving the page. The additional VoiceView capability allows you to adjust the font size, screen color and brightness, line spacing, and margins: a great boon to those who have sight issues. And the cherry on top? It has a long, long battery life (we're talking weeks of strong charge).
Some shoppers point out that letter and picture quality could be improved, especially compared to more expensive options. Regardless, it's an excellent choice for beginners making their first foray into eReaders.
3. Kobo Libra H2O
Best waterproof eReader
Specifications
RRP: $169/£149
Storage size: 8GB
Dimensions (H x W x D): 144 x 159 x 5.0 - 7.8mm
Backlight: Yes
Warranty: 1 year limited
Reasons to buy
+
Can withstand up to 60 minutes in two meters of water
+
Brilliant battery life
+
A built-in bedtime setting
Reasons to avoid
-
Glitchy when hotspotting
Bath time reading fans rejoice. The Kobo Libra H2O can withstand up to 60 minutes in two meters of water, so even if you fall asleep reading in the tub it will survive. Another standout feature is the ComfortLight—a front light that cleverly adjusts depending on where you are—whether sunny back garden or darkly snuggled up under a duvet.
While it is bigger and slightly heavier than the equivalent Kindle models, this Kobo will tell you with a simple tap how many minutes it will take you to reach the end of your current chapter, allow you to place bookmarks, sync with your other devices, and has a dictionary function to look up words. An added perk: you'll enjoy long-lasting battery life, 8 GB of onboard memory for carrying up to 3,000 eBooks, plus Instant access to Kobo's eBookstore through WiFi.
When using this device, be sure to have a stable WiFi connection as some users say it's glitchy in hotspots.
4. Amazon Fire 8 Kids Edition Tablet
Best eReader for kids
Specifications
RRP: $140/£180
Storage size: 32GB
Dimensions (H x W x D): 220 x 161 x 26 mm
Backlight: Yes
Warranty: 2 years limited
Reasons to buy
+
Robust and can withstand any damage from little hands
+
You can block certain sites if you want
Reasons to avoid
-
Battery life isn't the best
There is very little that we don't love about this robust and reliable tablet. It's a real all-around winner with heaps of features designed with children in mind. The Amazon Fire Kids Edition Tablet comes housed in a rubber "kid-proof" surround, which bounced merrily when we lobbed it onto the floor and is very easy for small hands to grip.
The two-year no-fuss warranty also provides additional peace of mind. Aimed at children from the age of three through to 12, this tablet comes with a free one-year subscription to Amazon Fire For Kids Unlimited ($2 per month usually), offering access to thousands of books, but also to TV shows, films, teaching apps and games.
There's also no need to worry about the kids straying across unsavory content. You can fully customize this tablet to block certain sites, as well as setting bedtime curfews and timeouts.
They come in blue, pink, and yellow, and while all are sturdy, they sadly won't survive immersion in water. Since it's a tablet rather than a straightforward eReader, the battery time is significantly less at only eight hours, so weekends away will require a charger. It's a great option for younger children eager to channel their inner Sherlock Holmes with the best mystery books, but it might be a bit too basic for the tech-savvy teens in your life.
Best luxury eReader
Specifications
RRP: $249.99/£229.99
Storage size: 8/32GB
Dimensions (H x W x D): 159 x 141 x 3.4-8.3mm
Backlight: Yes
Warranty: 1 year limited
Reasons to buy
+
Great quality screen
+
Very comfortable to hold
+
Looks stylish
Reasons to avoid
-
More expensive than other models
The Kindle Oasis may be the priciest on our list, but it does have a lot to offer, especially—given the brilliant screen quality— for those with astigmatism, cataracts, or weak eyesight. It has a high-resolution touchscreen larger than any other eReader on the market.
It's the most aesthetically pleasing of all the devices we reviewed. The slick graphite aluminum casing feels high-end next to its plastic companions, especially in the new champagne gold shade.
The Kindle Oasis also has a unique wedged back, making it comfortable to hold. You'll also find a smart light sensor (a night-reading essential), 3G connectivity (for a slightly higher price), and that the device is waterproof. These all add up to create an eReader that really is as good as it looks. It may seem expensive, especially when you consider the Kindle Paperwhite is less than half the price, but if you're an ebook fanatic who prefers their gadgets to offer more than the average, then you'll be extremely satisfied with this one. We didn't want to part with it.
See our full Amazon Kindle Oasis review
Best eReader for great battery life
Specifications
RRP: $118/£169.99
Storage size: 8GB
Dimensions (H x W x D): 159.6 x 110 x 8.35 mm
Backlight: Yes
Warranty: 1 year limited
Reasons to buy
+
Great for use on-the-go
+
Very good battery life
Reasons to avoid
-
Some say the screen is too small
-
No 3G
The Kobo Clara HD seems to have been designed for those of us with busy lives and cluttered handbags. By focusing more on the simple must-haves as opposed to the slick extras, Kobo has created an eReader that may be low on frills but is also low on fuss. The Clara's slim, textured body fits easily into one hand, making it the perfect companion for a cramped commute. It is also very light—coming in at 39g less than Kindle's equivalent, the Paperwhite, and we barely remembered it was there once it was slotted into the inside pocket of a denim jacket.
There's a nifty feature that allows you to select passages of text and share them on Facebook, but only if you're connected to WiFi—3G connectivity is not yet a feature of this model. As with the Kobo Aura H2O, the Kobo Clara HD has ComfortLight Pro, as well as a night mode that can be set to switch on automatically once the sun goes down. The battery will last up to four weeks of standard use, and the huge 8GB of storage means you can really fill up on the bestselling books and best audiobooks.
Some caveats to consider: its interface is a bit non-intuitive, and some shoppers say the six inch screen is too small. So, if you're a reader with poor eyesight, you may want to invest in an option with a larger monitor.
See our full Kobo Clara HD review
Best eReader for holidays
Specifications
RRP: £119.99/£149.99
Storage size: 8/32GB
Dimensions (H x W x D): 167 x 116 x 8.18mm
Backlight: Yes
Warranty: 1 year limited
Reasons to buy
+
Very easy to use
+
Lightweight and comfortable to hold
+
Battery lasts a long time
Reasons to avoid
-
Might not be enough storage for some
Now we come to the market leader, the eReader most consistently voted into the top slot. The Kindle Paperwhite is incredibly easy to use—you touch the right of the screen to turn a page, the left to turn back, and the top to access the menu and features. This innate usability makes it the perfect choice for a sun-lounging holiday, as does the paper-like non-glare screen, extended battery life (up to six weeks from a full charge), and the fact that it's now waterproof. Shoppers also love its lightweight, thin design for convenience and easy carrying.
The built-in storage is a substantial 8GB, but you can extend this easily with the addition of a memory card. For an extra $100/£100, the Paperwhite will also connect through 3G as well as the standard WiFi option, meaning you can update your library more or less instantly while you're out and about, and it is also set up for both Amazon Kindle Unlimited and Audible. You can choose from 16 adjustable font sizes to your liking, plus 16 levels of grayscale to enhance your text detail.
See our full Kindle Paperwhite review
8. Amazon Kindle 2020
Best 'real-book' eReader
Specifications
RRP: $59.99/£49.99
Storage size: 8GB
Dimensions (H x W x D): 160 x 113 x 8.7mm
Backlight: No, but front light allows reading in the dark
Warranty: 1 year limited
Reasons to buy
+
Very lightweight
+
Feels much more 'book-like' than other options
Reasons to avoid
-
Screen isn't as high quality as others
If you are still not sure about eReaders, the Amazon Kindle 2020 may change your mind. It's a user-friendly gem, and is the closest thing to reading a real book that you will find on the eReader market. We promise that after you've read a few pages, you won't miss your paperback—in fact, you'll probably hold it longer than you would a standard novel, because it weighs so much less.
And while the touchscreen may be lower resolution than the swankier Paperwhite and Oasis models, this makes it seem more book-like, not less. Plus, just like them, this Kindle has Bluetooth and is set up for Kindle Unlimited, all without the eyeball-enlarging price hike. It is the best basic model on the market by a mile, and an ideal choice for those taking their first tentative steps into the world of eReading.
9. Amazon Fire 10 (2021)
Best tablet eReader
Specifications
RRP: $189.99/£149.99
Storage size: 32GB
Dimensions (H x W x D): 192 x 115 x 9.6 mm
Backlight: Yes
Warranty: 90-day limited limited
Reasons to buy
+
This does lots more than a standard eReader
+
Colour screen, which some may prefer
The Amazon Fire HD 10 tablet stands out from all the other tablets with reading functions—and there are many online reviews to support our view. Using a tablet as an eReader means you can access many more functions, rather than just covering your reading and listening bases. This model allows you to get online, and makes it easy to use your favorite apps and social media accounts. As an Amazon tablet, it comes with Kindle store connectivity, enabling you to search for and then download as many reads as you want.
However, unlike standard eReaders, the Amazon Fire HD 10 does have a much shorter battery life, and a full charge will give you around 12 hours of reading time, as opposed to the multiple weeks offered by others. That said, reading on this tablet is preferable to squinting over a smartphone screen, and it's nice to have the option of switching from book to video or music without having to swap devices. If you're someone who enjoys having everything you need in one attractive black, blue, red or yellow package, then the Amazon Fire HD 10 could be the choice for you.