19 of the best autobiographies to read—for an insight into the lives of some fascinating people
The best autobiographies will inspire you, entertain you, and can teach us all some valuable lessons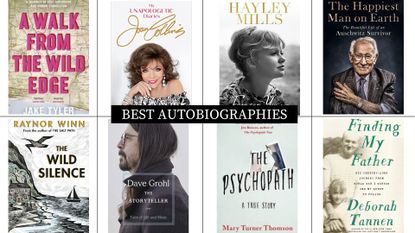 (Image credit: Future/Amazon)
Our list of the best autobiographies features incredible stories from everyday people, household names, and celebrated icons, from survivors of war to glamorous Hollywood stars—so there's something for everyone.
And as the age-old saying goes; the truth is often stranger than fiction, why is why it's no surprise that tales about people's real lives continue to fascinate us, whether they are stories we can identify with or lives that are wildly different to our own. To read a good autobiography is to relish the company of an extraordinary person and their story; to journey with them through their triumphs and failures, mistakes and recoveries, their life lessons, and their personal and hard-won truths.
And while the best romance books, the best historical fiction books, and the best science fiction books provide wonderful escapism, the best autobiographies can teach us valuable real-life lessons, and inspire us in a way no fictional character can. So, here's to the candor, the intimacy, the humility, warmth and above all, humor that these storytellers share, whose experiences and words can enlighten and encourage us all.
The best autobiographies and memoirs
Our picks of the best autobiographies and memoirs will take you on unbelievable real-life journeys—with tales from a road trip around Britain, teachings on how to spot a psychopath, secrets from the lives of the rich and famous, and experiences of every human emotion, be it love or loss, through the eyes of those willing to share it. So get out your best eReader, download your favorite, and dive in...
---
---
---
---
---
---
---
---
---
---
---
---
---
---
---
---
---
---
---