The best science fiction books of 2021 that will transport you to another world
The best science fiction books will let you escape to a new world, and explore fascinating, unknown relms...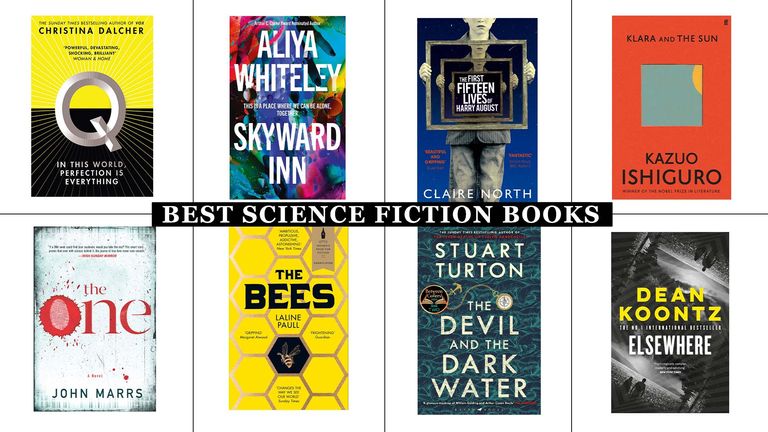 (Image credit: Future)
The best science fiction books are about far more than lightsabers and aliens wanting to "phone home". 
Fundamentally, good sci-fi fiction sets out to tackle present issues in a future setting - but there is also scope for authors to let their imaginations run wild and whisk readers off on a fantasy thrill-ride. 
Science fiction books are some of the best books of 2021. Whether it's a dystopian world decimated by war, a time-bending life story lived multiple times, an artificial intelligent being seeking the truth about love, a troubled caretaker with the keys to a body farm or an astronaut trapped on a distant planet with no way home, every story on this list is an insightful, evocative, exciting and thought-provoking must. 
Whether you read your books on one of the best eReaders, or prefer a print book, find out which science fiction books we recommend adding to your to-be-read pile today.
The best science fiction books to read in 2021
1. Klara And The Sun by Kazuo Ishiguro
Kazuo Ishiguro's first novel since winning the Nobel prize for literature focuses on what it means to love. But this being Ishiguro, the protagonist doing her best to figure this out is Klara, an Artificial Friend waiting in a store, observing those who come inside and wander past and hoping that one of them will choose to take her home. But has she invested too much hope in the decency of humans? A startling, tender and beautiful story - and a fantastic book club book.
---
2. The Galaxy And The Ground Within by Becky Chamber
The final instalment in Becky Chambers' hugely popular Wayfarers series – following on from A Long Way To A Small Angry Planet, A Closed And Common Orbit and Record Of A Spaceborn Few – is set on the planet of Gora, a bleak place given its lack of air, water or native life. The one benefit is does have is its proximity to larger planets and wormholes, making it the perfect place for a pit stop. It is on Gora, at an establishment called Five-Hop One-Stop, that three weary travellers meet and their lives collide. An boundlessly imaginative and fantastical conclusion to a thrilling series of novels.
---
3. Skyward Inn by Aliya Whiteley
Set in a post-apocalyptic world where the Earth has made contact with and declared war on the seemingly peaceful planet Qita, this novel is a provocative examination of humanity, history and self. The titular Skyward Inn is a place of safety, a sanctuary where people come to share stories of their lives before the war. Innkeepers Jem and Isley are veterans from either side of the conflict, but each keep their battle scars deeply buried. That is, until a mysterious former acquaintance turns up… An accomplished literary read that is as unsettling as it is captivating.
---
4. Spares by Michael Marshall Smith
First published in 1998, Spares has earned itself a cult following and remains a standout star in the science fiction genre pool. Set in a wildly futuristic world of flying shopping malls and talking fridges, it follows Jack Randall, a down-on-his-luck janitor working at a human clone farm known as Spares. People are being processed there as body-part fodder for the wealthy and affluent, and Jack knows that it's wrong. But there's nothing he can do about it – is there? Cutting unnervingly close to an alternative reality that feels scarily plausible, Spares does what all great science fiction should by begging the question: what if?
---
5. The One by John Marrs
If all it took to find your soulmate was a simple mouth swab, would you take it? This is the ingenious premise at the heart of this heart-thumping thriller – the TV adaptation of which is currently enthralling viewers on Netflix – and it's a juicy one. The story centres around five individuals that have taken their test and are about to meet their Match. But, as it turns out, science has little to do with love – and while a gene may be able to predict connection, it cannot warn you of the dangers human beings can pose to each other.
---
6. Q by Christina Dalcher
So painfully plausible that it will make you wince, this second novel by the bestselling author of Vox takes place in a dystopian world that is obsessed with perfection. Elena Fairchild works as a teacher at one of the government's elite schools for children with high 'Q' scores, and she believes in the system. That is, until her own daughter fails to make the grade and is taken away from her. Elena feels she has no choice but to follow her child to the mysterious institute, only to discover that perfection really does come at a huge and horrifying cost.
---
7. The Sight Of You by Holly Miller
One of the best romance books but with a sci-fi slant, this Richard & Judy Book Club pick tells the tale of Joel, who has become somewhat of a recluse due to his ability to see the future of those he loves in his dreams, and Callie, the woman he falls for regardless. When Joel learns exactly what lies in store for his new love, it leaves him with an impossible, heartbreaking decision. An astonishing and deeply moving novel with a strong moral hook at its heart.
---
8. The First Fifteen Lives Of Harry August by Claire North
This multi-award-winning novel was a Waterstones and BBC Radio 2 Book Club pick and a Richard & Judy recommended read – with good reason. No matter what Harry August does, how well or how shabbily he chooses to live, he always knows what will happen when life reaches an end – he will return to childhood with all the knowledge he has accumulated during his prior lives. However, upon reaching the end of his eleventh such life, something new happens to Harry; a girl appears by his bedside with a message about a mystery that must be unravelled. A wonderful one-of-a-kind novel.
---
9. The Time Traveler's Wife by Audrey Niffenegger
A modern historical fiction book, The Time Traveller's Wife is both a sci-fi novel and a heart-wrenching read. Henry met his wife Clare when she was six and he was 36, yet they married when she was 22 and he 30. How this is possible and what it means for the characters is explored with intelligence and heart in this original and haunting novel, which grips from the start and does not let up until its devastating final scene. A true modern classic for a reason.
---
10. Elsewhere by Dean Koontz
Jeff has been raising his daughter Amity alone ever since his wife Michelle went missing seven years ago, and life in their small California town isn't all that bad. One day, Jeff's friend Ed – known locally as "Mr Spooky" – turns up at the door with a request. He wants Jeff to look after something for him, a box that contains the 'the key to everything', which he alleges is being hunted by a demonic posse of agents. Warned against opening the box, Jeff puts it to one side. But then something occurs to him – what if he could use the key to track down Michelle? Almost as soon as he lifts the lid, however, life begins to change in an extremely sinister way.
---
11. The Martian by Andy Weir
The best selling book behind the major Hollywood film starring Matt Damon is one of the best book to movie adaptions. It focuses on an astronaut who ends up stranded on Mars. Trapped in a habitat designed to last only 31 days, Mark knows that he is at risk of dying from either hunger, thirst or suffocation – and that's if he's lucky enough not to be blown apart. Mark has no way of communicating with Earth or the crew that left him behind, believing him to be dead, and until he can work out how to send a message, he must find a way to survive. Pulse-thumpingly tense and gloriously rich in detail, this is a sci-fi fan's dream read.
---
12. The Devil And The Dark Water by Stuart Turton
Recently selected as a Between The Covers read for BBC Two, this second novel by the Costa-award-winning author of The Seven Deaths Of Evelyn Hardcastle is a historical chiller with a supernatural edge. The year is 1634, and the greatest detective in the world, Samuel Pipps, is on a ship bound for Amsterdam where he faces execution. With him is his loyal bodyguard Arent, who believes his friend to be innocent and is desperate to save him. This is no ordinary voyage – a twice-dead leper is prowling around the decks, odd symbols appear on the sails and it seems a demon is marking souls for death. With Pipps locked away, it's up to Arent to solve the mystery before it's too late.
---
13. The Bees by Laline Paull
Flora 717 is a sanitation bee, living only to serve, obey, and clean the hive. She must be ready at any time to sacrifice herself for the Queen. But unlike other mutated bees, Flora has skills that mark her out as different, and she is eventually permitted to feed the young before being upgraded to pollen collection. Before long, Flora finds herself in the inner sanctum, permitted within the orbit of the Queen herself, and it is then that her life takes a dangerous turn. Ambitious and imaginative, The Bees asks a lot from its reader – but the rewards are miraculous.
---
14. Station Eleven by Emily St John Mandel 
Don't let the deadly virus pandemic at the heart of this story put you off reading it, because Station Eleven is far more than a simple survival story. Twenty years after 99 per cent of the population was eradicated, Kirsten is working as an actor in the Travelling Symphony – a group of performers that tour the settlements performing Shakespeare to those left behind. When the world she had begun to believe in is threatened, Kirsten is forced to make a decision about how much she is willing to sacrifice in order to cling on to hope. A profound and illuminating tour de force of a novel.
---
15. The Last Day by Andrew Hunter Murray
The year is 2059 and the Earth has stopped turning. Half the planet bakes in the burning sun while the other shivers in the freezing dark. The only area humans can survive is in the sparse region between the two sides, and it is here, in an isolated Britain, that scientist Ellen Hopper receives a letter from a dying man. He has a secret to share, and it is one that those in power will stop at nothing to conceal. Thrilling, twisty, fast-paced and smart, this dystopian yet believable tale is packed with suspense and utterly unputdownable.
---