The best book club books that will get the conversation (and wine) flowing
These book club books—from thrillers to romances, to thoughtful literary novels—will spark hours of discussion...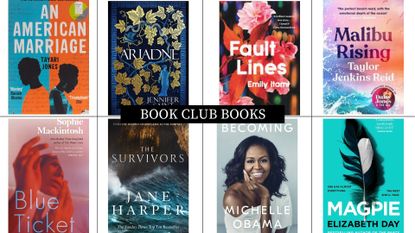 (Image credit: Future/Amazon)
Book club books aren't ones that you simply read and then place back on your shelf. They are the books you can't stop thinking about—the books you thrust into the hands of your friends and family because you are absolutely desperate to talk about it with someone. The stories that capture our imaginations, leave us exploring new ideas and open up interesting discussions.
The best book club books are ones that keep you up until the early hours. But they don't need to be literary works of art—some of the best romance books, or the best thriller books can make for fantastic book club reads too, allowing us to explore themes that relate to our own lives as well as challenging thoughts and opinions.
Featuring some of the best books of 2022 so far and authors to watch this year, these novels selected by our Books Editor Isabelle Broom should provide plenty to discuss at your next book group meeting...
The best book club books to read and discuss in 2022
From the best historical fiction books to the best mystery books, and everything in between—the titles chosen below are packed with topical and important talking points, mind-bending twists, laugh-out-loud observations and characters that will stay with you long after reading.
Feel-good books
---
---
---
---
---
---
---
Crime/thriller books
---
---
---
---
---
---
---
---
---
Literary books
---
---
---
---
---
---
---
---
---
---
---
---
---
---
Historical books
---
---
---
---
---
---
Real-life/autobiographical books
---
---