30 of the best romance books—whether you're after love or lust
The best romance books will transport you to a world of love, lust and happily ever afters...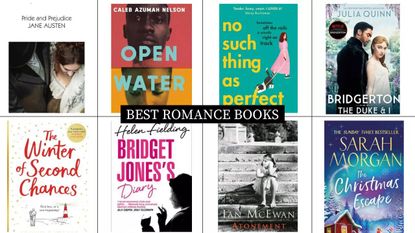 (Image credit: Future)
In our round-up of the best romance books you'll find everything from modern love stories to classic romances that truly stand the test of time. The only question is, which one will you read first?
The very best romance books—much like the best thriller books and top historical fiction—stay with us long after we have closed the final page. They make for brilliant book club books too, as they give us so much to discuss surrounding human emotion.
This list mixes the great and the good, with the new and noteworthy, and examines love in all its irresistible guises. From Jane Austen's Pride and Prejudice to Helen Fielding's Bridget Jones' Diary, romantic fiction is at one level an indulgent joy, but can also help us in realizing we are not alone too—and that 'the course of true love never did run smooth'. Above all, they offer a beacon of hope with happy ever after endings. So whether you prefer to read digitally (see our guide to the best eReaders or best Kindles here), or you favor a good old print book—here is our selection of the best romance books to read when you're in the mood for a happily ever after...
The best romance books
The best books of 2021 may be a variety of genres, but we've picked out the best romance books from the list that will leave you full of love this year. With everything from the novel behind the hit Netflix show, Bridgerton, to some older classics that everyone should read, such as the heartbreaking Atonement—there is something for everyone.
Modern romance books
---
---
---
---
---
---
---
---
---
---
---
---
---
---
---
---
---
---
---
---
---
---
---
---
---
---
Period romance books
---
---
---