The best vibrator for a buzz alone or with your partner, as tested by the health team
Our best vibrator round-up is packed with tried-and-tested reviews and recommendations for top orgasms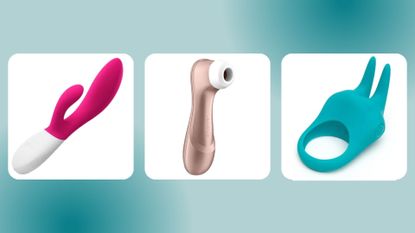 (Image credit: Satisfyer / LELO / Lovehoney)
If you regularly use sex toys, chances are you have the best vibrator. The kind of device, big or small, that helps you out in the bedroom or during your time alone. However, the road to finding a new favourite may not always be smooth with so many brands and models out there to choose from. That's where we come in, testing and reviewing a great range to bring you the best ones out there.
Out of all the sex toys available to buy both online and off, vibrators are the most popular. With single or dual motors tucked away in the base of the toy, they buzz, pulsate or even rotate to stimulate areas like the vagina, clitoris, and other erogenous zones, bringing the user to orgasm. Much like all of us, vibrators come in different shapes and sizes - from tiny bullets to larger-than-life rabbit-shaped vibrating dildos - so there really is something for everyone.
To help you find your best vibrator among the best sex toys, we've tried and tested various types of vibrators and put together a selection from top retailers like Satisfyer, LELO, and We-Vibe to the test, alongside picks from independent brands like Roam. Rated and reviewed by our team of testers, we've categorized each of the vibes, revealed why we love them so much, and spoken to a team of experts to help explain what exactly you need to look for when buying your pick of the bunch.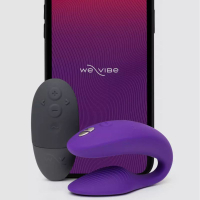 We-Vibe Sync 2 Remote Control and App Rechargeable Couple's Vibrator - was £149.99 now £119.99 at Lovehoney (save £30)
Upgrade your We-Vibe Sync to the latest edition in the Black Friday sale with 20% off the We-Vibe Sync 2, available in three unique colours.
The best vibrators, as tested by the health team
Why you can trust Woman & Home Our expert reviewers spend hours testing and comparing products and services so you can choose the best for you. Find out more about how we test.
Best clitoral vibrator
The best clitoral vibrator will have a lot in common with a bullet vibrator, but there are key differences. The former mainly just vibrate at different speeds and in various pulsation patterns, and the latter (like the famous rose sex toy) works to simulate oral sex sensations like licking, sucking, and blowing.
1. Satisfyer Pro 2
Best clitoral vibrator overall
Specifications
Material: Silicone, ABS plastic
Dimensions: 165mm x 46mm x 65mm
Charge time: 1.5 hours
Running time: Approx 90 mins
Waterproof: Yes
RRP: £44
Reasons to buy
+
Powerful clitoral stimulation
+
Easy navigation
+
Sleek design
+
Good for sensitivity
Reasons to avoid
-
Only for solo use
-
Loud underwater
The Satisfyer Pro 2 is the best clitoris-focused sex toy in our opinion, thanks to its innovative design and comfortable handling. It's definitely a toy for solo use though, as the white silicone head is designed to fit snugly around your clitoris from above, making it difficult to miss the perfect spot but harder for a partner to handle. The bulbous handle of the toy makes it very easy to navigate the buttons and hold the device during use.
The Pro 2 offers intense stimulation using Air Pulse Technology, the brand's creation. I tested this toy myself and found that this means the toy uses powerful puffs of air to create waves of pleasure instead of standard vibrations. It's better than many normal bullet vibrators because of this, in my opinion, as vibrations can become uncomfortable. This toy doesn't have that problem. If you are looking for similar sensations with more classic vibration patterns, Smile Makers' The Poet may be a better choice.
I also found the toy to be ultra-quiet generally, especially on the lower settings, so much so that you wouldn't be able to hear it in the next room. On the higher settings, the vibrator creates more of a mechanical whirring sound than a buzz, so even if someone did hear it, they'd be unlikely to immediately know what it was. The only time it really makes a sound is underwater - but hopefully, you'd have some background noise to drown this out if you're using it in the bath.
You'll probably find the Satisfyer Pro 2 on sale these days for under $50 / £50 as well, thanks to the introduction of the Satisfyer Pro 2 Generation 3. The two are very similar as well, materials aside, so there's even more of a reason to buy this luxe vibrator now.
For the full lowdown on the toy, see my full Satisfyer Pro 2 review.
2. Hot Octopuss DiGit
Best mini vibrator
Specifications
Material: PC / Silicone
Dimensions: 87.5mm x 48mm x 31mm
Charge time: 2 hours
Running time: up to 40 mins
Waterproof: Yes
RRP: £59.95
Reasons to buy
+
Good for couples
+
No charging required
+
Easy to hold with plastic ring
Reasons to avoid
-
Battery doesn't last long
-
Only available in the UK
A fan of bullet vibrators? Our tester said this was the perfect vibrator to try if you're looking for something a little different with the same look and feel of a bullet. Not only does The Hot Octopuss DiGit come with a choice of six vibrations and speeds, but it's also fully waterproof so you can use it in the bath and shower.
When we asked our tester what the main difference was between a vibe like this one of the other bullet vibrators on the market, she said, "It has a flared up that gave my clitoris a wider range of vibration styles and it has a useful finger strap so when my partner used it on me, it felt like an extension of their hand, and mine when I used it on myself." She also noted the stylish design and versatility of the vibrator. "It's definitely something I'm going to have in my collection for a long time."
Plus, it really does pack a punch when it comes to the rumbles it can create, she says. "It's just a shame the battery doesn't last for very long before it needs charging, as this has become my best vibrator."
See our tester's full Hot Octopuss DiGit review for a complete overview of the vibrator.
3. Smile Makers The Poet
Best small clitoral vibrator
Specifications
Material : Silicone
Dimensions: 56mm x 58mm x 90mm
Charge time: max 90 mins
Running time : 90 mins+
Waterproof: Yes
RRP: £119.95
Reasons to buy
+
Unique fit for women
+
Multiple heads available for individual choice
+
Many vibration modes to choose from
+
Easy to control
Reasons to avoid
-
Tricky to clean
-
May be too complex for beginners
I tested The Poet myself and found that it's a real gamechanger when it comes to how to use a vibrator, unsurprising considering how great other Smile Makers' vibrators are - like The Billionaire and The Artist (also on our list). Not only will the suction-style toy pretty much guarantee an orgasm thanks to its targeted design to sit over the clitoris, but it's gone one step further. The result? Multiple orgasms.
The award-winning brand is at the forefront of design compared to many sex toy makers. They've clearly taken on board the fact that all women come in different shapes, and that includes the size and position of their clitoris. This means The Poet has a unique feature - it comes with three differently shaped stimulation heads, so you can find the closest fit for you. Initially, I didn't think this would make much of a difference but the pleasure is a lot more intense when the soft silicone fits snugly around your clitoris. This extra layer of arousal means you'll be more likely to have multiple orgasms, and you won't want to use a one-size-fits-all toy ever again. If you think you have a more sensitive clitoral area, then it's worth investing in The Poet rather than Satisfyer's Pro 2, for instance, thanks to these additional heads and the changeability of the vibrator.
And that's not all. Do you find buttons fiddly to use when you're feeling out of control? I found the Poet made things really simple by allowing you to change the five pulsating patterns during play by squeezing on the sides - definitely a lot easier in the heat of the moment too.
The only downside to The Poet is you have to remove the stimulation head when cleaning, which is a bit more fiddly than some other vibrators. But perhaps I'm being picky. Plus, while it can be used in the bath or shower (it is surprisingly quiet for how powerful it is), adding a slick of lube will really make a difference when you're on dry land. You won't want to part with this sex toy - and I don't blame you, either.
4. LELO Ora 3
Best clitoral vibrator for targeted stimuation
Specifications
Materials: Silicone, ABS plastic
Dimensions: 3.2 x 3.4 x 1.7 inches
Charge time: 2 hours
Running time: 1 hour
Waterproof: Yes, 100%
RRP: £130
Reasons to buy
+
Easy to use
+
Focuses on targeted stimulation
+
Fully waterproof
+
Multiple colour choices
Reasons to avoid
-
Only one hour of running time after charge
The LELO Ora 3 is a circular sleek vibrator that really is as good as it looks. "You could leave this on your kitchen table and no one would know it's actually a vibrator," says our tester.
While the Satisfyer Pro 2 and The Poet are somewhat similar in design to other models, meaning you might have come across them before, everything about this sex toy is different from what our tester was used to, so it's ideal if you've tried pretty much everything else and are feeling a little bored with your collection. "You have to put your thumb through the centre of the toy in a certain way to use the controls," our tester says. "I found that following the diagram in the instruction booklet was handy, otherwise I would have struggled to immediately know what to do. At first, this feels a little odd but you do get used to the position, and it really pays off when you turn the vibrator on."
There are 12 modes to choose from to increase or decrease sensation, and our test found that the sweet spot sits around the third or fourth setting intensity-wise. It's also pretty quiet on the lower settings and although it does get louder, our tester found the sound was easily muffled with a duvet.
The brand promotes the toy as an oral sex simulator but the jury's still out on that one, she also said. "Its motion is meant to replicate a tongue-like action, like oral sex, but I don't think it really does. You definitely have to use lots of lubrication, and there's one that comes in the box with the toy, and lots of imagination to make this work."
See our tester's full Lelo Ora 3 review for more details on this toy.
5. We-Vibe Sync
Best clitoral vibrator for couples
Specifications
Material: Silicone
Dimensions: 74.8 mm x 31.4 mm x 41.7mm
Charge time: 2 hours
Running time: 90 mins
Waterproof: Yes, apart from remote
RRP : £159.99
Reasons to buy
+
Use easily with partner
+
Can be controlled in three ways
+
Stimulates both G-spot and clitoris
Reasons to avoid
-
Takes time to set up
-
Bluetooth is unreliable
In a long-distance relationship? Our tester is too and trialled the vibrator both remotely with a partner, in person, and on her own. The We-Vibe Sync could be the best vibrator to keep that spark going, she found, as it can be controlled by anyone in the world to anyone you give permission. All your partner has to do is download the free app.
That's one way to use the We-Vibe Sync but our tester found it was also a great toy to use in person. "Once you've got the toy inside you the right way round with the thinner end inside you and the thicker one resting against your clitoris, it's super easy to use and we even used it during penetrative sex pretty effectively. Just be sure to slather the toy with loads of the best lube, otherwise, it'll be uncomfortable."
With vibes hitting both your clitoris and G-spot at the same time, and with 10 different pulsations to choose from, all you have to do is find a setting that you both like. It's also really versatile to use, more so than many of the rabbit vibrators on our list, as you can also use it standing up and keep it in with just a push of a finger every now and then without needing to grapple with the handle.
"I also thought the We-Vibe was relatively quiet so I wasn't concerned that anyone was going to hear it through the walls, which was great as I used it a fair bit and that would have been a bit embarrassing," our tester said. "Just make sure you use the sample of water-based lube that comes in the box, as it definitely helps heighten sensation."
For a full lowdown on this couple's vibrator, see our tester's full We-Vibe Sync review.
6. LELO Dot
Best unique clitoral vibrator
Specifications
Material: Silicone
Dimensions: 90 x 35 x 240 mm
Charge time: 2 hours
Running time: 2 hours
Waterproof: Yes
RRP: £159.99
Reasons to buy
+
Unique sleek design
+
Premium silicone material
+
Simple to use
+
Easy to hold
+
Available in multiple colorways
The LELO Dot is one of the brand's newest releases, having come out only late last year. It has a distinctive circular base and handle, and a pinpoint tip, and it comes in a variety of colourways, giving it a unique exterior appearance. But these aren't the only features of the Dot that make it an individual on the market right now - it utilizes Infinite Loop Technology, a new movement pattern trademarked by the brand.
The elliptical cycle created by this technology moves the point of the vibrator like an infinity symbol or the number eight, unlike many of the traditional clitoral vibrators that move in a circular motion.
While this vibrator may be built with a unique design, it's actually a very entry-level toy so it's more than suitable for anyone creating their first collection. As our tester Aoife found when reviewing the LELO Dot, it's so simple to manage and the pinpoint tip can be used directly on the clitoris as well as other erogenous zones on the body - such as the nipples, neck, and inner thighs - for amazing sensations.
See our full review of the LELO Dot for more details
7. Lovehoney Ignite 20 Function Vibrating Love Ring
Best vibrating cock ring
Specifications
Material: Silicone
Dimensions: Around 100mm
Charge time: 60 mins
Running time: 180 mins
Waterproof: Submersible
RRP: £20
Reasons to buy
+
Great for couples
+
Comes with a travel pouch
+
Hands-free play
+
More budget-friendly than other options
Reasons to avoid
-
Only three speeds
-
Too small for some men
Free from allergens, such as latex and phthalates, the Lovehoney Ignite 20 Function Vibrating Love Ring is a simple sex toy that really delivers. What's more, it's a bargain! That's because, unlike many disposable cock rings, which just rely on battery power, this one is rechargeable via USB. So there's no way the Ignite Love Ring will end up gathering dust in your sock drawer while waiting for you to buy a new battery. This couple's pick comes also with a travel pouch, which is also handy seeing as it also has a travel lock, ensuring you can store sex toys safely and it won't go off unexpectedly when you're on a weekend away.
Our tester had their partner wear this around the base of their penis and then they positioned the two small-but-perfectly-places rabbit ears around their clitoris. "I loved this feature on the Love Ring and it's a lot more than other vibrating cock rings I've tried offer. There are three different speeds to choose from, which is great and the third one is really intense. It's great. The 17 patterns of vibration are also good to have but I found they can be a bit much during penetrative sex sometimes," she says. "The full power mode is much stronger than you would expect for something so small too."
You only need a slick of lube to really feel the benefits of this adult toy, our tester also said. Inexpensive and hands-free, it's just the thing if you and your partner need an extra boost, especially in moves where additional stimulation is beneficial. While it's not too intimidating to bring into the bedroom, the only downside is that if your partner is particularly well-endowed, it might feel too tight for him, our tester said. But, as this is a versatile vibe, there's always the option of controlling it with your hands instead for some solo pleasure.
Best bullet vibrator
Designed for solo use or with a partner, the best bullet vibrators tend to be about the same size as a tampon and the girth of your thumb. In the rabbit vibrators vs clitoral stimulators, they certainly sit on the side of clitoral stimulation as they're vibrators mainly designed for external use on the clitoris and the erogenous zones, such as the nipples and perineum.
8. Lovehoney x Love Not War Maya Vibrator
Best bullet vibrator overall
Specifications
Material: Recycled aluminium
Dimensions: 76 x 114 mm
Charge time: 60 minutes
Running time: 60 minutes
Waterproof: Yes, 100%
RRP: £69.99
Reasons to buy
+
Multiple vibration modes and intensities
+
Great for temperature play
+
Fully waterproof
+
Rechargeable with USB
Reasons to avoid
-
More expensive than others on the list
Sex toy mega giant Lovehoney partnered with sustainable brand Love Not War to make this stunning bullet vibrator of recycled aluminium. Not only is it 100% waterproof, making it perfect for shower sex, but it's also fully rechargeable via USB and only takes 60 minutes (or less to reach full power).
I tried this one out as woman&home digital health editor and can't rave about it enough. There are multiple speeds, vibration patterns, and intensities to choose from, all easily manipulated by a touch of the soft silicone button on the base of the toy. The aluminium casing makes the Lovehoney x Love Not War Maya great for temperature play too - I'd recommend running it under hot water before getting started, or cold if that's more your thing.
It's heavier than many other bullet vibrators, thanks to the metal casing, which does make it slightly harder to hold in position. But, I found I got used to it very quickly. It's also more expensive than many of the options on this list, but well worth it if your budget can stretch.
9. So Divine Afternoon Delight Bullet Vibrator
Best cheap vibrator
Specifications
Material: Plastic
Dimensions: 90mm
Charge time: 3 x LR44 (batteries included)
Running time: Depends on batteries
Waterproof: No
RRP: $17.99 / £13.99
Reasons to buy
+
Very easy to use with a single button
+
Multiple modes to choose from
+
Cheaper than others at under £15
Looking for a cheap and cheerful vibrator? The So Divine Afternoon Delight Bullet Vibrator comes in at under $20 / £15 but still has 10 different vibration modes, three speeds, and seven patterns to choose from, offering a little of everything. This can make it difficult to roll through the settings in the heat of the moment under pressure, but otherwise, it's a great experience.
Unlike the Lovehoney x Love Not War Maya vibrator though, it's not USB rechargeable. You'll need batteries on hand to make this one work and the batteries you buy will dictate how long the toy lasts for in the bedroom. It's also made of hard plastic, unlike the Durex pick, meaning it feels a little tougher on the intimate areas without the benefit of temperature play offered by the Maya.
Use on its own by yourself or with a partner, the So Divine Afternoon Delight Bullet Vibrator makes for the perfect easy-access accompaniment to any situation. The little bullet would also fit snugly into a harness if you're looking for an accompaniment to one of the best lesbian sex toys, measuring under 100mm.
10. Durex Intense Delight Vibrating Bullet
Best battery-powered vibrator
Specifications
Material: Smooth ABS (plastic)
Dimensions: 92mm x 22mm
Charge time: N/A, battery operated
Running time: 5 hours, but depends on battery brand
Waterproof: Yes
RRP : £16.90
Reasons to buy
+
Good for first-timers
+
Less than £20
+
Quiet
+
Waterproof
+
Super affordable
Reasons to avoid
-
You might become bored quickly
-
Not rechargeable
There's nothing wrong with keeping things simple and that's why I loved the Lovehoney Intense Delight Vibrating Bullet when I tried it for myself. As one of the best sex toys for beginners, it's a perfect pick as it's so easy to use with a simple button on the bottom of the toy to turn the vibe on/off. There's only one speed setting though so if you want something with a little more range, go for the My Viv Slim Vibrator.
The Vibrating Bullet is a real bargain but that's not the main reason why it features as the top bullet on my best vibrator list - it comes with a battery that lasts for up to five hours, so it's ready to use as soon as you open it. Despite it only having one vibe setting, which is on the gentle side, this toy is waterproof so you can use it in the bath and shower. What's more, it's really quiet.
11. My Viv Slim Vibrator
Best vibrator for those with vaginismus
Specifications
Material: Silicone
Dimensions: 114mm x 15mm
Charge time: N/A
Running time: Depends on battery brand
Waterproof: No
RRP: £18
Reasons to buy
+
Great value
+
Not intimidating for beginners
+
Easy to use
+
Budget-friendly compared to other options
Reasons to avoid
-
Need to replace the batteries
-
Noisy at times
Looking for something a little longer than the average bullet but without an intimidating girth? The My Viv Slim Vibrator is suitable for both internal and external use (which makes it more versatile than standard smaller toys like the Durex Intense Vibrating Bullet), so is the ideal pick. You also won't have to spend a fortune on this vibrator as it's one of the more affordable options on the list of best vibrators on Amazon as well.
Designed for anyone who experiences painful sex due to vaginismus, vaginal tightness, trauma, or cancer treatment, our tester was keen to try the vibe after struggling to find one that worked for her. "It's smooth and lightweight which I loved immediately," she says. "I carefully inserted it still using plenty of lube though as I was nervous about being in any pain and found the whole experience to be really positive overall."
There are three speeds (which start off gently, our tester said) and seven pulse patterns, so you can increase the intensity of the vibrator slowly as you gain more confidence using it. "There's also only one button to control everything, which makes it so simple to operate," our tester said, "I really liked this too as I struggle with holding vibrators sometimes during use and I always want to be able to turn them on and off if I feel any pain and want to stop."
The only downside is that it needs batteries so you have to replace them, she says, and it can be slightly noisy at times. Otherwise, a great bargain.
Best rabbit vibrator
The best rabbit vibrators were made famous in the 90s, popularized by the hit television show Sex and the City. They target both the G-sport and clitoris to create one strong, blended orgasm.
12. Happy Rabbit G-Spot Rechargeable Rabbit Vibrator
Best rabbit vibrator for intense vibrations
Specifications
Material: Silicone
Dimensions: 240mm x 133mm x 38mm
Charge time: 150 mins
Running time: up to 120 mins
Waterproof: Yes
RRP: £59.95
Reasons to buy
+
Both G-spot and clitoral stimulation
+
Waterproof
+
Quiet
+
Multiple colors available on Amazon
Reasons to avoid
-
Intimidating for first-timers
-
Intense settings
Rabbit vibrators are some of the best vibrators out there for a blended orgasm. This is when you have two different types of orgasm at the same time (usually a clitoral orgasm and an internal or G-spot orgasm). Rabbits are perfect for achieving this because they're designed to stimulate both the clitoris and the vagina at the same time - just be sure to use plenty of lube before you start.
For me, this is the best standard rabbit vibrator. It's powerful and not for the faint-hearted. Even the shape of the shaft is a bit overwhelming, despite the cute rabbit-shaped features, so you'll need to use plenty of lube to make this work for the first time.
Complete with an easy-control button, this vibrator has 15 modes that make the shaft and the bunny ears move at different times. It's worth noting that these are specifically designed to greatly increase your chance of having an orgasm - which it does - but it's quite fierce at times so can make you orgasm in a matter of seconds. It's also not great if you're extra sensitive down below.
There's no hiding what this is - you certainly wouldn't want a family member to stumble across it accidentally - but it definitely does the job, and quickly, so it was an obvious addition to my best vibrator guide.
See my full Happy Rabbit G-Spot Rechargeable Rabbit Vibrator review.
13. LELO Ina Wave 2
Best rabbit vibrator overall
Specifications
Material: Silicone
Dimensions: 200 x 650 x 45 cm
Charge time: 120 minutes
Running time: 120 minutes
Waterproof: Yes
RRP: £124
Reasons to buy
+
Double stimulation
+
Waterproof
+
Easy to clean
+
USB rechargeable
For a rabbit vibrator that ticks all the boxes, try the Lelo Ina Wave 2. It's available in three different colours and comes with all the vibration settings you'll need, with settings to allow for independent movement of the head and body of the vibrator.
The body is attached flexibly to the rest of the vibrator, so it bends and adapts to your angles as you insert it. The round nub of the head, rather than rabbit-shaped ears, means there's a feeling of general pressure more than direct stimulation. But it still feels great, says Mandy Ruther, who tried and tested the Lelo Ina Wave for us.
The Lelo Ina Wave 2 is discreet noise-wise when used just in vibration mode, but as our tester says, it's much louder the minute you step things up and utilize the toy's WaveMotion technology. Keep it on vibration mode only if you're looking to stay quiet, she suggests.
Read our full review of the Lelo Ina Wave 2 here.
14. LELO Enigma
Best vibrator for a blended orgasm
Specifications
Materials: Body-Safe Silicone, ABS
Dimensions: 100mm x 50mm x 185mm
Charge time: 2 hours
Running time: Up to 2 hours
Waterproof: Yes
RRP: £130
Reasons to buy
+
Both G-Spot and clitoral stimulation
+
Specialist clitoral stimulation
+
Fully waterproof
+
Soft and flexible
LELO has a habit of pushing the boundaries when it comes to sex toys, and this new-style vibrator is no exception, our tester found. "The Enigma is a bit like a rabbit vibrator in the sense that one end can be used for internal penetration to hit the G-spot and there's an external numb to hit the clitoris at the same time. The 'nub' definitely has special powers though," she says. "I had an orgasm so quickly using this toy, which was great but I would have liked more of a lead-up."
Using sonic waves, the LELO Enigma actually blows air onto that area rather than offering stimulation with vibrations. It's a little like the Satisfyer Pro 2 in this way. This is ideal if you prefer a lighter touch. Although, as our tester said, this doesn't make it any less effective. The effect of the double stimulation can lead to a mind-blowing blended orgasm which, of course, means double the pleasure for you.
Available in either pink or black, the Enigma has eight different vibe settings and is fully waterproof - so definitely the best vibrator pick for some "me-time" alone in the bath. The only real downside is that it's so soft, bendy, and fits the female body so well that you won't want to share it with a partner.
Best G-spot vibrator
G-spot vibrators come in all different shapes and sizes. Some are rabbits that work the G-spot and the clit at the same time, some are more dildo-shaped and just focus on the one spot, while others are egg-shaped and work as the best app-controlled vibrators.
15. Kurve by Hot Octopuss
Best vibrator for G-Spot orgasms
Specifications
Material: Silicone ABS
Dimensions: 194mm x 82mm x 42mm
Charge time: 2 hours
Running time: 2 hours
Waterproof: Yes
RRP: £89.95
Reasons to buy
+
Super soft and flexible
+
Deep rumbles
+
Good variation of vibes
+
Great to use in a couple
Reasons to avoid
-
Slightly noisy
-
Fiddly to use at times
Strong, deep vibrations and super soft, this traditional-looking sex toy is the perfect shape for penetration, making G-Spot orgasms almost guaranteed. No wonder it made it onto my best vibrator roundup.
But, the Kurve goes one step further as it comes with special dual-motor technology - simply put, this nice-and-punchy penetrator has both bass and treble settings for really rumbly vibrations throughout. The treble controls the tip of the vibrator, while the bass makes the shaft rumble. It means the combination of vibes feels endless, so you won't get bored in a hurry. The only downside is that while the controls are raised so you can feel them easily, there are four buttons to control instead of the usual "up and down" typical of most G-spot vibrators, making it slightly less intuitive.
The best bit about this adult toy, and the reason I love it so much, is the bulbous end is super soft (and I really mean that - it's a lot softer than anything else I've ever tried), so great for using on your clitoris or during foreplay with your partner. Plus, it's fully waterproof, so your fun doesn't have to stop in the shower or hot tub. Two hours of battery life may seem like a long time, but the Kurve is so addictive that you'll definitely need to keep charging it up again and again.
16. Roam The Wand
Best multi-use G-spot vibrator
Specifications
Material: Silicone
Dimensions: 21 x 5.5 x 5.5 mm
Charge time: 1 hour
Running time: 1 hour
Waterproof: Yes
RRP: £59.99
Reasons to buy
+
Doubles up as G-spot and wand vibrator
+
Easy to use
+
Super smooth silicone materials
+
Bendable for easy use
+
Unique color choice
Reasons to avoid
-
Only available from a handful of websites
Roam's The Wand might be the last vibrator on our list but it's still undoubtedly one of the very best. While it looks like a traditional wand vibrator, this vibe is perfect for both external use around the vulva and clitoris, and internal use with the round head designed to stimulate the G-spot as well.
The Wand is completely flexible I found, making it easy to hold in the heat of the moment and easy to adjust the entire stem to fit an angle that works best for you or your partner, while still being firm enough to make an impact. There aren't hundreds of settings to cycle through either, which is a big positive in my books. While having 10s of modes may be beneficial for some, I tend to find that more than half are unusable. Every single one of the settings on The Wand is a winner.
My favourite feature of The Wand, however, is the easy-to-use button on the base of the toy. Many of the best vibrators on this list are excellent when they're buzzing along but a little tricky to turn on and off - not this one. There's just one button on the base of the toy and you hold it down to turn the device on and hold it to turn it off. So simple. The packaging for the toy is also beautifully sleek and the materials are silicone smooth, making this one of the best luxury sex toys at an affordable price point.
How we tested and selected the best vibrator
Effectiveness: We tested each vibrator to see whether it worked to effectively stimulate the intended area or whether it was all just buzz. This is often down to personal preference and everyone's different, but if it worked for our testers then the vibe was a contender.
Beginner or advanced: Was the vibrator better suited for beginners or those more advanced and used to using sex toys? This was based on whether the toy was easy to turn on and off, easy to use, and whether it came with all the necessary charging essentials.
For solo or partner use: We tested each vibrator to see whether it was a better fit for masturbation or use with a partner. For example, remote vibrators are often best controlled by someone else, while rabbits are easier for solo play.
Charging: How easy was the vibe to charge and how long did the battery last? There's nothing worse than getting to the beginnings of a climax, only for your buzz to fade out, so we tested how easy it was to charge each of the vibes. We also noted whether there was any warning of a low battery, and how long the battery lasted after the warning.
Waterproof or splashproof: Many vibrators are resistant to water these days, meaning you can take them into the shower, but we noted whether each of the vibrators was fully submergible or splashproof and whether it could be cleaned with water or not.
Discreet packaging: Using a vibrator is nothing to be ashamed of - but it's maybe not something we want the neighbours to know about. So, we noted whether each of the vibrators arrived in discreet packaging or if the brand logo and contents were advertised on the outside.
Originality: Sometimes a rabbit just needs to be a rabbit but with hundreds of different models available, we noted whether a vibe had something unique about it that set it apart from the others. For anyone looking to try something new, these are the ones to go for.
How to choose a vibrator
Decide what kind of vibrator you want: This is all about what type of stimulation you want. Do you just want to focus on the clitoris? Then a clitoral stimulator or bullet vibrator will be the best pick. Whereas if you want dual stimulation, a rabbit vibrator or a combination of a G-spot and finger vibrator may be a better option. Looking to engage in visual or audio erotica while you play, a remote control vibrator could be for you.
Think about whether you want to try a classic vibrator or something new: "Think about exploring other parts of your body with your vibrator too," says Ness Cooper, sexologist, and one of the experts we consulted for this best vibrator buying guide "You may find that you have some hidden erogenous zones that you didn't know about."
Always choose a reputable brand: There are many great sex toys for sale on marketplaces like Amazon but you should only ever buy from a trusted retailer. Not only will it be safer for your body, but these brands will have standards they need to uphold. They'll also have more reviews and more real-life testing experiences to learn from.
Read the reviews: "Reading reviews can be very helpful, not only because they can give you insight into a sex toy's quality but many are packed with tips on how to use it. Check out a couple before you decide on choosing a vibrator as it'll give you a better idea of what to go for," says Cooper, who is also the founder of The Sex Consultant.
Try a bundle: "Look into bundles and multipacks of sex toys, as these can be a great way to explore different shapes, sizes, textures, and vibrations," says Cooper.
Take a look at the returns policy: If you're buying a vibrator for the first time, it's always worth checking the returns policy. Lovehoney, for example, offers a total refund on all products (whether they've been used or not) within 30 days, while others will only offer a refund if the product is as good as new.

Ness Cooper is a clinical sexologist and therapist, trained in sex education and pelvic floor biomechanics. She is registered under the International Society for Sexual Medicine and the American Board of Sexology as a clinician in private practice.
How to wash your vibrator
Some are waterproof and you can remove the batteries before dunking in water and body-safe soap, whereas others that are not waterproof may need more specialist cleaning, with wipes or sprays. When in doubt, it's best to consult the manufacturer's guidance in the instruction booklet.
Knowing how to clean a vibrator is essential for general sexual health maintenance. It's one of the most important things you need to know when buying any kind of vibrator.