Rabbit vibrators vs clitoral stimulators: here's how to tell which one will give you a better orgasm
Rabbit vibrators vs clitoral stimulators - we lay out the difference between the two with pros and cons to consider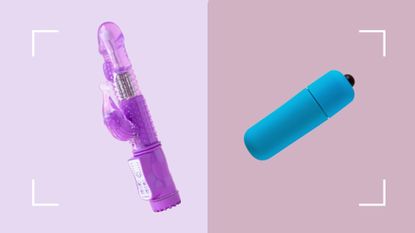 (Image credit: Future/Getty Images)
woman&home newsletter
Sign up to our free daily email for the latest royal and entertainment news, interesting opinion, expert advice on styling and beauty trends, and no-nonsense guides to the health and wellness questions you want answered.
Thank you for signing up to . You will receive a verification email shortly.
There was a problem. Please refresh the page and try again.
Weighing up rabbit vibrators vs clitoral stimulators is essential if you're new to the world of sex toys and looking to buy your first vibrator. While the two are similar in a number of ways - the main one being they help you reach the same end goal - how they get you there is very different.
It mainly comes down to what you prefer, g-spot stimulation or all in on the clitoris? Some people prefer a mixture of both, which is where the rabbit shines, while others find the dual combination a little much and prefer a bullet vibe.
Here, so you know which one's best for you before you browse for the best vibrator to buy, we explore the differences between rabbits and clitoral vibrators with the help of Lovehoney's resident sex and relationship expert Annabelle Knight (opens in new tab).
What is a rabbit vibrator?
The best rabbit vibrators (opens in new tab) are vibrating sex toys made in the shape of a phallus with a clitoral stimulator attached to the shaft. "The name of the device is derived from the fact that the clitoral stimulator looks like a pair of rabbit ears," explains Knight, who works with Lovehoney (opens in new tab) on their extensive range of sex toys. "The shaft of a rabbit is long and smooth, perfect for pleasing the G-spot. While the clitoral tickler is flexible and often textured."
Pros and cons of the rabbit vibrator
Dual stimulation of the clitoris and g-spot
Their standardised shape means there are plenty of different designs, models, colors, and variations to choose from.
Offer control over orgasm intensity, with various speeds and vibrations to choose from.
---
"One size fits all" design of the rabbit may not work for everyone
Dual stimulation may be a little intense for some people
Can be difficult to handle and get into the right position if you're not used to using a rabbit vibrator
The main plus point of the rabbit is its versatility though and if you're looking for a good all-rounder, then you really can't go wrong with this style of vibe. "Rabbit vibrators are designed to give more intense sensations than more traditional vibrators, which may help anyone who struggles with how to have an orgasm during masturbation. They can provide simultaneous vaginal and clitoral stimulation," Knight explains. "A rabbit vibrator can be used for solo pleasure or as a way to liven up partnered sex."
What is a clitoral stimulator?
The clitoral stimulators do exactly what the name suggests - they stimulate the clitoris. However, they tend to come in lots of different shapes and sizes for various sensations with this year's favorite, the rose sex toy up there with some of the best.
There's also the best bullet vibrators, which are smaller and more compact with fewer functions, then the whole range of wand vibrators which are larger and can offer more.
"These are vibrators designed to externally stimulate a woman's clitoris for her sexual pleasure and orgasm," Knight confirms. "They are not penetrating toys, however the shape of some clitoral vibrators allows for penetration and the stimulation of inner erogenous zones for extra sexual pleasure."
Pros and cons of clitoral vibrators
Focus on the clitoris for those who want something more precise
Come in a range of styles, including bullet and wand shapes
Often pocket-sized so are discreet and easy to travel with
---
Precise stimulation directly onto the clitoris may be too intense for some
Many clitoral vibes are battery operated, which can be irritating if the batteries run out
Bullets tend to only vibrate, where rabbits can rotate and perform other functions
If a bullet takes your fancy, don't let the smaller size of them deceive you - they are still very powerful toys. "The main function of the clitoral vibrator is to vibrate at varying speeds and intensities," Knight says. "Bullets can also come in lots of shapes and sizes. Many of them are super-discreet shapes, which suit some women who prefer alternatives to phallus-shaped toys."
Rabbit vibrators vs clitoral stimulators: how your orgasm may differ
Many women find they climax easier with a clitoral stimulator, Knight says. "This is because the external clitoris is the part of the body that contains the greatest density of nerve endings. So, when stimulated, it can lead to pleasure. Some women find their orgasms are more intense when the stimulation centers solely on the clitoris."
Studies on orgasms and female masturbation back this up, with research from Indiana University (opens in new tab) confirming that while it does differs through the population, a substantial number of women require some form of clitoral stimulation to orgasm.
For the same reason though, rabbit vibrators are also a good pick. "Rabbit vibrators can offer the best of both worlds – clitoral stimulation and penetration," says Knight. "And what really makes the rabbit so popular is its ability to give you the sought-after 'blended orgasm'. Blended orgasms are just for vulvas and are when both the G-spot and clitoris are stimulated at the same time. The experience is very intense."
Rabbit vibrators vs clitoral stimulators: which is better for sensitivity?
If you often feel sensitivity or even pain during sex, then you might you may prefer a clitoral stimulator like a wand vibrator. "These are best suited to women who prefer to focus more on clitoral stimulation. This is perhaps because they can feel discomfort through repeated penetration."
Knight continues by saying that wand vibrators may be easier on the vulva and clitoris area as they have a wider surface area that bullet vibrators, which are very precise as they often have a pointed tip. "Wand vibrators are now rivalling classic and rabbit vibrators in terms of popularity, as they give intense vibrations over a wider area and this can lead to more intense orgasms."
What to look out for when buying a rabbit or clitoral stimulator
Ultimately, if you're only looking to buy one toy then versatility is best. "Choose a toy made from high-quality, non-porous materials that has a range of speeds and settings. This will mean you can find the right kind of stimulation to suit your body."
But also think about what you'll be using your toy for. If you really enjoy sex in the shower, a vibrator can take things to the next level - but you'll need to buy a waterproof one. And if you think you'll be taking your vibe abroad, make sure to pick one that has a travel lock, or risk an awkward situation at baggage claim.
The retailer you choose to buy from can also make a big difference. "Always buy from a reputable retailer that has a good returns policy. Plus, look for in-store experts who you can talk to, so you know you are buying a toy that perfectly suits your body," says Annabelle. "And if you prefer to shop online, many brands [including Lovehoney] have a team of experts working 24/7 on the phone and via the chat service. This means you can talk to an expert and find exactly the right toy based on your sexual preferences."
Rabbit vibrators vs clitoral stimulators: which is best for an orgasm?
So rabbit vibrators vs clitoral stimulators, which one is better? "It really depends on the person," says Knight says. "Lots of women love both types of sex toy. They might want a rabbit vibrator when they are feeling energetic and crave penetration. But they could opt for a clitoral stimulator for other times when they are looking for less vigorous pleasure."
Not sure which one you'll be in the mood for? Buy them both, Knight suggests, especially as many brands also have a good returns policy where you can send back sex toys - even if they've been used. "It really is a case of trial and error and working out what suits you best," she says. "Both types of toys are the go-to choice for many women."
Faye M Smith is an award-winning journalist with over 15 years experience in the magazine industry. Her continued work in the area of natural health won her the coveted title of the Health Food Manufacturers' Association (HFMA) Journalist of the Year Award 2021. Currently Health Editor across several brands including woman&home, Woman and Woman's Own, Faye specialises in writing about mental health, the menopause, and sex and relationships.