Best wand vibrators: 14 tried and tested buys for couples, solo fun and to use underwater
Our tried and tested round up of the best wand vibrators has something for everyone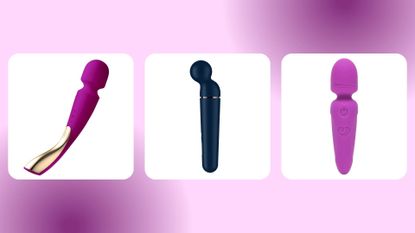 (Image credit: Lelo / Satisfyer / Lovehoney)
The best wand vibrators are some of the larger types of sex toy out there, designed to stimulate the clitoris and various erogenous zones. From LELO and Lovehoney to smaller retailers, we've tested some of the top brands to bring you a roundup of the best to buy in 2023.
Wand vibrators, which are sometimes called magic wand vibrators or massagers, are the original sex toy of the 70s. Their popularity came about through the invention of a wand-shaped massager called the Hitachi, which wasn't originally marketed as a sex toy but quickly became one after its reputation for excellent clitoral stimulation became known. Fast forward to the early noughties and sales soared once again when Sex and the City's Samantha was seen using a toy that looked very similar to the famous wand. Sex toy brands have been bringing us their take on the highly versatile pleasure toy in a range of shapes and sizes ever since.
While most wand vibrators resemble a microphone shape, featuring a round bulbous head and a flexible neck, there are so many to choose from - everything from XXL vibrators with multiple charges to simple, battery-operated toys. Here at woman&home, we know the importance of having the best vibrator, a reliable companion for solo pleasure, foreplay, and use with your partner. We've tried and tested a whole range to create this list of top picks and help you find the best wand vibrator for you.
The best body wand vibrators, as tested by us
Why you can trust Woman & Home Our expert reviewers spend hours testing and comparing products and services so you can choose the best for you. Find out more about how we test.
Best wand vibrator overall
Specifications
Length: 304mm
Weight: 383g
Waterproof: Yes
Running time: Up to 4 hours
Vibe patterns: 10
Added extras: One year warranty, storage pouch
RRP: £135.95 / $155
Reasons to buy
+
Super stylish
+
Silicone material feels super smooth
+
Ultra-powerful
+
One year warranty
Reasons to avoid
-
Noisier than other vibrators on the list
The best wand vibrator is easy to use, made of soothingly soft materials, and packs vibrations from gentle hums to powerful pulses so you can get what you want every time you use the device. Enter the Lelo Smart Wand 2, available in three distinct colours. This vibrator ranks top of the list for us thanks to all these qualities and more.
In fact, the super-soft silicone is incredibly pleasurable to handle. While it's great to use with a partner, it's worth noting that the extra-long shaft makes it easy to give yourself a massage, and can help target those harder-to-reach erogenous zones.
Using this Lelo wand isn't too different from using a bullet vibrator - it's just a little larger. There are 10 vibrating modes to choose from and, once the body wand massager is charged up, the intensity of some of these settings is insane. You can definitely tell the difference between the buzzing variations, which isn't always the case with cheaper models. The bulbous head changes direction and intensity with ease. So, if you're looking for something to give you pleasure - and fast - then this is it.
The Lelo Smart Wand 2 is definitely one of the best body wand vibrators we've tried. With a four-hour battery life, you really won't want to go back to cheaper versions any time soon. Just be wary if you live with other people as this beast of a vibrator is noisy - so prepare for the bedroom to rattle in more ways than you might expect!
Read our full Lelo Smart Wand review here and if you're looking for a deal on the wand before the new year, there are plenty of Lelo Black Friday sales to look at.
2. Lovehoney Ignite 20 Function Rechargeable Mini Wand Vibrator
Best mini wand massager
Specifications
Length: 101mm
Weight:
Waterproof: Yes
Vibe patterns: 3 speeds, 17 patterns
RRP: £32.99 / $34.99
Reasons to buy
+
Pocket-sized vibrator
+
Quiet during use
+
Soft silicone
+
Travel lock
+
Comes with a storage bag
Reasons to avoid
-
Not super strong vibrations
Looking for a small and discreet wand vibrator to slide into your bedside drawer or bathroom cabinet unnoticed? The Lovehoney Ignite 20 Function Rechargeable Wand Vibrator is the perfect choice, measuring just 101mm in length, it's a toy that measures just a little longer than your index finger.
This does mean you have to use the toy with your fingers rather than holding the handle in your palm as you would do another wand vibrator, but for those who want something more akin to a bullet vibrator with all the benefits of a wand, this is the one to go for. There are still an impressive 20 functions to choose from, including three speeds and 17 different patterns so you're bound to find something for you. The vibrator also charges easily via USB, so no need to stock up on batteries.
It's worth noting though, that as brilliant as this small vibrator is, it's far from the most powerful on our list. "This vibrator would be more of a toy for foreplay than the main event for me," says our tester Laura. "It's not very powerful. I found I had to keep it on the highest vibration at all times to get good vibrations, so I couldn't have any variation in speed. However, it's relatively budget-friendly compared to some of the other small wand vibrators I've had over the years and it does work well. I'm looking forward to taking mine on holiday and seeing how the travel lock pans out."
3. Satisfyer Double Wand-er
Best luxury wand vibrator
Specifications
Length: 269.8mm
Weight: 939.5g
Waterproof: Yes
Vibe patterns: Unlimited
RRP: £100.95
Reasons to buy
+
Very strong vibrations
+
Premium-feeling material
+
Unlimited number of functions via app
+
Two interchangeable heads included
+
Use with or without the app
Reasons to avoid
-
White silicone stains easily
-
Heaviest wand vibrator on the list
The Satisfyer Double Wand-er is a wand vibrator that knocks almost every other one out of the park. Its mammoth size and weight won't be for everyone, so be sure to check the dimensions before you invest, but when it comes to powerful vibrations, versatility, and design, this toy is unmatched.
This wand vibrator comes with interchangeable two heads: a classic bulb-shaped head that allows for traditional clitoris-focused stimulation, as you might expect from a wand vibrator, and a head designed for internal G-spot stimulation. The two are easy to swap in and out so you can go wherever your mood takes you.
"I loved using this toy so much, I've actually cleared out most of my collection to make a permanent space for it. For me, strong vibrations are a must, otherwise what's the point? This vibrator definitely delivers on this. Even the first speed setting feels strong enough to take you over the edge," says our tester Donna. "The other head, which looks like it should belong on a rabbit vibrator more than anything else is a great addition and I use this one regularly. The head has ridges at the end of the dildo-shaped arm, meaning you can get some dual G-spot and clitoral stimulation too, which I loved."
It might also surprise you to know that this is one of the most discreet vibrators on the list. While its intended function will be clear to those in the know, since the 'Satisfyer' brand is stamped on the outside of the toy, the smooth white colour paired with the transparent neck makes this wand look very much like a real back massager. And if you're feeling achy after your session, it can actually be used as one too. This large wand vibrator is made for all-over body stimulation.
The Satisfyer Double Wand-er pairs with the Satisfyer app, making it one of the best remote vibrators as well. On the app - provided you don't mind looking at your phone during your time with the vibe - you can choose from loads more vibration modes, create your own programs, control the vibrations remotely (making it a great toy for long-distance relationships), and even chat online with others.
"However, I did notice that the white silicone did show visible marks more than some other toys I have. For example, I accidentally put the head down on my dresser where I'd smudged some foundation. The toy picked up the colour of the foundation immediately and I had to get my cleaning kit out to remove it, it didn't come off just by wiping, so I'd watch out for where you store this toy." For more advice on how to store sex toys safely, read our guide.
4. We-Vibe The Wand
Best quiet wand vibrator
Specifications
Length: 309 mm
Weight: 413 g
Waterproof: Yes
Vibe patterns: 9 patterns
RRP: £159
Reasons to buy
+
Quiet during use
+
Comes with two attachments
The Wand by We-Vibe is an XXL choice with an ultra-flexible neck for added versatility. But that's not all. Thanks to the Smart Silence function, the Wand will buzz only when it touches your skin or a surface. This is due to the clever sensor in the head, which makes sure that the vibes start only when you want them to. This stops unnecessary buzzing and makes the whole experience a lot quieter.
Another benefit of the Wand by We-Vibe is that it comes with two custom attachments to slip around the head, which means your toy can be used in multiple different ways. The vibrations are intense, even in the softer settings, so it can help you climax very quickly. And, thanks to the free We-Vibe app, if you want your Wand to be controlled remotely from anywhere in the world, all you have to do is connect your toy via Bluetooth.
The reason we rate the Wand so highly is that the usual two buttons most wand vibrators have to change the speed of the vibes have been given a total upgrade, and have been replaced by a joystick-like controller. You simply push the joystick either up or down, depending on whether you want to go faster or slower. Not only is this great if you have mobility issues in your hands or are using it in an awkward position with your partner, but it just makes you feel so much more in control. It's a lot more seamless than other toys.
You'll use the Wand by We-Vibe for many years to come, so it's certainly worth your investment. However, in my experience, this one tends to sell out pretty quickly. Be quick if you see it on sale, as this is one of the best vibrators on Amazon.
See our full Wand by We-Vibe review and keep an eye on the Lovehoney Black Friday deals if you're looking to make a saving.
5. Lovehoney Happy Rabbit Wand Massager
Best rabbit wand vibrator
Specifications
Length: 266mm
Weight: 200g
Waterproof: Yes
Vibe patterns: 10
RRP: £84 / $99.99
Reasons to buy
+
Great clitoral stimulation
+
Unique design
+
Lots of vibe patterns
If you love the Happy Rabbit G-Spot Vibrator, but find you only use it for clitoral stimulation, then switching to the Happy Rabbit Wand Massager is a great choice. The clever design is a hybrid of a typical wand vibrator but it has bunny ears where the bulbous head would normally be. This means you get really targeted clitoral stimulation, which can help you prioritize your orgasm.
But, it's not just the bunny ears that will help give you pleasure. As one of the best rabbit vibrators, this toy also buzzes and can be used on erogenous zones, such as nipples, your stomach, or your back, making it good for use with a partner too. Fully charged in 150 minutes, it's also waterproof, so great to use for some added fun in the bathroom.
The tapered handle makes it easy to hold, which is good as there are 10 different vibrations to choose from and three different speeds. I found these get intense, so you need to hold on tight.
Our tester thought the added extras made this such a good buy and one of the best of its kind. Not only is there a travel lock so it won't go off unexpectedly in your bag, but the Happy Rabbit Wand Massager is latex-free and phthalate-free, so is ideal if you have allergies or are sensitive down below. The only downside is that if you like to have your sex toys in an array of bright colors, sadly, it's only available in black.
6. Satisfyer Planet Wand-er
Most powerful wand vibrator
Specifications
Length: 83 mm
Weight: 572g
Waterproof: Yes
Vibe patterns: 10 vibration programs and 6 intensities
RRP: £58.95
Reasons to buy
+
Very powerful
+
Huge number of vibration combinations
+
Super soft silicone material
+
Dual purpose
+
Unique colour options
Reasons to avoid
-
Heavy
-
Fairly loud even on lower settings
-
Picks up dust easily
With six levels of intensity available to users of the Satisfyer Planet Wand-er, it's the pick of the best wand vibrators for those who love (and we're talking LOVE) powerful vibrations. Even from the first level, it's intense, and there are 17 different vibration patterns to choose from. You can go from a heavy hum to rapid and powerful pulses in just a couple of seconds, while the flexible neck makes pinpointing the right angle easy every time.
"This is definitely the most premium vibrator overall in my collection," says our tester Laura. "The silicone material feels so silky and soft underhand, making holding the toy a pleasure on its own. [I have the blue version] and I love the colour, it's very different from a lot of other vibrators. The toy does feel heavy to hold and if you were using it for more than a couple of minutes, you'd definitely get some kind of wrist strain as the head of the toy is heavier than the end of it. But to be honest, I don't think anyone is lasting that long [with this vibrator]."
Much like the Satisfyer Double Wand-er, the Planet Wand-er connects to the Satisfyer app where you can find almost hundreds more combinations to try, personalise your own vibrator programmes, give the control over to your partner wherever they are in the world, and chat with others.
"My only issue with this vibrator is also one of the features I love about it. The material feels super soft but it does pick up dust and fluff easily, so I'd suggest keeping this toy off the floor of your bedroom where possible and because of the dark colour, you can really see it," our tester says.
7. INMI Ultra Thrust-Her Wand Massager
Best thrusting wand vibrator
Specifications
Length: 273mm
Weight: 290g
Waterproof: Yes
Running time: 2 hours (100 mins thrusting)
Vibe patterns: 4
Added extras: Thrusting function, can be used internally
RRP: £45 / $52.95
Reasons to buy
+
Unique thrusting function
+
Lightweight
Reasons to avoid
-
Low choice vibe settings
-
Loud
If you like using your sex toy solo while being intimate with a partner, then the INMI Ultra Thrust-Her Wand Massager is one of the best wand vibrators for you. Not only is it one of the best lesbian sex toys thanks to the double-ended feature, it's designed to feel like the real deal by offering vibrators, throbs, thrums, and thrusts. This makes it, in my opinion, the perfect accessory to add into the bedroom. While you can use it as a full-body massager or to help arouse external areas and the clitoris, you can also turn it the other way round and the device turns into a thrusting sex toy to use internally.
To enjoy the extra thrusting setting (which is around 152mm long), you do have to make sacrifices. At 273mm, the INMI Ultra Thrust-Her Wand Massager isn't quite as large as some of the other mega massagers, which means it's hard to reach the trickier parts of your body without the long handle. However, it's great for seeing which sensations you prefer, which can help you make decisions on what sex toys should be in your arsenal going forward.
And, it's not just the thrusting ability that helped give this wand vibrator a coveted place on our list. The phthalate-free silicone means it's super soft, which is essential when you're using every inch of it. Be warned, though - the thrusting action can be intense when used inside, so our top tip is to make sure you have plenty of the best lube (water-based) on standby.
8. Lovehoney Desire Luxury Rechargeable Wand Vibrator
Best wand vibrator for targeted orgasms
Specifications
Length: 266mm
Waterproof: Yes
Running time: 120 mins
Vibe patterns: 8
RRP: £79.99 / $99.99
Reasons to buy
+
Sleek and stylish design
+
Great variety of vibes
+
Nub design for ultimate pleasure
Reasons to avoid
-
Hard to get angle right
-
Controls can be tricky
Lovehoney's Desire Luxury Rechargeable Wand Vibrator looks more like an ice-cream cone than a wand, but it still has the right magic to help you achieve orgasm - fast. This is largely thanks to the added nub, which was included in the updated design of Lovehoney's popular sex toy, and means it can really target clitoral stimulation. The cone-shaped design also makes it really easy to handle.
But, the main reason we've included this in our round-up and given it such high marks is the intensity of the vibrations it gives off. With eight vibration patterns and 12 speeds to choose from, this is ideal for those who want something ticklish and gentle one minute, and really powerful vibrations the next. The only downside is that it can be slightly tricky at times to slip between them when you're in the middle of pleasure.
Fully waterproof, the Lovehoney Desire Luxury Rechargeable Wand Vibrator is easy to clean and can be stored in the complimentary storage pouch included. See our guide to how to clean a vibrator if you need a refresh.
9. Le Wand Rechargeable Massager
Best traditional wand vibrator
Specifications
Length: 340mm
Weight: 674g
Waterproof: No, splashproof
Running time: 300 minutes
Vibe patterns: 20
Added extras: Storage pouch, 360-degree rotating neck
RRP: $169.99 / £129.99
Reasons to buy
+
Great selection of vibes
+
Super long
+
360-degree rotating neck
Reasons to avoid
-
Heavy
-
Not fully waterproof
Le Wand Rechargeable Massager looks like a traditional wand vibrator (which is very similar to a microphone) except much, much bigger. This means you can easily grip the handle while working the vibrating head over every area of your body, making it one of the best wand vibrators on our list. And, if someone sees it in your house or bag, they may just think it's a device to help relax tired and aching muscles.
Sleek and smooth, you'd expect something this size to be powerful, and it certainly doesn't disappoint. There are a staggering number of vibration patterns to choose from (20 to be precise), which is more than any other wand vibrator we tried and tested.
At around 68dB at its loudest setting, the Le Wand is on the noisy side (this is about the same level as a standard conversation). But, it won't go off unexpectedly in your bag thanks to the travel lock, which is just one of the reasons we think it's one of the best available right now.
Not only can you use it for muscles and sweet spots, so you won't get bored easily, but if you go for the Le Wand brand then you can keep adding to your collection and improving the toy you have. That's because they sell textured silicone accessories which can be attached to the head of this toy to spice things up even further, instantly giving you a whole new way of using it.
10. Kandid Wand Vibrator The Small One
Best lightweight wand vibrator
Specifications
Length: 200mm
Weight: 159g
Waterproof: Up to 1 metre for 30 mins
Vibe patterns: 7
RRP: $80 / £124
Reasons to buy
+
Really quiet
+
Suitable for beginners
+
Lightweight