The LELO Smart Wand 2 review - is the medium body wand massager worth the hefty price tag?
The Lelo Smart Wand 2 in medium size is a powerhouse when it comes to vibrations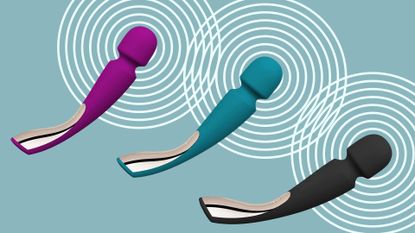 (Image credit: LELO)
The LELO Smart Wand 2 is one of the most robust body wand massagers you can buy - and has left our reviewer exhausted!
Reasons to buy
+

Ultra powerful

+

Stylish design

+

Good variation of vibes
Why you can trust Woman & Home Our expert reviewers spend hours testing and comparing products and services so you can choose the best for you. Find out more about how we test.
The LELO Smart Wand 2 is a luxurious handheld massager, suitable for use anywhere on the body but specially designed to target the vulva for complete stimulation of the body's most intense erogenous zone.
As someone who's tested hundreds of the most popular vibrators over the years, most of them don't even make it to review stage as they're just not worthy enough. I tested the LELO Smart Wand 2 Medium (there's also a larger size) three times for varying lengths until it helped to achieve orgasm, including underwater. After this, I knew it was one worth telling people about. I've noted everything you'd want to know about the massager, including how it charges, how easy it is to handle and use, and how loud it is when switched onto the max setting. And as with all vibrators we test, this one was switched on and off repeatedly afterward to check reliability.
If you're looking for the best vibrator to add to your collection, this vibe could certainly be a top contender when it comes to quality and power. Whether you're after one of the best wand vibrators overall or looking to make a general investment in your collection, this is what you need to know about the LELO Smart Wand 2.
LELO Smart Wand 2 Medium specifications
Material: Body-safe silicone, ABS plastic
Weight: 155 g Dimensions: 210 x 85 x 45 mm
Charge time: 2.5h Battery: Li-Ion
Running time: Up to 2 hours
Warranty: One year (and 10-year Guarantee)
Waterproof: Yes, 100%
Storage: Comes with pouch
Who does the Lelo Smart Wand 2 suit?
The LELO Smart Wand 2 is ideal for anyone who wants to invest in a top-quality body wand vibrator. I tried the Medium version and found it was also one of the best smaller sex toys out of my collection as well. As the head of the vibrator is smaller than other models available on the market - like the famous Hitachi vibes - we found there's more precise clitoral stimulation involved, so it would also benefit anyone who requires this to have an orgasm.
If you want to learn how to use a vibrator properly, only want to buy one toy, and know you want something powerful to make you sizzle from head to toe, then a body wand vibrator like this will be the best pick. It's also suitable for anyone not comfortable with masturbation techniques involving penetration since this is an external stimulus only.
What is the Lelo Smart Wand 2 like to use?
Having reviewed many sex toys, including the best sex toys overall, I can honestly say the LELO Smart Wand 2 Medium is one of the most powerful I have ever tried. However, one of the first things I noticed about it was just how small it was compared to similar models producing the same rumbles. At 304mm, it's smaller than the length of my forearm and almost the same height as a standard 75cl water bottle, with a curve towards the handle's end.
The size of the toy is pretty relative to its weight as well. While it's not the lightest sex toy I've ever used, it's manageable to hold during use. If you struggle to maintain your grip, I definitely recommend spreading your fingers out across the toy with the curve in the palm of your hand and your index finger reaching up to the wand head.
There are three control buttons on the LELO Smart Wand 2, all of which I found easy to use. They're actually exactly the same as those on the LELO Ora 3 so if you're familiar with this toy, it shouldn't be a problem. Simply press the central button firmly for three seconds to turn the massager on and off, and then quickly to move through the 10 different vibration settings. The two buttons on either side control the speed of the vibration. When starting out, I recommend just playing around with the speeds of the head, as this is what makes the toy one of the best sex toys for beginners as well.
I found the vibrating modes on the LELO Smart Wand 2 really unique and easy to differentiate between, as they move from continuous rumbles at various intensities to varied vibration patterns. There really is something for everyone, from quick-fire buzzes to slow and irregular pattern changes, and this is what makes the LELO Smart Wand 2 really stand out from cut-price versions.
The noise level is relatively low throughout use (more on this later) but the vibrations can get pretty intense, so much so that the device shakes violently on the higher settings. My back felt numb (in a good way) after using it for a prolonged period. It's intense and amazing – but be wary of using it on more intimate areas, and if you're using it with a partner, ask them to only lightly press it against the more delicate spots like the clitoris.
LELO's Smart Wand in medium size has a bulbous head (known as the Pleasure Point) that delivers vibrations to whatever area you're using it on. It's a wider surface area than you might find with another vibrator type, like when you learn how to use a bullet vibrator, as these are designed to target very specific areas. This is a positive though as it means the vibe is sure to find your sweet spots without too much trouble - you simply need to guide it in the right direction, and it will do the hard work for you.
What's the design of the Lelo Smart Wand 2?
If the LELO Smart Wand 2 were a car, we think it would be a Ferrari. Smooth and sleek with a look-at-me-now shiny gold detailing on the handle, this vibe really stands out from the crowd.
Available in bright purple, black, or aqua (which is the one I tested), it's exceptionally well-designed ergonomically. The handle is curved towards the base, meaning I could grip it firmly and reach the buttons easily to change speeds or vibration settings using just one hand. Helpfully, the buttons are also slightly raised, making access even easier.
The bulbous head is firm but the flexible neck bends to any pressure of a surface against it, making it super easy to move it into certain positions that may be more pleasurable, without having to move your whole hand.
LELO's Smart Wand 2 has a smooth silicone outer shell across the head and handle, completing the stylish design, which makes you want to keep touching it even when it's not in use.
We found the size of the medium vibe very unintimidating as well, as noted, comparatively to other models of a similar intensity and price point. It really ticks all the boxes as one of the best high-quality sex toys as it offers so much, to such a high degree, with little material space. Plus, I loved that this toy wasn't designed to look like a phallus so as well as being appealing in this way, making it more female-focused, many people may not actually know what it was immediately if they saw it on your bedside table. But it's worth learning how to store your sex toys safely if you care about this, as more and more people buy them every day, someone is sure to notice.
The only downside I could see in terms of the design is that it can start looking grubby. I left mine in a notebook, and all the pen marks rubbed onto the wand. It's easy enough to learn how to clean a vibrator as well, but if you are spending this much, then you really want to keep it looking good, so always use the storage pouch provided.
How versatile is the Lelo Smart Wand 2?
The LELO Smart Wand 2 is primarily a sex toy, designed to target the entire vulva for all-over intense stimulation. However, one of the many health benefits of using a vibrator like this, is that it's also possible to use the device to ease tension in your back using the longer shaft to touch those harder-to-reach spot knots. You can also simply place it between yourself and the chair, and let it do the work on its own, making it an ideal 2-in-1 buy if you're in the market.
Going back to its use as a vulva-focused vibrator, there are enough settings to keep things interesting and it can definitely help with clitoral stimulation. In fact, if you want to know how to orgasm quickly, then using a large-ended massager like this one on the area is an easy solution.
However, it can only be used externally - so you won't be able to use it to stimulate internally. This means you can't use it for G-spot stimulation, which some people may be disappointed by. If you're looking for G-spot stimulation alongside external stimulation, one of the best rabbit vibrators may be a better pick for you.
How much noise does the Lelo Smart Wand 2 make?
For something that packs quite a punch, you'd expect it to make some noise - but that's not the case with the LELO Smart Wand 2 Medium. Only on the loudest setting can you hear the motor working away, and it is slightly louder during use, but even then I reckon you'd be absolutely fine using it in a space with thin walls as any neighbors are unlikely to catch any noticeable sounds.
All sizes of this vibe are totally waterproof so you can take it for a ride in the bath but noise-wise, it's slightly louder as the vibrations move through the water. However, in the shower you're unlikely to hear anything outside of the bathroom door thanks to the sound of running water.
What's the battery use and charging like with the Lelo Smart Wand 2?
Before you use the LELO Smart Wand 2, you should charge it for two hours to make sure it's at full charge. However, I used the vibrator after just 10 minutes of charging for the first time with no issue.
Charging the vibe is so easy as well, with a simple USB cable connecting to a charger head in the wall or an independent USB charging socket. The other end of the cable fits snugly in the bottom end of the toy through a hole. The three buttons on the front of the LELO Smart Wand 2 flash while charging, so you'll know when it's working. If you want to charge your vibe while you're out of the house, and you're worried someone may walk in on your toy, charge it next to your bed and it's small enough to just slip under your pillow.
After it's fully charged, the vibe lasts for two hours - if not longer - and unlike a lot of sex toys, you'll get an advance warning when the batteries are beginning to decline as the three buttons on the front start pulsating. If you're after a toy with more battery life, consider the larger version as this lasts for up to four hours between charges.
What's not good about the Lelo Smart Wand 2?
The Lelo Smart Wand 2 pretty much ticks all the right boxes. It's great quality and does everything you need in a body wand massager. So the only negative I can find is also one of its best features: it may be too powerful for some people.
If that's the case, you may need to opt for one of the best sex toys for beginners to masturbate with at first and then work your way up to something like this. With a couple, however, you can share the power - and the enjoyment.
w&h verdict on the Lelo Smart Wand 2
The LELO Smart Wand 2 Medium may be one of the more expensive toys we've reviewed at its standard $169 /£149, with the larger version coming in at $199 /£179. but it's undoubtedly one of the best and you really do get value for money. I reckon that after using a premium sex toy such as this, you'll struggle to go back to cheaper versions. While we initially reviewed the LELO Smart Wand 2 in 2022, we reviewed it again in 2023 and came to a similar verdict.
From the super smooth skin-safe silicone to bright aqua, pink, or intense black designs, the design is luxurious and it really feels like something special. The box also comes with its own sachet of LELO lube so you can make the most out of your first experience. When it comes to noise, you don't have to worry about whoever's in the next room hearing what you're up to, and the medium version is the perfect size to fit easily into your hand.
Price wise, we've noted some real fluctuations from various stockists over the last year, with prices going as low as $118 / £112 during the seasonal sales. If you're looking to invest and you can hang on, it may be worth waiting until one of these key shopping periods for the best deal.
If you're looking to expand your collection and you're looking for another one of the best sex toys out there, I think the LELO Smart Wand 2 (whether you opt for the Medium or Large version) will be a worthwhile investment to stand the test of time.
Faye M Smith is an award-winning journalist with over 15 years experience in the magazine industry. Her continued work in the area of natural health won her the coveted title of the Health Food Manufacturers' Association (HFMA) Journalist of the Year Award 2021. Currently Health Editor across several brands including woman&home, Woman and Woman's Own, Faye specialises in writing about mental health, the menopause, and sex and relationships.