The Lelo Ora 3 vibrator review: is this really the closest thing to a human tongue?
The Lelo Ora 3 is a unique type of clitoral vibrator for anyone who hates the usual buzz on offer.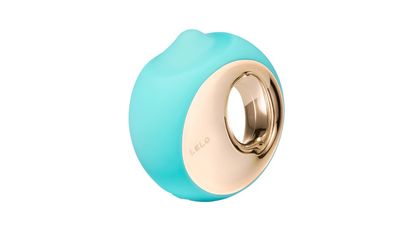 (Image credit: Lelo)
This vibrator is circular, sleek and looks expensive – and that's because it is! But, sadly, the sensation won't be enough for everyone.
Reasons to buy
+

Something new if you've tried everything

+

Super stylish

+

Uses circular motions instead of traditional vibes
Reasons to avoid
-

Expensive

-

The unique sensation doesn't work for everyone

-

Can be limiting with a partner
Why you can trust Woman & Home Our expert reviewers spend hours testing and comparing products and services so you can choose the best for you. Find out more about how we test.
woman&home newsletter
Sign up to our free daily email for the latest royal and entertainment news, interesting opinion, expert advice on styling and beauty trends, and no-nonsense guides to the health and wellness questions you want answered.
Thank you for signing up to Woman & Home. You will receive a verification email shortly.
There was a problem. Please refresh the page and try again.
The Lelo Ora 3 – which has been designed to replicate the sensation of a tongue – could be for you if you're looking for a new vibrator. How to be sure? We've put it through its paces from the moment it was unboxed so you can see if you think it's worth the investment.
I tested a wide selection of the best vibrators and considered how they charged (if needed), the feel of them and how I'd feel if someone else saw it in my bag/house. All vibrators tested were used at least three times for varying lengths of time until they helped to achieve orgasm. Each vibrator was also switched on and off several times afterwards to check reliability.
Keep scrolling for the full review to see if this vibrator is the one for you.
Lelo Ora 3 vibrator specifications
Material: ABS plastic / Silicone
Weight: 130g
Dimensions: 83.5mm x 88mm x 43.5mm
Charge time: 2 hours
Battery: Li-Ion rechargeable
Running time: up to 60 mins
Warranty: 1 year
Waterproof: Yes
Storage: Pouch
Who does the Lelo Ora 3 vibrator suit?
While couples could have some fun with this, this is one of the types of vibrators that's much better for singles who have been missing out on oral pleasure.
What is the Lelo Ora 3 like to use?
With its unique circular ring shape, the Lelo Ora 3 is unlike any sex toy I've used before, but because of this, using this vibrator is almost like learning to walk again. Firstly, you have to put your thumb through the centre in a certain way to ensure you can access the controls. There is a handy diagram that comes with the instructions to follow, but it does feel odd at first – not what you want when you're trying to relax!
Controlling the Lelo Ora 3 is relatively easy. To turn on, you simply hold down the power button for a few seconds and then lightly press to select the vibe setting you want. There are also two control buttons so you can adjust the speed up and down as required.
There are 12 modes to choose from with a range of increasing or decreasing sensations, so unless you're happy to stay at the same setting for the time it takes you to orgasm, it's best to get the handling right before you begin.
To get the most out of the Lelo Ora 3, you need to use it with lubrication – a lot of lubrication! There is a sample which comes in the box, which I'd definitely recommend trying. The vibrator is 100% waterproof, so the Lelo Ora 3 is also ideal to use in the shower or bath. Again, the added feel of the water can really make a difference when replicating the sensation of a tongue, and will hopefully help you orgasm.
The Lelo Ora 3 vibrator design
The Lelo Ora 3 is quite simply stunning. Available in aqua, deep rose or midnight blue silicone combined with gold metallic detailing, this vibrator doesn't look like a standard vibrator. You could keep it on the mantelpiece and most people would assume it's a piece of art and admire it!
Due to its opulence, the Lelo Ora 3 feels great to hold and touch, which is probably why it's won awards for such a unique and sensational design.
The versatility of the Lelo Ora 3 vibrator
This is where the Lelo Ora 3 vibrator is almost like Marmite. Some users will absolutely love the vibrating nub sensation and never look elsewhere again, while others just want more from their vibrator.
Why? Because, essentially, the Lelo Ora 3 is a clitoral stimulator with a big difference. Instead of simply vibrating, there is a ball-shaped device on one side, which moves in a combination of circles and patterns. These patterns are meant to feel like a tongue. I found the motion to be effective and arousing, although I wouldn't go as far as saying I found the "tongue" analogy to be that true – you need plenty of lubrication and imagination to help with that!
There's a good mix of fast and firm settings to choose from, so it's ideal if you find you only become aroused when experiencing a really repetitive motion. Unlike other clitoral vibrators, such as a bullet, the Lelo Ora 3 doesn't lend itself that well to stimulating other erogenous zones, purely due to the shape of the design.
While it's certainly not an intimidating piece of kit that may put off a partner, only one person can hold and control the Lelo Ora 3 at any one time, which means it really does lend itself more to singles.
The amount of noise the Lelo Ora 3 vibrator makes
The maximum noise level of the Lelo Ora 3 is 50dB, which is about the equivalent of a conversation at home. Although this seems loud, the Lelo Ora 3 doesn't make a rattling noise like some vibrators and the sound can be easily muffled by a duvet or the noise of a television in the background.
Battery use and charging the Lelo Ora 3 vibrator
Before you can use your Lelo Ora 3 vibrator for the first time, you need to charge it via a USB lead for around two hours. This always loses points for me, as it means forward planning when it comes to your pleasure.
However, when your Lelo Ora 3 is losing power during use and the battery is running low (after about an hour), a white LED will start blinking to show it needs charging, so it won't simply fail on you at the worst possible moment like some vibrators! Recharging fully then takes about an hour and a half.
How does the Lelo Ora 3 rate online?
On the Lelo website, the reviews are very positive, especially for using solo and for those needing to be stimulated for a longer time before orgasm. Users seem to agree that there is a learning curve when it comes to finding the best way to hold the vibrator, as it can be fiddly, but once that's discovered many say they will never go back to a standard vibrator again.
Elsewhere on the web, those who've tried the Lelo Ora 3 report mixed results. Some say it gives them an orgasm every time, while others get bored too quickly to make it worth the investment.
Is the Lelo Ora 3 worth buying?
If you have the funds and you like having a full kit of sex toys at home for every occasion, then the Lelo Ora 3 is worth investing in for when you want something different.
However, as you can't use it for penetration at all, it's not very versatile for the price.
Sign up to our free daily email for the latest royal and entertainment news, interesting opinion, expert advice on styling and beauty trends, and no-nonsense guides to the health and wellness questions you want answered.
Faye M Smith is an award-winning journalist with over 15 years experience in the magazine industry. Her continued work in the area of natural health won her the coveted title of the Health Food Manufacturers' Association (HFMA) Journalist of the Year Award 2021. Currently Health Editor across several brands including woman&home, Woman and Woman's Own, Faye specialises in writing about mental health, the menopause, and sex and relationships.