How to use a vibrator for ultimate pleasure, alone or with a partner
Knowing how to use a vibrator to its full potential could be the boost you need to help you orgasm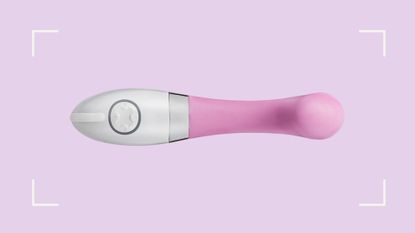 (Image credit: Getty Images)
Knowing how to use a vibrator in the best way possible can make all the difference to your orgasm. But getting the full potential from your adult purchase can often be tricky.
Sex toys are getting more technically advanced all the time, so if you're not sure how to use a vibrator properly, we don't blame you. After all, there are rarely any easy-to-follow instructions for orgasm on the box.
Luckily, experimenting with how to use a vibrator is a fun process. The first step is making sure you pick a selection of the best vibrators that will really turn you on. If you love G-Spot stimulation or can only orgasm by having your clitoris touched, then you need to choose a vibrator that will target those areas. Then, to find out how to use a vibrator to its full potential, we've asked Lovehoney's (opens in new tab) sex expert Annabelle Knight for her top tips.
Find a vibrator you love
Buying in-store means you're more likely to be able to touch and hold the sex toy first, and you can ask for advice from the people working there. With more and more options becoming available all the time, when it comes to picking the right vibrator for you, the choices presented on the internet can often seem endless.
But if you feel too embarrassed to buy in person, shopping online for the best bullet vibrators or best rabbit vibrators is often a good way to go. You've got a world of choice and plenty of reviews to help you decide. While you won't be able to feel the toy before you buy it, many brands (including Lovehoney) offer a refund for your sex toy post-use if you find that it's not for you after all.
Before buying, you may also want to see whether the brand you're buying from offers discreet packaging. While buying a sex toy should be as normal as buying anything else online, you may not want your neighbors or family members to know about your new purchase.
Pleasure is very subjective and down to the individual of course, but there are some pros and cons to the most popular types of sex toys.
G-spot vibrator
What is it: Phallic in shape, these have a shaft to penetrate the vagina. "These curvy vibes are designed to stimulate the G-spot during penetration," says Lovehoney's sex expert Annabelle Knight. "G-spot vibrators usually feature an upward curve and a girthy head to ensure maximum stimulation for this sensitive spot."
Pros: "G-spot stimulation is associated with female ejaculation or 'squirting', and some feature clitoral stimulators for an exquisitely blended orgasm," she says. "These toys often have different speed settings and functions for intense internal thrills."
Cons: Some G-Spot vibrators are on the large side, so they may be noisy. Depending on the size, shape and function, they may not be the best choice for those new to sex toys.
Rabbits
What is it: A rabbit vibrator, just like the Happy Rabbit G-Spot Vibrator, has a similar girth to a standard G-Spot vibrator, but comes with vibrating "rabbit" ears, to target your clitoris at the same time. "The rabbit vibrator is one of the most iconic sex toys in the world," says Annabelle. "Thanks to the likes of Carrie Bradshaw and her Sex And The City gang, this trailblazing, dual-sensation vibe has taken over the planet."
Pros: "You'll climax for longer with the best rabbit vibrators," says Annabelle. "Research by Lovehoney and the Liberos Institute (opens in new tab), in California, found that women who use a rabbit G-spot vibrator orgasm for 17% longer than if they were not using a toy. Plus, they are so versatile–designed to stimulate the G-spot and the clitoris at the same time, so you may experience a blended orgasm."
Cons: "Some toys can be quite noisy. It's worth reading reviews to find out more about noise levels if you want to use the toy discreetly (maybe you live in a shared house)," says Annabelle. They can be intense too, so not ideal if you have a sensitive vulva.
Bullets
What is it: Smaller and thinner vibrators, bullets are for clitoral stimulation and external erogenous zones. "They are the most popular choice for a first toy and ideal for couples due to their petite, non-intimidating proportions. These mini vibrators are built for precision," says Annabelle.
Pros: "The small size and tapered tip offer direct and intense clitoral stimulation," says Annabelle. "They're ideal for use while having penetrative sex, without causing obstruction to either partner. Plus, at just 2-3 inches in length, they're perfect for popping in your bag for on-the-go pleasure."
Cons: Many are battery-operated and not rechargeable, so you'll have to keep replacing the batteries once they've burnt out.
Vibrating cock rings
What is it: Worn around the base of a man's penis, a cock ring will press against your clitoris when he's inside you, while the restriction of the ring could help him to feel harder.
Pros: Learning how to use a vibrator like this is easy. They're hands-free, so won't get in the way. Plus, there are plenty of budget options to try before you move onto the premium options.
Cons: You'll need a good stock of batteries by your bed as many cock rings aren't rechargeable. And some people find going back to penetrative sex without a cock quite difficult, even the added pleasure with one.
Finger vibrators
What is it: A finger vibrator, just like the Hot Octopuss DiGit vibrator, can be used for G-Spot and clitoris stimulation during foreplay and masturbation. It's worn on a finger, so it's easy to guide around the body.
Pros: As the device is attached to your (or your partner's) finger, you don't have to keep holding it all the time, which is especially important when you're close to climax.
Cons: They are a bit restrictive after a while, and sometimes the finger straps can be painful.
Love eggs
What is it: Placed inside your vagina (with lots of the best lube), these egg-shaped vibrators usually come with a remote control to give to your partner so they have total control over your pleasure—even when you're on the go. When you're on your own, the remote means no tricky fiddling with buttons. "These insertable toys are similar in size and shape to pelvic floor trainers, but they have a vibrating motor nestled inside instead of weights," says Annabelle.
Pros: "These are perfect if you want to let your lover take control," says Annabelle. "Some have a wired controller whereas others operate via a remote control, allowing you to discreetly indulge in a little public play." Some of the best app-controlled vibrators include love eggs, so these are a good place to start.
Cons: Designed to nestle inside you against the G-spot, some people don't find them particularly comfortable.
Couples' vibrators
What are they: Available in a variety of shapes and sizes, such as the We-Vibe Sync, couples' vibrators are worn during sex by both partners to increase sensations for a couple. They are often controlled by remote control or an app via Bluetooth.
Pros: Designed to turn two people on at the same time, these can be a great toy to invest in together. The device (and the experience) feels shared for both of you.
Cons: They tend to be more expensive than regular singular use sex toys and with anything that requires technology, connectivity issues are bound to crop up at least once.
Body wand massager
What is it: Great examples of best body vibrators or massagers are the Lelo Smart Wand and Wand by We-Vibe. Both have a vibrating ball attached to the handle, which can be used to stimulate erogenous zones from head to toe. "These vibrators were originally designed to relieve back and neck pain, but they make incredible clitoral stimulators," says Annabelle.
Pros: "These boast some of the most powerful motors you'll find in a vibrator for intense stimulation," says Annabelle. "They make perfect couple's toys as they're non-anatomical and great for stimulating all of your erogenous zones. Plus, many are compatible with specially designed attachments for added thrills."
Cons: The really powerful ones tend to be expensive and, with such a large motor, they can get noisy.
Clitoral suction vibrator
What is it: When turned on, these create sucking and blowing-style stimulations that are designed to feel like oral sex, and particularly target the area around the clitoris. A great example of one is the popular Satisfyer Pro 2 Air Pulse Stimulator.
Pros: "The suction technology offers a unique sensation quite unlike other vibes," says Annabelle. "They're usually rechargeable, waterproof and multiple levels of intensity, allowing you to tailor your pleasure." Suction vibrators can also be ideal if you have sexual anxiety as they don't penetrate the body, and can be very gentle if you want them to be.
Cons: Designed for the clitoris, clitoral suction vibrators don't tend to be that effective elsewhere on the body. They can also be noisy when used underwater.
How to use a vibrator
How to use a vibrator, which includes how to hold it, which angle you use, and where to put it on your body, will largely depend on which type of vibrator you choose.
But there really are no hard-and-fast rules. It's your vibrator and you can do whatever you like with it. You can use it with a partner, or you can use it on your own and it's an easy way to boost your chances of having an orgasm. But if you're starting from square one using a vibrator, or using one on someone else, here are a few tips to use a guide.
How to use a bullet vibrator
Because of their shape, a bullet vibrator is great for really precise stimulation and focusing vibrations exactly where you want them most.
Learning how to use a vibrator like this one is easy. "Try tracing the tip all over your vulva to discover brand new sweet spots that aren't just the tip of the clitoris," suggests Annabelle. "Then try holding your bullet horizontally, so you can enjoy vibrations across a broader area, which is particularly great if you're quite sensitive and prefer less intense stimulation."
You can even go hands free with a bullet. "Try slipping your vibrating bullet into your underwear," suggests Annabelle. "The challenge now is to generate as much pleasure as possible without actually touching the bullet with your hands. You can sit on a chair and grind against the bullet, but no hands allowed. It's a great way to experiment with control, both with and without a partner."
However versatile a bullet is, it can't be used everywhere. "A word of warning, though. Because of their shape and size, most bullet vibes aren't safe for vaginal or anal use, so keep your explorations external," warns Annabelle.
How to use a rabbit vibrator
The first step to learning how to use a vibrator that's slightly larger, like the rabbit, is knowing to always use lube before you start. This won't only make internal stimulation more comfortable, but it will help the rabbit ears to glide over your clitoris.
"Before you turn on your rabbit vibrator, gently run the rabbit ears against the clitoris," says Annabelle. "Once you're ready to go, switch it on using the buttons on the handle."
Use the ears to gently tickle your external hot spots, then lie back and step it up a notch. "Slowly insert the shaft," says Annabelle. "Once inside, turn on the vibrations and let the rabbit stimulate your internal erogenous zones. Press the buttons on the handle to increase the speed or change the vibration pattern."
Depending on the rabbit you pick, some have extra special tricks, such as beaded shafts and thrusting functions. "Play with different combinations to find your or your partner's personal-bunny-bliss," says Annabelle. "To get the most from your rabbit, try alternating between just clitoral stimulation, just vaginal stimulation, and then both together when you can't take it anymore. The longer you take to build up to orgasm, the more likely it is to be a powerful 'blended orgasm'."
How to use a G-spot vibrator
If you've never used a G-spot vibrator, it's worth exploring with your fingers first to find exactly where your G-spot lies. While it will differ from person to person, the typical area is on the external wall of the vagina, closest to the belly button, about the length of two knuckles in. The surface should feel rougher than other parts, which is a way you'll know you've found what you're aiming for.
If you're trying to find someone else's G-spot, the best way is to ask them what area feels good and aim for there.
"The location of this nub of nerve endings can vary from person to person, but as the G-spot should become more sensitive and protrude as you become aroused, there's more chance of finding it if you're turned on," says Annabelle.
"Play with your clitoris, and bring yourself to orgasm if you can. Then, slide your palm down your stomach, and insert a lube-covered finger or two into your vagina, curling them backwards in a 'come-hither' motion once they are a couple of inches deep inside you. You should now be able to feel a fleshy, ridged area that feels different to the rest of the vagina."
Always start slowly with a G-spot vibrator. "Slide it in, pressing the shaft head or angled tip against your vagina's front wall," says Annabelle. "Your G-spot is surrounded with dense tissue and lies deep in your flesh, so you may want to use a little more pressure than usual or slide your toy from side to side until you hit the right place. Indulge in some soft, sensuous solo play or foreplay first to give your body time to relax completely." Once you get used to it, you'll instinctively know how to use a vibrator like this.
How to use a wand vibrator
Wand vibrators, or body wand massagers as they are sometimes called, are often XXL. While this may feel intimidating if you're new to them, their size makes learning how to use a vibrator like a wand very easy.
After applying lube to your pick of the best body wand vibrators, Annabelle recommends "turning your wand to its lowest setting and gently stroke it over your shoulders and back in a slow, circular motion for a sublime, deep tissue massage that might just lead to other things."
Wands can be powerful, so go slowly. "If it's the first time you've used one, start on the lower settings and, once you're used to them, build your way up to the bigger thrills," says Annabelle.
"Use your wand as part of your foreplay, trailing it over sensitive spots to work yourselves into a frenzy. For a gentle, nuzzling buzz, reduce your wand's intensity by using it over underwear or bed sheets. Silk, satin and cotton will all offer different sensations."
If your wand comes with special attachments, use them. "They can turn your wand into a G-spot-pleasuring toy," says Annabelle.
Start slow and get in the mood
The main rule to follow when learning how to use a vibrator, especially if it is your first time or you're using it on someone else, is to start slow and use a low setting. This is especially important if your clitoris or vulva are particularly sensitive. And, if you don't like surprises, use the vibrator on less sensitive areas of your body first, such as your hand or arm, to get to know the vibes you can expect.
"Switch on the vibrations and, using whichever part of the toy feels best against your body, stroke it over external pleasure points to see what feels most enjoyable," recommends Annabelle. "If your toy has multiple modes of vibration, experiment with the different speeds and patterns."
Getting to know how to use a vibrator to help you orgasm may be trial and error at first. "Lots of vibrators come with a variety of speeds and functions, so you can tailor the experience to exactly fit your needs," says Annabelle. "Some people like a gentle rumble from their toy, while others prefer vibes that pack a more powerful punch."
Use lube
One essential rule to follow when finding out how to use a vibrator for the best orgasm possible is to use plenty of lubrication. If your new adult toy comes with a sachet of lube, then it's worth making the most of it.
Prepping a vibrator with lubrication before you use it will make every sensation feel a lot more heightened and pleasurable, and that's whether you are using it on your own or with a partner.
"No matter which type of vibrator you have, it'll feel 100 times better with a good-quality sex-toy lubricant," says Jess Wilde, another sex expert at Lovehoney. "I always recommend using a water-based one as it's compatible with all sex-toy materials. Never use silicone-based lube on a silicone toy.
"Many lubes are also specially formulated", she adds. "This means they don't disturb the delicate pH balance of the vagina, so your toy and your vagina stay gloriously happy."
Lube makes using a vibrator to orgasm a lot easier. "To begin play, add a drop of lubricant to yourself, evenly spreading it over your clitoris and labia with your fingers," recommends Jess. "You may also like to add a drop of lube to the tip of your toy for guaranteed glide."
If you want a lubricant that goes a little further, then you may need to invest in an orgasm balm. "A good lubricant enhances any sexual experience, be it with a sex toy or with a partner," says Annabelle. "But you can also enhance sensation even more with an orgasm balm, which is designed to make the clitoris more responsive. Try dabbing on a little bit before reaching for your bullet to really skyrocket your session."
How to use a vibrator solo
Learning how to use a vibrator on your own can be really easy, and you can have lots of fun. You don't just have to let the buzz hit you in just one place. Julia Margo, co-founder of Hot Octopuss (opens in new tab), shares her top three techniques when using a vibrator solo:
1. THE ALL-OVER BODY TINGLE
"Explore other areas before you dive in! The genitals will relax and be more welcoming to touch once the nipples, belly, and thighs have been activated first."
2. THE TOY AND HAND SWITCH UP
"Try alternating the toy with manual stimulation. You can go from the vibrator to tapping your clitoris or squeezing your labia together. The contrast can make the sensations really pop."
3. THE PELVIC FLOOR PRESS
"Allow yourself to press down through the pelvic floor. Too often women are taught that they need to squeeze their Kegel muscles to be as tight as possible during sex play. This is not the time for that! Let your vagina be soft and open so it can be receptive to all the sensations of the toy."
Best sex positions when using a vibrator solo
Many of the best movie sex scenes feature women lying down when using a sex toy, but that's usually just to get the best camera angles. You can be in any position you desire, great if you want to experiment with your own porn for women home movies. Julia shares her top three of the best sex positions when using a vibrator solo:
1. THE WIDE STANCE
"Sit at the head of your bed, leaning against the wall. You can plant your feet on the bed and bend your knees nice and wide for easy access."
2. THE HIP TILT
"Sit on your heels with your knees spread wide. This is nice for those who like to tilt their hips a lot and get a deeper experience with their toy."
3. THE LEG RAISER
"Lay on your back with your feet up against the wall. Honestly, it's a nice stretch for the lower back. A great option for pillow queens who'd rather not be bothered with being upright."
If you like having sex in the shower, then you'll probably enjoy masturbating in the bath or shower solo, too. Just check your vibrator is able to be submerged first. If not, you could damage your vibrator beyond repair and may do you more harm than good in the process.
"There are tons of waterproof vibrators out there, which are perfect for bath or shower play," says Annabelle. It's also worth noting that some vibrators, especially ones which use a blow and such technique, may make more noise when submerged.
How to use a vibrator with your partner
Vibrators are not just for solo play. Knowing how to use a vibrator with a partner is a great way of adding some spark back if you're experiencing a period of low sex drive or just wanting to spice things up. The mechanical buzz can help arouse both you and your partner in a way hands often can't.
Learning how to use a vibrator with your partner in the best way will depend on what type of vibes you both enjoy. "Vibrators are easy to use during all kinds of play with a partner," says Annabelle. "You can hold them against your clitoris during penetrative sex to increase your chance of orgasm. Or, if your partner has a penis, try using the bullet on their balls or perineum while you give them a blow job."
Just make sure you keep communicating with your partner about how you'd like to use sex toys together and how often, as it can be easy to get swept up in the moment.
Julia shares her advice on the best techniques on how to use a vibrator with your partner:
1. THE NIPPLE TICKLE
"Use a vibrator on your partner's nipples. This will stimulate the same part of the brain as the genitals."
2. THE LIP TRICK
"Lick the toy, suck the toy. This can help get you in the mood and add another dimension to your sexual fantasies."
3. THE BELLY TEASE
"When the belly is touched with downward strokes we're building anticipation for the zone to extend further and further until it goes below the belt."
How to clean your vibrator
It's important to know how to treat your vibrator after you've used it too. Not only can cleaning your vibrator properly prolong its life, but knowing how to clean sex toys is essential for good hygiene.
"The only thing you need for the cleaning process is hot water, a good-quality sex toy cleaner and a clean dry towel or kitchen roll," says Annabelle.
"To clean, give your toys a quick rinse and then spray them with a good sex toy cleaner. Leave it for 30 seconds or so, and then clean any stubborn areas (such as ridges or nodules) carefully before rinsing all the cleaner off with warm water."
Make sure you dry it thoroughly. "You can either leave your toy to air dry on sheets of clean kitchen roll or speed up the process by drying with a clean towel," says Annabelle.
"By cleaning thoroughly and drying your toys completely, you will prevent dust and bacteria build-up and keep them looking, feeling and smelling like new."