The best pelvic floor trainers, recommended by experts and tested by us
The best pelvic floor trainers come in all shapes and sizes, from wearables to apps, here we round-up the best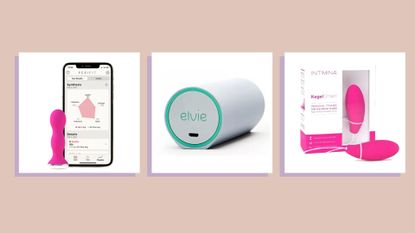 (Image credit: Future)
The best pelvic floor trainers aren't necessarily high tech or expensive. They are simple gadgets created with the aim of helping you to maintain active and healthy pelvic muscles. Of course, they all differ in style, function and price point, so we asked the experts for their recommendations and our team put them to test. If you're concerned about your pelvic health, this is the definitive round-up of the pelvic floor trainers worth investing in.
The first step to great pelvic muscle health is understanding how to do kegel exercises correctly and knowing if they're right for your body. The benefits of kegel exercises are endless, from a strong pelvic floor to reduced risk of incontinence and better orgasms but many people aren't sure how to do a kegel correctly. In fact, research by INNOVO found that 50% of women are unable to do manual kegels correctly, which means all that tensing of muscles could be doing more harm than good.
Kegel exercises are not difficult, once you understand the technique and how the hammock of pelvic muscles functions. These muscles wrap around your bladder, vaginal walls and anus, so squeezing your butt can feel like you're successfully doing a kegel, even when you're not. This is where pelvic floor trainers come in. The best pelvic exercisers use physical sensations, reminders, trackers and hints to help you master kegel exercises and work on your progress.
Who can use a pelvic floor trainer?
You can start pelvic floor exercises at any age and at any stage in your life. It's never too early or late, because as with any muscle, the pelvic floor can become stronger and more effective the more you work it.
You might think pelvic issues only affect older women but pelvic floor dysfunction is present across all ages. Pelvic pain, incontinence, pain during sex or painful masturbation can occur in the late teens right through to when the symptoms of perimenopause begins and the postmenopausal period starts. For athletes, who put their muscles under intense strain, these conditions are even more common.
"We need more openness around this subject and we need to help women. These symptoms are not something that they should be putting up with. There's clearly still a taboo around this subject and it needs to be broken." says intimate health expert, Dr Shirin Lakhani (opens in new tab).
"Your pelvic floor is essential for controlling your bladder and bowel movements and it can get weaker over time, as a result of childbirth and also as we age. Pelvic floor trainers can be really useful to target the pelvic floor muscles and the muscles at the neck of the bladder. Many people use pelvic floor trainers to improve control over bladder and bowel functions and for recovery after childbirth. They can also help reduce the risk of prolapse and improve sex lives, which is why you'll often see kegel balls in round ups of the best sex toys."
What's important is knowing that you're doing your exercises correctly. "Many of my patients told me that kegels didn't work for them and when I used ultrasound imaging to look inside to see what strategies these women were using, it became apparent that they were not actually performing kegel exercises," says Dr Ruth Maher, co-inventor of INNOVO (opens in new tab). "Many were contracting other muscles or performing a 'bearing down' manoeuvre that, if done chronically, can worsen the condition and may lead to pelvic organ prolapse."
"Many women use vaginal biofeedback devices and do not realize they could be doing more harm than good." says Dr Maher. "That's because the output or readings they may see on their screen or phone don't always represent a pelvic floor contraction. The International Urogynecological Association (IUGA) and International Continence Society (ICS) reported that these devices should not be used alone but in conjunction with simultaneous ultrasound imaging or a digital pelvic exam to confirm a proper contraction."
But pelvic floor trainers aren't for everyone and it's worth talking to an intimate health expert before using one to determine whether it's right for your situation, Dr Lakhani says. "Anyone experiencing urinary incontinence, pelvic pain or pressure, hip pain, sexual difficulty and fecal incontinence should have a professional examination first."
She adds, "Pelvic floor trainers are designed to strengthen your pelvic floor muscles but you do need to know if that will help you or if you have some other kind of condition that needs to be addressed. I do recommend them for women with urinary stress incontinence and for women who have just experienced childbirth they can be very effective."
If you have existing pelvic issues, have just given birth, or have experienced pelvic pain or a sore vagina, consult your doctor. It may be that you need physical therapy and that certain devices might worsen your condition. It's also important to note that during pregnancy, the strength of your muscles can fluctuate.
What are the different types of pelvic floor trainers?
There are a few different styles of pelvic exerciser and you may need to try one or two before you can decide which is right for you. If you dislike the idea of inserting something, you can try starting with an app that instructs you on how to do manual kegels.
"Pelvic floor trainers are most often a small contraption often connected to an app on your phone. The device is inserted into the vagina and helps you to ensure you are doing the exercises correctly," says Dr Lakhani. "Apps can monitor your progress and set different workouts and will most likely lead you through a series of exercises and workouts that are usually five to ten minutes long. Pelvic exercisers work best if you use them consistently over time. The app will usually remind you when it's time to do the exercises and it can help you stick to a routine."
Kegel balls are the most popular and affordable form of pelvic floor exerciser and these come in many different styles.
"Kegel balls which are small, weighted balls have been used for centuries and are inserted into the vagina." says Dr Selena Langdon (opens in new tab), who trained in both aesthetic medicine and general practice. "The idea with these is basically to engage the neural pathways, as those of us with severally weakened pelvic muscles can find it difficult to exercise as we forget how to engage them."
She explains, "With the advent of smart phones and smart devices the idea of the kegel ball has been taken a step further. Then there are a variety of devices that use low level electric currents. The electricity means the user does not need to engage the muscles as the electrical pulses do this for them. Think of it as a tens machine for your intimate area."
These are the main types of pelvic floor trainer to consider:
Biofeedback wearables and devices - wearables are inserted into the vagina like a tampon and are used to ensure you're contracting your pelvic floor muscles correctly when doing exercises. Most wearables are connected to an app that can provide detailed feedback on your workout and monitor your progress.
Apps and smartphone games - you can also use pelvic floor training apps without connecting them to a wearable. Apps can guide you through your kegels and some even have even gamified the process to help you master your technique.
Kegel weights and kegel balls - similar to other wearables, kegel weights and balls are inserted into the vagina and used to help you perform kegels correctly. Usually, they aren't linked to an app so won't monitor your progress.
Electrical muscle stimulation - delivering gentle muscles stimulations, pelvic trainers like the INNOVO Pelvic Floor Device stimulate the pelvic floor to strengthen muscles and improve bladder function.
With so many options available, it's important to speak with your doctor before undertaking any form of exercise or purchasing an at-home device. Dr Langdon says, "While most are safe for use, there are contraindications such as those with vaginal mesh implants, prolapse or vaginal atrophy. It is very important to be aware that there is no regulation of these machines, so it is very important to do as much research as possible."
The best pelvic floor trainers, chosen by our experts
1. Elvie Trainer
The best pelvic trainer overall
Specifications
RRP: $199/£169
Type: Wearable device and app
Region: US and UK
Rechargeable : Yes
Reasons to buy
+
Recognizes false contractions
+
Detailed biofeedback
+
Range of exercises to choose from
The popular Elvie Trainer is a wearable device that sends alerts and corrections to the wearer to help keep your kegel practice on point. Patented technology detects incorrect contractions and alerts you at the start of every workout. The app also sets reminders and goals in the app while tracking your progress each time.
The device. which is worn inside the vagina, is body-safe, sealed with medical-grade silicone, and is 100% waterproof. It's safe to use with a coil or IUD and is widely considered to be the best wearable available. Additional features include a customizable fit, wireless charging case, and optional cover. Linked to an app, Elvie offers six gamified exercises. The wearer chooses from Strength, Speed, Lift, Pulse, Hold and Step exercises to help build muscle power, agility, and endurance and sets their ability level.
The benefit of this device being small and wireless with an external receiver means you could use it just about anywhere, without any discomfort, unlike some bulkier devices. The initial drawback for many, however, is the upfront cost of the Elvie.
2. INNOVO Shorts
The best pelvic floor training shorts
Specifications
RRP: $449.95/£299
Type: Wearable device
Region: US and UK
Rechargeable : Yes
Reasons to buy
+
Non-invasive
+
Delivers perfect kegels
+
Range of sizes
Reasons to avoid
-
High upfront cost
-
Not suitable for everyone
If you leak when you cough, laugh, sneeze or exercise, you are most likely suffering from SUI (stress urinary incontinence) and weak or slow pelvic floor muscles—this is where INNOVO comes in. This pelvic trainer comes in the form of a pair of shorts. These smart shorts use Multipath technology that sends electrical muscle stimulations from the electrodes on the buttocks to the electrodes at the front of the shorts. The idea is that the wearer can relax while the shorts stimulate the pelvic muscles. INNOVO says the shorts are a pain-free solution but some women find the sensation a little uncomfortable, it really depends on your body. Some people prefer to lie down while wearing them and others find it easy to walk around the house.
For best results, the creators of the shorts advise wearing them for thirty minutes a day for five days a week. Set your intensity level and during each session, the electric pulses should deliver 180 perfect kegel exercises—this obviously helps if you're unsure how or unable to do a kegel correctly. The shorts fit true to size and users advise being generous with the contact spray to avoid an electric shock to the skin. The only real drawback is the upfront cost but INNOVO does offer a repayment plan option for the full kit and replacement shorts
It's worth noting, the device isn't suitable for everyone. Pregnant women and people with epilepsy should steer clear and if you happen to have a pacemaker, defibrillator metal body implants such as an IUD, or any kind of electrical implant, the INNOVO shorts won't be suitable for you. You don't need a prescription to purchase them but check in with a healthcare professional if you have any concerns.
3. Squeezy App
The best pelvic floor trainer app
Specifications
RRP: $4.08/£2.99
Type: App
Region: US and UK
Rechargeable : N/A
Reasons to buy
+
Affordable and accessible
+
Online training resources
+
Great for beginners
The UK's NHS has created an app called Squeezy which, as affordable pelvic trainers go, is pretty good. Squeezy is a multi-award-winning app supporting pelvic floor muscle exercise programs. Designed by chartered physiotherapists specializing in women's and men's pelvic health, Squeezy offers a range of games and exercises to do while looking at your phone or device.
Squeezy comes pre-set with an exercise plan recommended by a pelvic health physiotherapist that follows NICE guidelines. The app will send you reminders to follow the plan daily, however, the service is simply an app and you'll need to be able to do a kegel properly if you're going to use it. If you're unsure about how to do a kegel visit the How to Squeeze section of the website or consult a pelvic health specialist.
If you're based in the UK and working directly with a pelvic health physiotherapist, Squeezy's pre-set exercise plan can be tailored to fit your needs. There's also a journal area to track any symptoms and improvements. If you're comfortable with measuring your progress yourself and doing your kegel exercises effectively but dislike the idea of a wearable or inserting a manual device, this stand-alone app is a good guide to keep you on track and provides helpful resources too. It's a fairly straightforward option but is a popular one nonetheless.
4. Perifit
The best pelvic floor internal wearable device
Specifications
RRP: $199/£199
Type: Wearable and app
Region: US and UK
Rechargeable: Yes
Reasons to buy
+
Virtual coach
+
Detailed biofeedback via app
+
Small
Perifit is a kegel exerciser that allows you to control and play video games with your pelvic floor. These smartphone games were designed by doctors to help effectively strengthen the pelvic floor. The wearable device created by a French femtech company uses unique patented double pressure-sensor technology to identify faulty contractions and the app links to the silicone probe. The probe itself is 26mm wide, designed to comfortably fit all body types and accurately measure your lift strength.
Perifit uses proprietary algorithms to assess your personal pelvic floor performance against five key metrics: strength, endurance, frequency, release, and accuracy. This allows the virtual coach to train you using a set of custom-designed kegel exercises for faster improvement. Many doctors recommend Perifit to their patients to combat incontinence, prolapse symptoms, and other pelvic floor disorders. The Perifit trainer isn't suitable for pregnant women or for people with chronic pelvic pain.
5. Emy by Tena
The best pelvic floor trainer innovation
Specifications
RRP: £169
Type: Wearable and app
Region: UK-only
Rechargeable : Yes
Reasons to buy
+
Trusted brand
+
Linkable app
+
Suggests programs based on your data
Reasons to avoid
-
Less detailed biofeedback than some of the other wearables with apps
TENA is well-known for its campaigns to support women with what the company calls 'little leaks'. The Emy by TENA is a pelvic trainer connected to a mobile app that helps with motivation and personalization. Similar to other wearable devices of this type, the Emy by TENA is best used in short sessions of up to twenty minutes and uses biofeedback sensors to track your progress. Some users consider the Emy to be less advanced as its sensors aren't able to detect and correct imperfect contractions, however, many users swear by theirs and report no issues.

The Kegel Trainer is carefully designed for women's pelvic floor anatomy and its biofeedback technology lets you track the strength training of your pelvic floor by monitoring your contractions in real-time and showing your progress through the app. The app, available for iOS and Android, will suggest programs based on your pelvic muscle strength and the progress you're making. It will also send daily reminders to complete your exercises.
The argument for opting for something like an Emy device is obviously that by investing in a long-term solution, you'll spend less on pads and other incontinence solutions like period underwear. However, it's worth noting that users can take up to six weeks to see any results and that consistent daily pelvic exercise is a process. You won't be able to give up pads and liners immediately, but with the support of the app and a device to ensure you're doing kegels correctly, issues like leaks, urgency, and laxity should become less of a problem over time.
6. Intimina KegelSmart
The best app-free pelvic floor training device
Specifications
RRP: $95.95/£69.95
Type: Wearable device
Region: US and UK
Rechargeable : No
Reasons to buy
+
No WiFi needed
+
Internal sensors
+
Body-safe silicone
+
Auto-settings based on your pelvic strength
Reasons to avoid
-
Battery operated
-
Intense vibrations might be overwhelming for some
The KegelSmart™ is described as 'a femtech gadget for a stronger you.' Made from body-safe silicone, this pelvic trainer by Intimina doesn't come with an app but relies on a program of vibrations to guide your exercise practice. The tail end of the device registers your pelvic strength and automatically sets the intensity of your program. It's then up to you to respond to the vibration program with a variety of muscle contractions.
Some users find the vibration a little too intense and this totally depends on your personal sensitivity. For some, simply reading the manual and familiarizing oneself with the vibration prompts and exercises is much more preferable to linking with an app and including a smartphone and WiFi connection.
The KegelSmart also divides the crowd with the way it is worn. Unlike other wearables with an external sensor, the KegelSmart is supposed to be inserted all the way into the vagina. You may want to use a water-based lubricant to help with this (see our guide to the best lubes). There's also a pull cord for easy removal.
Intimina's experts recommend using this device for five minutes every day. The sensor will register any improved strength in your pelvic muscles and adjust the vibration program accordingly—there are five levels of intensity varying from weak to very strong. There's no way of testing whether you're doing your kegels correctly with this device so if you're unsure, speak to your doctor. It's also worth noting that this product isn't chargeable, it's battery-operated, so if you feel the intensity of the vibrations dwindling, it might be time to replace the batteries.
7. Femvaults Pelvic Floor Trainer
The best tech-free pelvic floor trainer
Specifications
RRP: £69.99
Type: External device
Region: UK-only
Rechargeable : N/A
Reasons to buy
+
Non-invasive
+
Works whole muscle groups
+
More affordable wearable than other options
Reasons to avoid
-
Bulky
-
Requires practice
Femvaults is a non-invasive device created for those who cannot do kegels on their own and need a little help. A hinged resistance tool, the Femvaults is worn between your thighs and creates resistance between the thigh and glute muscles. Squeezing these muscles also activates the pelvic floor muscles. The idea behind Femvaults is that it makes the process of doing kegels easier and easier to identify.
Most women prefer to use the device while standing and experience the best results in this position, but you can use the Femvaults while seated, lying down, on all fours, or kneeling too. The creators describe the product as 'quite cumbersome' but argue that's exactly what makes it effective. It's true that it'll likely take a few tries to get familiar with using it, but once you have the hang of it it'll become much easier.
More affordable than the majority of tech-based pelvic trainers, the Femvaults doesn't offer biofeedback, tracking, reminders or readings, so if those insights are valuable to you this might not be the device for you. However, it does offer support in strengthening the entire hammock of muscles that wrap around the pelvic region as well as the glutes and upper thighs in a more holistic manner, rather than zoning in on the vaginal muscle walls and can be a good entry point to pelvic exercise.
8. vFit Gold
The best cellular treatment pelvic floor device
Specifications
RRP: $395/£395
Type: Internal manual device and app
Region: US and UK
Rechargeable: Yes
Reasons to buy
+
Works on a cellular level
+
Helps repair damaged tissue and encourage blood flow
Reasons to avoid
-
High upfront cost
-
Not everyone will enjoy using this type of device
Not so much a trainer as a cosmetic device the vFit Gold is the first piece of wellness tech that uses red light, gentle heat, and sonic technology to improve the strength, sensation, and natural lubrication of your vagina. Red light masks are used in many skin care treatments for tightening, healthy cell turnover and improved blood flow and the vFit operates on the same principle.
The device pairs with an easy-to-use app to control, track and better understand your vaginal health. The vFit is especially popular with menopausal women experiencing vaginal dryness and discomfort but the internal tissue stimulation it provides is beneficial for women of all ages.
The six high-powered UV-free red lights (LEDs) in the 662nm wavelength stimulate the tissue while gentle heat warms the tissue and encourages blood flow. This aids in natural lubrication and also amplifies the LED benefits. In addition, sonic vibration aids the stimulation of the internal muscles. As with other at-home pelvic treatments, you won't see instant results with the vFit and it won't be suitable for everyone.
Rather than being a manual kegel exerciser, this device stimulates your muscles on a cellular level, working to repair and tighten damaged tissue. However, it's an internal device, inserted into the vagina. Its creators advise using it in a similar fashion to any other pelvic device, for around ten minutes a day. It's USB chargeable and FDA approved but the initial cost can certainly be a deterrent for some.
9. Kgoal
The best adaptable pelvic floor trainer
Specifications
RRP: $149
Type: Wearable device and app
Region: US-only
Rechargeable : Yes
Reasons to buy
+
Customizable size
+
Links to app
+
Body-safe silicone
kGoal is a wearable biofeedback device that offers a combination of guidance, tracking and smartphone games. The pelvic trainer links to a free app that uses algorithms to calculate your scores. These scores assess your muscle function and motor control via 360-degree sensors in the body of the device and allow the app to trigger gentle vibrations to help guide you.
Made from medical-grade silicone, the kGoal adapts to the body for comfort. It uses a soft, flexible air pillow that inserts into the vagina and can be inflated or deflated for comfort. It's splash-resistant but can't be submerged in water and is USB-rechargeable. The ultimate authorities on your body are you and your doctor, and we encourage you to check with your OB-GYN about whether kGoal is suitable for you if you're unsure. And, if you experience pain using kGoal, stop and check with your doctor. Beyond that, if you know that your pelvic floor muscles are hypertonic or too tense, or you have pain with vaginal insertion in general, then kGoal is probably not suitable for you.
10. Kegel8 Exercise Weights
Best weighted pelvic floor trainer
Specifications
RRP: £29.99
Type: Wearable device
Region: UK-only
Rechargeable : N/A
Reasons to buy
+
Manual device
+
No WiFi needed
+
Very affordable
Kegel8 creates a variety of pelvic training devices, some with biofeedback sensors and some with electric pulse toning technology but it's the Exercise Weights we're raving about. Weighted vaginal exercise balls show an over 70% success rate with stress incontinence in clinical trials when used for 12 weeks.
Kegel balls can help with pelvic training and a weighted ball can be a great introduction to pelvic floor training. In order to hold a weighted kegel ball inside your vagina, you'll have to locate and engage your pelvic muscles. Instead of 'bearing down' you'll have to contract upwards performing an effective kegel. The Kegel8 Isotonic Weights come in three progressive sizes and gradual weight increments.
Insert the lightest Kegel8 cone to begin with and use the unique indicator clip so you can see that you're doing your kegel exercises correctly. If the tail moves down, you're doing your kegel exercises perfectly; if the tail moves up, you are pushing and this is called a 'bad kegel' because it is not exercising or strengthening the muscles at all. As you progress through Kegel8's 12-week plan, gradually increase the weight as your pelvic muscle strength improves.
Many people prefer using a manual device to an app or electronic gadget but this is really down to your personal preference. If you struggle with pelvic pain or experience pain when inserting the weights with a body-safe lubricant, stop using them and speak to your doctor.
11. Pelviva
The best short-term pelvic floor trainer
Specifications
RRP: £42.95-£199.95
Type: Wearable device
Region: UK-only
Rechargeable : N/A
Reasons to buy
+
Discreet
+
Hygienic
+
Great for beginners
In contrast to reusable devices, Pelviva is a single-use, disposable pelvic trainer that uses a neuromuscular electrical stimulation program to treat the pelvic floor muscles. Made from a soft foam intended to comfortably compress inside your vagina, once it's in position, the device reforms and molds to fit your body holding the flexible pulse pads in close contact with your vaginal walls, a little like a tampon.
Fully automated, the Pelviva automatically adjusts the level of intensity upwards or downwards. Most women describe feeling a pulsing sensation and for some, this can be a little intense. As with most electric devices, this can take some getting used to. Pelviva's creators recommend using one Pelviva for thirty minutes every other day for twelve weeks for the best results.
The idea is to use a new Pelviva each day—with the exception of when you're on your period—and dispose of it after each use. You should be getting through 15 a month and the products are sold in multipacks of three, nine, and fifteen. The single-use nature of the Pelviva might be offputting for some, while others prefer the guaranteed hygiene standard of a disposable product.
12. Intensity 2.0 Personal Stimulation Device
The best hybrid pelvic floor trainer
Specifications
RRP: $229
Type: Hybrid vibrator
Region: US-only
Rechargeable : Yes
Reasons to buy
+
Inflatable shaft
+
10 muscle stimulation levels
+
Clitoral attachment
According to the Journal of the American Medical Association, forty-three percent of women experience female sexual dysfunction at some point in their life. Sexual dysfunction includes low sexual desire, vaginal dryness, orgasmic dysfunction, difficulty maintaining arousal, and painful intercourse.
Combining the features of the best rabbit vibrators and pelvic trainers, the Intensity 2.0 Personal Stimulation Device is a hybrid device that uses electrical stimulation to help contract your pelvic floor muscles which makes orgasms more intense. The internal shaft of the Intensity uses electrostimulation, while the external clitoral attachment vibrates to improve the sensory experience.
Like the kGoal, the Intensity can also be inflated or deflated after insertion to provide the perfect fit inside the vagina, this makes it easier to contract your muscles around the shaft. According to the device's inventors, this inflation feature provides active resistance to build real muscle and build it quickly.
This gadget is battery-operated and made from medical-grade silicone. It features five speeds and ten muscle stimulation levels making it ideal for those who are already comfortable doing kegel exercises and regularly incorporate penetration into their solo play. Incorporating electrical stimulation and a pelvic workout into your masturbation sessions might seem complex and a little daunting, but for us, it's a no-brainer.
13. Intimate Rose Pelvic Wand
The best manual pelvic floor trainer
Specifications
RRP: $29.99
Type: Manual internal device
Region: US-only
Rechargeable : N/A
Reasons to buy
+
No tech required
+
Releases tight muscles
Not all pelvic trainers are for strengthening your muscles, some are intended to help release tension. If your muscles are tight, causing discomfort or you're suffering from a hypertonic pelvic floor or dyspareunia (pain during sex), vaginal massage can release tension. Enter the Intimate Rose Pelvic Wand—designed to help relieve trigger points including the hard-to-reach obturator internusand puborectalis muscles.
Made from smooth medical-grade silicone, its unique shape and sized ends make it easy to use. Once the wand is inserted, you can practice kegels to get a feel for which muscles are tight. Seeing the wand move will also show you whether you're actually performing the exercise correctly. With no tech, there are no batteries or charging required, all you need to use this trainer is a slick of lube for comfort.
Pelvic trainers in the form of wands will work for some people, however, they do take a little time to get used to and can be difficult to use at first. Follow the Intimate Rose instruction manual included with the product to help you master your kegels using a wand.
14. Secret Whispers Kegel Balls
Best for a supportive community
Specifications
RRP: $49.25 / £39.99
Type: Wearable device
Region: US and UK
Rechargeable: NA
Reasons to buy
+
Affordable
+
Graduated weights
+
Supportive community
Secret Whispers Kegel balls were created by a passionate UK entrepreneur, Julie Colan. Julie's multi-award-winning Six-Step Pelvic Floor Exercise Kit aims to get women leak-free in as little as 15 minutes a day and "back to enjoying the life they deserve".
The silicone weights in the kit are small at 1.06 inches, fitting comfortably in the palm of your hand but depending on how comfortable you feel, use lube or water to help insert them. The idea is to work your way up from the lightest weight at 15g to to the heaviest at 55g at your own pace. But you won't be left to figure things out on your own. The Secret Whispers brand boasts a huge online community of women who are always keen to discuss the benefits of the weights, how to use them and the issues that can be treated by using them.
The starter kit is affordable and can be used long term. Wear your weights three to four times a week to maintain the strength of your pelvic floor. The kit comes with a discrete travel bag, a 90-day Pelvic Floor Challenge Accountability Diary, your Exercise Programme and a PDF eBook.
15. LoveHoney Health Kegel Training Set
Best for affordable quality
Specifications
RRP: $59.99 / £49.99
Type: Wearable device
Region: US and UK
Rechargeable: NA
Reasons to buy
+
Easy to use
+
Ideal for beginners
+
Affordable
Lovehoney Health is a range of body-safe sexual health accessories created by the famed sexual health brand to empower you to take control of your intimate health. LoveHoney Health's newly designed Kegel Training Set is crafted from soft silicone and shaped for easy, progressive training. Three progressively weighted Kegel exercisers tone and strengthen your pelvic floor.
The set includes one single Kegel exerciser, weighing 1.8oz, and two double Kegel exercisers, weighing 2.8oz and 3.5oz. Each has a removal loop that remains outside the body for straightforward retrieval.
Unlike the Secret Whispers wearables, these kegel balls range in shape and size as well as weight so it's best to use them with a liberal amount of water-based lubricant for best results as the sensation of moving up a weight class might feel strange when you make the jump. This set is also great for long-term use and with a decent price point, it's a great entry set without all the bells and whistles.
16. Tracey Cox Supersex Kegel Training Kit
Best for incremental pelvic training
Specifications
RRP: $69.99 / £59.99
Type: Wearable device
Region: UK and US
Rechargeable: NA
Reasons to buy
+
Six weights
+
Color coded system
+
Discrete storage case
This set of six weighted kegel balls features six individual weight classes. Developed by expert, Tracey Cox, the idea is to gradually move up to a heavier kegel ball to help with your muscle strength. You should be able to squeeze comfortably around the ball and then release. You might not be able to hold a heavier ball inside your vagina if your pelvic muscles aren't strong enough so go at a pace that suits you and don't rush to move to a heavier ball too quickly.
Made from medical-grade silicone, the long tail should remain outside the body for easy removal. A colour-coded system makes it easy to determine which weight you're using and the total of six weights means incremental training is much easier, no matter the strength of your pelvic floor.
"It's advice I give all the time. If you want to have great sex, keep your genitals fit and toned." says Tracey Cox, creator of the set. Her philosophy is that great sex takes work and it takes attention to self. This set is sex focused but will help anyone with a range of pelvic issues, from bladder leaks to aches and pains.
17. OhMiBod Lovelife Krush Smart Kegel Exerciser
Best for detailed tracking
Specifications
RRP: $149.99
Type: Wearable device and app
Region: US only
Rechargeable: Yes
Reasons to buy
+
Biofeedback device
+
Vibration feedback
+
In-app courses
Lovelife's Krush Smart Kegel exerciser a biofeedback device that tracks and measures the pressure, control, endurance and grip of your pelvic muscles. After inserting it, connect to the TASL app and follow the pelvic training courses. If using an app to follow and build on your progress is more helpful than squeezing manually around a kegel ball, this might be the best option for you. However, you do pay extra for the tech. This kegel device comes in at more than double the price of most quality kegel ball sets.
It also offers vibrational feedback, delivering a quick buzz to correct you and for some people, this isn't a pleasant feeling. Some love it and find it the most useful way of ensuring they're doing kegels correctly so ultimately, whatever your learning style and preference for sensation will influence your decision.
Made from body-safe, phthalate-free silicone, the Krush Smart is waterproof and rechargable with a USB. It's compatible with iOS and Android phones and feature's Lovelife's signature pink heart at the end of the tail for removal.
18. Vivi Stimulator and Kegel Exerciser
Best for kegels during self pleasure
Specifications
RRP: $129
Type: Wearable and app
Region: US only
Rechargable: USB
Reasons to buy
+
Nine vibration modes
+
Doubles as a sex toy
+
Waterproof
+
Links to app
Reasons to avoid
-
High price point
-
Can be overwhelming
Vivi is an anatomically-designed, hands-free G-spot stimulator, clitoral stimulator, and Kegel exerciser, a triple threat if you will. A vibrator with powerful motors, it requires a kegel motion in order to work effectively. When you squeeze, Vivi pivots inward and upward targeting the G-spot and clitoris simultaneously.
If you're able to focus on squeezing while stimulating both areas, this can be a great way to work on your muscle strength. It can also help to train your body to respond to touch in new ways and enable you to achieve new types of blended orgasm. However, if you'd prefer to just wear the Vivi without the vibrations, it serves as a simple kegel exerciser that you can squeeze around without the added sensation. However, with that said, if you just want a simple wearable, this probably isn't the best choice for you.
This device links to an app with a workout reminder feature and a control panel for the powerful external and internal motors. If you'd rather not link to the app, you can also control the Vivi's nine vibration modes manually by pressing the buttons on the device itself. Magnetic USB rechargeable, the Vivi is rated ipx7 waterproof for fun in and out of the water, should you choose to combine your workouts and your self pleasure sessions with your morning shower.