The best pelvic floor trainers, recommended by experts and tested by us
The best pelvic floor trainers come in all shapes and sizes, from wearables to apps, here we round-up the best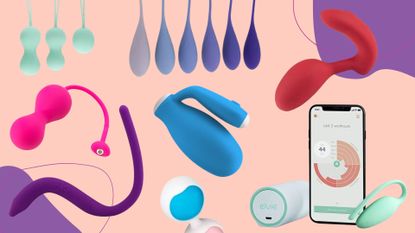 (Image credit: Elvie/KGoal/Lovehoney)
woman&home newsletter
Sign up to our free daily email for the latest royal and entertainment news, interesting opinion, expert advice on styling and beauty trends, and no-nonsense guides to the health and wellness questions you want answered.
Thank you for signing up to . You will receive a verification email shortly.
There was a problem. Please refresh the page and try again.
The best pelvic floor trainers are simple gadgets made to help people to maintain active and healthy pelvic floor muscles. Of course, like any other health-related device, they all differ in style, function, and price point, so we asked the experts for their recommendations and I put them to the test to help you find the best one.
The pelvic floor is a network of muscles that runs around the bladder, vaginal walls, and anus, and they're some of the most undervalued muscles in the body. Firstly, they physically support the bladder, and the ureters (tubes that carry urine from the kidney to the bladder, rectum, and reproductive organs, and secondly, they prevent us from being incontinent by letting us close the anal, vagina, and urethral canals. Keeping the pelvic floor healthy should be a top priority, especially as some conditions can naturally relax our pelvic floor muscles and cause issues.
Kegel exercises are one such way of keeping the muscles strong on the pelvic floor. However, not everyone knows how to do these and that's where many pelvic floor trainers come in handy. The best ones use physical sensations, reminders, trackers, and helpful tips and hints to help you master a whole range of kegel exercises and keep your pelvic floor healthy.
How we tested and selected the best pelvic floor trainers
Why you can trust Woman & Home Our expert reviewers spend hours testing and comparing products and services so you can choose the best for you. Find out more about how we test.
We spoke to experts such as Dr Shirin Lakhani (opens in new tab), an aesthetic physician and intimate health expert, to determine what makes the best pelvic floor trainer and asked for her recommendations on the best ones to use for everyone - ranging from those totally new to the devices through to those who've used them many times before.
"Your pelvic floor is essential for controlling your bladder and bowel movements and it can get weaker over time, as a result of childbirth and also as we age," she says. "Pelvic floor trainers can be really useful to target the pelvic floor muscles and the muscles at the neck of the bladder. Many people use them to improve control over bladder and bowel functions and for recovery after childbirth. They can also help reduce the risk of prolapse and improve sex lives, which is why you'll often see kegel balls in round-ups of the best sex toys as well."
As well as seeking expert advice on what makes a good pelvic floor trainer, we tested them ourselves. When doing so, we considered the following criteria:
Comfort: Pelvic floor trainers need to be comfortable. Most programs recommend using the devices regularly for best results, so the trainers need to be easy to insert and manageable to hold during use. We only included devices in our range that I found comfortable to use.
Functionality: While we can't speak to the long-term use of the device as we only tested these trainers for a limited amount of time, it was important that I could feel the trainer working on my pelvic floor muscles. I tested this either via using the app that came with the device, as this often reveals whether you're doing it right, or by using my own knowledge of pelvic floor exercises and Kegel exercises.
Ease of use: Along with comfort, no one wants a struggle with their pelvic floor trainer. This goes for ease of use both with the trainer itself and any associated technology, so I noted whether the trainer was easy to use and gain results from and whether the technology was simple to navigate for potential first-time users.
Type of pelvic floor trainer: There are many types of pelvic floor trainers out there, so we tested a variety - from classic trainers to Bluetooth-enabled devices, mechanical kegel balls to manual ones. "Apps can monitor your progress and set different workouts and will most likely lead you through a series of exercises and workouts that are usually five to ten minutes long. Pelvic exercisers work best if you use them consistently over time. The app will usually remind you when it's time to do the exercises and it can help you stick to a routine," says Dr Lakhani.
The best pelvic floor trainers, as tested by me
1. Elvie Trainer
The best pelvic trainer overall
Specifications
RRP: $199 / £169
Type: Wearable device and app
Region: US and UK
Rechargeable : Yes
Reasons to buy
+
Recognizes false contractions
+
Detailed biofeedback
+
Range of exercises to choose from
The popular Elvie Trainer is a wearable device that sends alerts and corrections to the wearer to help keep your Kegel practice on point. Unlike many of the other pelvic floor trainers on our list, this one uses patented technology to detect incorrect contractions and it alerts you at the start of every workout. The app also sets reminders and goals in the app while tracking your progress each time. Compared to many of the other trainers I tried and tested for this guide that didn't make the cut, I found the Elvie to be user-friendly and simple to navigate.
Not only that, I found the device to be super comfortable to wear. It's made from medical-grade silicone which is soft against the skin luckily, as it does go inside your vagina, and it's 100% waterproof. I was also pleased to see that this one is safe to use with a coil or IUD so I could keep using contraception while testing out this device. Overall, it was the most comfortable wearable I tested.
Additional features include a customizable fit in case it doesn't work quite right for you straight out of the box, a wireless charging case, and an optional cover. Linked to an app, Elvie offers six gamified exercises. The wearer chooses from Strength, Speed, Lift, Pulse, Hold and Step exercises to help build muscle power, agility, and endurance within their pelvic floor muscles.
I appreciated the size of the device as well. It's small and wireless with an external receiver, meaning you can use it just about anywhere without any discomfort - unlike some of the bulkier devices.
While the Elvie is definitely worth the cost if you're looking to invest in one of the best pelvic floor trainers, it is expensive compared to some of the other models on the list. If you're looking for something lower on the price spectrum, try the Intimina KegelSmart.
2. INNOVO Shorts
The best pelvic floor training shorts
Specifications
RRP: $449.95 / £299
Type: Wearable device
Region: US and UK
Rechargeable : Yes
Reasons to buy
+
Non-invasive
+
Delivers perfect kegels
+
Range of sizes
Reasons to avoid
-
High upfront cost
-
Not suitable for everyone
If you leak when you cough, laugh, sneeze or exercise, you are most likely suffering from SUI (stress urinary incontinence) and weak or slow pelvic floor muscles - this is where the INNOVO shorts come in. These smart shorts use Multipath Technology which sends electrical muscle stimulations from the electrodes on the buttocks to the electrodes at the front of the shorts. The idea is that the wearer can relax while the shorts stimulate the pelvic muscles.
INNOVO says the shorts are a pain-free solution but some women, like me when I first tried them out, said they find the sensation a little uncomfortable. It really depends on your body and some people prefer to lie down while wearing them. Others don't experience any issues at all and find it easy to walk around the house in them.
For best results, the creators of the shorts advise wearing them for thirty minutes a day for five days a week. Set your intensity level and during each session, the electric pulses should deliver 180 perfect Kegel exercises. This makes the shorts an excellent (if not pricey) investment for anyone who's not quite sure how to do Kegel exercises and wants to make sure they're doing them right every time.
I'd say these shorts fit true-to-size so always opt for your regular size when testing a pair for yourself, and I'd say be generous with the contact spray too. Otherwise, you might find you give yourself a very small electric shock.
It's also worth noting that as brilliant as these shorts are, they're not suitable for everyone. Those who are pregnant and anyone with epilepsy should steer clear and if you happen to have a pacemaker, a defibrillator, metal body implants such as an IUD, or any kind of electrical implant, the INNOVO shorts won't be suitable for you either. You don't need a prescription to purchase them but check in with a healthcare professional if you have any concerns.
3. Squeezy App
The best pelvic floor trainer app
Specifications
RRP: $4.08 / £2.99
Type: App
Region: US and UK
Rechargeable : N/A
Reasons to buy
+
Affordable and accessible
+
Online training resources
+
Great for beginners
Looking for one of the best pelvic floor trainers under $5? The UK's NHS has created an app called Squeezy which, as affordable pelvic trainers go, is pretty good. Squeezy is a multi-award-winning app supporting pelvic floor muscle exercise programs. Designed by chartered physiotherapists specializing in women's and men's pelvic health, Squeezy offers a range of games and exercises to do while looking at your phone or device.
When testing out the app for myself, I appreciated how it came with a pre-set exercise plan recommended by a pelvic health physiotherapist that follows NICE guidelines - so I knew it would definitely be working. I found the app then sends reminders to follow the plan daily, which was good - otherwise, I may have forgotten. The service is also super simple to use, I thought, as it's just an app. Although, you will have to already know how to do Kegel exercises properly.
If you're based in the UK and working directly with a pelvic health physiotherapist, Squeezy's pre-set exercise plan can be tailored to fit your needs as well. There's also a journal area to track any symptoms and improvements, which I thought was beneficial. If you're comfortable with measuring your progress yourself and doing your Kegel exercises effectively, but dislike the idea of a wearable or inserting a manual device, this stand-alone app is a great guide to keep you on track and provides helpful resources too. It's a fairly straightforward option but is a popular one nonetheless.
4. Perifit
The best pelvic floor internal wearable device
Specifications
RRP: $199 / £199
Type: Wearable and app
Region: US and UK
Rechargeable: Yes
Reasons to buy
+
Virtual coach
+
Detailed biofeedback via app
+
Small
Perifit is a kegel exerciser that allows you to control and play video games with your pelvic floor. These smartphone games were designed by doctors to help effectively strengthen the pelvic floor. The wearable device created by a French femtech company uses unique patented double pressure-sensor technology to identify faulty contractions and the app links to the silicone probe. The probe itself is 26mm wide, designed to comfortably fit all body types and accurately measure your lift strength.
Perifit uses proprietary algorithms to assess your pelvic floor performance against five key metrics: strength, endurance, frequency, release, and accuracy. After just a couple of days of using this device, I noticed a real change in these scores. The metrics allow the virtual coach to train you using a set of custom-designed Kegel exercises for faster improvement.
When testing out the device, I found it easy to use. To activate it, you just scan a QR code on your mobile phone and follow the step-by-step setup process, which includes a survey to figure out your needs and deal with issues like incontinence. Once you're in and before the games begin, there's a fantastic training mode which I found helpful for practicing my technique. Then, you're on the games. While they might sound trivial, it's all in the name of a better pelvic floor and I found them fun by the end - catching birds and avoiding obstacles by using the muscles around my pelvic floor.
Inserting the device is also very easy too as it's made from medical-grade silicone, not unlike many of my favorite sex toys - but this one doesn't buzz at all. It's small and has an attached loop, a bit like a tampon string, to help you pull it out after use. The Perifit trainer isn't suitable for pregnant women or people with chronic pelvic pain though, so be sure to consult your doctor if you have any concerns about this.
5. Emy by Tena
The best pelvic floor trainer for simplicity
Specifications
RRP: £169
Type: Wearable and app
Region: UK-only
Rechargeable : Yes
Reasons to buy
+
Trusted brand
+
Linkable app
+
Suggests programs based on your data
Reasons to avoid
-
Less detailed biofeedback than some of the other wearables with apps
TENA is well-known for its campaigns to support women with what the company calls 'little leaks'. The Emy by TENA is a pelvic trainer connected to a mobile app that helps with motivation and personalization. Similar to other wearable devices of this type in our guide, the Emy by TENA is best used in short sessions of up to twenty minutes and uses biofeedback sensors to track your progress.
Some users consider the Emy to be less advanced as its sensors aren't able to detect and correct imperfect contractions, which was the only disappointing factor given the price. If this is important to you, I'd suggest the Elvie.
This one is so simple you use though, I found. All you need to do is insert the Emy inside the vagina, connect to Bluetooth, then follow along through the exercises on the app and monitor your progress over the weeks. While it's a little plainer than the Perifit, for instance, it is slightly cheaper and offers a straightforward approach to training your pelvic floor.
6. Intimina KegelSmart
The best app-free pelvic floor training device
Specifications
RRP: $95.95 / £79.95
Type: Wearable device
Region: US and UK
Rechargeable : No
Reasons to buy
+
No WiFi needed
+
Internal sensors
+
Body-safe silicone
+
Auto-settings based on your pelvic strength
Reasons to avoid
-
Battery operated
-
Intense vibrations might be overwhelming for some
The KegelSmart is described as "a femtech gadget for a stronger you" and I couldn't agree more with this statement. This pelvic trainer by Intimina is made from body-safe silicone and while it doesn't come with an app, it does rely on a program of vibrations to guide your exercise practice. The tail end of the device registers your pelvic strength and automatically sets the intensity of your program. It's then up to you to respond to the vibration program with a variety of muscle contractions. There are five levels to choose from in total, varying from weak to very strong.
I did find the more intense levels to be too heavy and because there's no way of finding out whether you're doing your Kegels well with this device, I wasn't fully sure I was doing it correctly. However, it's easy to just stick with the lower levels. I also enjoyed the alternative, WIFI-free approach to pelvic floor trainers as there was no need to link to an app - which can be buggy - and I didn't have to get my smartphone out at all.
The KegelSmart divides the crowd with the way it is worn though, so if you're not used to these kinds of devices, it may be better to go for a more beginner-friendly trainer like the Elvie. Unlike other wearables with an external sensor, the KegelSmart is supposed to be inserted into the vagina. You may want to use a water-based lubricant to help with this (see our guide to the best lubes if you need a new one). There's also a pull cord for easy removal.
Intimina's experts recommend using this device for five minutes every day. It's also worth noting that this product isn't chargeable, it's battery-operated, so if you feel the intensity of the vibrations dwindling, it might be time to replace the batteries.
7. Femvaults Pelvic Floor Trainer
The best tech-free pelvic floor trainer
Specifications
RRP: £69.99
Type: External device
Region: UK-only
Rechargeable : N/A
Reasons to buy
+
Non-invasive
+
Works whole muscle groups
+
More affordable wearable than other options
Reasons to avoid
-
Bulky
-
Requires practice
Femvaults is a non-invasive device created for those who cannot do Kegels on their own and need a little help. Much like the Intimina KegelSmart, I appreciated how this toy was smartphone and technology-free. Instead, it's a totally manual toy based on hinge resistance.
The Femvaults is worn between your thighs and it creates resistance between the thigh and glute muscles. Squeezing these muscles also activates the pelvic floor muscles. The idea behind Femvaults is that it makes the process of doing Kegels easier and easier to identify by incorporating external muscles we're more used to using.
I preferred using this device while standing and experienced the best training in this position, but you can also use the Femvaults while seated, lying down, on all fours, or kneeling too. It does feel quite bulky compared to the other trainers on the list, especially little egg-sized ones like the Intimina - but that's what makes it so effective. Plus, I found it only took a couple of tries to get it right and once I had the hang of it, it became much easier.
It's more affordable than the majority of tech-based pelvic trainers in this guide as well, but the Femvaults doesn't offer biofeedback, tracking, reminders, or readings. So, if those insights are valuable to you this might not be the device for you. However, it does offer support in strengthening the entire hammock of muscles that wrap around the pelvic region as well as the glutes and upper thighs in a more holistic manner, rather than zoning in on the vaginal muscle walls, and I believe it can be a good entry point to pelvic exercise.
8. vFit Gold
The best cellular treatment pelvic floor device
Specifications
RRP: $395 / £395
Type: Internal manual device and app
Region: US and UK
Rechargeable: Yes
Reasons to buy
+
Works on a cellular level
+
Helps repair damaged tissue and encourage blood flow
Not so much a trainer as a cosmetic device, the vFit Gold is the first piece of wellness tech that uses red light, gentle heat, and sonic technology to improve the strength, sensation, and natural lubrication of your vagina. If you are someone who suffers from vaginal dryness, consult your doctor, because one of these could be for you. Red light masks are used in many skin care treatments for tightening, healthy cell turnover, and improved blood flow, and the vFit operates on the same principle.
There are six high-powered UV-free red lights (LEDs) in the 662nm wavelength to stimulate the tissue while gentle heat warms and encourages blood flow to the area. This aids in natural lubrication and also amplifies the LED benefits. In addition, sonic vibration aids the stimulation of the internal muscles. As with other at-home pelvic treatments, you won't see instant results with the vFit and it won't be suitable for everyone.
Rather than being a manual kegel exerciser, I liked how this device stimulates your muscles on a cellular level, working to repair and tighten damaged tissue. However, it's an internal device, inserted into the vagina. I'd suggest using it with plenty of lube if you have dryness, and the creators also suggest using it similarly to any other pelvic device, for around ten minutes a day. It's USB chargeable and FDA-approved but the initial cost can certainly be a deterrent for some.
9. Kgoal
The best adaptable pelvic floor trainer
Specifications
RRP: $149
Type: Wearable device and app
Region: US-only
Rechargeable : Yes
Reasons to buy
+
Customizable size
+
Links to app
+
Body-safe silicone
kGoal might look like it belongs on our list of the best rabbit vibrators but this biofeedback device is an excellent pelvic floor trainer, offering a combination of guidance, tracking, and smartphone games to help strengthen our pelvic floor muscles. Like some of the other devices on the list, it links to a free app that uses algorithms to calculate scores and these scores assess your muscle function and motor control via 360-degree sensors in the body of the device. While the Perifit is very similar in many ways to the kGoal, it is a little more expensive so if you're searching for a slightly more affordable option and you're living in the US, this could be a good one.
Made from medical-grade silicone, I found the kGoal was very comfortable to insert and use. It has a soft, flexible air pillow that inserts into the vagina and can be inflated or deflated for comfort. It's splash-resistant, which is useful, but it can't be submerged in water. It's also USB-rechargeable.
The ultimate authorities on your body are you and your doctor, and we encourage you to check with your OB-GYN about whether kGoal is suitable for you if you're unsure. And, if you experience pain using kGoal, stop and check with your doctor. Beyond that, if you know that your pelvic floor muscles are hypertonic or too tense, or you have pain with vaginal insertion in general, then after testing the device myself, I'd say the kGoal is probably not suitable for you.
10. Kegel8 Exercise Weights
Best weighted pelvic floor trainer
Specifications
RRP: £29.99
Type: Wearable device
Region: UK-only
Rechargeable : N/A
Reasons to buy
+
Manual device
+
No WiFi needed
+
Very affordable
Kegel8 creates a variety of pelvic training devices, some with biofeedback sensors and some with electric pulse toning technology, but it's the exercise weights I'm raving about.
These Kegel balls come in three progressive sizes and gradual weight increments, but I'd suggest using the lightest one to begin with and making use of the unique indicator clip, so you can see that you're doing the exercises correctly. This is the tail you'll see on the end of the Kegel balls and when it moves down, you're doing the exercise perfectly. If the tail moves up, you are pushing through what's called a 'bad kegel' because it's not exercising or strengthening the muscles at all so it is important to know how to use Kegel balls before trying these.
As you progress through Kegel8's 12-week plan, you have to gradually increase the weight as your pelvic muscle strength improves, which is what I liked about this pick of the best pelvic floor trainers. Instead of working your way through exercises that stay relatively the same throughout the program, this one helps you actively test the strength of your pelvic muscles.
There's even research to back up the use of these Kegel balls or cones, as they're otherwise called. Research from the University of Otago (opens in new tab) reveals that weighted vaginal exercise balls have a 70% success rate with stress incontinence in clinical trials when they're used for 12 weeks.
11. Intimate Rose Pelvic Wand
The best manual pelvic floor trainer
Specifications
RRP: $29.99
Type: Manual internal device
Region: US-only
Rechargeable : N/A
Reasons to buy
+
No tech required
+
Releases tight muscles
Not all pelvic trainers are for strengthening your muscles, some are intended to help release tension. If your muscles are tight, causing discomfort or you're suffering from a hypertonic pelvic floor or dyspareunia (pain during sex), vaginal massage can release tension. Enter the Intimate Rose Pelvic Wand - designed to help relieve trigger points including the hard-to-reach obturator internusand puborectalis muscles, a section of muscle involved in maintaining the pelvic floor.
I found the Intimate Rose Pelvic Wand easy to use. It's made from medical-grade silicone, which makes insertion easy with just a slick of lube, and has a unique shape with different-sized ends so I was always sure which side to use. Once the wand is inserted, I could practice Kegels to get a feel for which muscles were tight. Seeing the wand move will also show you whether you're performing the exercise correctly. With no tech, there are no batteries or charging required, which was another great benefit in my eyes.
Pelvic trainers in the form of wands will work for some people, however, they do take a little time to get used to and can be difficult to use at first - much like the best wand vibrators. Follow the Intimate Rose instruction manual included with the product to help you master your Kegels using a wand.
12. Secret Whispers Kegel Balls
Best pelvic floor trainer starter kit
Specifications
RRP: $49.25 / £39.99
Type: Wearable device
Region: US and UK
Rechargeable: NA
Reasons to buy
+
Affordable
+
Graduated weights
+
Supportive community
Secret Whispers Kegel balls were created by a passionate UK entrepreneur, Julie Colan. Julie's multi-award-winning Six-Step Pelvic Floor Exercise Kit aims to get women leak-free in as little as 15 minutes a day and "back to enjoying the life they deserve".
These silicone weights are smaller than some of the others on our list at just 1.06 inches. I found they fit comfortably in the palm of my hand but I'd still recommend using a splash of lube or water to help insert them if you're new to these types of toys. The idea is to work your way up from the lightest weight at 15g to the heaviest at 55g, all at your own pace, rather than following a set program. But don't worry, you won't be left to figure things out on your own. The Secret Whispers brand boasts a huge online community of women who are always keen to discuss the benefits of the weights, how to use them, and the issues that can be treated by using them.
The starter kit is affordable as well, another huge bonus when compared to some of the other pelvic floor trainers on our list, and they can be used long-term. The instructions suggest wearing your weights three to four times a week to maintain the strength of your pelvic floor.
I also loved how this kit came with a discrete travel bag, a 90-day Pelvic Floor Challenge Accountability Diary, your Exercise Program, and a PDF ebook to help you out with some of the more frequently asked questions.
13. LoveHoney Health Kegel Training Set
Best for affordable quality
Specifications
RRP: $59.99 / £49.99
Type: Wearable device
Region: US and UK
Rechargeable: NA
Reasons to buy
+
Easy to use
+
Ideal for beginners
+
Affordable
I'm a huge fan of Lovehoney for their other products so I was excited to try these kegel balls as part of the best pelvic floor trainers selection. Lovehoney Health is a range of body-safe sexual health accessories created by the famed sexual health brand to empower you to take control of your intimate health. LoveHoney Health's newly-designed Kegel Training Set is crafted from soft silicone and shaped for easy, progressive training. I found them easy to insert thanks to the soft silicone feel and manageable size, and the set uses three progressively-weighted kegel exercisers to tone and strengthen your pelvic floor.
The set includes one single Kegel exerciser, weighing 1.8oz, and two double Kegel exercisers, weighing 2.8oz and 3.5oz. Each has a removal loop that remains outside the body for straightforward retrieval when you're ready to take them out.
Unlike the Secret Whispers wearables though, these Kegel balls range in shape and size as well as weight. While you might be able to get away with a splash of water for the other ones, it's best to use these Lovehoney Kegel balls with a liberal amount of lube as they are easy to insert but it doesn't hurt to have a little extra help when you're moving up a weight class. This set is also great for long-term use and with a decent price point, I believe it's a great entry set without all the bells and whistles.
14. Tracey Cox Supersex Kegel Training Kit
Best for incremental pelvic training
Specifications
RRP: $69.99 / £59.99
Type: Wearable device
Region: UK and US
Rechargeable: NA
Reasons to buy
+
Six weights
+
Color coded system
+
Discrete storage case
Another excellent buy from Lovehoney, this set of six weighted kegel balls features six impressive weight classes to choose from. Developed by expert Tracey Cox (opens in new tab), the idea is to gradually move up to a heavier kegel ball to help with your muscle strength. You should be able to squeeze comfortably around the ball and then release it.
Don't worry if you can't hold the heavier ball inside yourself to begin with. This just means that your pelvic floor muscles aren't strong enough right now, so go at a pace that suits you, and don't rush to move to a heavier pick too quickly.
These balls are very easy to insert as they're also made from medical-grade silicone and the long tail hangs outside the body for easy removal, a feature I appreciate with these trainers. I also liked the color-coded system these kegel weights come in as it makes it super simple to determine which weight you're using. The total of six weights means incremental training is easier than with other trainers too, so if you're looking to complete this type of exercise, doing it with this device will be better - no matter the strength of your pelvic floor.
"It's advice I give all the time. If you want to have great sex and longer-lasting pelvic health, keep your genital fit and toned," says Tracey Cox, an international sex, relationship, and body confidence expert, and creator of the set. Her philosophy, that great sex takes work and self-focus, is built within this set as it aims to help anyone with a range of pelvic floor issues.
15. OhMiBod Lovelife Krush Smart Kegel Exerciser
Best for detailed tracking
Specifications
RRP: $149.99 / £108
Type: Wearable device and app
Region: US and UK
Rechargeable: Yes
Reasons to buy
+
Biofeedback device
+
Vibration feedback
+
In-app courses
Many of the best pelvic floor trainers use technology for a reason. I've found they tend to be more expensive than the manual ones for obvious reasons but the app connectivity features and additional help you get along the training program are often worth the additional cost if your budget can stretch.
Lovelife's Krush Smart Kegel exerciser is no different. While it might be more expensive than manual devices, it's still a Bluetooth-managed device under $200. As a biofeedback trainer, the device tracks and measures the pressure, control, endurance, and grip of your pelvic floor muscles. After inserting it, connect to the TASL app and follow the pelvic training courses. If using an app to follow and build on your progress is more helpful than squeezing manually around a kegel ball, this might be the best option for you.
It also offers vibrational feedback, which I found really helpful during use, delivering a quick buzz to correct you. This isn't a pleasant feeling but it may be a bit of a surprise if you're not expecting it, I found. Some people love it though and find it the most useful way of ensuring they're doing Kegels correctly so ultimately, whatever your learning style and preference for sensation will influence your decision.
Made from body-safe, phthalate-free silicone, the Krush Smart is also waterproof and rechargeable with a USB. It's compatible with iOS and Android phones and features Lovelife's signature pink heart at the end of the tail for removal.
16. Vivi Stimulator and Kegel Exerciser
Best pelvic floor trainer for self-pleasure
Specifications
RRP: $129 / £96.75
Type: Wearable and app
Region: US and UK
Rechargable: USB
Reasons to buy
+
Nine vibration modes
+
Doubles as a sex toy
+
Waterproof
+
Links to app
Reasons to avoid
-
High price point
-
Can be overwhelming
Looking to combine your pelvic floor trainer with your best vibrator? Search no further - the Vivi is an anatomically-designed, hands-free G-spot and clitoral stimulator, and kegel exerciser. It's a triple threat in my books as it's a vibrator with a powerful motor that requires kegel exercises to work most effectively, combining pelvic floor training and orgasms. When you squeeze, Vivi pivots inward and upward targeting the G-spot and clitoris simultaneously.
If you're able to focus on squeezing while stimulating both areas, this can be a great way to work on your muscle strength. It can also help to train your body to respond to touch in new ways and enable you to achieve new types of blended orgasms, I've found.
You can use this trainer without the vibrations and not have this feeling but if you want a simple wearable without the vibrations, I'd suggest choosing another one of the best pelvic floor trainers entirely - you can reap the same benefits offered by this toy with kegel balls, for instance.
I liked how this device links to an app as well, making it one of the best remote vibrators on the list too. In the app, you'll find a workout reminder feature and a control panel for the power external and internal motors. This device is very versatile though as you can also get away with not linking to the app and just control the vibration modes manually by pressing buttons on the device itself. I tried this for myself but found the Vivi most effective with the vibration mode activated and the app fully connected.
Magnetic USB rechargeable, the Vivi is rated ipx7 waterproof for fun in and out of the water, should you choose to combine your workouts and your self-pleasure sessions with your morning shower.
How to choose a pelvic floor trainer
Consider whether they're right for you to begin with: A common misconception about pelvic floor trainers is that everyone can use them. This isn't the case, Dr Lakhani says. "Anyone experiencing urinary incontinence, pelvic pain or pressure, hip pain, sexual difficulty, or fecal incontinence should have a professional examination first trying to use one of these devices."
Choose between Kegel balls or a trainer: These are two of the most popular types of pelvic floor trainers and the top-rated ones on our list. However, they are very different. "Pelvic floor trainers are most often a small contraption often connected to an app on your phone. The device is inserted into the vagina and helps you to ensure you are doing the exercises correctly," says Dr Lakhani. "Kegel balls, which are small, weighted balls, have been used for centuries and are inserted into the vagina."
Bluetooth connectivity or not: Similarly, you may decide that using a pelvic floor trainer with smartphone connectivity features is a little too much for you. These devices do tend to be more complex than even non-manual, battery-operated devices.
Short-term or long-term trainer: Some trainers can make a difference in just a couple of weeks whereas others require a longer-term commitment of a few months minimum. After speaking to your doctor and before buying, consider the variety of trainers out there and how long they've suggested you use the device.
Who can use a pelvic floor trainer?
You can start pelvic floor exercises at any age and any stage in your life, it's never too early or late. As with any muscle, the pelvic floor can become stronger and more effective the more you work it, says Dr Ruth Maher (opens in new tab), who specializes in women's health and physiotherapy.
It's a common misconception that pelvic issues only affect older women - pelvic floor dysfunction is present across all ages. Pelvic pain, incontinence, painful sex, and painful masturbation can all occur in the late teens right through to when the symptoms of perimenopause begin and the postmenopausal period starts. Pelvic issues and pelvic pain are also common in former athletes, research from the Technological Education Institute in Athens (opens in new tab) reveals, as these muscles tend to come under particular strain over years of exercise.
While pelvic floor trainers are suitable for a host of conditions and are proven to be hugely beneficial in managing certain painful situations, Maher, who is also the co-inventor of INNOVO (opens in new tab), also recommends them for some people experiencing issues as a result of certain life stages such as "urinary stress incontinence and for women who have just experienced childbirth," she says.
Ultimately though, you should always speak with your doctor before using one of these pelvic floor trainers. It may be that you need physical therapy and certain devices may also worsen your condition. It's also important to note that during pregnancy, the strength of your muscles can fluctuate.
What are the different types of pelvic floor trainers?
There are a few different styles of pelvic exerciser and you may need to try one or two before you can decide which is right for you. If you dislike the idea of inserting something, you can try starting with an app that instructs you on how to do manual kegels.
These are the main types of pelvic floor trainer to consider:
Biofeedback wearables and devices - wearables are inserted into the vagina like a tampon and are used to ensure you're contracting your pelvic floor muscles correctly when doing exercises. Most wearables are connected to an app that can provide detailed feedback on your workout and monitor your progress.
Apps and smartphone games - you can also use pelvic floor training apps without connecting them to a wearable. Apps can guide you through your Kegels and some even have even gamified the process to help you master your technique.
Kegel weights and Kegel balls - similar to other wearables, Kegel weights and balls are inserted into the vagina and used to help you perform Kegels correctly. Usually, they aren't linked to an app so won't monitor your progress.
Electrical muscle stimulation - delivering gentle muscles stimulations, pelvic trainers like the INNOVO Pelvic Floor Device stimulate the pelvic floor to strengthen muscles and improve bladder function.
With so many options available, it's important to speak with your doctor before undertaking any form of exercise or purchasing an at-home device. Dr Selena Langdon (opens in new tab), who trained in both aesthetic medicine and general practice, says, "While most are safe for use, there are contraindications such as those with vaginal mesh implants, prolapse or vaginal atrophy. It is very important to be aware that there is no regulation of these machines, so it is very important to do as much research as possible."
Emilie Lavinia is a writer, entrepreneur and women's wellbeing advocate. She is passionate about femtech, closing the gender health gap and campaigning for education and transparency across mental, physical and sexual health. Emilie presents All Being Well – a series that investigates the concept of wellness, good health according to experts and what it means to 'be well'. She has a decade of experience as a journalist, editor and brand strategist and is the founder of four separate organisations that champion women's health, marginalised communities and LGBTQ+ people.