What your sexual fantasies mean—and how you can bring them to life in the bedroom
What your sexual fantasies mean could be more revealing than you think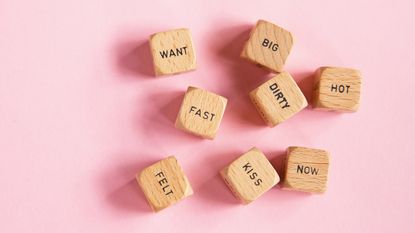 (Image credit: Getty Images / Jena Ardell)
Sexual fantasies can be wonderful and even better when you make them come alive alone or with a partner. But, could your kink actually say more about you? With the help of sex experts, we decode the most common sexual fantasies and what they really mean.
Whether you fantasize about using the best vibrator with your partner, having sex in the shower, or dressing up as your favorite Harry Potter character, they are all perfectly normal fantasies. It's also normal to fantasize about something or someone you wouldn't normally be attracted to.
"A fantasy may also involve people that we wouldn't be sexually attracted to in real life, but our fantasies don't always have to be something that we would want to act out in reality," says LELO's sex and relationship expert Kate Moyle. "We may only want to explore our fantasies within the safety and control of our imagination." Either way, here's everything you need to know about the most common sexual fantasies and what they mean.
What do my sexual fantasies mean?
1. Fictional characters
Research by Lelo found one in 20 people in the UK has masturbated to the idea of a fictional character. "Our fantasies can stretch as far as our imagination can take us, and curiosity about fictional characters is not uncommon," says Moyle. "Fictional characters are created and designed to connect with us in some way and for us to be interested in. Even though we know they're not real people, we relate to them, and a part of this may be sexually, or by being sexually interested."
"This means not only do you have a very active imagination, but you also love to play," adds Femme Fatale, ambassador for Arousr. "You need a partner who is adventurous in spirit and incredibly open-minded to help you play out your favorite steamy scenes from your favorite books and movies."
2. Being caught having sex in public
Having sex outside is a common fantasy, with the idea of being spotted making it even more exciting. "It's the idea of the taboo of having sex in a public place and the idea of voyeurs watching you," says psychologist Emma Kenny from killingkittens.com. "Fantasy is all about pushing boundaries and getting caught in the act plays on this."
"You're more than likely on the side of an extrovert in your social life...you also get off on taking big risks.," adds Femme. "The thought of being caught by someone while having sex in public turns you on just as much as the sex itself."
3. Cheating on your partner
If daydreams about cheating on your partner are turning you on, you shouldn't worry— it doesn't necessarily mean you actually want to end your loving relationship and jump into bed with someone new.
"This fantasy is natural, healthy, and has no connection to cheating," says Kenny. "The majority of women fantasize about sex with their partner's friends, father, work colleagues, or pretty much anyone. You don't have to tell your partner that you're imagining their best friend on top of you. We all have our secrets."
However, if you're in a sexless marriage and fantasizing about seeking pleasure elsewhere, you should sit down with your partner and talk about why you're having less sex. Having an open conversation about how you're feeling and what you'd like to do will help you to move forward together as a couple, and open up more opportunities for play in your relationship. Perhaps you can explore the idea of sex apps to find a third party together, or focus on spicing up things in the bedroom with a little bondage for beginners.
4. Someone in uniform
While the idea of women swooning over a man in uniform is quite the stereotype, there could be something to it. If you've ever secretly fancied a police officer, firefighter, or doctor, you're not alone!
"Uniforms are synonymous with strength and knowledge, and that's a shortcut mentally to feeling turned on by the anticipation of the body beneath the outfit," Kenny reveals.
5. Celebrities
There may be some celebrities you openly gush about, while others are secret crushes you'd never admit. Either way, fantasizing about being with a celebrity is actually pretty normal."Fantasies regarding A-listers who you know through films mean that you can draw down scenes in your head with and make them sexy and translatable to you," says Kenny.
Research by Dr Justin Lehmiller, author of Tell Me What You Want: The Science of Sexual Desire and How It Can Help You Improve Your Sex Life, found that two-thirds of participants fantasized about a celebrity. "Celebrities are far out of your reach, therefore you enjoy fantasizing about being sexual with one as you can control that narrative in your head," adds Femme. "A sex dream with a movie star is pretty common when you are not fully satisfied with your current sex life/partner. It's your way of making your sex life more interesting without needing to change your circumstances."
6. Someone who is the same sex as you
If fantasizing about some who is the same sex as you are throwing up sexual identity questions, it's totally normal. "If you're a heterosexual woman fantasizing about another woman, that doesn't mean that you're gay or bisexual," says Kenny. "In fact, 50% of women relate to involving another woman in their sexual imagination. That's not to suggest these kinds of fantasies cannot become more physical, but the truth is that many fantasies remain in our heads."
7. Being sexually dominant
BDSM or bondage can be a fun and enlightening experience for you and a consenting partner. "This fantasy is more commonly held by independent women who like the idea of handing power over to someone for a little while," says Kenny.
But, women also fantasize about being the dominant partner who is in control of play. In these fantasies, you might see yourself tying your partner up, engaging in role-play, or using sex toys for your pleasure or your partners (see our guide to the best sex toys if you're in need of some inspiration).
8. Having a threesome
Unsurprisingly, having a threesome is a very common sexual fantasy for both women and men. "The idea of allowing more than one person to please you sexually at a time can feel exciting," says Kenny.
"More and more adults are experimenting with threesomes, and as long as you're aware of the potential damage they can cause on occasion, then bringing them to life can boost your sex play. However, for many of us, simply imagining them can be titillating enough," Kenny adds.
If you daydream about threesomes Femme suggests this means you need a lot of variety in your life. "Thoughts of having a third person in the bedroom keep you stimulated and engaged in your partner because it makes things more adventurous," she adds.
How to live out your sexual fantasies
Looking to learn how to spice things up in the bedroom? If your fantasy involves a partner, communication is the key. "Let go of the shame surrounding whatever it is that arouses you and get comfortable speaking about them as though it's no different than ordering your lunch," says Femme.
Struggling to verbalize your thoughts? Say them to yourself in the mirror, Femme advises. "The more you are liberated to speak about your fantasies, the closer you will be to bringing them into existence." You could also introduce the idea to your partner by showing them a scene from a film or from ethical porn for women.
"When you can help your partner understand where you're coming from by being vulnerable, they will be more empathetic to your needs and more inclined to hear you out," explains Femme, "Even if it feels taboo or shameful, it should not be when you're simply discussing sex with a sexual partner."
"If they're keen to help you make your deepest desires become a reality, role play or dressing up is one of the easiest ways to do just that," Kenny adds.
How to introduce role play fantasies to your partner, according to Kenny:
Pick a power couple—sex shouldn't feel like reality, so you'll get bonus points for using your imagination when it comes to choosing characters to dress up as.
Keep changing things up—everyone has a go-to fantasy, and often the anticipation of knowing exactly what is going to happen is tantalizing. That said, sex should be evolving, and that means creating lots of fantasy role-plays.
Go full out—from accents to thigh-high boots, the more you work at it, the better it feels. I get my clients to go out separately and meet up as the characters they are playing. While you may have to keep a coat over the costume, it makes the experience more evocative.
Add props—even just a feather duster can add to play, but whether you go, the whole caboodle is down to confidence. For many men, simply seeing you dressed in a provocative outfit will suffice.
---
w&h thanks LELO's sex and relationship expert Kate Moyle, Femme Fatale kink expert and ambassador for Arousr and psychologist Emma Kenny from killingkittens.com for their time and expertise.
Sign up to our free daily email for the latest royal and entertainment news, interesting opinion, expert advice on styling and beauty trends, and no-nonsense guides to the health and wellness questions you want answered.
Ciara is the former digital health editor at womanandhome.com and has covered all things health and wellbeing from fitness to sleep to relationships. She's always on the lookout for new health trends, innovative fitness gadgets and must-read wellness books.
Originally from Ireland, Ciara moved to London to study journalism. After graduation, Ciara started her career at Goodhousekeeping.com. Ciara qualified as a meditation teacher with the British School of Meditation in 2020, and outside of her day-to-day now runs her own meditation school called Finding Quiet. She is all about bettering that mind-body connection but believes wellness looks different to everyone.