How to have sex outside—plus, the best positions for outdoor fun
Have fun and exciting outdoor sex, with these expert top tips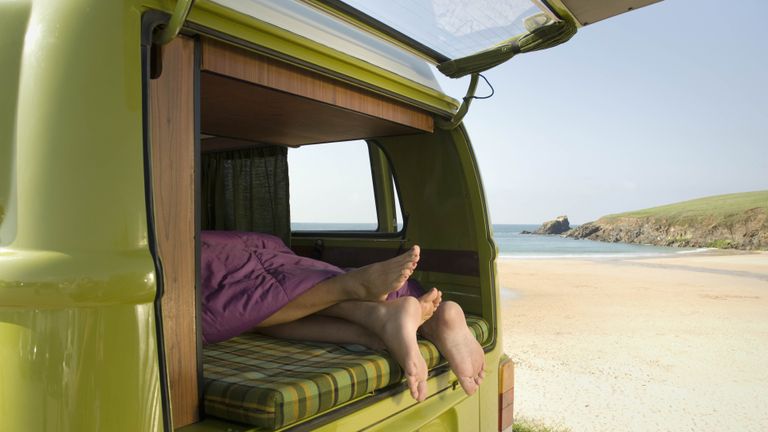 (Image credit: Getty Images)
Ever considered embracing the fresh air and having sex outdoors? You're not alone. According to Google, searches for alfresco sex jumped to new heights in 2020, particularly in May. Perhaps the arrival of spring elicits new feelings of friskiness, but it's worth noting that people enjoy having sex outside for many different reasons.
If you're already tried all the best vibrators, experimented with bondage for beginners or indulged in your sexual fantasies, sex outdoors could be a new and exciting experience for you and your partner. For some, the risk of being caught is the biggest pull. For others, sex outside could simply be a more logistically sound option than hooking up at home where privacy might be a luxury. But, for many, it's a fun new way to mix up their sex life.
"Fresh air and sunshine make us feel great, so it's easy to see how a walk in the park could turn into a romp in the bushes," says Renèe, a sex expert at Sh! Women's Store. "The thrill of getting caught adds an extra frizz, and if you're a person with an adventurous streak, outdoor sex might be on your sexual bucket list. For most couples, though, it's a case of getting carried away."
Whatever the reason, you should be fully prepared if you want to have great sex outdoors.
1. Have the conversation
First things first, open up the idea of sex outside with your partner. "This conversation is best had when you're both sharing fantasies and talking about sexy things you'd like to try together. You could say something like: 'I've always wanted to try sex outdoors' and see how they react," says Renèe. "Don't take it personally if they're not immediately jumping on the idea; they might need some time to think about it. You want them to be as keen as you are, so give them time to mull it over and fantasize about it."
You should also both discuss the possible outcomes of your outdoor fun. In most US states, public sex is a misdemeanor crime. Some state laws explicitly criminalize public sexual activity whereas elsewhere, laws are broader and cover a variety of indecent acts in a public setting, not limited to sex and sex acts. Most states carry a sentence of up to one year in prison and a fine if you're arrested. But then again, depending on which state you're in, loopholes exist such as having sex in a car which technically isn't a public place.
In the UK if you're caught having sex outside you could be charged with a sexual offense and added to the list of registered sexual offenders, says Julia Margo, Co-Founder of Hot Octopuss.
Wherever you are, brush up on the laws in your area and discuss these with your partner.
2. Pick the right spot
Outdoor sex is exhilarating, whether you're spicing up a sexless marriage or just want to try something new with your partner, but finding the right spot to have public sex is key.
A secluded area where you won't be disturbed is the best bet, but sex writer Andy Jones offers a happy medium for beginners. "If you're new to outdoor romance, start small," he says. "The best place to make your outdoor sex debut is your car. It basically has a bed, music and – if you dim them—some ambient lighting. Positions are fairly limited, but you can afford to go slow, you'll never get cold and you can make a quick escape if you need to."
Alternatively, if you're ready to embrace the wilderness, consider where might be the best type of outdoor spot for you and your partner. "Best practice is to choose an area with little to no foot traffic," says Julia. "That can be an abandoned building, a hiking trail—avoid high traffic times like weekends—or even a community garden, after hours, of course."
3. Be mindful of personal safety
Whether with a long-term partner or a new love interest, outdoor sex comes with personal safety risks.
During sex, we make ourselves vulnerable, so it's important to consider you and your partner's safety before you get started. Be aware of how safe the area is, especially after dark. It's also best not to be under the influence when you're having sex outside for the first time, especially with a new partner, as this can compromise your judgment and reactions.
Some people who enjoy outdoor sex take part in dogging or cruising, the act of meeting other people, sometimes strangers they've met on sex apps, to have sex outdoors or in cars at specific locations. If you'd like to try it out for yourself, it's not advised to attend these meet-ups on your own. Personal safety shouldn't have to be an issue when exploring your sexuality, but unfortunately, women are statistically at greater risk of assault or violence than men when visiting dogging sites, so it's best to take someone along with you or drop your location to a friend and have them wait for you nearby.
4. Be prepared
Dress to get undressed and then to get dressed again quickly. Easy access is the key when planning an outdoor adventure. Consider the effectiveness of skirts and dresses over the likes of one-pieces or pantyhose and opt for layers that you can slip back on should you need to dress again in a hurry. "Logistics-wise, regardless of gender, a skirt will make downstairs activity more accessible for everyone," says Julia. "Ditch the underwear in advance and bring a plastic bag, or better yet, a reusable container, for responsibly transporting used condoms and toys home with you."
If going commando isn't your thing, there are other options to make sex outdoors more accessible. "Crotchless panties were made for outdoor sex," says Renèe.
It's a good idea to bring food and drink along for refueling after a sexy outdoor session, but a picnic also works well as a cover. After all, who would suspect innocent picnickers of anything untoward? "Always take a picnic and a blanket," says Andy. "It gives you at least half a reason to be there if you are spotted and, if you pack champagne and strawberries it can only add to the romance. The blanket is essential for providing cover in an emergency, but it also provides protection against snagged knees and ricked backs. If you're being really thorough with your cover story, binoculars can help you spot if people are coming but also make it look like you are on a nature trail."
What are the best positions for outdoor sex?
While you might be nervous about getting caught and keen to get straight to it, consider how teasing and kissing can elevate the mood. Slowly building up to something that's considered slightly taboo will not only make it seem more physically exciting but will stimulate you mentally, too. Try telling your partner what you plan to do and use your hands and toys while things heat up. Oral sex up against a tree or lying in long grass can be great but it's worth bearing in mind that if you're spotted, this can be highly offensive for onlookers. Again, easy access clothing is the key here and with the right outfit, using hands, tongues and toys becomes much easier.
"Be prepared to adjust what you are normally into," says Andy. "For example, spooning together in the long grass can work well but if you pick a location that's too public, 'from behind' is bound to get you noticed." Sex outside, especially if it's your debut, isn't the ideal moment to try something new and what you can get away with really depends on how private you can be in the spot you've chosen.
"The best sex positions for sex outside allow you to get up and away easily. A seated cowgirl is good if you come across a bench. Standing against a tree is a classic and a standing doggy-style also works really well," says Renèe.
If standing up isn't an option, perhaps because of height differences or leg pain, finding a spot among the bushes or long grass is a winning combination with a simple missionary or cowgirl position.
Above all, when it comes to sex outside remember to relax, enjoy yourself and have fun with it. Now you know all the rules and every trick in the book, you can embrace your ecosexual side with no problems.
Emilie Lavinia is a writer, entrepreneur and women's wellbeing advocate. She is passionate about femtech, closing the gender health gap and campaigning for education and transparency across mental, physical and sexual health.