The best sex positions to help you orgasm whether you're with a partner or going solo
Sexologists and coaches reveal the best sex positions for your bucket list, plus how to do them right first time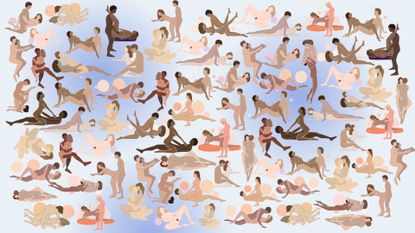 (Image credit: H.Maddison)
You may feel like you've tried all the best sex positions over the years, between different partners and maybe years spent in one relationship. You may know what feels good for you and there's nothing wrong with your go-to moves, but if you are looking to spice things up, there's always a space for something new.
"Trying something new in the bedroom every once in a while is a great way to spice up your relationship," says Annabelle Knight, a sex and relationship expert with qualifications in counselling and psychosexual therapy. "You might like to try one of the more classic positions for super-connected lovemaking, where there's plenty of eye-gazing and you can fall on top of your partner for maximum skin contact. Or, you might want to push the boat out and try something new."
Whether you're a fan of these intimate moves, want to try a new dynamic, or are looking for new ideas to bring back a spark in the bedroom, we've got you covered. From the best oral sex positions to the best lesbian sex positions, these are the new moves to add to the bedroom bucket list, as recommended by top sex coaches, relationship experts, and psychosexual therapists.
The best sex positions for women
1. Cowgirl sex position
How to do it: To do the cowgirl sex position, also known as 'woman on top', have your partner lie down on the bed, straddle their waist with your knees bent and thighs facing forward on either side. From here, the partner on top can lower themselves onto their partner, gently moving up and down or grinding back and forward, all the way to orgasm.
Why it's great: From an intimacy point of view, the cowgirl is one of the best sex positions for feeling closer to your partner as you can focus on their face, make intense eye contact, and explore their body with your hands from an elevated or lower position. "The person on the bottom gets a full view of their partner above them and everything that comes with as they're lying down," says Knight. "This means they can also hold and caress their partner's erogenous zones with an arm outstretched, and you both have the chance for some seriously steamy eye contact. Make the most of that."
It also puts you in control of how fast or slow you want to go if you're the partner on top, says Knight. "You can control your own orgasm and how quickly it comes in this position as the top partner experiences intense G-spot stimulation and can incorporate some manual stimulation of the clitoris too if they want," she adds.
Make it sexier: Bring a vibrator into the mix for the person on top. A bullet vibrator, for instance, would fit into the move perfectly and work to stimulate the clitoris in this position.
Alternatively, you can switch things up and the person on top can elevate their legs, stretching them out over the bottom partner's shoulders - a move commonly referred to as the edge of heaven sex position. Trust us, it's called such for a reason.
Annabelle Knight is a sex, relationship, dating and body language expert, a bestselling author, a sex toy expert, and a celebrity relationship coach. She is qualified in life coaching, couples counselling, and psychosexual therapy. She regularly appears on television, in the press, and on-air to offer her expertise and guidance on a range of topics and currently is a resident sex and relationship expert for Lovehoney.

She has her own range of sex toys, is a published author and was ITV's flirt expert for Love Island. Also previously, Annabelle co-hosted the popular podcast 'Sex and Other Stuff', and presented Channel 5's 'The Good Girl's Guide to Kinky Sex'. She is also the body language expert for 'It's Ready to Mingle' on ITV and the current sex expert on e4's new dating show, 'Kinky Daters'. Annabelle covers everything from lust, to love, and anything in between.
2. Kneeling lunge
How to do it: "Both partners perform lunges on opposite sides as they lock together in penetration," says sexologist, sex and relationship coach, Ness Cooper. "They support each other and connect through the closeness of the position."
Why it's great: "It's all about embrace," she says. "Although some coordination is needed, and communication is always important, both bodies should support each other once in the position for an intensive erotic and intimate embrace."
Make it sexier: If you're struggling to get this one due to mismatched heights when lunging, "add positioned pillows to help each other out," says Cooper, who is also the founder of The Sex Consultant and the resident sexologist at Je Joue.
Ness Cooper is an award-winning sex and relationship expert and in-house sex therapist for woman&home. She has over 15 years of experience helping individuals and couples experience better intimacy and runs a private practice. With knowledge and training in sex and relationship therapy, coaching, education, sexual health and pelvic floor fitness she brings this all together to support people in an integrated way. She is an accredited sexologist and is currently the resident sexologist for Je Joue.
3. Eyes wide open
How to do it: As you face your partner, with your legs draped over theirs, stare into each other's eyes and synchronize your breathing. After a few minutes, move to sit on their lap and straddle them. Start with kissing and light touches before taking things further.
Why it's great: If you've ever been curious about tantric sex, this is one of the best sex positions to try. Moving slowly with purpose, and not rushing to take each other's clothes off and orgasm, will make your climax all the sweeter. "The advantage of this position is you can enjoy intimacy and foreplay and then have intercourse as an added extra," says Knight.
Make it sexier: For a true tantric experience and to make your orgasm even more intense, spend more time on foreplay. Set aside a few hours for you and your partner to really indulge in your time together. Light candles, put on your favourite music, use sensual oils to massage each other and take things super slow. Tantric play doesn't have to lead to penetrative sex, but if you choose to, being present in the moment and moving slowly will make it even more pleasurable.
4. Missionary
How to do it: Lie on your back with your partner on top of you, facing you. Easy! If you find that the move is tough on your neck or back, you can always prop a comfortable pillow under your lower back for additional support (as pictured).
Why it's great: The missionary sex position often gets a bad rep for being a little boring. It's unlikely to be a star player in the game and it's one you're probably already very familiar with, but missionary is ideal for going back to basics and learning how to have better sex or if you want something simple that still feels good.
You might not want to try unusual sex positions all the time, and that's more than ok. Sticking with missionary and adjusting your leg positioning, wrapping them around your partner's waist, or bringing one leg on top of their shoulder, for instance, can really take pleasure to a whole new level. It's also the best sex position with lower back pain as noted, ideal for anyone experiencing discomfort in this area.
Make it sexier: If you and your partner are into the idea, add a blindfold to make it even sexier. "Using a blindfold can deprive you of sight and amplify your other senses. This can give you an even greater, more powerful orgasm," says Knight.
5. Doggy style
How to do it: Another easy one, says Cooper. "To perform this sex position, the receiver needs to be on all fours while the individual penetrating from behind kneels over their partner slightly as they thrust."
Why it's great: Doggy style is one of the most popular sex positions, she explains. "It allows for deep penetration and stimulation of the clitoris. Couples can also add their best vibrator to this position easily, and stimulate other erogenous zones such as the breasts."
While doggy style is seen as quite an intense position for the bottom partner, that doesn't mean they don't have control over the thrusting. "Both partners can control the movement of their pelvis in this position," she says.
How to make it sexier: If you want to intensify the position and go deeper, the bottom partner can move from being on all fours to leaning on their elbows. To spice things up a bit, position a mirror in front of you - both partners will then be able to see the other (and themselves) during sex, where otherwise they wouldn't be able to.
If you tend to experience pelvic pain or joint discomfort during sex, you can also add pillows to support the different areas of the body, such as the knees. Or, you can put the pillow under your stomach, which is more of a speed bump sex position, but it may be more comfortable. "It might be the solution needed to fully enjoy the doggy style," says Cooper.
6. The Broken Eagle
How to do it: To finesse the broken eagle, the receiving partner has to lie on their front with one leg straight, stretched out behind them, while the other is bent like it's an eagle's broken wing. The partner on top then slides in from behind, using their body weight to prop themselves up.
On the bottom, the partner can either reach their arms out ahead of them or keep them by their sides.
Why it's great: The broken eagle sex position is very similar to doggy or the speedbump, except with even less work involved for the partner on the bottom. It's also one that's bound to offer more intense orgasms as the position forces pressure onto the pelvic area.
Make it sexier: Start using the broken eagle sex position during foreplay. Arrange yourselves in the position and then have the top partner kiss, suck, and blow down the bottom partner's back, across their shoulder, and the nape of their neck.
7. Spoon facing
How to do it: While in the missionary position, roll onto your side so your partner is facing you. You can both bend your arms and rest on your elbows to support your upper body.
Why it's great: This position encourages slower, quieter thrusts, says Knight. "If anyone were to interrupt you it would look like you're just having a cuddle under the covers," she explains. Plus, the skin-on-skin and eye-to-eye contact create even more intimacy. It's very similar to the reverse scoop sex position in this way.
Make it sexier: Experiment with your leg positioning, wrap your outside leg around your partner's waist or prop it up on your opposite shin for more intensity. "Spooning is the perfect position for slow and gentle sex," says sexologist and psychosexual therapist, Kate Moyle, who is also sexual wellness brand LELO's sex and relationship expert. "If you add in clitoral stimulation with a bullet vibrator for example, you increase your chances of having a blended orgasm. This is where you have a G-Spot and clitoral orgasm at the same time or just after each other. And the beauty is, you'll be wrapped in your partner's arms when that happens."
Kate Moyle is a CORST accredited and UKCP registered psychosexual and relationship therapist, and EPS and ESSM certified psycho-sexologist. She specialises in working with those who are struggling with difficulties in their sex lives and sexuality.
Moyle is also LELO's sex expert and author of The Science Of Sex.
8. The butter churner
How to do it: Lay on your back on a sofa or at the end of your bed with a pillow between your shoulders. Then raise your legs up and over your body, so your ankles are above your head. With your partner standing over you, they can hold your ankles and squat slightly from above to penetrate you.
Why it's great: The butter churner sex position is a great position for anyone with a good range of flexibility and it's especially a great one for anyone who is working with a slightly smaller penis or sex toy as it allows for a direct angle of penetration. "It might take time to get the angle right, but it's worth it for the fun of trying a new sex position and it's great for G-spot stimulation," says Moyle.
Make it sexier: While it might be a bit much for some people, it would be so easy to incorporate your best vibrator into the mix here, allowing for dual stimulation of the G-spot and the clitoris.
9. The Amazon
How to do it: The Amazon sex position is a little complicated to get into - but it's so worth it. The partner penetrating lies on their back and pulls their knees into their check. Then, the partner on the top kneels facing them, placing themselves with their legs on either side of the bottom partner's. It should look a little something like the squatting position, which allows the top partner to use the penetrating partner's thighs for support.
Why it's great: The Amazon sex position is a great one for any couple. "It requires a penetrating and receiving partner so would work well for different-sex couples, or for two vulva owners with one wearing a strap-on," says Moyle, highlighting the Amazon as one of the best lesbian sex positions.
Make it sexier: Looking to adjust to make it easier (and sexier)? The partner on top in the squat position can take some of the strain off their legs by moving onto their knees over their partner.
10. The 9 to 5
How to do it: The receiver leans against a table or desk in this pick of standing sex positions, making it perfect for anyone with a home-office set-up. Standing up, the receiver leans over the bench, bracing against it and bending their knees slightly to support themselves. The giving partner then comes in behind them.
Why it's great: "This position offers the perfect angel for those who enjoy deeper penetration and allows for support for those wanting to go a bit faster," says Cooper. Plus, it'll take you out of your comfort zone by bringing sex out of the bedroom and possibly even out of the house with the need for a desk or table. If you're looking to be more adventurous with your sex life, the 9 to 5 could be the answer.
Make it sexier: It's easy to stimulate the clitoris in this position as well, especially if you use a small toy. Ideal for anyone who enjoys easy dual stimulation. "This position can also be done with the penetrating partner sitting on a chair, like an office chair with an adjustable height," she says.
11. The butterfly
How to do it: Lay on your back at the edge of the bed with your partner standing over you. Prop your legs up on their chest or hook them around their shoulders, then have your partner hold your hips to elevate you slightly before they penetrate you.
Why it's great: "The butterfly sex position is one of the best sex positions for deep penetration," says Knight. "It'll give you a new and sexy angle of each other, while also feeling amazing." If standing becomes uncomfortable for your partner then can move their knees onto the bed for extra support, while still staying in the same position.
Make it sexier: If you and your partner are interested, incorporate some BDSM for beginners into your play to take the power element of this sex position to the next level. Your partner could try tying your hands with rope or blindfolding you as they explore your erogenous zones. Communication, enthusiastic consent, and understanding is (as always) absolutely key here. Before trying any BDSM play you should always discuss your boundaries with your partner and agree on a safe word that can be used to stop play at any time.
12. Coital alignment technique
How to do it: The coital alignment technique was made famous by the Sex / Life Netflix series but the position has actually been around for a while. Get into the missionary position to begin with but have the top partner positioned a little higher than usual - their chest should be parallel to your shoulders. The top partner now enters but just with the tip of their penis or the sex toy, with the shaft resting against the vulva to allow for some penetration alongside clitoral stimulation.
Why it's great: By altering the angle of the penetrating partner away from the traditional missionary position, couples can prioritize clitoris stimulation - which most women need to be able to orgasm, according to research by Concordia University.
The coital alignment technique is a great one if you're looking to have simultaneous orgasms with your partner because of this, as they are still experiencing some stimulation.
Make it sexier: If you're using a sex toy with a same-sex partner, you could always incorporate some masturbation techniques into the mix to make sure orgasms happen for everyone. Using a vibrator, the penetrating partner can stimulate themselves at the same time.
13. Seashell
How to do it: This isn't a position for the faint-hearted - you'll need plenty of flexibility to make the seashell work. The bottom partner lifts their legs up and as close to their head as possible, while the penetrating partner is on top resting on the underside of the bottom partner's legs if needed.
Why it's great: Anyone who prefers to stimulate their own clitoris during sex with a partner will love this one. As the top partner is resting on the bottom partner's legs, which are up in the air, there's plenty of room to manoeuvre a small sex toy or vibrator for additional vibrations down below.
How to make it sexier: You can quickly switch up this position to allow for more manual stimulation by incorporating some elements of the coital alignment technique, another one of the best sex positions on our list. "The top partner can shift their weight up so only the tip of the penis or sex toy is inside the bottom partner and the shaft stimulates the vulva," says Knight. "Or, if you want more G-spot stimulation, the top partner can shuffle down so the tip reaches this point on the internal wall a little easier.
14. Spooning
How to do it: Lay down with your partner slotted in nicely behind you as if you're about to cuddle. Experiment with leg positioning to find a spot that feels pleasurable and comfortable for you.
Why it's great: "The spooning sex position is another great position for navigating around a bump and it allows for clitoral stimulation," says Moyle. This is one of the best sex positions while pregnant, particularly in the last trimester, because it's doesn't involve much movement and has your partner doing most of the work so you can reposition yourself into a spot that's comfortable for you.
Make it sexier: Introduce a vibrator and the belly press trick into the mix for extra clitoral stimulation. While you can start your spooning session at any point and then add in the vibrator, it's better to be prepared. "It's sexier to make sure you have the vibrator easily in reach so that you don't have to scrabble around for it and interrupt your enjoyment," says Moyle. Blindfolds can also increase pleasure, plus adding lube can make things more fun, too. "A finger vibrator can be especially helpful if you're using the best lube," Moyle adds. "There's nothing more distracting than someone losing their grip or slipping just as you edge towards orgasm."
15. The solo frontier
How to: Try one of the many excellent female masturbation techniques around by experimenting with manual stimulation of the vagina, vulva, clitoris, and other erogenous zones around the body. Alternatively, bring your favourite sex toy into the mix.
Why it's great: Masturbation is just as valid a form of sex as partnered intimacy. You can choose a position that works perfectly just for you, focus on what gives you the most pleasure, and decide whether you want to explore some of the best porn for women or just go off your imagination. You can also choose when, where, and how often it works for you - with no outside involvement needed.
Make it sexier: Just because you're on your own doesn't mean you have to miss out on foreplay. "Using one of the wand vibrators first, such as Lelo Smart Wand will give you an all-over body massage," says Moyle. "This won't just help you relax but can build up desire and arousal by teasing. Running along the inner thighs, the lower back and buttocks can build up anticipation, which is our most natural aphrodisiac." Keeping your eyes closed the whole time can really help when it comes to imagination. When you can't hold off anymore and roll into the solo frontier position, you'll have major body tingles when you eventually orgasm.
16. Lotus sex position
How to do it: The lotus is one of the most famous face-to-face sex positions - and it's so easy to do. "The partner on top in the lotus sex position should climb on top of the bottom partner, who is sitting cross-legged on the floor, and wrap their legs around their waist," says Knight. "The bottom partner can then enter easily from this point."
Why it's great: You're in charge. If you're sitting astride your partner, you can control exactly how fast or slow you want the movement and whether it's the traditional grinding motion the lotus position calls for - or more of a classic up-and-down movement. Whatever works for you.
Make it sexier: The top partner can lean back as their legs provide the perfect anchoring hooked around their partner's lower back. This offers a unique alternative angle for penetration and allows the bottom partner access to the nipples, arms, and shoulder areas of the top partner, which are just three of many erogenous zones.
17. The vibrating reverse cowgirl
How to: Adopt the traditional reverse cowgirl position with your partner lying on their back, and you straddling on top facing away. Make it a "vibrating" ride by grabbing hold of a vibrator. You could also pass them a wand vibrator, which would work best in this case, to massage down your back during sex or stimulate your clitoris.
Why it's great: "Not only can a vibrator be used for clitoris stimulation on the riding partner, but you can also use it on a bottom partner, for example, if they have a perineum or testicles, for additional sensation," says Moyle. "It's a great way for couples to explore giving control to the other. Plus, if one person can't see when the sex toy will be used, it can also add to the suspense of not knowing what's going to happen next."
Make it sexier: When it comes to this position, the more sex toys, the better. Adding a cock ring to the session can make it even sexier. "A cock ring that stretches around the penis or dildo is great," says Moyle. "It also offers great clitoral stimulation if worn during sex, particularly when the woman is on top." It's a hands-free sex toy so you're still free to touch your partner, and you don't have to think about changing the settings - just enjoy.
18. The Chairman
How to do it: Similar to the reverse cowgirl, have the penetrating partner sit behind with the partner receiving sitting on top of them, facing away. The partner behind can stretch their legs out in front of them, with the partner in front looping theirs behind for that extra support, or leave them as they are. Whatever's the most comfortable.
Why it's great: The chairman works pretty much anywhere - you can try it on the sofa, in bed, or even while having sex in the shower. As a penetrative sex position, it targets the G-spot while leaving plenty of room for additional stimulation of the clitoris, nipples, and other erogenous zones.
"As well as being one of the best lazy sex positions, this works great if you need to be quiet," says Knight. "There is less thrusting and therefore less noise, and it's more bobbing up and down.
Also, when it comes to the best way to have sex when on your period, we recommend The Chairman position for comfort, intimacy, and pleasure during your period. "Not everyone wants to have sex while on their period and that's more than okay," says Moyle, who also points out that no positions are off limits when you're on your period, it should be whatever works best for both partners.
"If both partners are comfortable, sex in this way can have some great benefits, like helping relieve cramps, extra lubrication, and increased sensitivity," she adds.
Make it sexier: If you're having sex on a bed or fabric-covered area, you can lay a towel on the bed underneath your partner. If you're in the shower, be sure to still remember to use lube - just be careful when moving around, as it'll be slippery.
Moyle also suggests propping a mirror up in front of you if you're doing it in bed so you'll be able to watch things play out.
19. The prone bone
How to do it: The prone bone sex position has the receiving partner lying face down on their stomach, with their arms spread out flat or used to prop up on their elbows. "The other partner positions themselves over the top, either kneeling on either side of their partner or physically lying down on top of them," explains Moyle. "One will be more intense than the other so play around with what feels good."
Why it's great: The prone bone is one of the most popular sex positions of 2023 for several reasons. It's much more comfortable than moves like doggy style - or even collapsed doggy style - given the lack of pressure on the receiving partner's knees, elbows, and lower back.
Those who enjoy a little power play in the bedroom are likely to enjoy the prone bone as it provides the perfect opportunity for a little light bondage play, with the bottom partner physically pressed into the bed.
Make it sexier: If the giving partner in the prone bone lowers themselves down so their mouth is level with the bottom partner's ear, they can kiss, lick, gently bite their partner's ears and neck, or whisper into their ear. Ever wanted to try dirty talk? Now's your chance.
20. The face off
How to do it: This position does work on the edge of a bed, but it's best done on a chair. "The partner penetrating sits down with their legs at a right angle and the receiving partner sits on top of them, facing them, up close and personal," explains Knight. "Closeness is essential in the face-off sex position, so the partner on top could wrap their arms around their partner's neck, bring their head into their chest, and the partner on the bottom can wrap their arms around their partner's back."
Why it's great: The face-off sex position is the perfect sitting sex position. It's discreet and easy to do, making sex on the sofa (or an armchair) all the more fun. The penetrating partner in this instance doesn't have to do all that much either, so if you're looking to give your partner a break in a bedroom this weekend, the face-off position could be the pick of best sex positions for you.
Make it sexier: Turn around. Just as cowgirl becomes reverse cowgirl when the receiving partner switches position, the face-off sex position can become the reverse face-off position - also known as the Champagne Room sex position in some circles - if the partner on top turns around. This offers even more sweet G-spot stimulation and the receiving partner may find the grinding motion easier from this angle.
How to find the best sex position for you
Finding the best sex position for you could be a trial and error process, especially if you've been finding your usual favourites a little boring - or uncomfortable - lately. You may need to look at positions especially suited to your stage of life, such as the best sex positions for after menopause, due to the effect of hormonal changes.
You may also be looking for something particular from your new position. If so, take a look at the following:
For longer-lasting sex: Cowgirl, reverse cowgirl, spooning
For better support during sex: The face off, prone bone, lotus
For more G-spot stimulation: Doggy style, prone bone, cowgirl, the chairman, the face off
For more clitoral stimulation: Spooning, reverse cowgirl
For using sex toys: The solo frontier, reverse cowgirl, cowgirl, spooning