What is the reverse scoop sex position? This move is great for hitting your G-spot
The reverse scoop sex position could be for you if you want to target the G-spot during sex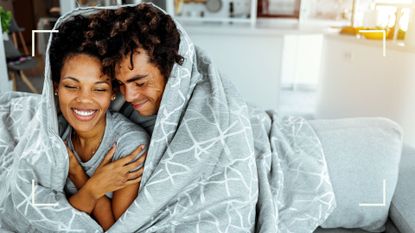 (Image credit: Getty Images)
The reverse scoop sex position is ideal for those who love to go to sleep or wake up spooning with a partner. It's all the intimacy of a cuddle with all the pleasure of a G-spot-focused sex position, plus you can do it anywhere.
Like spooning, only hotter, the reverse scoop position could be a great alternative if you're a fan of face-to-face and missionary-style moves but you want to change things up a bit.
Looking to add to your list of best sex positions? We all have one, even if we don't know it, positions we opt for when we want to get intimate with a guaranteed orgasm. The reverse scoop position is a great one to add to this list, for all the reasons this set of certified sex experts will reveal here.
What is the reverse scoop sex position?
The reverse scoop is a sex position where you both lie on your sides, says Aliyah Moore Ph.D., a certified sex therapist and sex educator. "It's just like the spooning position, except you face each other. You can start missionary-style and then slowly turn onto your sides without disengaging from each other," she explains.
When it comes to the legs, you can either hitch one up onto your partner's hip or upper thigh (as shown in the below illustration) or "Lie on your side facing one another with your legs scissored in between your partners," suggests Dr Lori Davis, a radical clinical sexologist.
On the scale of athletic to being one of the best lazy sex positions, the reverse scoop definitely sits on the more relaxed end. While moves like the butter churner sex position certainly have their time and place, opting for a low-effort move like this one can sometimes do a better job of putting you both in the mood.
"This position requires so little effort that it really doesn't put any strain on your body," says Dr Davis. "It's great for sweet lazy sex or if you have an injury you want to avoid."
Minimal effort is required from both people to go from cuddling to missionary to the reverse scoop and you can do it anywhere - in bed, on the couch, or wherever else you want. Its versatility is perhaps one reason why the experts recommended the reverse scoop as one of the best sex positions after menopause. Plus, this is a position that works for everyone - regardless of gender - since you can always swap out penetration for manual stimulation while making sure to keep all that good eye contact.
What are the benefits of the reverse scoop?
1. Intense orgasms
If you're looking for intense orgasms then this is the position for you, says Moore, who also works with Sexual Alpha. "The reverse scoop allows either person to control the rhythm and depth of penetration, leading to an intense and strong orgasm," she says. "The angle allows for better G-spot stimulation with shallow thrusts and you can grind your clitoris against your partner's pelvis, making for that coveted blended orgasm."
Plus, if you find grinding difficult, the angle "means you can still have easy access to reach down and stimulate your clitoris with your own hand," Davis says. "This way you can take over the driver's seat a bit and find just the right kind of pleasure you crave."
2. The reverse scoop can help improve communication in the bedroom
"The reverse scoop provides an excellent opportunity for both partners to communicate their wants and needs," explains Moore. In fact, it's pretty essential to make the position the best it can be. While it's a simple move, it does require both partners to physically align with each other - which may require some adjustment and so plenty of communication is needed about what's working and what's not.
"To maximize [pleasure], you may want to grind against your partner while asking for shorter strokes internally," says Dr Davis. Alternatively, you may want to include some manual stimulation. To ask for this, you'll need to open up the lines of communication, making sure that both you and your partner feel comfortable talking about what you want.
3. Enhanced intimacy
Looking to spice things up in the bedroom with a little more intimacy? The reverse scoop will certainly help you do that, as you and your partner will be nose-to-nose and able to look into each other's eyes throughout.
"A big benefit of spooning positions like this is that they can help deepen the emotional connection during sex. Some sex positions keep us separated except for where our naughty bits come together. Now don't get me wrong, these can be great, but it can also be nice to come in close and allow our whole bodies to intertwine together, especially if it puts us face-to-face or heart-to-heart," explains Dr Davis.
"This closeness can support our nervous systems to co-regulate, allow our breaths to synchronize a bit, support moments of eye gazing, and give us space to feel deeply held. The reverse spoon is a great one for this, as is missionary, the om (aka yab yum sex position), the face off sex position, or the scoop me up (classic spoon)."
How to make the reverse scoop even better for you
As with any new sex position, starting slow is important until you find the right pace that works for both of you, says Moore. While this is a relatively simple move that could easily be one of the best sex positions for lower back pain, you never know how your partner is going to find it so it's worth giving each other the opportunity to adjust. "Take your time to get comfortable with the position and explore different sensations," she suggests.
Equally, don't be concerned about bringing accompaniments into the bed with you to make the most of this position. Most supportive moves, including the speed bump sex position, include accessories. "Sex accessories like pillows or cushions can help make the position more comfortable and enjoyable. You can use them to support your body, adjust the angle of penetration, or prop up your hips for better G-spot stimulation," says Moore.
A digital health journalist with over five years experience writing and editing for UK publications, Grace has covered the world of health and wellbeing extensively for Cosmopolitan, The i Paper and more.
She started her career writing about the complexities of sex and relationships, before combining personal hobbies with professional and writing about fitness. Everything from the best protein powder to sleep technology, the latest health trend to nutrition essentials, Grace has a huge spectrum of interests in the wellness sphere. Having reported on the coronavirus pandemic since the very first swab, she now also counts public health among them.