What is the butter churner sex position? How to do this yoga-inspired move and its benefits
A leading sexologist explains the butter churner sex position and how to do it right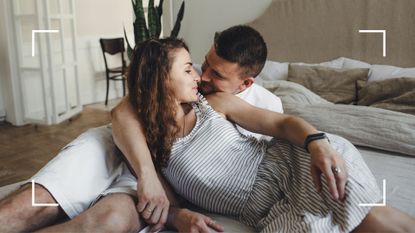 (Image credit: Getty Images)
The butter churner sex position, also called the squat thrust, is one we hear about all the time, but does anyone really know what it is? From reality shows to yoga-inspired sex position listicles, it comes up again and again.
The butter churner is unlike any of the other sex positions out there, designed to (literally) flip one partner on their head, it's all about G-spot penetration and visual pleasures with the opportunity to add sexy accessories into the mix.
Named after the old-school way of churning butter, this position is a difficult one to get right but rave reviews suggest it's one for those seeking exciting new sex positions to add to their bucket list - with orgasms guaranteed. Here, a leading sexologist explains what the butter churner is all about, how to do it right, and all the benefits it can bring.
What is the butter churner sex position?
The butter churner is a sex position where someone lies on their back and raises their legs so much that their ankles reach over their head, explains Madalaine Munro (opens in new tab), a sexologist specializing in somatic sexology and psychosexual therapy. "The other partner then squats over and penetrates from above, resembling a butter-churning movement."
While the butter churner sex position can work for anyone, it's designed for G-spot stimulation so it's best for heterosexual couples or it could be one of the best lesbian sex positions with the right sex toy.
But regardless of who you're trying this move with, both of you need to know the difference between your downward dog and candle pose as it's one for those who have the flexibility, upper body strength, and body awareness to experiment with something a little more daring. "This move has similarities with the shoulder stand from yoga, so awareness around injury prevention is helpful, such as not putting pressure directly onto your neck, and using your elbows to support your weight," says Munro.
What are the benefits of the butter churner?
1. It can offer intense G-spot orgasms
If you prefer to orgasm through G-spot penetration then this is one of the sex positions to try out. "This position can be deeply penetrative," says the sexologist, thanks to the higher angle the penetrating partner is coming in from and the downwards motion towards the cervix.
You can also double up for dual stimulation with one of the best sex toys if you want, as the top partner will have full access to the clitoris and other erogenous zones.
2. You can play around with your partner
Sometimes we're so focused on the end result of sex, whether that's learning how to have an orgasm in a new way or going through the motions you normally enjoy, we often forget sex is supposed to be fun. For some, the butter churner will be the last position they'll want to try with this aim in mind, but Munro says it's ideal for those who want to get a little playful in the bedroom.
"This can be a more playful move to try as the bottom partner is in a position where blood may rush to their head and the other is in a position to tease," she says. For more playful positions, try the speed bump sex position, or for something of equal intensity, the full nelson sex position can really hit the spot.
2. It's a deeply intimate position
However, it's important to be aware of the vulnerable position the bottom partner is in during the butter churner. It may not be one for trying with someone you're having sex with for the first time but if the communication is there, this can be one intense position. "It's very intimate and requires careful communication around comfort, ease, and pleasure," says Munro.
For the same reason though, she adds, it could be the perfect way to strengthen your connection with a partner in the bedroom. "It can deepen emotional intimacy as there needs to be trust present to try this adventurous position and the eye contact you maintain throughout can add another whole new level of intimacy."
How to improve the butter churner sex position
The butter churner is hardly going to win awards for being one of the best lazy sex positions, but there are ways you can make it more comfortable. A pillow underneath the neck of the bottom partner, for instance, will support their head and may help prevent any potential injuries that could come with this move.
If you've always wanted to include food or drink in the bedroom, then this is the perfect position for indulging in some gastronome fantasies. The easier version (i.e. the less messy way) is to have the top partner dribble a syrupy liquid like honey into the bottom partner's mouth, either from the bottle or from their mouth, taking full advantage of the elevated position. If you want to make a splash, try a liquid like wine or cold water.
And to ease things along a bit, always make sure you're using the best lube for the style of penetration. If a partner is wearing a condom, this should be a water-based lube rather than oil-based and if you're using a silicone sex toy, it should always be water-based lube.
A digital health journalist with over five years experience writing and editing for UK publications, Grace has covered the world of health and wellbeing extensively for Cosmopolitan, The i Paper and more.
She started her career writing about the complexities of sex and relationships, before combining personal hobbies with professional and writing about fitness. Everything from the best protein powder to sleep technology, the latest health trend to nutrition essentials, Grace has a huge spectrum of interests in the wellness sphere. Having reported on the coronavirus pandemic since the very first swab, she now also counts public health among them.