What is the butterfly sex position? How to try this intense move and its benefits
Here, two sexologists explain the butterfly sex position and how to do it right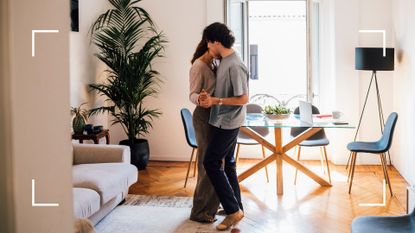 (Image credit: Getty Images)
The butterfly sex position should certainly be on your bucket list if you fancy spicing things up outside the bedroom. Ideal for the dining room table or office desk as well as the bed, it's suitable for every couple looking for an adventurous move.
The butterfly takes the idea of missionary and turns it on its head, offering the same style of penetration from a slightly different angle. It's a real winner for anyone not into bedroom gymnastics, as the move requires a lot less movement from one person than traditional missionary as well.
So if you're looking for the best sex positions to try, then the butterfly should be on your list. This is what two sexologists have to say about the butterfly sex position, how to do it right, and the benefits of the move.
What is the butterfly sex position?
The butterfly is a sex position where the receiving partner lies on their back on the edge of the bed or other surface, like a table, and the giving partner stands at the end of the bed. "The person doing the penetrating is doing most of the 'work'", says BIPOC sexologist Marla Renee Stewart (opens in new tab), MA, so it's also one of the best lazy sex positions for some.
"It's important that you are at an angle and height that is beneficial for both lovers because the position is best for people who like deep penetration," says Stewart, who is also the sexpert for a sexual wellness brand and retailer Lovers (opens in new tab).
"If both partners love deep penetration and their genitals are compatible for it, it can be an incredible and satisfying experience," she says. "This is also a good position for people who like to see their partner and their reactions, as the butterfly sex position allows you to see all of your lover's body in full view."
What are the benefits of the butterfly sex position?
1. You can switch positions easily
One of the biggest benefits of the butterfly sex position, compared to others that allow similar situation like the snow angel, is how easy it is to switch positions. "Moving your legs from the butterfly position to the side or on your lover's shoulders is a relatively smooth sexual transition and you can move to suit your comfortability," says Stewart. "Flow into positions that allow you more pleasure for yourself and, by default, your lover should be pleased to be pleasing you."
2. It's an adaptable position
The butterfly is completely adaptable for this reason as well, says Kate Moyle (opens in new tab), sexologist and UKCP registered psychosexual and relationship therapist, making it one of the best lesbian sex positions as well. "It's great for any couple where a strap-on or sex toy can be used, and it can also be adapted for anal sex if the receiving partner bends their legs closer to the body," she says.
If you love the unique angle of the speed bump sex position and want to mirror this with the butterfly, you can also introduce pillows to change the position of the hips. "As the receiving partner doesn't have to take any weight or use their hands for purpose, it's also a good one for introducing your best vibrator like Lelo's Lily 2 for additional stimulation."
3. You can stay consistent
The butterfly sex position offers low physical intensity which makes consistency easier, says Moyle, who is also sexual wellness brand LELO (opens in new tab)'s sex and relationship expert. "Neither of you has to take on the other's body weight," she says, unlike more intense standing positions like the clasp sex position. "The bottom partner is lying on their back supported by the bed, and the top partner can kneel or stand, using their hands on either side of the other for support. This makes it work as a position if you want sex to go on for a longer duration."
When you're in the heat of the moment and approaching orgasm, there's nothing worse than the tempo dropping so this is one of the major benefits of the position. "Consistency is always linked to sexual satisfaction," says Stewart. "Your lover can stay consistent in their movement in the butterfly sex position and ensure that you get on that orgasm ladder if it's one of your goals."
How to make the butterfly sex position better
Much like the pretzel sex position, it's important to stay flexible with the butterfly and figure out what works for you and your partner along the way. "Depending on the position of the bottom partner's legs and the angle of the top partner, the sensation can feel different and the depth of penetration will vary. This is completely based on preference and it can also be worked out in the moment and as you go. Don't feel just because it started one way that it's how it has to finish," Moyle says.
"With communication about what feels good, you can make it work for you in numerous ways and like anything in our sex lives, we are all individual with different bodies and preferences and so your partner can only know what's satisfying you if you communicate that to them."
But there are always two things that will help, she adds. "A good lubricant would ensure the slide sensation and will help to enhance pleasure. If you're using condoms or sex toys then a water-based lubricant is best, otherwise, you can use an oil-based product."
A digital health journalist with over five years experience writing and editing for UK publications, Grace has covered the world of health and wellbeing extensively for Cosmopolitan, The i Paper and more.
She started her career writing about the complexities of sex and relationships, before combining personal hobbies with professional and writing about fitness. Everything from the best protein powder to sleep technology, the latest health trend to nutrition essentials, Grace has a huge spectrum of interests in the wellness sphere. Having reported on the coronavirus pandemic since the very first swab, she now also counts public health among them.