Best sex on the sofa positions to try tonight
Sex on the sofa is a great way to mix things up and the experts say it's a lot easier than you might think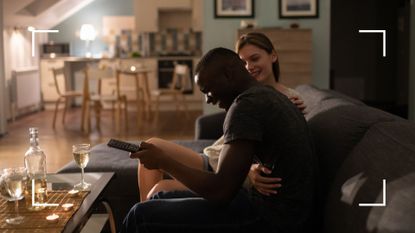 (Image credit: Getty Images)
Sex on the sofa tends to be one of the most spontaneous activities to get into in the living room, but there's nothing wrong with planning an alternative date night in advance if you're looking to spice things up in the bedroom.
While sticking to the bedroom has the advantages of space and easy access to most of the toys, lubes, and accessories you may need, having sex on the sofa can be just as good - and it's a great way to mix things up.
So, if you're looking to know how exactly sofa sex works or the best sex positions to try on the couch, you've come to the right place. We've consulted the experts to determine the go-to moves to use no matter the size of your sofa, how to get the most out of them, and top tricks.
The best positions for sex on the sofa
1. The sofa brace position
This is one of the easiest go-to sofa sex positions, says sex expert Julia Margo, but it only really works if you've got some space behind your sofa as you'll need to stand behind it and brace.
How to do it: "Bend over with your hands pushing against the flat surface of the back of the sofa. This bracing position supports your body and gives you something to brace against so your partner can really go for it if you prefer things a little more vigorous," Margo, who is also the co-founder of sex toy brand Hot Octopuss, says. "You might have to adjust the height with cushions depending on the height of the back of the sofa."
2. The sofa sitter
When it comes to fooling around on the sofa, oral sex is probably easiest and this one's a move many of us may have tried before as it works for everyone.
How to do it: "One partner is seated on the sofa with their legs spread and the other is kneeling in front of them performing oral sex. It's one of the best oral sex positions for the sofa," Javay Frye-Nekrasova, a certified sex educator and pleasure expert who works alongside Lovehoney.com, says. "It's also great because it helps with any height differences and it puts less strain on the body."
No matter the size or shape of your sofa, this suits all couples and anyone can do it, it's one of the best lesbian sex positions to try as well. Just remember to pop a pillow down underneath your partner's knees if you have wooden flooring, as that'll get uncomfortable after a while.
3. The screen screamer
Want all the benefits of having an orgasm without turning off the television? While some may find it a little unromantic to keep the TV turned on, it's one of the most popular sofa sex positions for a reason.
How to do it: "This one involves your partner being seated, with you sitting on top, facing away from them," says Margo. It's very similar to the reverse cowgirl position, but you're both sitting rather than laying down. "If you're watching a film together and both get a little turned on, it's a very nice way of doing it. You can both still see the screen, while you get to control the speed and angle of penetration being on top."
4. The ride
One of the great things about sex on the sofa is that there are so many supportive elements to take advantage of - and the ride position is one example. "This position is good because it allows the arms of the sofa to be used for extra support and both partners can use the ground for a little extra stability if needed," says Frye-Nekrasova.
How to do it: "This position has one partner laying on their back with their butt near the edge of the sofa and the other partner straddling them on top," she says.
5. The sofa spoon
You'll need a sofa big enough to fit both of you on it lying down for this one, so it won't be a top pick for everyone, but it's so worth it if you can make it work.
How to do it: "This one is a bit like spooning," says Margo. "Both lie on your sides spooning, but with one of your legs resting on the top of the sofa. This makes it easier for your partner to enter. This is a lovely lazy sex position that allows you to get close and intimate, while also potentially having an orgasm. And it offers support for your top leg, which you wouldn't probably get if you did this in bed."
To step it up a notch, you could use one of the best wand vibrators to massage your clitoris while you're being penetrated. With one in three women needing some kind of external stimulation to orgasm, why not give it a try?
6.The wrap around
Also known as the stare and sit, the wrap around sofa sex position is one for those who like to be on top during sex. It's very similar to the lotus and the face off sex position in many ways. "The partner on top has more control in this one," says Frye-Nekrasova. "With their legs wrapped around, they can control their hip movements and the speed and depth of penetration."
How to do it: "With your partner seated, sit on their lap and face them and try to wrap your legs behind their back if the space allows," instructs Margo. "You can shuffle forwards slightly on the sofa to allow a little extra space for your legs or turn so you're facing one of the ends of the sofa."
It should be comfortable for you both, she suggests, and the wrap around should allow you to go hands-free if you want. "Encourage your partner to wrap their arms around your back if they haven't done so already then lean back and give them a good view of your upper body. If you want a little clitoral stimulation in this position, it also might be possible with a bullet vibrator but it will depend on how close you and your partner choose to be physically in this position."
How to have sex on the sofa
There are no rules as such when it comes to having sex on the sofa as it happens spontaneously most of the time and each couple should make the experience personal to them and what they like. However, if you're planning a living room date night in advance, there are a couple of things you could consider before undressing.
Firstly, think about covering the sofa before you get started. "There's not much you can do about the fabric of your sofa. When you bought it, such activities were probably not at the forefront of your mind. Covering it during sex can make a big difference as some materials are just not very sex-friendly," says Margo, pointing out that some will stain easily and others just won't feel very sexy.
"Some people like the feeling of squeaky leather against their skin but others will find it really off-putting, so you could just cover it with a blanket," she adds.
Secondly, make sure you take a look at your surroundings. "Is there a coffee table right where your partner wants to kneel? Or a precariously placed vase on a side table that you could hit accidentally when you're in the moment during the 69 sex position? Move any valuables out of reach," she adds.
And thirdly, even though a bigger sofa will always be better in terms of space, consider whether a smaller option could help bring the two of you closer together - literally. "There's something to be said for the enforced closeness of a smaller sofa," says Margo. "It won't work for every position but making it work in the heat of the moment is all part of the fun and you'll find a way that feels good."
So, once you've figured out the details, what's next? The likelihood is that you're both already pretty turned on by this point, especially if you've been planning to have sex on the sofa ahead of time, but if your partner hasn't quite got the message, "gently touch their erogenous zones," says Margo. These are traditionally non-sexual areas like the nape of the neck, legs, shoulders, and arms, that tend to trigger a response when touched sensually.
Tips for sex on the sofa
Lean into spontaneity: "You are more likely to engage in some fun in different places when you give in to the urge as it hits. So if you feel aroused by your partner while in the kitchen together, take advantage of that with some digital stimulation or oral stimulation," Frye-Nekrasova suggests.
Keep sex toys handy: Having your best vibrator nearby will only help things along when it comes to having sex outside the bedroom. "Keeping smaller toys handy can allow you to have some fun and be a little more adventurous. It also works well for building anticipation," she says.
Plan dates in the living room: If you enjoy having sex on the sofa (not everyone will do, and that's perfectly normal), plan to spend more of your time in the living room on date nights. "Set up an indoor picnic on the floor of the living room or build a fort. It may not be a completely new space but it is a new feel and setting something up together can help relax you to ease into sexual activity better," the sex educator says.
Don't limit yourself to the sofa: Have you ever tried sex in the shower? Sex in the back of your car? It's worth a go if you enjoy having sex on the sofa, says the pleasure expert. "Take it back to the days of high school and climb into the back seat of your car for a steamy makeout session that can easily become something more. Be mindful of where you are parked. If you have a garage, be sure to keep the car turned off. If you are trying to park in more public places, keep it to mostly just making out so you don't get a ticket or arrested."
Faye M Smith is an award-winning journalist with over 15 years experience in the magazine industry. Her continued work in the area of natural health won her the coveted title of the Health Food Manufacturers' Association (HFMA) Journalist of the Year Award 2021. Currently Health Editor across several brands including woman&home, Woman and Woman's Own, Faye specialises in writing about mental health, the menopause, and sex and relationships.