Best sex on the sofa positions to try tonight
Just remember to close the curtains!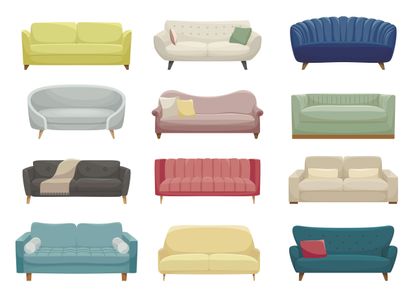 Forget a cup of tea and catching up with Corrie. You can have a lot more fun on your sofa, even if you are over 40.
Want to spice things up in your relationship? Turns out, one of the easiest ways to add some excitement to your sex life doesn't even involve going to the bedroom to try out some of our best sex positions. That's because the sofa can provide just the right setting for couples wanting some adult fun. But we're not simply talking about reliving those teenage fumbles from years gone by. We've asked sex expert Julia Margo, co-founder of sex toy brandHot Octopus (opens in new tab), to share her grown-up guide to sex on the sofa. Single? Just grab one of the best vibrators (opens in new tab) instead and some extra imagination.
The good news? You don't even have to turn the TV off if you don't want to. And, it doesn't even matter how large your sofa is. So, what are you waiting for? Here's everything you need to know about having sex on the sofa:
The best positions for sex on the sofa
1 THE COUCH CREEPER
Bend over the back of the sofa with your hands pushing against the cushions. "If you like your a sex a little bit more vigorous, this supports your body and gives you something to brace against so he can really go for it," says Julia. "You might have to adjust your height with cushions, depending on the height of the back of the sofa."
2 THE STARE & SIT
"With your partner seated, sit on his lap facing him. And try to have your legs crossed behind his back," says Julia."This is comfortable for both and you can go hands-free. Plus, he gets a great view and it is flattering for you.The on-top position is great for some women who need clitoral stimulation (opens in new tab) during penetrative sex to be able to orgasm (opens in new tab)." Win, win.
3 THE SCREEN SCREAMER
"This one involves your partner being seated, with you sitting on top, facing away from them," says Julia. "If you're watching a sexy film together (opens in new tab) this is a very nice way of doing it! You can both see the screen, while you get to control the speed and angle."
4THE SOFA SPOON
"This one is a bit like spooning," says Julia. "Both lie on your sides spooning, but with one of your legs resting on the top of the sofa. This makes it easier for him to enter.This is a lovely lazy position that allows you to get really close and offers support for your top leg."
You can keep the TV on if you like
The great thing about sofa sex is that it can be lazy – perfect if you've had a long day. "Sometimes lazy sex while watching a totally unrelated TV show can be an intimate and low-energy way of ending a long day," says Julia. "And, if you lose track halfway through and have to watch it again later, that's what Netflix is for."
Alternatively, you could consider watching ethical porn together. "This can be very sexy as long as you choose a scene that appeals to you both," says Julia. "And, as a halfway house between those two possibilities, you could watch a classic sexy mainstream film like Nine and a Half Weeks, Last Tango In Paris or Eyes Wide Shut."
Other things to consider
There's not any rules as such with having sex on the sofa, as each couple should make the experience personal to them. However, there are some things to watch out for, to help you get started…
While there is not that much you can do about the fabric of your sofa, covering it can make a big difference."Some people like the feeling of squeaky leather against their flesh," says Julia. "But, if that would be off-putting then you might want to cover a leather sofa with a blanket.
Whether you've only got a two-seater, or a full corner-sofa to lounge around on, sex on the sofa is still fun. "I would say the bigger the sofa the better," says Julia. "Although there is something to be said for the enforced closeness of a smaller sofa!"
GET YOUR PARTNER IN THE MOOD WITH TEASING
Partner distracted by football? There are some tricks to help. "You can gently touch his erogenous zones (opens in new tab)," says Julia. "But, aside from that, then suggest you play a game where you see what you can do that might "distract" him from the film or football. He may find it difficult to focus on the screen when he knows what you're up to!"
PROTECT ANYTHING EXPENSIVE
"This depends very much on the fabric the sofa is made of and how much it cost/how houseproud you are," says Julia. "If it's going to distract you, definitely put down a sheet or towel."
Faye M Smith is an award-winning journalist with over 15 years experience in the magazine industry. Her continued work in the area of natural health won her the coveted title of the Health Food Manufacturers' Association (HFMA) Journalist of the Year Award 2021. Currently Health Editor across several brands including woman&home, Woman and Woman's Own, Faye specialises in writing about mental health, the menopause, and sex and relationships.