BDSM for beginners—sex experts reveal exactly what it means and how to get started
Before you explore BDSM for beginners, we tell you everything you need to know about this type of sex play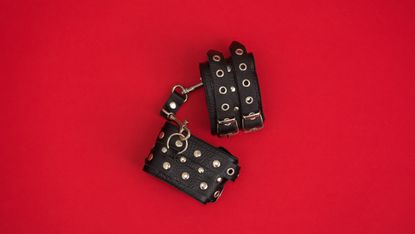 (Image credit: Getty Images)
Interested in BDSM for beginners? You're not alone. Thanks to films like Fifty Shades of Grey, in recent years this type of sex play has hit mainstream media and become popular with individuals and couples around the world. Whether you're ready to dabble yourself, or are just wondering "what is BDSM?", we spoke to the experts to bring you everything you need to know.
Maybe you've already introduced a vibrator into your relationship for mutual masturbation, or perhaps you've experimented with paying more attention to your erogenous zones during sex, but if BDSM for beginners has piqued your interest, then it could be the next step to mixing things up in the bedroom.
For women, BDSM can be incredibly empowering. It's not all about whips and chains, and you don't have to wear a full-on latex bodysuit to get involved. BDSM is an opportunity for you to explore your sexual fantasies with a consenting partner (whether they're a new fling from a sex app or a long-term partner). It's also a way to experiment with new ways of play and discover what really turns you on.
By modern standards, any type of sex play that involves clear dominant and submissive roles can be seen as a type of BDSM. But there really is more to BDSM than playing dominant and submissive roles. Consent, safe words, boundaries, and communication underpin all BDSM sex play so it's important to always communicate with your consenting partner before and during play.
What is BDSM?
Wondering what BDSM for beginners is? Well, in short, it stands for bondage, dominance (and submission), sadism, and masochism. BDSM sex involves some or all of these elements, with sexual arousal coming from humiliation, degradation, physical pain, or restraint. Before play, you and your consenting partner decide what you'd like to try and set clear boundaries before getting started.
Sex therapist Colin Richards (opens in new tab) says erotic play that involves any form of domination or infliction of pain for sexual pleasure can be classed as BDSM. He stresses this looks different to everyone, and the BDSM umbrella is broad and has evolved with time.
Types of BDSM play can include dominance/submission play, bondage, role play, spanking, humiliation play, and pain play. "Medical fetish is also a type of BDSM, as is watersport play, but not everyone would categorize those as BDSM on first thought," says Colin, who adds that BDSM very much has multiple branches within it, too.
For some people who are part of the scene, a preference towards BDSM is a type of sexuality and more than just an opportunity to live out their fantasies or experiment with their consenting partner. Dominatrix Mistress Ivy (opens in new tab)says it's been a huge part of who she is since her teens and is very much a lifestyle rather than just a sexual preference for her. As a dominatrix, she "torments and teases" men in consensual settings professionally, allowing them to live out their fetishes and kinks in a safe space that includes a sex dungeon. She says she'd fantasized about playing the dominant role in BDSM scenarios for as long as she can remember. "I always knew it was part of who I am," she says. "Once I developed some skills, I slowly moved into doing it professionally."
BDSM play can also have therapeutic benefits for its participants, with those in dominating roles feeling safe in a position of perceived control, and submissives experiencing a sense of wellbeing in relinquishing control in a safe setting. For Mistress Ivy, being part of such a welcoming, affirming scene was transformative, and she stresses that it's often more a psychological experience than a sexual one.
Who is dominant and who is submissive?
In BDSM play the partner in the dominant role will have control over the partner in the submissive role. The dominant is the one who does the tying up, spanking, or whipping of the submissive who, with prior consent, relinquishes control and gives their full trust to the dom.
The two opposing roles in BDSM work as a type of consensual degradation that can bring sexual pleasure to both parties, but often more intensely to the submissive who's on the receiving end. While those in dominating roles can thrive off stepping into a setting where they're perceived to have all the control, the reality is more balanced.
Like Mistress Ivy, sex blogger Girl on the Net (opens in new tab) became intrigued with BDSM from an early age and started exploring BDSM play at university. She says it makes her feel small in a way that's sexually arousing, with respect and safety still in place. Although she stresses the dominant sex partner has to recognize the submissive partner is only allowing this to happen because they both consent to it and it's something they both enjoy. Without the consent of the submissive partner, they would not have the opportunity to have this type of play.
In this sense, the submissive sex partner actually holds all the cards in facilitating how far things go and when they cease. Mistress Ivy describes this as the submissive "holding the power of the safe word". She stresses this dynamic is why safe words, consent, and clear communication are the three pillars of ethical BDSM play and keep both participants safe.
However, it's worth noting that not everyone who enjoys BDSM play sticks to the same roles every time and couples often decide to switch between roles, particularly those who have started experimenting with BDSM for beginners. "Everyone in the scene is different. I have some submissive clients that are genuinely submissive and want to please me," Mistress Ivy explains. "But I also have other clients that might be masochistic, but they're actually not at all submissive. So it's much broader than just sub and dom roles."
How to have safe BDSM sex
Consent is at the forefront of all sexual acts and BDSM participants should establish this by marking out clear boundaries before play. Exploring BDSM for beginners is not something you suggest on a whim in the middle of makeup sex, it's a discussion you should have with your partner long before you enter the bedroom.
You need to decide on safe words or phrases that can be used to stop play when one person is uncomfortable and clear markers that express levels of discomfort. The traffic light system is an easy place to start, using 'green' to express everything's groovy, through to 'red' to communicate you've reached a limit and your partner should stop. You should always discuss what you both envision happening during play and anything you definitely don't want to happen.
During BDSM play, you should never assume anything. Girl on the Net highlights that safety cues might not always be words, for her they're often physical signals or movements. When engaged in a scenario where she might have her mouth full with a ball gag, she will tap the other person to communicate discomfort or wanting to stop.
"If you're giving or requesting a spanking, something heavier, or playing with bondage, if in doubt ask and try to always make your comfort level known at any given point (by using a verbal or physical marker)," she says. "You need to get to a place quite quickly where you recognize your partner's safety signals," she adds.
BDSM equipment
Purchasing a bunch of BDSM equipment on a whim can be pricey and is probably not the best way to approach BDSM for beginners. You can start with household items like kitchen wooden spoons or ties, or sex toys you already own such as a rabbit vibrator.
"Kink on a budget can be really fun. Use a dressing gown ribbon tie to start off with for tying a consenting partner's hands or ankles together at first, instead of buying bondage ties," says Mistress Ivy.
It's important to take some time exploring what kind of BDSM play you like and don't like, and what works with your partner, before investing in sex gear.
Girl on the Net echoes this sentiment and suggests "feeling your way into BDSM gently". When it comes to BDSM for beginners she suggests going at the pace of the person who is the least experienced in play to maintain a safe and respectful setting.
"If your partner expresses being into spanking, you don't have to immediately go out and buy paddles, canes, whips and floggers. It's a bit like going for a hike, you always go at a comfortable pace," Girl on the Net adds.
When starting to explore submissive desires specifically there is no one size fits all, but first-timers could try bondage for beginners, using masking tape or twist ties instead of ropes, which can be fiddly and frustrating to get right, possibly killing the mood.
Once you explore BDSM for beginners and figure out what you and your partner like, you can look at buying toys and sex gear suited to your preferences on websites such as Lovehoney, Adam & Eve and Ann Summers.
How do I talk to my partner about BDSM?
BDSM can be really fun for couples and can help those in a sexless marriage find their way back to each other by trying something new together. Reading sex blogs and consuming ethical BDSM porn for women from verified providers is a good first step into exploring BDSM and opening up a conversation with your partner. Girl on the Net describes delving into BDSM erotica as the most fun research you'll ever do.
Once you have a better idea of what BDSM play you might like and how to approach it, gently open up a conversation about it with your sex partner, armed with suggestions and your kinky research.
"When you've done this research, what you've discovered can serve as fun jumping-off points for discussion," explains Girl on the Net. "Rather than saying, here's a list of all the different types of BDSM acts, you could say, 'Here's a film, I'd like to be spanked like this', so you're presenting it as a conversation starter rather than a tick box demand. A simple 'I like the idea of this, how about you?' is all it takes."
If you're new to BDSM, remember communication is key. Start slow and speak with your partner before and throughout play. There's no right or wrong way to get involved with BDSM, do what is comfortable for you and your consenting partner, and most importantly have fun with it. If you give it a go and find it's not right for you, there are plenty of other types of play you can try in order to mix things up.
If you're looking to BDSM play as a way to connect with your partner, you could first experiment with bondage or even try something totally different such as tantric sex instead.
Rachel Mantock is a health, lifestyle and culture journalist with a focus on women's reproductive health, safe abortion rights, and barriers to healthcare access faced by minority groups. She uses data to inform health features and identify gaps in research and treatment for groups with worse health outcomes, particularly Black women. Rachel aims to break down sexuality taboos and stigma with information and new narratives.