How to use a bullet vibrator and smaller sex toys for the first time
Experts reveal how to use a bullet vibrator or small sex toy for amazing orgasms every time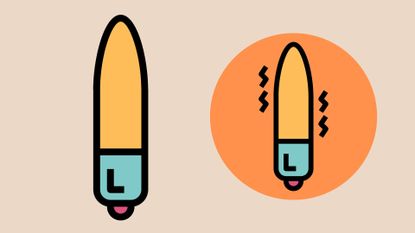 (Image credit: Future)
If you're wondering how to use a bullet vibrator, or if there is a right way to use one, this guide will help. To start with, it's important to understand the difference between a bullet vibrator and the many other types of vibrators available.
Bullet vibrators are a perfect invention as they're compact, discreet, and great for traveling with. Some have a very tapered tip for pinpointed stimulation, whereas others have a soft, wider, and more flexible tip, making it easier to apply pressure on a larger surface area. Some come with a single button and others have a few more functions and features, meaning there are different ways to use them.
Though many deem it the best vibrator on the market and one of the best sex toys for beginners, a bullet is only designed for external use, meaning you aren't meant to insert it into your vagina or your butt. The sensations a bullet vibrator delivers are designed to target your body's external nerve endings only, for example around your nipples, perineum, labia, and clitoris.
How to use a bullet vibrator
A bullet vibrator is small, and can be used for direct, pinpointed clitoral stimulation, explains Dr Hana Patel (opens in new tab), a GP specializing in sexual health and a mental health coach. "But it can also be used on different areas of the skin and erogenous zones, such as the glans or shaft of the penis, around the areolas, and the breasts."
Whichever size or shape of bullet you opt for and however you use it, the health benefits of using a vibrator are myriad. "Many people are unaware that vibration stimulation was originally introduced for the treatment of sexual dysfunction, for conditions such as erectile dysfunction and pelvic floor treatment," she says. "Current evidence from the Mayo Clinic (opens in new tab) shows that external vibration stimulation leads to increased sexual desire and positively affects sexual function."
The versatility of the best bullet vibrators is endless, but what's the best way to use a small vibrator like this? We spoke with a team of sex experts to determine the best way to use a bullet vibrator, solo or with a partner, and how different speeds, shapes, and materials can give your experience a boost.
1. Start slowly
The easiest way to learn how to use a bullet vibrator is to start at the lowest setting and to make contact with your skin. You don't need to go straight for an erogenous zone, just try rolling the bullet along your forearm or thigh to start with. For first-timers, you might want to try using the long flat edge of a bullet, instead of the tip, for a less intense sensation.
Using a bullet might not mean you immediately have an orgasm every time you use it, particularly if you struggle to climax. However, plenty of users have had their first ever orgasm by incorporating vibration into their self-love routine and a simple bullet vibrator remains one of the best entry-level tools for this.
2. Experiment with pressure
Experiment with pressing more firmly and tracing your skin lightly with the bullet, and try out the different speeds and settings. Tapping and rolling a bullet vibrator across your skin can also feel nice. Once you're used to the feeling and have tried using the bullet on less sensitive areas, try your labia or perhaps your nipples, before you try different pressures and speeds on your clitoris.
Some people like to hold a bullet vibrator firmly against their clitoris for a quick route to orgasm when experimenting with how to use a bullet vibrator. Others enjoy the sensation of lightly tapping the tip of a bullet against the clitoris and nipples for a slower, more drawn-out build-up to orgasm. This practice of teasing yourself, or having a partner do so, is called edging and can be a fun way to practice controlling your pleasure and building up to a much more intense climax.
"Edging with a bullet vibrator is a great way to train yourself to experience different types and depths of orgasm," says Hot Octopuss (opens in new tab)' resident sexpert and creative director, Kelly Gordon (opens in new tab). "Using a vibrator can make it easy to orgasm in a matter of minutes, which can be great if that's what you're in the mood for. But by experimenting with a slow build up and then stopping, slowing right down and working on your breath and your pleasure, with the help of a tiny bullet, the human can reach amazing new heights and experience much more intense levels of pleasure."
3. Try different materials
A soft, silicone bullet will feel different from a hard plastic one or a metal toy so you may also want to experiment with varying flexibilities to find the right one for your body. Some people prefer slower, rumblier vibrations and patterns, whereas some prefer a faster, higher pitch of buzz with fewer breaks in the patterns available. A smooth, soft bullet designed to look like a lipstick will offer different sensations to a little pointed metal bullet. Each will feel different as it delivers different speeds and patterns of vibration and will vary in how it interacts with lube and with other toys.
4. Use lube
Your pick of the best lube isn't just for use inside the vagina, it's also great for maximizing your enjoyment of external stimulation when you're learning how to use a bullet vibrator. Make sure you're using something body-safe that's also compatible with the toy you're using. For example, if you're using condoms, you might not want to be covering yourself and your toys in oil-based lubricant as this can weaken condoms and cause them to break. Silicone lube is also not compatible with silicone toys but is great for bullet vibrators made from hard plastic or metal. For the most compatible lube, try something gentle and water-based as this can be used with all materials and with condoms.
Discover more about what lube is, and all the different types, and experiment with the feeling of combining the vibration of the bullet with the slippery glide of lubricant on and around your vulva. Using lube can really alter the sensation that a vibrator delivers and make it feel way more intense and pleasurable. Start with a little bit and then add more as the sensation builds. You might also want to try lubes with added CBD or ingredients that tingle, but just remember that not all lubricants are created equal.
"Do not reach for the cheapest product on the shelf, you need to become an ingredient detective when choosing intimate products," says Samantha Evans (opens in new tab), a former nurse specializing in sexual health, and co-founder of sex toy company Jo Divine (opens in new tab). "Ingredients really matter when it comes to your intimate health so you need to avoid irritating ingredients widely used in some very well-known vaginal moisturizers, even on prescription, and drugstore brands which include glycerin, glycols, parabens, perfumes, dyes, alcohol, and petroleum jelly."
5. Use your bullet with other toys
Bullets make for exceptional fun when used in tandem with other toys. You might want to reach for yours while using one of the best sex toys, like a handheld or suction cup dildo during a solo session, or when using a strap-on or cock ring with a partner. The great thing about a bullet's petite size is that it is easy to maneuver and hold between your fingers and there are plenty of hands-free options available too.
If your toys can be modified, try adding your favorite bullet to the base of a dildo or strap-on, or popping it inside a flexible cock ring. A bullet vibrator is also great when used with a thrusting toy for an added level of external stimulation or you can use yours with toys like butt plugs to boost your enjoyment of backdoor play. Just remember to only use your bullet externally, unless it's compatible with a toy you'll be using internally, like a dildo with a dedicated space inside for a bullet.
Can you insert a bullet vibrator?
"It's not advisable to insert a bullet vibrator or use it in the anal region," says Dr Patel. There are some amazing sex tech inventions that have multiple uses, but in general, a bullet vibrator is meant for external use only. If you're unsure about yours and how to use a bullet vibrator generally, check the packaging for instructions. All the different types of vibrators come with instructions on how to use the product and whether or not it can and should be used internally or externally.
If you want something you can insert that also provides clitoral stimulation, try a rabbit vibrator. The best rabbit vibrators come in all shapes and sizes so you'll no doubt be able to find one that suits your specific play style and your body. Whether you favor rabbit vibrators or clitoral stimulators really depends on how you plan to use your toys, so think about how you enjoy your self-love sessions alone and with a partner, and how you usually like to get off.
Like all sex toys, it's advisable to clean your bullet vibrator after every use. If you're unsure of how to clean a vibrator, simply use warm water, a soft cloth, and some gentle body-safe soap. There are plenty of dedicated washes, sprays, and wipes available, as well as specialist cleaning units that use ultraviolet light. But for starters, an intimate soap or wash and water will do just fine.
Emilie Lavinia is a writer, entrepreneur and women's wellbeing advocate. She is passionate about femtech, closing the gender health gap and campaigning for education and transparency across mental, physical and sexual health. Emilie presents All Being Well – a series that investigates the concept of wellness, good health according to experts and what it means to 'be well'. She has a decade of experience as a journalist, editor and brand strategist and is the founder of four separate organisations that champion women's health, marginalised communities and LGBTQ+ people.