14 lesbian sex toys, dildos, and vibrators for couples, tried and tested by us
The best lesbian sex toys include everything from harnesses to vibrators and we've tested them all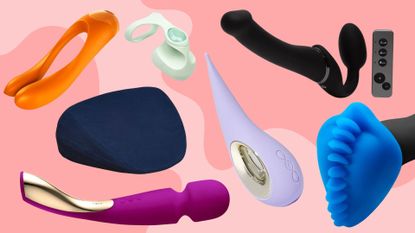 (Image credit: Satisfyer, Lovehoney, LELO, Dame, Bananapants)
Our guide on lesbian sex toys answers questions for all experience levels. Whether you're wondering which vibrator will tickle your fancy, how to choose the right strap-on for you, or are just in the market for a brand new experience, our expert-approved, tried and tested selection is sure to be of assistance.
"I just don't understand how you lot ever get any sleep," said a female friend who recently embarked on her first same-sex romantic dalliance. "It's just orgasm after orgasm, when does it end?" As an out, loud and proud, sex-positive lesbian myself, I'll be the first to admit that just like the board game Monopoly, you go on until one or both of you are knackered.
A pick of the best sex toys, and ones specially designed for lesbians (and other women who have sex with women), can help with this. Whether you're just curious, at the beginning of your journey with same-sex experiences, really here to learn about strap-ons (for all sexualities and genders), or would consider yourself an expert in the best lesbian sex positions, here's a run down of the top lesbian sex toys on the market.
How we tested the lesbian sex toys
Why you can trust Woman & Home Our expert reviewers spend hours testing and comparing products and services so you can choose the best for you. Find out more about how we test.
Along with my partner, who also identifies as a lesbian, I personally tried and tested all of the toys listed. We looked at the pros, cons, strengths, and weaknesses of different products for a fully rounded and honest look at what to buy and why. I also consulted the experts, including sex educator Cassandra Corrado and Poppy Scarlett, a pleasure educator, on the top features to look out for. With their advice in mind, we tested each toy with the following criteria in mind:
Material: "To ensure that your toy lives a long, happy life and is easily sanitized, look for materials like 100% silicone, ABS plastic, borosilicate glass, or stainless steel," says Corrado, who is also Le Wand's ambassador. "All four can be sanitized between use, so they can be shared between partners."
Use: From classic dildos to harnesses, we tested sex toys with a variety of uses. With so many choices out there, the sexpert recommends talking to your partner/s about how you want to use sex toys together to find one that works for you. "Not all lesbians want to engage in strap-on play," she says. "So, have an open conversation about how you and your partners want to use toys. That will help narrow down your options."
Battery life: There's nothing worse than when your favorite vibrator starts to give up before you do, so we made sure each of the toys included in this guide had a long-lasting battery after charging.
Appearance: Some people will want to use a sex toy that resembles a body part in a lifelike way, while others will want to steer well clear. We tested a range to make sure everyone's preference is catered for. "Gone are the days when sex toys exclusively emulate body parts," says Scarlett, who is also the owner of the toy boutique Self & More. "Many people might want to enjoy the experience of wielding a dildo and being able to penetrate a partner without feeling any affinity towards a penis-shaped toy, or desire to actually have a penis."
The best lesbian sex toys, tried and tested by us
Wands and vibrators
1. Lelo Dot
Best lesbian sex toy for pin point accuracy
Specifications
Dimensions: 2.3 x 1.8 x 6.4 inches
Materials: Body-safe silicone, ABS
With vibration: Yes
Waterproof: Yes, fully
Charging: Up to 2 hours
Running time: Minimum 120 minutes
RRP: $93.75 / £86.99
Reasons to buy
+
Unique
+
Easy to clean
+
Good for foreplay
+
Great with internal stimulation
Reasons to avoid
-
Expensive compared to other toys
I love this new addition to LELO's extensive range of sex toys. Pleasure, as we all know, isn't confined to between one's legs and the Dot is fantastic for foreplay, teasing, nipple play, and hitting lesser-known erogenous zones - like the inside of your elbow - just right. Mega plus points for it being fairly quiet when in use but, believe me, there's no controlling how loud the humans using it will be.
There was a huge amount of hype about the Dot as it made a splash with the new Infinite™ Loop Technology, developed exclusively by LELO for the LELO Dot. The smart new technology utilizes an elliptical motion - think the infinity symbol or a number eight on its side - instead of the more widely used circular motion.
The toy is made of the ultra-smooth premium silicone synonymous with the brand, which I found made it buttery soft on my skin, and easy to clean. Initially, I was a little put off by its pointed appearance but its soft, bendable tip makes up for it. Of course, as the whole product vibrates, you can share it and it's a marvelous addition to any tribbing (or as some folk call it, 'scissoring') as it fits very comfortably in between two people.
For a full overview of this sex toy, check out our LELO Dot review.
2. Dame Fin Finger Vibrator
Best lesbian sex toy for teasing
Specifications
Size : 2.7 inches with tether x 0.27 inches in diameter
Materials: Medical grade silicone
With vibration: Yes
Waterproof: Splashproof
Charging: USB
Running time: 1.5 hours at high intensity/steady mode
RRP: $93.75 / £86.99
Reasons to buy
+
Easy to use
+
Easy to clean
+
Gentle, buildable vibration
+
Excellent for teasing and foreplay
Reasons to avoid
-
Expensive compared to others
-
May not be intense enough for some
The Dame Fin is designed to fit snuggly around your finger, between your fingers, and then wherever you'd like to put it on your body. I will begin by saying that the vibration on this device, which has three levels, is definitely more subtle than some of the other examples on this list. For some people, that's a dream come true, but if you want a very powerful vibration, please take a look at one of the wand vibrators on our list.
I found the genius of this product was the way it nestled in between my fingers, which meant that I was able to incorporate my fingers while using it. This vibrator makes it feel almost like an extension of your fingers and offers an extra feeling of physical connectedness between the wearer and the receiver, which can sometimes be missing when using toys. The contrasting textures, of skin and silky soft silicone, when using this is a delightful and surprising extra element to using this device and why I count it among the top lesbian sex toys.
It also comes with a detachable tether that, in my opinion, is the only design flaw with this device. One issue I found while using it is that the tether detaches all too easily, which is pretty distracting in the heat of the moment. You're better off removing the strap altogether really, it works far better.
3. LELO Smart Wand 2 Large
Best lesbian sex toy for wand lovers
Specifications
Dimensions: 11.9 inches
Materials: Body safe silicone
With vibration: Yes
Waterproof: Yes
Charging: USB
Running time: Up to 4 hours
RRP: $140 / £101
Reasons to buy
+
Intense vibrations and rumbles
+
Incredibly versatile
+
Wide range of patterns
+
Can be used as body massager
Speaking of the best wand vibrators, the LELO Smart Wand 2 (Large) is one of my favorites. As a traditional wand vibrator, I found it ideal for stimulation across the whole vulva, rather than just one area. It's great for sharing while tribbing as well as for clitoral stimulation while enjoying G-spot penetration at the same time.
Wide-eyed is probably the way to describe my partner's expression when I pulled this thing out because let's be real - it's massive - and it looks like a microphone. Unlike a microphone, however, it's not speaking into this that brings the noise. There are 10 vibration patterns that bring all the joy one might expect but this joy isn't for the faint of heart, as this vibrator is one of the most powerful I've ever used. If you're very sensitive or just not that into that, it may be worth looking for a wand with a little less power.
For a full overview, take a look at our LELO Smart Wand review.
4. Satisfyer Candy Cane
Best lesbian sex toy for foreplay
Specifications
Dimensions: 4.7 x 1.3 x 1.4 inches
With vibration: Yes
Waterproof: Yes
Charging: USB
Materials: Body-safe silicone
Functions: 12 settings
RRP: $40 / £33.95
Reasons to buy
+
Intense vibrations
+
Versatile
+
Affordable
+
Easy to use
Reasons to avoid
-
Magnetic charger can be difficult to keep in place
The Satisfyer Candy Cane is another finger vibrator, but one that works a little differently than the Dame Fin. Rather than it being strapped to your finger, you slide your middle finger through the two prongs and rest the base top part of the toy in your palm. It comes with a range of wonderful vibration patterns sure to bring some va va voom into the bedroom. There are 12 to be precise and considering the cost of this device, they're remarkably varied and powerful vibration programs.
Despite appearances, I found the Satisfyer Candy Cane easy to use. Holding the toy in this way makes it super versatile and usable all over the body. It's fantastic for use in foreplay, teasing, and alongside other toys. The innovative shape means that accessing the clitoris from multiple angles is an absolute breeze and it's fun to bring into one of the best oral sex positions, should you so desire.
Unlike many of the other lesbian sex toys on our list, this one can be used internally as well so if you'd like to explore internal stimulation, the Candy Cane is a good choice. The trick to getting the most out of using the toy in this way, I found, is pressing it gently into the sensitive point around the vaginal opening and incorporating circular motions.
One of the big pros of the Satisfyer range, in general, is that their charging cables are universal across all of their rechargeable products, which is an absolute godsend if you've got a larger collection. However, their magnetic chargers can be difficult to keep in place, so you need to ensure you have it 'latched on' when you leave it to charge.
5. The EVA by Dame
Best lesbian sex toy for hands-free pleasure
Specifications
Dimensions: 1.3 (2.4 with wings) x 1.7 x 1.1 inches
With vibration: Yes
Waterproof: Yes
Charging: Inductive charging case
Materials: Body-safe silicone
Battery life: 1 hour
Functions: 3 speeds
RRP : $135 / £135
Reasons to buy
+
Hands-free wearable
+
Small and easy to use
+
Innovative ergonomic design
Reasons to avoid
-
Doesn't fit every vulva
-
One of the most expensive on the list
The Eva by Dame is potentially my best vibrator. It's certainly one of the most exciting vibrators I've come across in a while, in theory, although in practice it won't suit every shape of vulva. But if it does fit yours, it's fabulous. This clitoris-focused device is used totally hands-free so you or your partner can wear it while teasing and stimulating each other in other ways.
Its clever and super cute design was created in order to fit snuggly just under your labia. Hands-free toys, while a fantastic idea, are rarely actually 100% effective. Even if a design is super intelligent and mindful of different body shapes, add in all the wonderful wet and sweaty moments in sex, and things can slip from where they ought to be. Call me handsy but I love getting as involved as possible when sharing an intimate moment with a partner and I found that using my finger to alter the pressure on this little device made for much more fun. Also, Dame's trademark soft and silky medical-grade silicone is a joy to feel on all parts of your skin, so why not get your fingers involved?
There are three vibration speeds to choose from, which are controlled with a button on the top and super easy to use. This means that, if it fits you right, it can be an utterly delightful addition to tribbing or even worn neatly under a harness when using a strap-on. If you're looking for something where you'll have a little more control, Dame's Fin is a great alternative option.
6. Lovehoney Dare Discreet Necklace Vibrator
Best lesbian sex toy for discreet enjoyment
Specifications
Dimensions: 4.5 inches
With vibration: Yes
Waterproof: Submersible
Charging: USB
Materials: Metal
Battery life: 1 hour
Functions: 3 speeds, 2 patterns
RRP : $79.99 / £69.99
Reasons to buy
+
Powerful bullet vibrator
+
Discreet
+
Fun for a surprise
+
Easy to wear
Reasons to avoid
-
Necklace tangles easily
-
May be too powerful for some
The Lovehoney Dare Discreet Necklace Vibrator is ideal for anyone who wants to learn how to spice things up in the bedroom with a little fun outside of the house. This vibrator is designed (and has a second function) as a necklace, but it very much still works as a great sex toy with three vibration speeds and two patterns to play with.
Simply put, it's one of the best bullet vibrators. I was utterly floored by the amount of power in this little thing, which packs an intense set of vibrations for such a small toy. That, for some, could be an issue as not everyone enjoys intensity. If that's the case, I found one trick with this bullet vibrator is to regulate the vibrations by putting your fingers in between the device and the erogenous zone. It's so easy to use, fantastic for foreplay and teasing and works super well alongside internal stimulation via hands or toys.
The beauty of this vibrator, apart from being a fun reveal for your partner, is how compact and travel-friendly it is. It even has a little velvet travel bag too. Dare I suggest, a perfect addition to your makeup bag for that sexy weekend you have planned?
Harnesses
7. SpareParts HardWare Joque
Best harness for longevity and comfort
Specifications
Dimensions: Adjustable waist between 20 inches and 50 inches
Waterproof: Submersible
Materials: Poly-spandex and lined with soft breathable mesh
RRP: $149.99 / £149.99
Reasons to buy
+
Comfortable
+
Easy to use and adjust
+
Good for size diversity
+
Easy to wash
Reasons to avoid
-
Most expensive accessory on the list
Looking for a harness that prioritizes comfort? The SpareParts HardWare Joque is the one for you. Of all harnesses on the market, the Joque is regarded as among the best in the business, and for good reason: It feels like a second skin, which means that using it's comfortable for the wearer and their partner.
The best feature of this harness, which I believe justifies the price to some degree, is the way it holds the dildo. Rather than being individual straps with an 'O' ring made of silicone in the middle, attached with poppers, the fitting mimics a jockstrap with a heavy-duty polyspandex and mesh material at the front (available in black, red, or purple). It has a secure, 'O' ring built within it and two mini pockets to hold smaller vibrators for additional stimulation for the wearer.
This 'O' ring not only makes it easier to keep the dildo or vibrator secure when in use, but it makes sliding the toy into the harness a lot easier than with others as well. There are some things in life that it's worth paying extra for, and after using the SpareParts HardWare Joque, I'd say a harness is one of them.
Nothing spoils the moment quite like fiddling around readjusting straps for an absolute age and the great thing about the Joque, I found, is that it's also easy to adjust and fit any size. In my case, as my partner is smaller than me, it means that sharing it isn't beyond the realms of possibility, which can often be the case with some harnesses.
8. Lovehoney Harness Briefs
Best brief-style harness
Specifications
Dimensions: S to XXL
Waterproof: No
Materials: Soft stretchy fabric
RRP: $34.99 / £29.99
Reasons to buy
+
Comfortable
+
Easy to use
+
Affordable
+
Discreet
+
Easy to wash
Reasons to avoid
-
Not as secure as traditional style
There's no denying that the harness brief has revolutionized the strap-on experience and made the idea of wearing a harness feel a lot less daunting for many. If discretion is a concern of yours (airport security anyone?) choosing a harness brief is a really good idea.
You simply slip on these briefs and slip your dildo of choice into the flexible 'O'-ring for strap-on play in an instant. The Lovehoney Harness Briefs are compatible with dildos that have a 4.75-inch circumference, but I found that as the O-ring has got some give, there's a little wriggle room here. It also has what's described as a 'through-and-through 'O'-ring design', meaning there's no material between the ring and the wearer, which makes it ideal as an extra support with a strapless dildo too.
This particular example of a briefs style harness is true to size, I found, which some competing brands have really failed at over the years. I was also surprised at the comfort of this product, and it's an added layer of fun that they can be worn all day.
My one critique of the Lovehoney Harness Briefs is that they're just not as robust as a classic jock-style harness, such as the SpareParts HardWare Joque. But as an entry-level harness - or even just one for vacation - these briefs deserve their spot on the list of lesbian sex toys.
Dildos
9. Lovehoney BASICS Suction Cup Dildo 6 Inch
Best brief-style harness
Specifications
Dimensions: 5 x 6 x 7 inches
With vibration: No
Waterproof: Yes
Charging: N/A
Materials: PVC
Functions: Manual
RRP: $14.99 / £14.99
Reasons to buy
+
Comfortable size for most people
+
Available in two colors
+
Lifelike details for internal stimulation
+
Suction cup base
Reasons to avoid
-
May be too thick for some people
The Lovehoney BASICS Suction Cup Dildo 6 Inch is one of the best sex toys for beginners at a good price point. If you're just starting to build your collection, a dildo like this is a great fit - for use on its own or with a strap-on harness. At 6 inches, it's standard in size and comfortable for most people, while its little-more-than-lifelike details turn up the internal stimulation.
As well as these details, I found the most useful feature of this Lovehoney BASICS dildo to be the suction cup. Not only does it make for exciting sex in the shower as you can fix the dildo to your bath or shower surface, but the flared end also helps keep the toy secure inside a harness 'O' ring.
While it's nothing special and is unlikely to be your favorite pick on this extensive list of lesbian sex toys, it certainly gets the job done and is a great starting point. The toy is made from easy-clean PVC and comes in two others, purple or translucent, which is great for those who'd rather avoid realistic-looking toys.
10. Le Wand Bow
Best lesbian sex toy for G-Spot stimulation
Specifications
Dimensions: 5 x 2.8 x 0.80 inches
With vibration: No
Waterproof: Yes
Charging: N/A
Materials: Stainless steel
Functions: Manual
RRP: $93.75 / £86.99
Reasons to buy
+
Unique
+
Easy to clean
+
Useful for temperature play
+
No charging needed
A stainless steel dildo like the Le Wand Bow may look a little clinical but it's one of my favorite lesbian sex toys. Weighing in at 1.1 lbs (489g), this device is pure genius. The distinctive curved shape allows for deep reach and as it's a double-ended pleasure tool, how deep is up to your partner. On one end of the angled steel rod, there's a larger, bulbous end that's perfect for targeting your G-spot. The brand behind it, Le Wand, even suggests it as among the best pelvic floor trainers.
There's also a ridge that starts from the center of the Bow, win way to the tip which provides earth-shattering internal stimulation. The other end is a smaller, tear-drop shape and can also be used for external and internal play.
As with all manually used devices, keeping a hold of it can be a struggle in flagrante but the shape of it along with its weight does add a little extra challenge to it. Especially as this toy, and most toys really, calls for lashings of lube which is slippery at the best of times.
11. Strap-On-Me Remote Control Vibrating Strapless Strap-On
Best lesbian sex toy for vibration and internal stimulation
Specifications
Dimensions: 6.5 x 4.5 inches
Materials: Silicone
With vibration: Yes
Waterproof: Submersible
Charging: USB
Functions: Manual
RRP: $129.99 / £129.99
Reasons to buy
+
Mutual stimulation
+
Bendable
+
Different sizes available
+
Easy to clean
Reasons to avoid
-
Expensive
-
Takes a while to figure out
-
Not for beginners
The Strap-On-Me Remote Control Vibrating Strapless Strap-On, much like the Dame Eva, is a great hands-free sex toy. There are three remarkable motors to enjoy: one in the shaft, another in the insertable 'egg', and the third located just above the wearer's clitoris for extra stimulation. All three have three different speeds and three patterns each and are controlled with the same remote, which is simple to use with picture graphics on each button.
Despite the graphics, I did find it took a while to figure out the remote and which part controlled which element of the toy - especially after a glass of wine - but once I understood how it worked, there's no denying it was a great toy to use. For those of us who are a little more sensitive, this product can be used without the vibrations and it's also available in different sizes.
Often strapless strap-ons are a great idea in theory but, in reality, they require a mastery of the kegel exercises for the wearer to keep the end inside them. I didn't find this was the case with the Strap-On-Me Remote Control Vibrating Strapless Strap-On at all - it was easy to keep inside and use. However, if you want to be able to feel secure and comfortable, most people wear them with a harness anyhow.
12. Strap-On-Me Dildo Plug Balls
Best lesbian sex toy for size range
Specifications
Dimensions: S to XXL
With vibration: No
Waterproof: Yes, fully
Charging: N/A
Materials: Silicone
RRP: $42.99 - $68.99 / £35.99 - £47.99
Reasons to buy
+
Unique shape
+
Easy to clean
+
Lightweight
+
Easy to use
+
Multiple sizes available
Reasons to avoid
-
May not appeal to those who prefer classic shape
I'm personally a fan of dildos that don't look like penises, so the Strap-On-Me Dildo Plug Balls was an absolute hit for me. Its design, with bulbous balls along the shaft, adds a lot of sensation and creates a feeling of 'popping' in and out with each thrust. It's easy to wear and has a suction cup at its base, much like the Lovehoney BASICS dildo, meaning it's usable with a harness, manually, or fixed to a flat surface. As there's a broad size range, you're able to pick what suits your own personal taste.
Pleasure educator Poppy Scarlett tells woman&home that this particular product is also a great option for those interested in anal play. She says, "It's a plug and dildo hybrid that can be inserted into the vagina or ass, like you would a plug, freeing up your hands for other activities, or used for hand-thrusting or harness penetration."
So if you're looking for a product that's suited to both, or if interest in pegging a male partner is what's brought you here, then this is the two-for-one toy you need in your collection right now.
13. Bananapants Shagger
Best lesbian sex toy for added stimulation
Specifications
Dimensions: 4 x 2.75 inches
With vibration: No
Waterproof: Yes, fully
Charging: N/A
Materials: Silicone
Function: External manual stimulation
RRP: $40 / £39.99
Reasons to buy
+
Unique
+
Easy to clean
+
Provides cushioning
+
Extra stimulation for wearer
Rather than being an entire toy, the Bananapants Shagger is an ingenious dildo base cover, which helps to turn a dildo into a dual stimulator, and one of those products that make you think, "why didn't I think of that?". My partner and I tested the Shagger - out of five possible accessory options - and found it was an absolute game-changer in terms of stimulation and comfort.
The Shagger fits snugly onto the end of a dildo (bases up to 3.25 inches (8.25 cm)) with a suction cup, like the Lovehoney BASICS Dildo or the Strap-On-Me Dildo Plug Balls, and points towards the wearer when worn within a strap-on setup. Once you've attached it to the base of your toy, it's super secure. I'll admit the Shagger initially gave us stegosaurus vibes initially, but the soft silicone tips bend with you and maximize pleasure and comfort.
The only issue with this product is that unless your harness is super secure, it does slip a little and this means that the stimulation factor can be a bit inconsistent. That being said, when it hits the spot, it really hits the spot. Just like all of the lesbian sex toys on our list, make sure and use lots of the best lube so you can make the most of this clever toy.
14. Dame Pillo
Best lesbian sex toy for support
Specifications
Dimensions: 15' x 18' x 7'
With vibration: No
Waterproof: No
Charging: N/A
Materials: Polyurethane foam, cotton blend outer shell, nylon inner liner
Functions: Support
RRP: $95 / £86
Reasons to buy
+
Washable cover
+
Sturdy design
+
Comfortable
"Thanks be to good god that you can wash the cover", should be a review enough for you to buy this immediately but I suppose if anything, it probably leaves many of you curious to hear more. The Dame Pillo is effectively a foam wedge, made from polyurethane foam with a cotton blend outer shell, and nylon inner liner. The idea behind it is to provide support and help you get just the right angle during sex.
It's also designed to enhance and support different positions, making them more comfortable in the process. As Dame put it, "more libido, less lumbago." Think propping one's pelvis up, or leaning over in one of the best sex positions for G-spot stimulation.
The Dame Pillo is a great one for anyone looking to explore sex positions with back pain, but beware - it's huge. Not only does it come in an enormous tote bag, looking like a baby chair, but the product also takes up a lot of space. I must admit that my partner and I wondered, what's wrong with a regular old pillow for moves like the speed bump sex position. But we weren't wondering for long after this genius product was finally unleashed from its tote bag.
I found the firm support and perfect angle the Dame Pillo provides to be phenomenal. If you're interested in intense G-spot stimulation, this is something to try, especially when paired with The Bow from Le Wand or just good old-fashioned fingers.
How to choose the best lesbian sex toys for you
Decide what type of toy you want: If you're still at a loss as to which of these lesbian sex toys to choose, consider which type of toy you're really looking for. If you're looking for clitoral stimulation, a bullet vibrator-style toy will be best. For more internal stimulation, a dildo (with or without the harness) or one of the best rabbit vibrators will likely be a top pick.
Talk to your partner: If you're planning to use your sex toy with a partner, choosing the best toy will involve having a conversation with them. They may have different desires around penetration and external stimulation, and preferences for additional products like lubricants.
Budget: Many of the toys on our list stretch above the $50 mark but there are plenty of lesbian sex toys available for less than this. If you're looking for a simple dildo, there's no need to spend more than $20 on a site like Lovehoney. If you've got a little more to spend and you're looking for a more advanced toy, there's also more out there.
Delivery: How quickly do want your sex toy? If you're off for a sexy weekend away in the next few weeks, you'll need it sooner rather than later. In this case, it may be better to opt for a retailer like Lovehoney or Amazon which prioritizes speedy delivery. If you can wait, you may be able to get a better deal direct from the retailer.
How to choose a strap on
Despite the hype, not all lesbians are into using strap-ons during sex. That's not so shocking when you consider the slim percentage who actually orgasm from penetrative sex without external stimulation. A study from Indiana University even found that only about 18% of women reported being able to climax during intercourse from vaginal penetration alone.
Of course, it's worth mentioning us considering you may be reading this with the intention of enjoying it with a male-identifying partner. Whatever brings you here - welcome - and although I can't speak to the intricacies of pegging, the rules regarding making this purchase are largely the same. This is an investment, and if you want something hardwearing, convenient, and comfortable you're going to have to spend.
Annabelle Knight is a couples counselor and life coach with qualifications in psychotherapy. As she's also the resident sex and love expert for online retailer Lovehoney, we spoke to her about where to begin picking out a strap-on for you. Here's her guide on different styles, their merits, and what you should keep in mind.
Harness styles
Jock style harness: Similar to a jockstrap, this one has two straps that run between the legs of the wearer, coming out on either side of the butt cheeks. The style provides stability to the harness and keeps the dildo snugly in place against the body, but can be tricky to put on and prevents access to vaginal play.
Thong or G-string style harness: As you can imagine, this takes the form of a G-string, with a single strap running between the legs. This type of harness is not as secure as the jock, but it is easier to put on and grants access to the vagina and butt for stimulation without having to remove it.
Harness briefs: Also known as panty-style, these literally take the form of a pair of briefs, with a built-in 'O'-ring (where you attach the dildo). These are probably the most comfortable of the three but often come in limited sizes.
Choosing right dildo for your harness
Check your harness' attachment type: This is to make sure it really fits. The majority of harnesses have built-in 'O'-rings that you fit the base of the dildo into. If the O-ring is built in then it will only fit a certain type of dildo. If the 'O'-ring is removable, then you can use a range of different types of dildos as long as you have the ring to go with it. There are also lock-on systems, which only fit a very specific type of dildo, so ensure that you are okay with this when purchasing the harness.
Consider size/shape: Everyone will have a different preference, so it is a good idea to experiment with the dildo and without the strap-on harness in the first instance, to find the right fit and size. Even so, you will probably want to start off small if you are a beginner, as using a strap-on is different from just using a dildo on its own.
Experiment: You can experiment with the type of dildo and harness. For example, some allow you to insert a bullet for extra vibrations and stimulation.
Aoife is Junior News Editor at woman&home.
She's an Irish journalist and writer with a background in creative writing, comedy, and TV production.
Formerly Aoife was a contributing writer at Bustle and her words can be found in the Metro, Huffpost, Delicious, Imperica, EVOKE and her poetry features in the Queer Life, Queer Love anthology.
Outside of work you might bump into her at a garden center, charity shop, yoga studio, lifting heavy weights, or (most likely) supping/eating some sort of delicious drink/meal.