9 health benefits from using a vibrator
Your favourite sex toy can give you more of a boost than you think!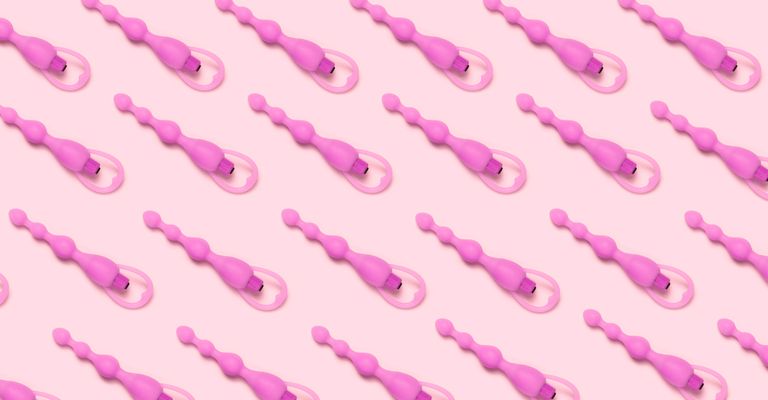 (Image credit: Getty Images / NadinPanina)
Forget hiding your best vibrator away, or leaving it to gather dust in the back of a drawer. Regularly using one could bring a host of extra benefits to your health and wellbeing, both physically and mentally.
There's no need to be shy about owning a vibrator, whether that's one of the best rabbit vibrators or a bullet vibrator—many women have them, whether that'. In fact, a survey by WooWoo, an intimate-care brand launched by women for women, found that the average British woman masturbates 2.5 times a week.
Want to know more? Here's how using one of the best vibrators can really help your health and wellbeing…
Health benefits you'll get from using a vibrator
1. A vibrator can help you sleep soundly
While your trusty vibrator isn't something you'd want to cuddle up to for comfort at night, an orgasm before bed can do wonders for shuteye. "Having an orgasm can lead to sounder, better-quality sleep, thanks to the fact that when you climax you produce the sleep-inducing hormone, prolactin," says Annabelle Knight, sex and relationship expert with Lovehoney. "So, theoretically, you should enjoy better and more restful sleep after an orgasm. And, with a good night's sleep under your belt, you'll be better equipped to face the day."
2. It can help you beat stress
An orgasm can improve your mental health and happiness. "When you climax, you produce hormones called oxytocin and serotonin," explains Annabelle. "These hormones are known as the 'feel-good' hormones because they are linked to happiness. Regular boosts of these hormones through orgasms with a vibrator can contribute towards feeling less stressed and more positive."
3. A vibrator is good for your heart
Those endorphins do more than just make you feel good – they also help to prevent heart problems by naturally neutralising your stress hormones. Research in Israel found that women who had two orgasms per week were 30% less likely to have heart disease.
4. It can keep your vagina healthy
Regularly using a vibrator can help maintain the walls of the vagina. This is because, when aroused, the lining of the vagina produces secretions, which helps to provide moisture to this area. "This helps to increase vaginal elasticity, which is one of the ways our vaginas stay healthy," says Annabelle. It can also help prevent infections in the cervix and urinary tract through the process of opening the cervix, which occurs during arousal. This stretches the cervix and allows unwanted cervical fluids to be flushed out.
5. It can help you beat pain
"Lots of women report that regular orgasms aid in the relief of period pains and cramps," says Annabelle. And forget putting off using your vibrator because you have a headache – it can help with that, too. This is because the area of the brain involved in pain reduction is highly activated during arousal and endorphins are released, which can soothe nerve impulses that cause migraines or joint pain.
6. You'll expand your pleasure horizons
Just want to have some fun? Using a vibrator will definitely help!"A vibrator is a great way to expand your pleasure horizons, especially if you choose one with different settings and modes," says Annabelle. Not sure which one to try? Go for a rabbit vibrator. "They're one of the only surefire ways to enjoy stimulation, both internally and externally. This will increase your chances of hitting all your hot spots, resulting in mind-blowing pleasure and intense orgasms aplenty," says Annabelle. "All research from Lovehoney shows that couples with good sex lives enjoy better overall happiness. So, investing in a vibrator won't just improve your sex life, but life in general."
7. You'll have better bladder control
"When you orgasm, your vagina contracts – think of it as a mini workout for that entire area," says Annabelle. "An orgasm exercises your pelvic floor muscles, too, meaning better bladder control. A strong pelvic floor can also lead to stronger, more intense orgasms." Win-win.
8. A vibrator can help you work through issues with sex
Is sex painful for you? You could have vaginismus. "This is a condition whereby the vaginal muscles spasm, which causes penetration to be extremely difficult or even completely impossible," says Annabelle. A sex toy can help. "Dilator kits can help with this condition. Just start off with the slimmest toy and, when your body is comfortable and accepting of the width, you can move onwards and upwards."
If you believe you may have vaginismus, or you are experiencing other issues that are affecting your sex life, see your GP for advice and a referral. "There are also fabulous online hubs to support women with this condition, such as The Vaginismus Network," says Annabelle.
9. You'll have a more enriched and satisfying sex life
Without a map to guide you, sometimes navigating where you prefer to be touched "down below" can feel confusing. And if you don't know your own body, how can you begin to tell someone else what you like or dislike? That's where a vibrator comes in.
"Experimenting with a sex toy, such as a vibrator, may help you to explore further than manual masturbation alone," says Annabelle. "As a result, you'll widen the range of sensations you experience, meaning that you may find new and exciting pleasure points. This can be communicated to your partner for a more enriched and satisfying sexual experience."
Faye M Smith is an award-winning journalist with over 15 years experience in the magazine industry. Her continued work in the area of natural health won her the coveted title of theHealth Food Manufacturers' Association (HFMA) Journalist of the Year Award 2021.
Currently Acting Health Editor across several brands including woman&home, Woman and Woman's Own, Faye specialises in writing about mental health, the menopause, and sex and relationships. In fact, having previously been the go-to sex columnist for Now magazine, there isn't much she won't discuss when it comes to women's health. This makes her the best person to review must-buy sex toys, describe how to have a mind-blowing orgasm or explain how to navigate sex in the shower without it ending in a medical emergency.
While not anti-gym, Faye's fitness routine is more focussed on finding inner balance rather than burning excess calories. An advocate of mindfulness, she loves power breathing, yoga and plenty of walking in nearby woodlands rather than a sweaty HIIT class. Follow her @fayetuned