Understanding your sexual anxiety - plus, how to overcome it, according to an expert
Sexual anxiety may be normal but, thankfully, you don't have to live with it forever...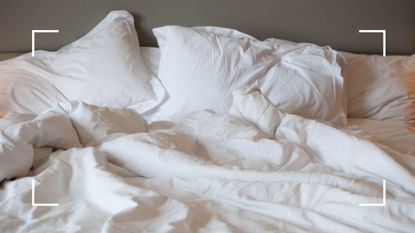 (Image credit: Getty Images)
woman&home newsletter
Sign up to our free daily email for the latest royal and entertainment news, interesting opinion, expert advice on styling and beauty trends, and no-nonsense guides to the health and wellness questions you want answered.
Thank you for signing up to Woman & Home. You will receive a verification email shortly.
There was a problem. Please refresh the page and try again.
Sexual anxiety is something that many people will experience at some point in their lives. While we expect it at the beginning of new sexual relationships, feelings of nervousness can seep into established dynamics too.
It could be because you haven't been sexually active with your partner for a long time, or you've reached a point where you've just stopped having sex altogether and you're looking to get the spark back. Whatever the reason behind your anxiety in the bedroom, you certainly don't have to live with these feelings forever.
Getting your groove back is all about starting from the ground up and working on how to be more confident in the bedroom, before diving into adventurous new experiences like trying all the best sex positions, says therapist Dr Katherine Hertlein.
What is sexual anxiety?
Sexual anxiety - often referred to as sexual performance anxiety - is a feeling of nervousness and general anxiety relating to any part of sex. "It can be experienced by people of all ages in all sorts of relationships," Dr Hertlein says.
It's also experienced by both men and women, a new study published in the Sexual Medicine Review found, with up to 25% of men and up to 16% of women reporting the issue, with consequences including a lack of sexual desire and both male and female sexual dysfunction.
"Whenever it happens and whoever it happens with, sexual anxiety is often rooted in fear or discomfort of a sexual encounter. It can be related to both your state of mind and the fear of being unable to please your partner when it comes to being intimate."
Common causes of sexual anxiety
There are several common causes of sexual anxiety, which can differ from person to person. "It can be the result of an underlying medical condition, Dr Hertlein says, pointing to menopause and anxiety as an example of a common combination that many people are unaware of.
"Or it could be down to relationship factors, power struggles, fears, mood disorders, and other mental health issues," she says.
But it's not just how we feel that contributes to sexual anxiety, it also about the society around us. "Cultural or religious factors may also influence how some people view sex and feel about having sex."
The most common causes of sexual anxiety include:
Body image issues - if you're self-conscious about the way you look, it could be causing you sexual anxiety and low self-esteem.
Performance anxiety - this is a feeling of inadequacy when it comes to 'performing' in bed. It can sometimes be caused by a previous negative experience, such as a relationship based purely on repeated fighting followed by makeup sex. "It may not just be you feeling this," Dr Hertlein says, "You could find your partner has performance anxiety too, and it's causing sex avoidance in your relationship."
Increased amounts of stress - Sex and anxiety are not a great mix. Stress in your daily life, from work, relationships, or general life, can cause you huge amounts of anxiety.
Loss of sexual desire - a low sex drive might be down to stress or even a side-effect of medication. If you're concerned about this, speak to your doctor.
How to tell if you have sexual anxiety
Sexual anxiety is usually diagnosed through a set of sexual dysfunction symptoms. These often include having negative thoughts before and during sex, being worried or fearful when thinking about sex, and a total loss of sex drive.
Physical symptoms are sometimes even more of a signifier that you might be dealing with sexual anxiety, as vaginal dryness and unpleasant sexual experiences such as pain during sex are difficult to ignore - and should never be ignored.
"Feeling anxious about sex can manifest in different ways," explains Dr Hertlein, "Along with mental and physical symptoms where you are aware something is wrong, there are other ones directly linked to sex. Those who suffer from sexual anxiety can report an inability to climax, for instance. And this may still be the case if you find your partner sexually appealing. Sometimes it can also cause complete disinterest in sex, even in happy relationships."
If you're experiencing female sexual dysfunction, you should contact a medical professional, such as your doctor, for further advice.
How to overcome sexual anxiety
The good news is that there are things you can do to ease your sexual anxiety and overcome it, from opening up the communication channels with your partner in sex therapy to finding new ways to excite each other with the best sex toys.
Here, Dr Hertlein shares five ways to combat your sexual anxiety.
1. Go slow
Patience is key if you want to make your sexual anxiety a thing of the past, so you need to forget about trying to prioritize your own orgasm for now.
"Try to move away from making sex a goal-oriented experience," says Dr Hertlein. "It's about taking your time, enjoying each other and finding intimacy and connection. Not only will this take the pressure off yourself and your partner, but it's also a chance to learn what you find sensual. Think of it as a blank slate. This is a chance to explore what you enjoy without the time pressure or end goal."
2. Improve your lifestyle
Constantly rushing about during the day? It won't be helping things at night. "Our life events can sometimes cause us to feel stressed or anxious, leaving our minds running even when we're trying to relax," says Dr Hertlein. "You might experience stress or sexual anxiety because of something that happened at work, an argument with your family, or perhaps something else. Unfortunately, we cannot always take the stress out of our lives, but you can make lifestyle changes to help with how you deal with them."
Luckily, the best ways are the easiest to implement. "Some of my best advice is to make sure you're getting the advised seven to eight hours sleep every night as your sleep can really affect your sex life. And make sure you're having a healthy balanced diet and regular exercise, even if it's just an hour of walking per day. These lifestyle changes sound simple, but they enable us to put our best selves forward to deal with whatever life throws at us. They're also an easy win if you want to know how to have good sex again," says Dr Hertlein.
3. Be more mindful
Feelings of panic rising? Try some mindful sex techniques. "Move away from focusing on the anxiety around our body and sex," says Dr Hertlein. "General anxiety-reducing strategies include mindfulness, breathing, and getting grounded. There are many resources, books, and mindfulness apps that can help you to become more grounded and less anxious."
But make sure you stick with them. "It helps if you do them for a period of time," adds Dr Hertlein.
You could also try and join a program or sign up for an app that will lead through techniques to help sexual anxiety and will support your overall sexual wellbeing.
4. Talk to your partner
Never hide the fact that you're feeling anxious around sex. Speak up, however embarrassed you feel.
"Anxiety in your relationship is likely not a comfortable thing," says Dr Hertlein. "But, it may be helpful to talk to your partner about your anxieties, especially if your initial reaction is to avoid sex. This will help them understand what you're experiencing so you can work through it together. The more clarity and communication you have around the topic, the easier it will be for you to work through it together."
5. Get professional help
"Finally, if you're still experiencing issues with your body or sex after trying these techniques, it's important to talk with your doctor," says Dr Hertlein. "It might be the result of an underlying health condition or a result of medication you're taking."
And don't be scared about talking to a sex therapist on your own, or having sex therapy with your partner - both could help deal with sexual anxiety.
"Seek out help," says Dr Hertlein. "Therapy for anxiety-reduction or a therapist who specializes in sexual health and couples therapy can be a life-changing method of support. Don't suffer in silence."
How to deal with a panic attack during sex
Communicate to your partner that you need to stop any activity but stay where you are, if possible. "Try to breathe slowly and deeply, remind yourself that the panic attack is going to pass and focus on positive images," sex and relationship therapist Andrea Balboni says. While it's difficult to know how to stop a panic attack, breathing is the most important thing.
Having a panic attack at any time can be overwhelming but during sex, it's bound to be even worse. "If you can, communicate to your partner what's happening so they can give you some space to work through it," she suggests.
Balboni shares her tips on what to do if you have a panic attack during sex, whatever the cause:
Take care of yourself - once you've moved away from the sexual situation and the panic attack is over, get yourself into a position and environment where you feel comfortable and safe. That could mean asking your partner to leave, so don't feel guilty if this is what you need to do.
Breathe deeply - before you take an inhale, exhale fully by emptying your lungs completely. Let your lungs inhale air as they will. Then gradually spend a bit longer on the exhale than the inhale. For example, try inhaling for two seconds, then exhale for four. Then inhaling for four and exhaling for six. Do this for two to five minutes or until you feel yourself come back into balance.
Reassure yourself - tell yourself supporting phrases, such as, 'I am safe, I am protected, It's going to be OK'. "The words you use will depend on what you need to hear to give you a sense of security and calm," she says.
Move around - move your body in any way that feels stabilizing and grounding. This could be gentle rocking if you're sitting. Or you can stand and shake off the excess energy, wiggling or patting your body in a way that feels soothing. Maybe wrap your arms around yourself in a steady hug. This gives you a sense of containment and control.
Try humming - hum or use the 'vuuu' sound to reduce the activation throughout your body by soothing the vagus nerve. "This nerve regulates lots of different functions like heart rate and breathing, and activating it through humming allows you to tap into your body's natural relaxation responses," she says.
Share your feelings - after the panic attack has passed, you can spend some time sharing with your partner what you experienced if that's what you want to do. They may need to hear that it wasn't their fault. And will likely want to know what they can do to help, should it happen again.

Sign up to our free daily email for the latest royal and entertainment news, interesting opinion, expert advice on styling and beauty trends, and no-nonsense guides to the health and wellness questions you want answered.
Faye M Smith is an award-winning journalist with over 15 years experience in the magazine industry. Her continued work in the area of natural health won her the coveted title of the Health Food Manufacturers' Association (HFMA) Journalist of the Year Award 2021. Currently Health Editor across several brands including woman&home, Woman and Woman's Own, Faye specialises in writing about mental health, the menopause, and sex and relationships.