The Wand by We-Vibe review—could this body wand vibrator help save your relationship?
The Wand by We-Vibe is one of the most premium body wand vibrators when it comes to price, but does that make it the best?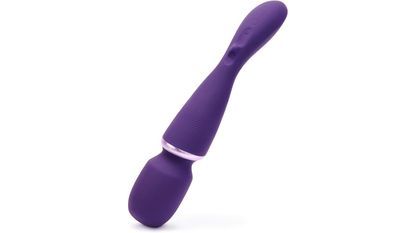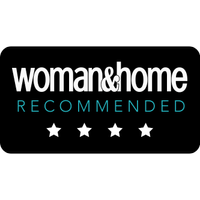 (Image credit: We-Vibe)
This new generation toy is so responsive it puts the competition to shame.
Reasons to buy
+

Extra custom attachments

+

Joystick-style control

+

Smart Silence mode
Reasons to avoid
-

Expensive

-

No storage bag

-

Connection issues with app
Why you can trust Woman & Home Our expert reviewers spend hours testing and comparing products and services so you can choose the best for you. Find out more about how we test.
The Wand by We-Vibe – a new generation body wand massager that comes with two custom attachments for even more pleasure – is an innovative sex toy. We've put a sample through a series of tests to help you decide if you think it's worth the investment.
Everything you want to know about this sex toy has been considered, including how it charges, how easy it is to handle and use, and how loud it is when switched on to the max. The Wand by We-Vibe was tested three times for varying durations until it helped to achieve orgasm – it was even tested underwater. As with any vibrator that we put through its paces, this one was switched on and off repeatedly afterward to check reliability.
The Wand by We-Vibe didn't disappoint and could be for you if you're looking for one of the best vibrators when it comes to size and versatility. Our experts tried several different brands of best body wand vibrators and many didn't make the cut. We've also tested the best rabbit vibrators to ensure you have a complete sex toy kit at home to enjoy.
Wand by We-Vibe specifications
Material: Body-safe silicone
Weight: 413g
Dimensions: 80mm x 309mm x 50mm
Charge time: 90 minutes
Battery: USB rechargeable lithium ion polymer battery
Running time: Up to 2 hours
Warranty: 2 years
Waterproof: Yes
Storage: No
Who does the Wand by We-Vibe suit?
The Wand by We-Vibe would suit long-distance couples, who want to invest in their relationship, or couples who like to play around with control during their sex play.
It's also suitable as an indulgent buy for someone to use solo. Either to simply massage tired muscles or for female masturbation, although you might not get the most out of it this way.
What is the Wand by We-Vibe like to use?
If there's one word to describe what the Wand by We-Vibe is like to use, then it would be "wow". And that's all thanks to two special features.
Firstly, the usual two buttons most body wand vibrators have to change the speed of the vibes has been given a total upgrade and been replaced by a joystick-like controller. You wouldn't think that something like this could make such a big difference, but it really does. You simply push the joystick either up or down, depending on whether you want to go faster or slower. Not only is this great if you have mobility issues in your hands, but it just makes you feel so much more in control. You feel almost like a pilot controlling an airplane – and it's a lot more seamless than other toys.
Plus, the joystick controller means you can really personalize the experience as you play, which can be hard with standard speed buttons. The trouble is this new generation tech makes other features, which are standard on most body wand vibrators, suddenly seem underwhelming. For example, it would be great to be able to control the vibe choices with a joystick too, as you still have to press a button manually to change those.
There's also another big difference with how you use the Wand by We-Vibe that makes it stand out from the rest. It has a built-in Smart Silence mode. This is a sensor in the head that makes sure that the vibes only start when it's pressing against skin or a surface. At first, this is slightly odd - for a while I felt like the massager was just repeatedly turning itself off all the time. But, once you get used to this quirk, it really works well. It makes it a lot quieter than other wand vibrators of this size, as it's not constantly on. Often, a repeated humming or vibration can become annoying. This one feels like it's saving precious power for when you need it most.
You can use the Wand by We-Vibe in two main ways – either manually, as above, or via the app. If you connect to the app, it works in a similar way to the We-Vibe Sync. Simply download the free We-Connect app. It connects to the toy via Bluetooth and you can then use Wi-Fi to connect your smartphone to your partner's smartphone. Relying on Bluetooth can be tricky, but after you connect your toy the instructions are easy to follow. Full disclosure, it did take a while to connect at first, and there were times that the Bluetooth failed during testing. But there are some extra features you can use with the app, such as creating your own vibrations, so if your partner is super into technical stuff, then they might enjoy that.
The Wand by We-Vibe design
The bold purple design looks sleek and chic, and this extra large toy is very similar to a lot of traditional XXL body wand vibrators, except it's a bit more phallic as the head is less bulbous and more elongated. For something this size, you'd expect it to be heavy. During testing, I found the head end is definitely heavier than the shaft, which can become slightly uncomfortable to control at times depending on the position you're using it.
There are well-placed ridges on the shaft to grip, plus it's very soft and smooth, and nice to touch. The neck is very flexible, which means you can really focus on the areas that turn you on.
Another bonus that sets the Wand by We-Vibe apart from its competitors, such as the Lelo Smart Wand, is that it comes with two custom attachments to slip around the head. While this is great and means your toy can be used in multiple different ways, they can be really hard to get on. They definitely don't slip over the head easily, so you need plenty of lube and maybe have them prepped in advance.
The versatility of the Wand by We-Vibe
Not only are there 10 different vibe patterns to choose from (all of which are noticeably different from each other) giving you plenty of options, but the two extra attachments really add extra fun. The vibrations are intense, even in the softer settings, so it can help you climax very quickly. It's also fully waterproof, so great if you want sex in the shower or to use it in the tub.
When it comes to the extra attachments, the "Fluttery" is a squidgy ring that looks like a plastic spiral hair tie. Once on, it fits snuggly on the head, and the soft ridges vibrate (or flutter) together thanks to the vibrations. In all honesty, although this is a nice sensation, it was better on erogenous zones, such as nipples, than on the clitoris.
The second custom attachment, the "Striker" fits onto the head in the same way, and at the other end is a soft "claw" shape that fits snugly around a penis. Although soft to touch, the shape is still quite firm. While these won't be to everyone's taste, it's a nice added extra, especially for the premium price tag – and could help boost your sex drive by adding something new to the mix.
The amount of noise the Wand by We-Vibe makes
The Wand by We-Vibe is powerful and, because of that, it does make some noise. But it's the noise you'd expect from something so big. However, thanks to the Smart Silence Mode, you are only hearing those buzzing noises a fraction of the time.
In fact, having a body wand vibrator that only buzzes when you're pressing against something is incredibly refreshing. Often constant buzzing and humming can be distracting, especially when you're worried about other people hearing. This function means you can immediately stop the buzz by taking it away from your body. This will surely become the norm when it comes to sex toys and vibrators going forward.
Battery use and charging the Wand by We-Vibe
The Wand by We-Vibe charger has a magnetic connection one end and USB the other. Charging is easy, although you do have to make sure the magnetic connection is in place properly before you leave it charging to do something else.
It takes around 90 mins to charge it up but, because the body wand vibrator is only on when touching skin, the battery seems to last much longer than the two hours running time. Plus, there is a small light on the power button which will flash to warn you when power is low.
What's not good about the Wand by We-Vibe?
One downside to the Wand by We-Vibe is the reliability of Bluetooth when using it via an app. This was the only time that using it became a struggle but, if the technology works well for you, then that shouldn't be a problem. However, it can be frustrating when it doesn't work. To be honest, though, this toy is so versatile that it would be a waste to use it purely for long-distance love.
One note is that for something so premium and large, it would be useful for it to come with a storage pouch to keep everything together.
w&h Verdict on the Wand by We-Vibe worth buying?
If you have the money, then it makes sense to go for an expensive body wand vibrator like the Wand by We-Vibe. Everything about it, from the ease of the controls, to the extra attachments, to the Smart Silence Mode just screams quality. You'll use this for years and years, so will certainly get your investment back.
Faye M Smith is an award-winning journalist with over 15 years experience in the magazine industry. Her continued work in the area of natural health won her the coveted title of the Health Food Manufacturers' Association (HFMA) Journalist of the Year Award 2021. Currently Health Editor across several brands including woman&home, Woman and Woman's Own, Faye specialises in writing about mental health, the menopause, and sex and relationships.