The We-Vibe Sync vibrator review: could this be the sex toy you need for a better relationship?
The We-Vibe Sync has the potential to be a game-changer for couples stuck in a sex rut.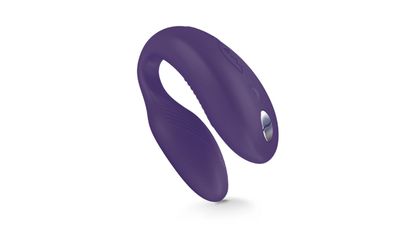 (Image credit: We-Vibe)
The We-Vibe Sync is a sex toy that gadget lovers will enjoy, while it will make others wish life was all a bit simpler.
Reasons to buy
+

Use with partner

+

Not intimidating design

+

Can be controlled via app

+

Stimulates both G-spot and clitoris
Reasons to avoid
-

Takes time to set up

-

Doesn't come charged up

-

Needs added lubrication

-

Bluetooth is unreliable

-

Can be painful
Why you can trust Woman & Home Our expert reviewers spend hours testing and comparing products and services so you can choose the best for you. Find out more about how we test.
The We-Vibe Sync – which can be used to help two people orgasm at once, comes with a remote control and can link to your smartphone via an app – could be for you. How to be sure? We've put it through its paces from the moment it was unboxed so you can see if you think it's worth the investment.
I tested a wide selection of the best vibrators (opens in new tab) and considered how they charged (if needed), the feel of them and how I'd feel if someone else saw it in my bag/house. All vibrators tested were used at least three times for varying lengths of time until they helped to achieve orgasm. Each vibrator was also switched on and off several times afterwards to check reliability.
Keep scrolling for the full review to see if this vibrator is the one for you.
We-Vibe Sync vibrator specifications
Material: Silicone
Weight: 300g
Dimensions: 74.8 mm x 31.4 mm x 41.7mm
Charge time: 2 hours
Battery: Rechargeable nickel-metal hydride (NiMH)
Running time: 90 mins
Warranty: 2 years
Waterproof: Yes, apart from remote
Storage: Plastic charging box
Who does the We-Vibe Sync vibrator suit?
The We-Vibe Sync is best suited for well-established couples or those in long-distance relationships.
What is the We-Vibe Sync like to use?
How easy the We-Vibe Sync is to use depends on how you use it. But if you're spending this much money on a vibrator, then it's worth getting as much out of it as you can and trying all the options available. Unfortunately, this involves taking the time to set it all up.
Essentially, the We-Vibe Sync looks like a bendy crab's claw. Designed for both G-spot and clitoral stimulation (opens in new tab), the smaller, thinner end fits inside your vagina, while the larger part remains outside and presses on both your clitoris and your partner when you're having sex.
There are two adjustable points you can release to make the We-Vibe Sync fit inside you comfortably. But this can be tricky and some users may not like the feel of both the vibrator and your partner inside you at the same time. The positioning has to be comfortable for your partner (opens in new tab), too. Getting it right can be slightly fumbly and can detract from any romance, but once you know how it works for the both of you, it's fine.
To use manually:
Like many of the various types of vibrator, you can use the We-Vibe sync on its own, without the remote control if you wish. All you need to do is select the mode you want (there are 10 different vibes to try) by clicking the power button and then inserting the thinner end of the device into your vagina before having sex.
To use via remote control:
About the size of a flattened egg, the remote control has four buttons on it, to change mode setting and speed with ease, and works up to three metres away. To start, you press the power button on the stimulator for a few seconds and then hold down one of the buttons on the remote control. It connects immediately and is easy to use, but a bit clunky-sounding as you click through the modes.
To use via the free We-Connect App:
Not in the same room as your partner or want the vibes to be in sync with music? Then you can download the free We-Connect app. It connects to the toy via Bluetooth and you can then use wi-fi to connect your smartphone to your partner's smartphone. But things are often never quite that simple and in all my tests this Bluetooth function never worked for the duration.
(opens in new tab)
The We-Vibe Sync vibrator design
The We-Vibe Sync doesn't look like a typical sex toy. It's made from soft purple (aqua is also available) silicone and is about the size of your hand if fully extended, but has adjustable joints in the middle, so it folds over.
No one would think this was a sex toy; it looks more like a trendy gadget you'd find in the kitchen.
The versatility of the We-Vibe Sync vibrator
While the We-Vibe Sync is versatile when it comes to how you control it, as a standalone vibrator it's slightly limited. You can use it solo (opens in new tab) for a blended orgasm (G-spot and clitoral climax at the same time), but this feels like a slight waste when you have spent so much money on it. Plus, not all women will like the feel of the vibrator being inside them constantly. You need to use plenty of lubrication and you may experience some bruising to the outside of your vagina afterwards.
But what's great is that a couple can use it together. There is no need to wait and take turns with it as such. The 10 vibrations give enough variation, although you do have to find one that you both like.
Once you've both used it a few times, this device gets easier to work, but this means it's best used with a regular partner.
The amount of noise the We-Vibe Sync vibrator makes
The We-Vibe Sync is relatively quiet, so you wouldn't be disturbing the neighbours when using it. Plus, as half of the vibrator is worn inside you, this muffles some of the sound from the vibrations.
Battery use and charging the We-Vibe Sync vibrator
With two hours' waiting time to charge before you can use it, this takes some planning, so can't be used on impulse. But the 90-minute running time should be enough for most users.
The We-Vibe Sync should earn extra points for its charging device. This sleek, white box holds both the vibrator and remote control together, to store and charge (when connected via USB). You could leave this charging in the corner of your room and no one would notice, unless they saw the We-Vibe branding.
How does the We-Vibe Sync rate online?
Reviews on the Lovehoney website, which is one of the sites the We-Vibe Sync is sold in the UK, are largely favourable, with many users saying the vibrator changed their sex life for the better. Many women comment that they use it solo for deep orgasms, thanks to the intense rumbles the We-Vibe Sync emits.
Unfortunately, reviews for the We-Vibe app are not so positive, with many buyers complaining about the Bluetooth connectivity and the app crashing, and the microphone and video functions are virtually redundant. However, most say that when it does work as it should, it's easy to use.
Interestingly, not many of the reviews focus on the actual pleasure the We-Vibe Sync can give you as a couple and it seems the effort needed is not worth the output when it comes to this bit of sex tech.
Is the We-Vibe Sync worth buying?
This really depends on what you want to use it for. Many couples will find it uncomfortable to wear during sex and causes external bruising, while others will get frustrated by the Bluetooth constantly disconnecting as I did.
However, if you and your partner are looking for a sex toy that gives equal pleasure, and want to use it more often together than remotely, then it does hold quite a unique position in the market.
If you're keen to experiment with something that has a remote-controlled option, a cheaper love egg might be worth trying to see if you enjoy it first.
Faye M Smith is an award-winning journalist with over 15 years experience in the magazine industry. Her continued work in the area of natural health won her the coveted title of the Health Food Manufacturers' Association (HFMA) Journalist of the Year Award 2021. Currently Health Editor across several brands including woman&home, Woman and Woman's Own, Faye specialises in writing about mental health, the menopause, and sex and relationships.