What is the rose sex toy? This vibrator is going viral right now for all the right reasons
The rose sex toy is the internet's latest obsession - here's why, with tips from an expert on how to use it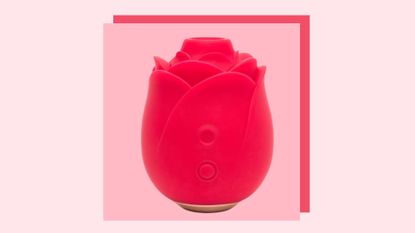 (Image credit: Lovehoney)
The rose sex toy seems quirky and colorful when you first look at it, but when compared to others in the world of weird and wonderful vibrators, it doesn't initially seem like anything too different from other clitoral stimulators out there.
But that couldn't be further from the truth. The toy has almost reached legendary status on social media sites like TikTok, where #RoseToy has over 180 million views and climbing. Designed to look like a perfect stemless rose, users say that it made them orgasm in as little as 30 seconds thanks to the unique stimulation.
The Rose sex toy has certainly got people talking and as it's quickly climbed the ranks to be the best vibrator of 2022, leading to brands like Lovehoney have jumped to bring out their own version of the toy - but is it actually worth all the attention?
What is the rose sex toy?
The rose sex toy is essentially a clitoral vibrator in the shape of a rose bulb, complete with silicone petals and a hole in the middle that wraps around your clitoris. "It's a new generation sex toy," explains Ky Hoyle, founder of Sh! Women's Store (opens in new tab), the first women-focused sex toy store in Europe. "It offers suction rather than vibration."
Made from medical-grade silicone, the Rose is average in size when compared to other clitoral vibrators and it's fully rechargeable with a simple USB cable. The rose also offers multiple functions and modes to allow for varying levels of intensity when placed on the clitoris.
Most of the rose sex toys we've seen are in the classic cherry red color. However, there are a few available in shades of black, purple and pink, so there's a rose out there for you whatever your taste.
While we've just realized all the benefits of the rose sex toy, they've actually been around for a while. So thanks to the rose toy's recent uptick in publicity, just like bullet vibrators and rabbits, they're almost a category of vibrators themselves which means no one retailer sells them. Instead, everyone is trying to get in on the action.
How does the rose sex toy work?
The rose sex toy works like many other clitoral vibrators but instead of vibrations, the rose offers a sucking sensation via the spout-shaped feature that wraps around your clitoris at the top of the toy.
There are multiple functions and modes you move through with either one or two buttons, depending on the model you buy. Each one, regardless of the brand, offers continuous clitoral stimulation in various patterns and at different levels of intensity.
Clitoral vibrators like the rose work to bring most people to orgasm as they stimulate the external tip of the clitoris and, for some, the internal clitoral bulbs and legs. "As approximately 75% of women and those with vulvas need clitoral stimulation to orgasm, it's easy to see why this type of toy is so popular," says Hoyle.
"Clit toys are often high-pitched in frequency, delivering intense thrills on and around the clitoris," she says, and the rose sex toy is just one of many in this group.
How to use the rose sex toy
Want to try out the rose for yourself? Ky has a few tips for making the most out of your time with a suction toy like the Rose.
Know where your clitoris is - "Lock the door, grab a mirror, and take a look if you don't know where it is already," she suggests.
Use lube - "Apply a slick of water-based lube to your clit, vulva, and the rim of the Rose". It's important to avoid silicone-based lube when it comes to the Rose and other similar toys, as you can't use silicone lube on silicone toys.
Switch on the rose - "Start on a gentle setting," Ky suggests. No matter where you buy your Rose from, they tend to have two buttons - one for turning the toy on and the other for changing the speed and intensity settings.
Get in position - "Spread open your labia lips with one hand and position the opening of the rose over your clitoris with the other hand," she says. "The rose will 'suck' around your clitoris." Try it simultaneously during sex with angles like the pretzel sex position, where you can benefit from dual stimulation.
Use other toys at the same time - There's no need to stop at just the rose, says Ky. "For extra oomph, try tag-teaming your suction toy with an internal dildo or some love balls."
You can also use the Rose on various erogenous zones as part of foreplay, using the suction around your nipples, ears, or neck first. While it only works on the higher settings, the bulb of the rose is also made from the same soft silicone material and vibrates marginally well, so you can use this wider surface area if that feels better for you as well.
Most importantly though, have fun with it. "Suction toys are very orgasm-reliable," assures Ky, so you shouldn't struggle with achieving the end goal if that's your aim - no matter how you use the toy.
Best rose sex toys
When it comes to buying a rose sex toy yourself, it mainly comes down to two things: budget and how invested you are in owning the top tier of vibrator, and how much you trust the brand you're buying from.
"A reputable retailer will ensure you get the real deal in terms of material and motor," Ky explains. "They will also offer a guarantee on the toy and the charging cable."
With this in mind, these are our top-rated Rose sex toys:
(opens in new tab)
Rose Toy Clitoral Suction Stimulator - $59.99 / £49.99, Lovehoney
Lovehoney are one of the leaders in the sex toy business, so naturally, they have their own version of the Rose. We tried and tested this vibe in our pick of the best sex toys and found it was a winner all round, with two buttons and 10 different suction modes.
(opens in new tab)
BMHESD Rose Toy - $20.31 / £16.98, Amazon
If your budget for the rose is a little smaller, this is a great option from Amazon with one button and seven suction modes to choose from. Early days with only 65 reviews but users love it, and it comes in multiple colors if you're looking to switch it up with something different.
Rose Clitoral Suction Stimulator - £39, Sh!
Sh! was founded in 1992 as Europe's first woman-focused sex toy store so they certainly know what they're talking about when it comes to vibrators. This rose sex toy has one button that offers seven powerful suction settings, including pulsing and wave options. It's also splash proof for easy cleaning.
A digital health journalist with over five years experience writing and editing for UK publications, Grace has covered the world of health and wellbeing extensively for Cosmopolitan, The i Paper and more.
She started her career writing about the complexities of sex and relationships, before combining personal hobbies with professional and writing about fitness. Everything from the best protein powder to sleep technology, the latest health trend to nutrition essentials, Grace has a huge spectrum of interests in the wellness sphere. Having reported on the coronavirus pandemic since the very first swab, she now also counts public health among them.