The Lovehoney Juno collection – is music truly the food of love?
Lovehoney Juno's collection are new 'activated' wearable vibrators, compact and triggered by sound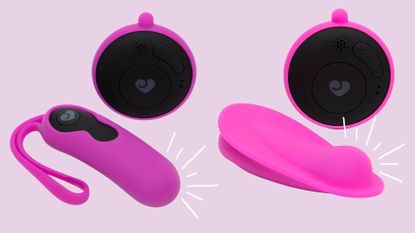 (Image credit: Lovehoney)
These wearable sex toys are fun and so unique, whether you're playing solo or with a partner.
Reasons to buy
+

Small

+

Fun

+

No setup

+

Good value

+
Reasons to avoid
-

Music activation not for everyone

-

Remote control isn't waterproof

-

Vibrating egg fiddly to clean
Why you can trust Woman & Home Our expert reviewers spend hours testing and comparing products and services so you can choose the best for you. Find out more about how we test.
woman&home newsletter
Sign up to our free daily email for the latest royal and entertainment news, interesting opinion, expert advice on styling and beauty trends, and no-nonsense guides to the health and wellness questions you want answered.
Thank you for signing up to Woman & Home. You will receive a verification email shortly.
There was a problem. Please refresh the page and try again.
The Lovehoney Juno collection is a range of four 'activated', wearable vibrators. They're triggered by music and can also be controlled. I tried them out, to find out whether they hit the right note and the right spot.
There are four vibes in the range and they retail for £49.99 each. I tried the Vibrating Egg and the Knicker Vibrator but the range also includes a Love Ring and a Butt Plug. All four toys use the same tech: a bullet vibrator that fits into a silicone outer, triggered by wireless remote control.
As a sex toy reviewer by night, I'm always looking to add more toys to my collection of the best vibrators, so I put these two toys through their paces to establish, once and for all, whether Orsino was right about music being the food of love.
Lovehoney Juno specifications
Material: Silicone
Weight: 17g (bullet vibe)
Dimensions: 7x2x2cm (bullet vibe)
Range: 8 metres
Charge time: 60 minutes
Battery: Rechargeable
Running time: 40 minutes
Warranty: 1 year
Waterproof: Vibe yes, remote no
Storage: Comes with pouch
Who does the Juno range suit?
There are four vibes in the range. The Vibrating Egg and Knicker Vibrator reviewed here are both squarely aimed at those with vaginas, anyone looking to pleasure themselves or play with others. The remote control option means a partner can tease you if you please. Or you can tease yourself or let the music take charge.
The Love Ring is designed to be worn on a penis, for single or couples play. The ring is silicone and the bullet vibe attaches to one side of it, making the whole ring vibrate. And the Butt Plug is designed for anyone who likes anal play. The plug itself is silicone and then the vibe attaches (across it, like a T-bar) and sits just outside of the body, making the whole butt plug vibrate. Again, both can be used as a simple vibe, remote-controlled or music-activated.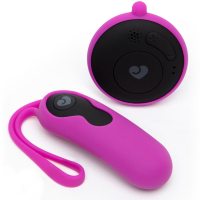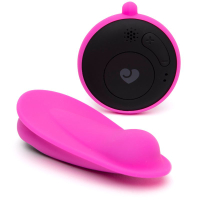 What is the Lovehoney Juno like to use?
The glorious thing about these toys is that they don't need fancy setup. They even arrived part-charged, so I could try them straight away. Ditto the tech side of things. Have you ever struggled to pair your phone with a Bluetooth speaker? Of course you have: sometimes wireless tech misbehaves. So it's a relief to find that each of these vibes works with its remote control out of the box. You can play straight away.
But how are they when it comes to having an orgasm? The form factor of the bullet vibe that lies at the heart of all the toys is cute: the size of my thumb, with a slight curve, black with a soft, silicone coating. As a simple vibrator you can put in your purse, it's practical. It's also waterproof, so good for play in the bath or shower.
You can use the bullet vibe by itself by squeezing the button and then tapping again to cycle between its six rhythmic modes. It's small and effective, making it a strong contender for one of the best bullet vibrators for a quick climax, but it's not worth £50 on its own.
Juno Vibrating Love Egg
First up, the Juno Vibrating Egg, which puts the bullet vibrator inside a silicone sheath with a loop handle 'retrieval cord'. You can insert it like a tampon, leaving the silicone loop outside like a tampon string. So you can use it externally for clitoral stimulation or slide it inside your vagina.
It arrives paired with a remote control that's a disc, the size of a pocket watch, on a silicone lanyard. It can control the vibe within an 8m range, making it a certain addition to our list of the best app-controlled vibrators. A squeeze of the button and a blue light indicates it's connected and in music-activated mode.
At this point, the remote needs to be near loud music to trigger. That can be in the bedroom, next to a phone or speaker for your own personal stimulation soundtrack. But it can also be worn, with the lanyard round your neck, out clubbing. I tried both and found that the Juno worked best with loud, bassy sounds, but worn internally it isn't orgasmic. It's a turn-on but more foreplay than sex. The vibes get you in the mood. You feel the music inside.
I already mentioned you can use the bullet vibe solo. There is a third way: tap the remote control's button again and you or your partner can control the vibrator from up to 8m away. Be teased or tease yourself, the choice is yours.
Juno Knicker Vibrator
The Juno Knicker Vibrator works exactly the same way, but it's worn externally. The vibrator fits in a flat silicone sheath that's designed to sit in your knickers. Position it right and the mound at the end of the vibe is positioned over your clitoris, while the rest stimulates the whole vulva nicely.
I found this one more stimulating because of the position. It's possible to enjoy an orgasm on the dance floor if you get the positioning and the soundtrack right. But it also depends on what you wear. The vibe isn't heavy but it can be enough to weigh down your knickers so you lose contact and stimulation. Jeans worked a treat but any outfit that holds it in the right position will do.
What music works best with the Lovehoney Juno collection?
Speaking of music, everyone's sexual soundtrack is different. You need it loud to trigger the Juno's remote control, whichever model you choose. Repetitive beats definitely help when it comes to stimulation. If dubstep does it for you, you could turn Skrillex into thrillex. But you're also going to be listening to it, so you need to find the right soundtrack for your body and brain. I experimented and found that drum'n'bass was the perfect genre to trigger the Knicker Vibrator without taking my head out of the game. My top turn-on tune: 'Dirty Beats' by Roni Size, of course! But classical lovers could climax to the cannons in Tchaikovsky's '1812 Overture' and I wouldn't judge. You do you.
I found the publicity photos less sexy. Click through to purchase either the Vibrating Egg or the Knicker Vibrator and you're faced with an image of it in pink silicone, with the remote control slung between a pair of boobs. The Love Ring and Butt Plug are both clad in blue silicone and predictably slung in front of some abs. The pictures make them look less like small-but-fun sex toys and more like a challenge on Love Island. Still, that probably sells.
Juno collection charging and noise
Charging works great with the USB cable supplied. The cable forks into two small plugs, so you can charge the vibe and remote at the same time. The socket on the vibe is covered when not in use, so it's waterproof. The remote isn't waterproof though, so be wary of sexy showers.
It comes with a discreet black pouch too, which won't attract much attention in your sock drawer, making it a great one for anyone who struggles with storing sex toys discreetly.
Noise is a high-pitched buzz, a bit louder than an electric toothbrush, like an angry bee. It's quieter of course when it's inside you. If you're using it externally, it could be slightly audible from the next room but the music would drown out the sound. Wear it on the dancefloor and no one will know because it only vibrates when the music is loud: it synchronizes well with sounds.
Wear it in a restaurant with your partner pressing the buttons, though, and you'll be rumbled if they pick a quiet moment to tease. It's not like anyone would assume you were cleaning your teeth.
One funny discovery I made was that the remote isn't paired with its vibe, it puts out a signal that triggers any Juno vibe within 8m. I found that one remote could trigger both models on the test. Hypothetically, you could be getting your partner off in a restaurant and accidentally be doing the same for another nearby diner or vice versa.
Another practicality is cleaning your vibrator. The silicone sheath for the Knicker Vibrator pops off and rinses easily after use. The Vibrating Egg needs more of a fiddly clean because you wear it internally: if it works well for you then it gets wet.
Our verdict on the Lovehoney Juno collection
These wearable sex toys are fun, whether you're playing solo or with a partner. They're small and offer three ways to play: music-activated, remote-controlled, or just as a bullet vibe. If you're just learning how to use a vibrator, these are good value for 'activated' toys and, even though the range is new, some are already discounted. My personal favorite was the Knicker Vibrator but the Vibrating Egg can make for fun foreplay. Music can indeed be the food of love.
Sign up to our free daily email for the latest royal and entertainment news, interesting opinion, expert advice on styling and beauty trends, and no-nonsense guides to the health and wellness questions you want answered.
By day, Mandy is an award-winning newspaper and magazine journalist and author, who writes about consumer electronics. By night, she's our anonymous undercover reporter, a secret sex toy reviewer, putting in time between the sheets to check out which vibes are worth buying, so that you get the best. This may never win her a Pulitzer Prize, but it's consumer journalism that truly matters. After all, unlike other gadgets, you may not want to buy a sex toy, decide that it's unsatisfying, then send it back for a refund. This is one purchase where hands-on reviews really count.