The 15 best vibrators on Amazon with discreet delivery guaranteed
We tested the best vibrators on Amazon, with fast and discreet delivery guaranteed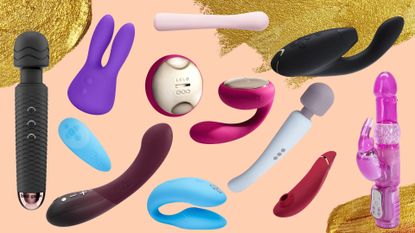 (Image credit: Hot Octopuss/Bed Geek/LELO/We-Vibe/Satisfyer)
The best vibrators on Amazon are the ideal collection for anyone who might feel a little uncomfortable stepping into a sex toy store. However, while buying a sex toy online is easy, you may need a few pointers to ensure you're getting a quality product and a good deal. After all, if you can't hold a product in your hands and look at it, how do you know if it's going to be any good?
There are plenty of places to buy a vibrator online but if fast, discreet and guaranteed delivery is what you're after then it will always be best to head online to Amazon. And why wouldn't you? It's a trusted site with millions of product reviews and it has its very own delivery system that ensures your purchases come through the front door in the iconic brown packaging, often in less than 24 hours.
But when it comes to Amazon and sex toys specifically, there are plenty of things to consider. How do you know that what you're ordering is the best vibrator for your body if you haven't seen it up close? Should you buy the style from the brand name you recognize, or a cheaper identical version? To find out, we tested a range of the best vibrators available from Amazon in the US and UK.
How we tested and tried the best vibrators on Amazon
Why you can trust Woman & Home Our expert reviewers spend hours testing and comparing products and services so you can choose the best for you. Find out more about how we test.
When shopping for a vibrator, there are always a few things to bear in mind. That's why we test all of our products before reviewing them at woman&home, so you know the essentials to look out for before making your purchase.
Having taken part in many of the sex toy guides on woman&home, I've been testing vibrators for the last couple of years. I tested some new ones for this guide, and saw whether classic favorites were also for sale on Amazon, giving each one a test based on various factors from functionality to pricing.
These were the factors I considered:
Functionality: Did the vibrator do what it said on the tin? There's nothing worse than an underwhelming purchase from Amazon, so we considered whether the vibrator lived up to its name, could comfortably and satisfyingly hit the main erogenous zones, and worked effectively from a mechanical basis.
Materials: When it comes to buying sex toys, 100% pure silicone or medical-grade silicone, pyrex, stainless steel, hard plastics, body-safe and waterproof materials will always be better, so we filtered out the products to only include toys made of these materials.
Brand: It's also always better to opt for a sex toy brand you recognize rather than an unknown brand or a whitelabel product. This is because you can be far more certain of the product meeting a government-approved public health standard with a popular or known brand than one that only sells on Amazon.
RRP: We all love a deal and Amazon is a great place to find discounts, especially on tech. However, when we were testing the best vibrators, we opted for the price target of $25 to avoid cheap products that could be ineffective, unsustainable, and harmful to your body.
Best vibrators to buy on Amazon, as tried and tested by us
Best vibrators to buy on Amazon UK
1. Hot Octopuss Kurve
Best vibrator on Amazon overall
Specifications
Material: Silicone
Waterproof: Yes
Internal or external stimulation: Internal
RRP: £99
Reasons to buy
+
Curved G-Spot shaft
+
USB charging
+
Treble and bass technology
+
Soft gel tip
The Kurve by Hot Octopuss is the product of years of sex tech innovation and orgasm research, making it the top choice in our list of best vibrators on Amazon. On the surface, it looks like a simple vibe, but it's powered by patented technology that delivers high-frequency and rumbly vibrations to the G-Spot to induce the somewhat elusive G orgasm. Along with this tech, the Curve boasts a very soft squishy gel tip that makes comfortable contact with the front wall of the vagina – most G toys are hard and made of firm silicone or glass which can leave you feeling a little uncomfortable after stimulating such a sensitive area. The Kurve is also, unsurprisingly, curved. This means it does a great job of applying pressure to the right spots during penetration.
It's a lightweight toy and it doesn't require a lot of wrist strength to use the device. I found the handle comfortable to hold and manipulate when in use. The buttons are also easily accessible as they're raised and shaped like a plus and minus, meaning I didn't have to look down and could feel the controls without breaking my concentration.
The only drawback with the Kurve, I found, is that it's a phallic vibrator that only offers internal stimulation. You can rub the tip against your vulva and clitoris, but it's meant for internal use. This means if you also want external clitoral stimulation you might have to reach for another toy like the Ann Summers Gold Bullet Vibrator, ask your partner to help, or use your free hand while using the Kurve in the other.
2. Ann Summers Gold Bullet Vibrator
Best bullet vibrator on Amazon
Specifications
Material: Plastic
Waterproof: Yes
Internal or external: External
RRP: £25
Reasons to buy
+
3 speeds and 7 vibration settings
+
Charging via USB
+
Tapered tip for clitoris-focused stimulation
Reasons to avoid
-
Doesn't come with a travel case
You can find a whole host of vibes that do a great job and won't break the bank when you're looking for the best bullet vibrators on Amazon. However, if you're looking for a good place to start, you can't go far wrong with the Power Bullet Vibrator from Ann Summers. Having tried the vibe myself, I found the hard plastic casing houses a powerful little motor, and the toy acclimatizes to the body temperature quickly. It also has a soft silicone button which I liked - it was easy to use to change speeds and the luxe rose-gold finish means this little piece of kit looks super stylish on my nightstand.
As always with a bullet, functions and choices are fairly limited. However, if you're searching for an affordable, quality toy for external use, this product ticks every box. It's also USB rechargeable, making it a sustainable choice that will stand the test of time. Many bullet vibes are battery powered which means they have a much shorter shelf life and require battery changes that generate more waste.
When it comes to travel, I've always believed a bullet can be your best friend. This product doesn't come with a travel case unfortunately, as some do, but will fit very snugly inside a bag with your toiletries or in your purse. If you're unsure how to use a bullet vibrator for the best results, try a few tips from the experts to get you started.
3. Bed Geek Wireless Wand
Best travel wand vibrator on Amazon
Specifications
Material: Silicone
Waterproof: Yes
Internal or external: External
RRP: £32.99
Reasons to buy
+
20 patterns and 8 speeds
+
Small travel size
+
Textured handle for added grip
+
Charging via USB
Reasons to avoid
-
Remembers your last pattern and speed
The travel-sized wand vibrator from Bed Geek boasts an expansive number of speeds and patterns for a wand so small. I loved the smooth head and textured handle for grip and I found it really packs a punch for an affordable vibe, which was a pleasant surprise considering I normally look for power when testing wand vibrators.
This wand is also smart in that it remembers your last pattern and speed which can be a great thing, but then again, you might not want to jump straight back in at the intensity that you finished with the previous time. All in all, it's a great little partner if you're looking for a portable buzz and is great for use solo or with a partner.
Eligible for Prime One Day Delivery, the Bed Geek wand is one of the best wand vibrators for first-timers and seasoned toy users alike. However, if you're well versed and are looking for more power, a larger wand or even a mains-powered wand like the Doxy or Hitachi Massager (opens in new tab) might be more your speed. This one's both splash and waterproof too, so it's great for bathroom fun as well as being robust enough to handle lashings of lube.
4. Lovense Hyphy High Frequency Vibrator
Best pinpoint clitoral vibrator on Amazon
Specifications
Material: Silicone
Waterproof: No
Internal or external: Both
RRP: £102
Reasons to buy
+
Pinpoint tip
+
Three tip attachments
+
Supporting app for remote control
+
USB charging
Reasons to avoid
-
More expensive than other options on the list
-
Not waterproof
Those seeking a very specific kind of buzz will love the High Frequency vibe from Lovense. With a pinpoint head, this vibrator is the total opposite of a wand and more similar to the brand-new LELO Dot than any other toy. Rather than offering vibration across a large surface area and stimulating as many nerve endings as possible, I found the Hyphy has a tiny round head that delivers high-frequency vibrations to a particular spot.
The creators of this toy boast that "the super high-frequency vibration for the clitoris and the powerful G-Spot end bring a squirting experience." Now, this is a bold claim, especially considering not everyone can squirt and not everyone knows how to use the most common types of vibrators.
I did find this to be a clever vibrator when I tried it out myself though. It has a pinpoint head for clitoral stimulation on one end and a curved phallic shaft on the opposing end that can be used for G-spot stimulation, making it n excellent 2-in-1 toy. Not everyone will want to use both ends though and if it's a G-spot vibrator that you're looking for, I'd recommend the Curve by Hot Octopuss as a good investment. Otherwise, the Hyphy is an excellent Amazon purchase - especially if you're looking for one of the best sex toys for beginners.
I liked that this vibrator was USB chargeable as well and that it comes with a travel case. The Hyphy features raised buttons and an app to control it, which I found was great for partnered play as well as masturbation. The pinpoint head can also be customized for more pleasure with three soft silicone attachments, another great feature. A higher price point and the fact that it's not waterproof, where many of the other options on our list are, may put some shoppers off but at least you get five options for the price of one with this creation, which is pretty good going.
5. Satisfyer Pro 2 Next Generation Vibrator
Best suction vibrator on Amazon UK
Specifications
Material: Plastic
Waterproof : Yes
Internal or external: External
RRP: £44.95
Reasons to buy
+
Air pressure technology
+
USB charging
+
11 intensity levels
+
Removable mouth cap
Reasons to avoid
-
Magnetic charger falls away from charging point relatively easily
There's a reason the Satisfyer suction vibe has become iconic – it really delivers. This clever vibrator massages the clitoris using pressure waves and tingling pulsations rather than standard waves of vibration like many of the other vibrators on our list. This second-generation vibe is also more powerful, yet quieter, than the first iteration I've found when using it and it has a wider, larger mouth which is great for maintaining that toy-to-clitoris contact.
For some, this will be an improvement, whereas, for others, a smaller mouth with a more focused area of stimulation will feel better. If that's you then the Lovense Hyphy High-Frequency Vibrator may be a better pick, but otherwise, this is a great buy for under £50 from Amazon.
The Satisfyer Pro 2 has 11 excellent intensity levels that are controlled with a simple button that I found super easy to use both before and during use. The simplicity of its design and slim handle, going out into a bulb at the end, make it an easy toy to use as I found I could have a firm grip on the device. It's also waterproof, which is another huge benefit in my books, especially as the air pressure technology feels even better underwater. As it's always important to know how to clean a vibrator, I was pleased to see that the silicone mouth is removable for easy cleaning too.
The only downside I would add is that the Pro 2 while being USB rechargeable, is charged using a magnetic attachment that I found falls off the device fairly easily when nudged. When you're charging this toy, be careful it doesn't fall away otherwise it won't charge at all.
6. Calexotics Mini Marvel Bunny Vibrator
Best clitoral vibrator on Amazon
Specifications
Material: Silicone
Waterproof?: Yes
Internal or External?: External
RRP: £46.99
Reasons to buy
+
Perfect for first-time users
+
Petite bunny shaped stimulator
+
10 settings
+
Charging via USB
Reasons to avoid
-
Fairly loud depending on the vibration level you choose
The Mini Marvel is a pebble vibe with rabbit ears, a lovely little hybrid, and a great pick if you're looking for one of the best rabbit vibrators on Amazon. It's also a winner for anyone new to these types of toys as it's small, easy to hold, and fits in the palm. It can also be placed on the vulva like a pebble vibrator, meaning it offers stimulation across the whole vulva rather than just around the clitoris or internally, like some of the other vibrators on our list. The ears are ideal for pinpointed stimulation, especially around the clitoris as they fit snugly on either side, and the small size makes them great for travel. However, it's worth considering where you're going to use this vibe as I found it can get a little loud on the higher settings.
What I like about this sex toy is that it looks fairly cool and unintimidating, as well as being a super effective vibrator. With the likeness of a modern design object, I believe it wouldn't look out of place on a shelf in your bedroom. I also found the raised buttons make it easy to use without getting distracted or having to fiddle around with the settings, and the ears are flexible so you can maneuver them easily.
Pebble vibes make for a great entry point into the world of sex toys more generally, I've always found. They're fairly generic and neutral and can be used all over the body. In the case of this one, the ears are designed to deliver direct stimulation to the external clitoris but the bulb of the toy can be pressed, rolled, or held anywhere with the intensity on a low or high setting for a range of sensations. If you're looking to learn how to have better sex by discovering more of your erogenous zones, then I think this toy could be an excellent place to start.
7. Lelo IDA Couples Vibrator
Best couples vibrator on Amazon
Specifications
Material: Silicone
Waterproof?: No
Internal or External?: Both
RRP: £140
Reasons to buy
+
Remote control with app to support
+
8 patterns to choose from
+
Vibrates and rotates
+
Charging via USB
Reasons to avoid
-
Not as effective as a solo toy
Couples vibrators can be very hit-and-miss, I've found in my experience. No one size and shape fits all couples and scenarios, however, the best remote vibrators do have the power to elevate a play session with your partner to new heights. The IDA by LELO is one such vibrator and it's one of the more flexible ones out there, meaning you're more likely to be able to make it work for both you and your partner.
The idea is to fit the smaller shaft comfortably inside the vagina and place the external section on top of the vulva so that it stimulates the clitoris when it buzzes away. As long as you use plenty of the best lube with this endeavor, I've found it can work pretty effectively and offer a new way to use sex toys with a partner in the bedroom. It's also totally controllable via remote, which I love, so either you or your partner don't have to grapple around with the toy while you're having sex - you can just use the remote.
Just be careful when your partner thrusts that you're comfortable and that the toy is in a position that feels good. If at any point it doesn't feel good, take a break, readjust the flexible shaft, or change positions. Starting in missionary with a toy like this is always the easiest way to find out what works best for you and your partner, I've always found.
Otherwise, you can use it by yourself. This is fine to do as you'll have the same internal stimulation from the shaft and external stimulation from the circular part of the toy. However, when a fellow member of the woman&home health team tried the vibe in this way, she said: "It's harder to use this vibrator on your own as the top part doesn't automatically put pressure on your clitoris in the same way that a rabbit vibrator would. I found that I had to manually press down on the top part to keep it working properly."
8. Womanizer Duo Suction Vibrator
Best suction vibrator with dildo on Amazon
Specifications
Material: Silicone
Waterproof: Yes
Internal or external: Both
RRP: £179
Reasons to buy
+
G-spot and clitoral stimulation
+
Air pressure technology
+
12 intensity levels
+
USB charging
The Womanizer is iconic with its sensational air pressure technology, however, it becomes twice as powerful with the addition of a vibrating shaft. Gentle air pressure applies suction and pressure on the external clitoris and builds to a rumblier more intense level in a similar way to the Satisfyer Pro 2 Clitoral Suction Vibrator, which also appears on this list. Then there's classic vibration in the shaft, which sits inside the vagina and curves slightly to make it easy to apply pressure to the G-Spot. By angling the handle downwards, I found you can increase the pressure against the internal wall of the vagina for a more intense sensation.
Unlike other vibrators with a shaft though, you can't really thrust with the Duo as contact with the air-pressure mouth will be broken if you do this. The air pressure only works if the mouth is in close contact with your skin, so if you're looking for a vibrator you can thrust with, it may be better to choose one like the Hot Octopuss Kurve, the top vibrator on our list. Then again, with dual stimulation, you don't really need the addition of thrusts. Simply squeezing your pelvic floor while finding the setting combination that works for you can be enough to reach a climax with this clever toy.
This one feels great underwater as well and it's waterproof, meaning it'll be ideal if you're someone who loves sex in the shower.
9. Ann Summers Rechargeable Power Massage Vibrator
Best customizable vibrator on Amazon
Specifications
Material: Silicone
Waterproof: Yes
Internal or external: Both
RRP: £85
Reasons to buy
+
8 speeds and 20 vibration patterns
+
3 attachments - rabbit, clit, anal beads
+
USB charging
Reasons to avoid
-
Not very suitable for beginners
You can't go wrong with a wand vibrator and, along with the Bed Geek Wireless Wand, this is one of the best vibrators on Amazon to buy if you're after a powerful vibe. The great thing about this particular wand vibrator from Ann Summers is that it's versatile, I found. It offers eight speeds and 20 vibration patterns so you can spend time getting to learn exactly what you like. I'd recommend dialing the speed and patterns up and down to tease yourself, bring yourself to the edge of orgasm, stop and begin again. Known as edging, this practice can help you to train your mind and body to orgasm harder and longer solo and with your partner.
The additional perks of this particular wand are the interchangeable attachments. The wand becomes not just a toy for external use but also internal use with these. There's a textured head for external exploration, offering different sensations that can feel pleasurable on your skin, a rabbit head for clitoral and internal stimulation, and a tapered bead head for anal play.
Large wands are generally more expensive due to their larger motors but this one is pretty reasonably priced, especially considering the extra settings and attachments, and I believe it's well worth the price. It's also USB rechargeable so it should last a long time without needing to be replaced. The only downside I'd point out is that the 20 patterns and interchangeable heads may be a little too much for someone new to sex toys or these types of vibrators, so starting with something a little more low-key could be a better choice.
Best vibrators to buy on Amazon US
1. Unbound Bender Personal Massager
Best G-spot vibrator on Amazon
Specifications
Material: Silicone
Waterproof: Yes
Internal or external: Both
RRP: $69
Reasons to buy
+
10 speeds and patterns
+
USB chargeable
+
Flexible, fits to you
Reasons to avoid
-
Noisy compared to other toys
The Bender from Unbound is a flexible massager, ideal for anyone looking for something ungendered and unintimidating. An ideal first toy, the Bender can be used for G-Spot, clitoral, anal, or broad external stimulation across the vulva, clitoris, nipples, and plenty of other unexpected erogenous zones.
Bender is a super flexible and very versatile vibe, I found, with 10 speeds and patterns that provide a range of intensities. In short, it's a great all-rounder and it's much more powerful than it looks. This vibe is quiet too, but it isn't the quietest you'll find so I'd recommend either using it when you're alone in the house or picking something silent if you're concerned about this. The Satisfyer Pro 2 (opens in new tab) ($45), for instance, would be a great alternative. The Bender is, however, fully waterproof, and submersible up to three feet for 30 minutes so it makes for an ideal bath time toy.
In my opinion, the best thing about it is how it can be bent and maneuvered to suit your unique body shape. All bodies are different and for some, a more acute bend or different depth can deliver more pleasurable sensations. This toy is great for experimenting to find out what feels best for you.
The key to having better sex is all about figuring out how you like to be touched and then communicating this to your partner or partners. This toy can be a great starting point for that. Just remember that if you insert it always learn how to clean sex toys the body safely way after you've used them and how to store store sex toys in a cool, dry place in the dust bag provided.
2. Hitachi Wand with Shibari G-spot Ecstasy Attachment
Best mains-powered wand vibrator on Amazon
Specifications
Material: Silicone
Waterproof: No
Internal or external: External
RRP: $86.96
Reasons to buy
+
Powerful motor
+
Suitable for full body
+
G-Spot attachment
The Hitachi massage wand is arguably one of the most recognizable and beloved toys on the market but it is a step up from the other wand vibrators on our list in terms of noise and price. However, its power shouldn't be underestimated and if you want to truly fantastic wand vibrator that'll stand the test of time, this is one to go for when shopping from Amazon US.
A powerful rumbly vibrator that plugs into the mains power supply, this wand vibe delivers serious shockwaves with a large head and easy-to-grip handle. However, due to the mains power and intense motor, it isn't the quietest toy available, so soundproofing may be necessary if you're planning to use this toy in a busy household or during unsociable hours. There's also the added issue of it not being a mobile toy – you'll need an outlet to use it. However, the cord is very long and can stretch across a fair distance of around three to four feet, which I've found when testing.
If you're craving more power, this is an ideal toy for solo and partnered use. It's hefty, not exactly discreet, but comes with an attachment that can transform and upgrade it into a powerful G-spot vibrator as well. This level of internal sensation isn't for the faint-hearted but, trust me, it can produce some next-level G-spot orgasms.
A wand can take female masturbation techniques to incredible new places. Just remember to always begin on the lowest setting and cycle through the more intense vibration modes to find a speed that works for you.
3. Tracy's Dog Craybit Rabbit Vibrator
Best affordable rabbit vibrator on Amazon
Specifications
Material: Silicone
Waterproof: Yes
Internal or external: Both
RRP: $32.99
Reasons to buy
+
Cheaper than other vibrators on the list
+
Dual motors
+
Curved shaft
+
Flexible bunny ears
Reasons to avoid
-
Intense vibrations from the first setting
As affordable vibrators go, the Craybit rabbit vibrator by Tracy's Dog blends form and function for less than $40. With classic bunny ears and a slender, curved shaft, I've found this toy provides clitoral and G-Spot stimulation as well as any other rabbit on the market.
A slight bulge on the base of the shaft makes it easier to apply external and internal pressure for more intense sensations, and the shaft and ears are very flexible so can bend with your body. Often rabbit vibes can be quite firm so this is a bonus, making it far more comfortable for many body types. But it does mean this vibrator is relatively intense, even from the first few settings, so it won't be one for those who like to start things off slowly.
10 different vibration modes in two separate motors mean you have plenty of choices when mixing things up though, which I appreciated. This toy is also waterproof, much like many of our vibrators on this list, but it doesn't make loads of noise underwater unlike some of the others. And, as an extra plus, the buttons are backlit with an ambient purple glow so I could always see what I was doing - even in a dark room.
You don't always have to spend big bucks to find a body-safe toy that works for you and this flexible, affordable vibe is proof of that.
4. We-Vibe Chorus Couples Remote & App Controlled Vibrator
Best remote vibrator on Amazon
Specifications
Material: Silicone
Waterproof?: Yes
Internal or External?: Both
RRP: $199
Reasons to buy
+
Remote controlled
+
Supporting app
+
Dual motor
+
Internal and external vibes
Reasons to avoid
-
Can be uncomfortable during penetration
It really is incredibly personal as to how effective and enjoyable a toy like this can be because of its shape and style. A couple's toy of this type can be a crowd-pleaser or a disaster depending on your likes and dislikes and the style of partnered sex you enjoy. However, along with the LELO IDA (opens in new tab) toy, the WeVibe Chorus is one of the best types of remote vibrators that you're likely to find.
The Chorus offers vibration externally and internally and can be worn during penetrative sex, if this is comfortable, or by one person while the other controls the settings with the remote control. Many users have found that this little device has enriched long-distance relationships and spiced up date nights, however, I found that it isn't entirely silent when in use.
When it comes to the app, using the remote and toy simultaneously, I'd suggest making sure all are in range to avoid any pesky Bluetooth connectivity issues. The remote offers a range of settings and medium to strong vibes though, so I thought it was well worth a try. It's amazing for using with a partner at the same time and I liked it how the vibrations weren't too strong otherwise this would have overpowered the whole experience and potentially become too intense.
However, if you do prefer a rumblier, more powerful device, this might not be the best pick and you might be better off using something with a more powerful motor with your partner instead - like one of the rabbit vibrators on our list.
5. Lovehoney Jessica Rabbit Vibrator
Best triple-threat vibrator on Amazon
Specifications
Material: Silicone
Waterproof: Submersible
Internal or external: Both
RRP: $39.99
Reasons to buy
+
Flexible bunny ears
+
Rotating shaft
+
3 speeds and 7 patterns
Reasons to avoid
-
Battery operated but batteries not included
The Jessica Rabbit vibrator from LoveHoney is a truly unique toy and one of my favorites. It offers a unique shaft filled with rotating pearls, an upgrade from the classic flat shaft. When in use, I've found the pearls offer an added layer of sensation inside the vagina that most toys don't, massaging the inner walls of the vagina and stroking the many nerve endings inside. If you're a fan of G-spot stimulation, then this could certainly be the toy for you.
With three speeds and seven patterns in the ears as well, this rabbit vibe offers intense clitoral stimulation with manual stimulation and a buzz inside – a triple threat that's really not to be undervalued on the intensity scale.
Great for the bedroom, you can also make waves in the bathroom. Unlike many other battery-operated toys, Jessica is 100% water submersible. However, it doesn't come with batteries, so remember to stock up on AAA batteries before use. This vibe takes three.
The shaft isn't huge, which makes it an accessible toy in my books, however, the rotating beads and the sensation they offer might not be to everyone's taste. For a toy that packs a punch at an affordable price point, this rabbit is certainly worth a go.
7. Womanizer PREMIUM 2 Clitoral Vibrator
Best suction vibrator on Amazon
Specifications
Material: Silicone
Waterproof: Yes
Internal or external: External
RRP: $199
Reasons to buy
+
14 intensity levels
+
Quiet
+
Air pressure technology
+
USB rechargeable
The PREMIUM 2 is the new and improved air-pressure sex toy from Womanizer. It might be the most expensive toy on our list of the best vibrators on Amazon, but it's definitely worth the investment if you're looking for an excellent toy that'll stand the test of time and deliver A+ orgasms every time.
Much like the Satisfyer Pro 2 and the Womanizer Duo, this is a suction toy. The PREMIUM 2 has 14 balanced intensity levels that stimulate the vulva and external clitoris with air pressure that mimics suction and blowing. It also boats an autopilot mode, which when enabled, will randomly change intensity and suction mode, so if you're a fan of oral sex then this will be the pick of toys for you.
Another new and improved feature is the Smart Silence technology, in my opinion. This ensures your toy is only active when in contact with your skin, meaning it's one of the quieter toys on our list. The air pressure requires a vacuum seal to work effectively, meaning when you lift it off, it's silent, rather than noisily blowing air.
Given that it's meant for external use only, this vibe can be great for use with a partner, especially if you're looking to try something new. If you're hoping to spice things up, something like this toy can be a great and unintimidating addition.
The PREMIUM 2 is also waterproof and suction toys are great for use underwater as they don't tend to be very loud and they work just as effectively. The addition of water or just some lube can elevate the sensation these kinds of toys deliver as well. It's also USB rechargeable and small enough to travel with, so if you're looking for the best suction toy on offer and are only interested in a toy for external use, look no further. The brand describes it as "the Prada of sex toys" and they're not wrong.
How to choose the best vibrators on Amazon
Consider what kind of vibrator you want: When you're considering what vibrator to buy on Amazon, think about the type of toy you want as it can be a little overwhelming with all the choices out there. Is it a vibrator or one of the best sex toys? Before going into the buying process, consider what you want your toy to do. For example, if you want to focus on clitoral stimulation then a bullet vibrator may be better than a G-spot stimulator, for instance.
Think about the extra features: If Amazon is good for anything, it's the breadth of selection. There's every type of vibrator on there and many of them have additional features like app control, hands-free stimulation, air pulses instead of vibrators, and so on. Think about whether you'd prefer a basic vibrator or one with additional features.
Work out if the brand is important to you: If you've always been a fan of Satisfyer toys, for instance, then your best pick of sex toys may well be a Satisfyer vibe once again. Luckily, the brand is fully stocked on Amazon so you can buy what you want quickly and discreetly. However, there are also alternative brands like Womanizer, Lovehoney, and LELO so consider whether you'd also like to try something new and shop the brand's page on the site.
Set a budget and stick to it: Price is also a vital factor when it comes to quality so consider how much you're willing to spend on your new toy and stick to this budget. It can be very easy to get carried away with all the upcoming deals and spend more money than you originally wanted to.
Find out if anyone else shares your account: This is something to think about if you want to buy a vibrator from Amazon without other people knowing. While actual delivery is discreet, someone could also discover your latest purchase from your order history. So make sure you know who has access to your Amazon account and if you're nervous about this, create a new account just for you.
Do Amazon vibrators come in a discreet box?
Every delivery from Amazon will arrive in generic brown paper or cardboard packaging, even when it comes direct from the brand. The best sex toy brands know that the health benefits of using a vibrator are myriad, so they won't be putting anyone off by sending garish packages. What's inside the box, however, will be branded and the box for your sex toy will likely show the product inside – either through a transparent window or by way of an illustration. So, if you're worried about opening the discreet outer box in company, save the big reveal for a private moment.