The Satisfyer Pro 2 Air Pulse Stimulator vibrator review: is this the toy to help you finally orgasm?
The Satisfyer Pro 2 Air Pulse Stimulator uses targeted pulsations of air to create arousal, which can become highly addictive!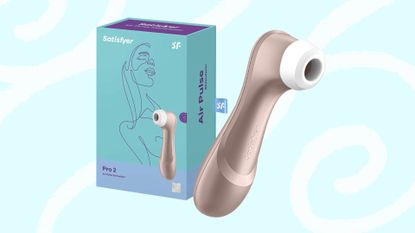 (Image credit: Satisfyer)
The Satisfyer Pro 2 Air Pulse Stimulator is a waterproof wonder buy that seems to be universally reliable when it comes to helping women to reach climax.
Reasons to buy
+

Powerful clitoral stimulation

+

Sleek design

+

Good for sensitivity

+

Ready straight from box
Reasons to avoid
-

Not unisex

-

Slightly heavier than expected

-

Loud underwater
Why you can trust Woman & Home Our expert reviewers spend hours testing and comparing products and services so you can choose the best for you. Find out more about how we test.
The Satisfyer Pro 2 Air Pulse Stimulator uses targeted pulses of air to stimulate your clitoris without making direct contact - and it's a whole new way to play. Great for a first buy or something new to add to your collection, we've tried and tested the Pro 2 from the moment it was unboxed so you can see if you think it's worth the investment.
Clitoral vibrators are among the most popular kinds of sex toys for women, delivering targeted waves of pleasure with the touch of a button. Many of them come in the form of bullets or pebbles but the Satisfyer Pro 2 looks (and feels) very different from all of the other sex toys I've seen.
To see whether the toy stands up to its impressive reputation, I put the Satisfyer Pro 2 through its paces, testing it three times for varying lengths of time, to figure out if it really is the best vibrator out there for clitoral stimulation. I also considered how it looked, how well it charged, and how much noise it made to help you figure out if this vibrator is the one for you.
Satisfyer Pro 2 Air Pulse Stimulator vibrator specifications
Material: Silicone, ABS plastic
Weight: 200g
Dimensions: 165mm x 46mm x 65mm
Charge time: 1.5 hours
Battery: Rechargeable Li-ion
Running time: Approx 90 mins
Warranty: 15-year guarantee
Waterproof: Yes
Storage: No
Who does the Satisfyer Pro 2 Air Pulse Stimulator vibrator suit?
The Satisfyer Pro 2 is ideal for those who prefer clitoral stimulation, whether on its own, as a prelude to other sexual activity, or at the same time as another type of stimulation. You can change the speed of the vibration and it starts very low but there's no getting away from it, it's very intense on the higher settings. You'll need to really want this if the Pro 2 is going to be for you. If prefer using your vibrator for a more generalized feeling around the vulva, it's probably best to go for a different toy - like one of the best wand vibrators.
While many sex toys are great to use with a partner, we think the Pro 2 is best for solo play. It has a dynamic handle that's made to fit into the curve of your hand so it's just easier to hold yourself, reaching down from above. From here, the buttons are easier to reach too. For a partner to use it on you, depending on which position you get into, they'd probably have to point it at your clitoris like some kind of temperature-checking gun, which is not massively sexy.
If you need to be discreet when you're using a vibrator then the Pro 2 is a good choice as well. It makes a quiet buzz when its first turned on and becomes increasingly louder but the vibe really doesn't make that much noise when it's in use and, from our experience, any sounds that it does make when you move it away from your body are easily muffled by a comforter or pillow.
What is the Satisfyer Pro 2 Air Pulse Stimulator like to use?
The Satisfyer Pro 2 Air Pulse Stimulator is incredibly simple to use and we found the pressure waves were so effective, giving us an orgasm and all the health benefits of using a vibrator in almost record time.
We loved that it came fully charged straight out of the box so there's no waiting around before you can use it. Shaped to fit snugly in the palm of your hand, almost like a TV remote control, the buttons on this vibrator are large, easy to find, and quick to control.
There are two buttons in total, one to turn the vibrator on and off, and one to control the speed of the vibration. There are 11 different speed patterns and no funky pattern changes to navigate with this vibrator, which is also a big winner for anyone in need of the best sex toys for beginners, and this made the vibe so easy to use. We found that starting on the low settings and building the intensity was what worked best.
At one end of the Satisfyer Pro 2 Air Pulse Stimulator is a small, funnel-like tip, which you place over your clitoris. This is where the pulsating air comes from. As waves of air create feel-good vibes instead of an oscillating mechanical part, it's very different from when you use a bullet vibrator, for instance, as nothing has to press directly onto your clitoris. This is great news for anyone who feels easily bruised when using another type of stimulator on their clitoris, wants a lighter stimulation, or simply doesn't climax when they feel pressure down below.
The speeds can pack quite a punch - we found anything over seven felt pretty intense, but having such a wide variety to choose from means you won't get bored easily. A nice part of the technology is that no matter what speed you are on when using, when you turn off the Satisfyer Pro 2 Air Pulse Stimulator it comes back on at the lowest setting, so you can build up again.
The Satisfyer Pro 2 Air Pulse Stimulator vibrator design
The Satisfyer Pro 2 Air Pulse looks, as mentioned, a little bit like a handheld temperature gauge or an otoscope - but that's why we loved it. It really looks different from the most common types of vibrators. It's not a gimmick and it's refreshing to see a sex toy not trying to replicate something phallic. Instead, we thought that the Satisfyer Pro 2 Air Pulse Stimulator vibrator felt like it was designed specifically with a woman's body and needs firmly in mind.
We tried the rose gold model but there are other colors available. All of them are metallic in shade and have a white head over the clitoris and white buttons on the body of the vibe. This toy looks more expensive than it is, thanks to the sleek design and simple magnetic charging point on the bottom of the handle, but it is a little heavy thanks to the internal battery.
Anyone not aware of the brand or this type of vibrator would probably think the Satisfyer Pro 2 Air Pulse Stimulator was a beauty tool if they saw it in your bag.
The one downside of the design is the matt finish on the rose gold. It looks stunning but the coating isn't particularly strong and we found it was very easily marked when the toy was placed on a hard or dark surface between uses. As there's no storage pound and the box is quite clunky to keep (we had to recycle ours soon after testing), our new toy has started to look a little battered in a relatively short space of time.
The versatility of the Satisfyer Pro 2 Air Pulse Stimulator vibrator
The Satisfyer Pro 2 Air Pulse Stimulator is one of the best sex toys for beginners because it's so simple to use. It targets one specific area of the anatomy, although we did also use it on some other erogenous zones like the nipples, and is supposed to replicate the sensations of oral sex. For these (amazing) reasons, it's not a particularly versatile toy.
Some people have noted on online forums that they've used the shaft for penetration but that's not suggested in the instructions, so we suggest you stay away and use one of the best rabbit vibrators if you want both a clitoral and penetrative toy.
The amount of noise the Satisfyer Pro 2 Air Pulse Stimulator vibrator makes
Satisfyer's Pro 2 Air Pulse Stimulator is quiet on the lower settings, barely emitting a rumble from the head of the toy. It does get louder though, we found, the higher you turn it up. Still, this is more of a rumble leading up to the noise an electric toothbrush would make, rather than any discernible noise.
The only exception to this is when the toy is used underwater. The Pro 2 is entirely waterproof, however, it gives off a much louder sound when it is fully submerged in the water and isn't very discreet at all. We suggest avoiding baths with this vibe where possible but sex in the shower is definitely a strong recommendation.
Battery use and charging the Satisfyer Pro 2 Air Pulse Stimulator vibrator
The Satisfyer Pro 2 Air Pulse Stimulator vibrator wins immediate points for the fact that it can be used straight away, as soon as you open the box. You'll get about 90 minutes' worth of playtime with it until the battery needs recharging via a magnetic USB lead that attaches easily to the two magnetic dots on the base of the vibrator. We actually found the vibe lasted longer than this but, to be honest, it works so quickly that you probably won't need to charge it again for a while.
If the battery does die completely, the Satisfyer Pro 2 Air Pulse Stimulator vibrator needs around 90 minutes to recharge fully.
And if you lose your charging cable, they are available to buy directly from the Satisfyer website.
Is the Satisfyer Pro 2 Air Pulse Stimulator worth buying?
The simple answer is yes, the Satisfyer Pro 2 Air Pulse Stimulator is definitely worth buying. Although other models on the market offer alternative functions like different patterns and intensities, like the new Womanizer Premium Eco, this is one of our favorites for a reason. It's so simple to use and gets the job done, which is more than we can say for many of the premium sex toys on the market. It's designed purely with the female body in mind, meaning you can focus on yourself in the bedroom. And, honestly, it's very hard not to have an orgasm using this vibrator.
Faye M Smith is an award-winning journalist with over 15 years experience in the magazine industry. Her continued work in the area of natural health won her the coveted title of the Health Food Manufacturers' Association (HFMA) Journalist of the Year Award 2021. Currently Health Editor across several brands including woman&home, Woman and Woman's Own, Faye specialises in writing about mental health, the menopause, and sex and relationships.