The Womanizer Premium Eco - are planet-friendly orgasms better?
The Womanizer Premium Eco is the revolutionary 'Pleasure Air' sex toy gone green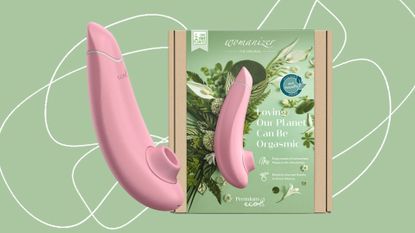 (Image credit: Womanizer)
If you care about the environment but want a sex toy that gives near-guaranteed clitoral orgasms, the Womanizer Premium Eco is for you.
Reasons to buy
+

Eco-friendly (for a sex toy)

+

Near guarantee of clitoral orgasms

+

5 year warranty

+

Long battery life

+

Replaceable battery
Reasons to avoid
-

Expensive

-

Not waterproof

-

Can't recycle or compost

-

Clitoral play only
Why you can trust Woman & Home Our expert reviewers spend hours testing and comparing products and services so you can choose the best for you. Find out more about how we test.
If you care about the environment but want a sex toy that gives near-guaranteed clitoral orgasms, the Womanizer Premium Eco is for you. It's billed as 'the world's first eco-friendly and biodegradable Pleasure Air Toy'.
It's essentially the Womanizer Premium with an eco makeover (which I'll detail later) yet it's the same price as other models. It's refreshing that they're not charging you more for caring about the environment - but then it's a pricey toy already. At the time of writing, the toy comes in at £169. Its features do differ from the regular Womanizer Premium in a couple of ways though. The most important one is that it's splashproof, rather than waterproof. So you can clean it fine, but you can't take it into the bath or shower for soapy, sexy fun time. The other difference is that it has 12 intensity levels but no 'Auto Pilot', where the toy varies the pace.
I put the rose pink toy (thankfully, it's not actually green) through its paces to determine whether it fits the bill as one of the best vibrators out there for sustainability. Is it worth the money, is it really eco-friendly, and do orgasms feel even better when you know they're planet-friendly? Here's what you need to know...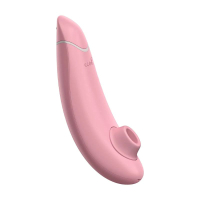 Womanizer Premium Eco specifications
Material: Biolene
Weight: 160g
Dimensions: 17 x 5 x 5cm
Charge time: 120 minutes
Battery: Li-ion, rechargeable, replaceable
Running time: 240 minutes
Warranty: 5 years
Waterproof: No, splashproof
Storage: Comes with a pouch
Who does the Womanizer Premium Eco suit?
Eco or not, the Womanizer Premium is an expensive 'air' sex toy. We've tested others that work along similar lines, such as the Satisfyer Pro 2, for a fraction of the price. But it's the original, the best, and this new model takes its environmental impact seriously.
This last point matters. If you can afford a premium sex toy, why not make sure it's planet-friendly too? After all, where do vibrators normally go to die? My local authority asks me to put small electrical 'e-waste' in a carrier bag on top of my recycling bin - but there's no way I'm going to give the garbagemen a laugh like this.
So I, like others, guiltily discard toys in general waste at the end of their life. It would be great to live in a society where you could pop them in a special box at the local grocery store, a 'dead vibes amnesty box', next to the ones for batteries and water filter cartridges like we have in the UK, but we're not there yet.
What makes this vibrator so eco-friendly?
The toy comes with a cream-colored organic cotton pouch. It also arrives in plastic-free packaging, made of FSC paper which can be recycled. And a partner charity plants a tree in Uganda for each purchase of the Womanizer Premium Eco. But what really matters is the toy itself…
WOW Tech, which makes Womanizer, champions the toy's innovative materials. Instead of ABS plastic, it's made of Biolene – a bioplastic made from 70% natural materials, mainly corn starch, making it 'biodegradable and recyclable' but that's a bit misleading. Right now, you can't just lob it in your recycling bin or composter.
The instructions explain, "Bioplastics such as Biolene are 100% recyclable but they need special recycling facilities that are not yet commonplace. Disposing of bioplastics through household waste is therefore the best and most environmentally friendly solution. Since Biolene is made from renewable raw materials, it doesn't harm the environment in the same way that conventional plastic does."
The Womanizer Premium Eco toy is designed to be opened by the user, to remove the rechargeable battery and replace it (after years of use, the Lithium Ion rechargeable will eventually store less electricity and may merit replacing, which is an easy and affordable DIY job). There's even a tool attached to the pouch. This also means that you can disassemble the toy at the end of its life and direct each element to the correct waste pile. So there's Biolene, ABS, metal, silicone, and the electronics. Of these, you should be able to recycle the metal and electronic parts. Right now, there aren't waste streams for the other materials but the toy has a lifespan of at least five years, so the idea is that those should be in place in five years.
There is one downside: it's not waterproof. It's only splashproof. If you want to take your toy into the bath or shower, look elsewhere, and you'll need to be extra careful with cleaning your vibrator because of this. The non-eco versions of the Womanizer Premium are waterproof because they're glued together.
And finally, the Womanizer's longevity must be noted. It has a five-year warranty, so at the very least you're guaranteed half a decade of thrills. Considering most toys are only guaranteed to work for a year, this is brilliant. Far more energy is used in making a sex toy than charging it, so a long life is of huge importance. All Womanizer toys have a five-year warranty, but for the above reasons, you may as well go for the Premium Eco unless you want wet play.
What is the Womanizer Premium Eco like to use?
The Womanizer Premium Eco uses the same 'Pleasure Air' technology as its non-eco toys. It's specifically aimed at pleasuring the clitoris in an innovative way that's gentle yet intense. You use it with very little physical contact by positioning the toy's oval stimulation head around your clitoris and letting the waves of air stimulate it. So it makes gentle contact with your body but it doesn't touch your clit directly.
Plus and minus buttons are easy to use and let you go up and down through the 12 intensity levels. Or press both buttons at once for 'Smart Silence' mode. Then the toy is off, and silent, unless you hold it close to your body, at which point it automatically turns (you) on.
The sensation is effective but gentle, perfect if you're a fan of the best rabbit vibrators but direct touch on the clit can be just too much. The toy comes with a medium-sized stimulation head fitted, an oval shape that suits most clitorises, and a small head in the box. You can also buy a large separately if you find you need it. They're easy to swap, though you may need to press a couple of buttons to recalibrate the Smart Silence sensor.
As the oval of the stimulation head touches the area around your clit (I'd recommend starting with a low-intensity level) its suction stimulates you in a way that feels like oral sex, and the sensation is also nice on nipples. It's not a toy designed for penetration but it's a very satisfying sensation, so effective that you'll love it or loathe it. You can get the physical release of an orgasm faster than with any other sex toy but it comes (pun intended) so easily that it arguably takes the fun out of it. If the female orgasm is a plateau of pleasure, you may want to enjoy a longer journey.
It's entirely a matter of personal taste though. If you love a quickie, or if you struggle to climax then happy day. The Womanizer (any model, Eco or not) is also a good option if you don't like penetration or too much touch. Whether masturbating or with a partner, you can enjoy a clitoral orgasm with a gentle touch that's a lot like oral sex without any penetration.
I can't say that when testing it I laid back and thought about the environment. Eco-friendly orgasms don't feel different or better mid-climax, and there are no additional health benefits of using an eco-friendly vibrator that's eco-friendly, but if you think about the environmental impact of your other purchases then why not this, the most personal of purchases? Personally, I'd have picked a black pouch that does a better job of disappearing in my sock drawer and a longer charging cable, but it's a great toy with a long warranty and I like knowing that the materials are more planet-friendly.
What are the noise and charging like on the Womanizer Premium Eco?
The USB cable for magnetic charging is short at 40cm, which might not make it from the socket to your bedside table. They say "50% less cord, 50% more material saved" but I found it inconvenient. It's definitely not the way to store sex toys and I don't want to charge an intimate toy on the floor, thank you very much.
The cord is cream-colored and braided, adding to the eco look. It doesn't come with a wall USB adaptor because it's presumed you have lots of those already – and that's a much more important material saving than lopping off half the cable, frankly.
The tip of the cable attaches to the base of the Womanizer Premium Eco magnetically. This works easily, you can't get it wrong because the magnets refuse to go the wrong way round. Charging from empty takes two hours but that's fine because a full charge gives you four hours of playtime. Considering how effective the toy is, that's a hell of a lot of orgasms. Even if you have a high sex drive and the vibe makes it onto your list of best sex toys, you won't need to charge it often.
Noise depends on which of the 12 settings you're on. The lowest is a quiet hum that would be inaudible outside the room, the highest is louder. Could you pass it off as an electric toothbrush? Yes. Could you be done in two minutes? Yes, yes, yes!
The Smart Silence sensor is also your friend here because there's no noise till it's practically touching your body. And magically, it doesn't make noise when it bumps into inanimate objects, only when it's near you.
w&h verdict on the Womanizer Premium Eco
We agree that an orgasm shouldn't cost the earth and applaud the ethos of the Womanizer Premium Eco. The materials are innovative but not biodegradable or recyclable in practice right now. But that's forward-thinking rather than greenwashing. The most eco-friendly element is that it's built to last: it has a five-year warranty and you can even replace the rechargeable battery to extend its life. It's also great that there's no price hike over the non-eco Womanizer Premium and the only thing you really miss out on is playing in the bath or shower. It's certainly one of the top luxury sex toys.
There is a market for sustainable sex toys. This one was successfully crowdfunded in just 48 hours. It really is a premium product at £169 but you get what you pay for and it offers intense and speedy clitoral orgasms. It doesn't cost the earth and pleasure-wise, it's worth every penny.
Sign up to our free daily email for the latest royal and entertainment news, interesting opinion, expert advice on styling and beauty trends, and no-nonsense guides to the health and wellness questions you want answered.
By day, Mandy is an award-winning newspaper and magazine journalist and author, who writes about consumer electronics. By night, she's our anonymous undercover reporter, a secret sex toy reviewer, putting in time between the sheets to check out which vibes are worth buying, so that you get the best. This may never win her a Pulitzer Prize, but it's consumer journalism that truly matters. After all, unlike other gadgets, you may not want to buy a sex toy, decide that it's unsatisfying, then send it back for a refund. This is one purchase where hands-on reviews really count.