Lelo Ina Wave 2: a stylish 'rabbit' toy for dual stimulation
Mandy Ruther reveals what the Lelo Ina Wave 2 is like to use and whether it's worth buying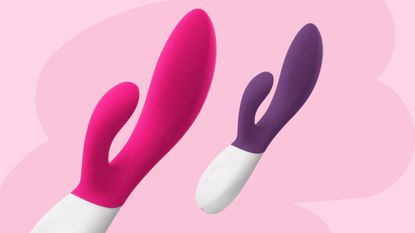 (Image credit: Lelo)
Powerful and waterproof, the Lelo Ina Wave 2 isn't quiet but it stimulates the clitoris inside and out, for effortless orgasms.
Reasons to buy
+

Double simulation

+

Waterproof

+

Easy to clean

+

Rechargeable

+
Reasons to avoid
-

Expensive

-

Not great for partner play

-

Loud
The Lelo Ina Wave 2 is the latest 'rabbit massager' sex toy from the brand that promises to stimulate inside and out. The smaller section is a vibrator that stimulates the clitoris, while the larger section slides into the vagina to stimulate internally. The official price is £179 but shop around online and it's £110-130, depending on colour.
It arrives in a black box with metallic lettering. It's classy and so is the toy itself. The original Jessica Rabbit that kick-started this style of toy is bigger and much more colorful. The Lelo Ina Wave 2 is blatantly a sex toy but with a more modern design, subtler, covered in soft silicone, and available in three matt colors.
This new contender for my best vibrator collection is USB rechargeable and comes with a cable and a plain black pouch, so it's also subtle when tucked in your bedside drawer. The Lelo Ina Wave 2 also comes with a sachet of Lelo Personal Moisturiser (read: lube). The printed instructions are minimal as they're also available in full online. You're told to charge the toy before use but mine arrived with enough charge to try it out straight away.
The dual stimulation on this new pick of the best rabbit vibrators promises a 'blended orgasm' and, if you've ever seen an anatomically correct image of the clitoris, this makes sense. Like a TARDIS from Doctor Who, it's bigger on the inside. The button on the outside that we think of as the clit is just the tip of the iceberg, as it were. The clitoris extends internally and has bulbs that surround the vagina, which become engorged when aroused. Evidence suggests that, rather than having a mythical G-spot, we have a big and beautiful organ dedicated to sexual pleasure, and it can be stimulated inside and out. This does both.
Lelo Ina Wave 2 specifications
Material: Silicone
Weight: 176g
Dimensions: 20x6.5x4.5cm
Charge time: 120 minutes
Battery: Lithium polymer; USB rechargeable
Running time: 120 minutes
Warranty: 1 year
Waterproof: Yes
Storage: Comes with a pouch
Who does the Lelo Ina Wave 2 suit?
The Ina Wave 2 is good - but it's more for individuals than partner play. Its double stimulation gets you off but it does everything you might need in the knickers department, so your partner's left feeling pretty useless. You might as well DIY.
However, if your ideal play is to use a do-it-yourself toy while having gorgeous snogs, or while your partner explores the rest of your body, who are we to judge? Go right ahead.
What is the Lelo Ina Wave 2 like to use?
The toy is covered in soft silicone that's waterproof, soft, and pleasant to touch. Controls are embedded at the white end: press in the middle to turn on and off, left and right to control the intensity level, up and down to control the motion (there are 12 settings). The latter lets you choose whether to vibrate, pulse, or have the main part of the toy move up and down – something Lelo calls WaveMotion technology and we can't help calling animatronic.
In these animatronic modes, the larger part of the toy moves inside you. The blurb says it 'simulates a finger-like motion massage' and the movement is like a beckoning finger, but it's more full-on than that. Even on a gentle setting, it's loud and powerful.
Many rabbit toys have two 'ears' on the vibrator, to stimulate around the clitoris. Instead, the Lelo's is a simple bobble, the size of a bullet vibrator. You can move it around slightly to vary things up. It's flexibly attached to the rest of the toy, so it adapts to your angles as you insert the main body of the toy into the vagina. The insertable part is 11cm long and its girth at the widest point is 11.5cm.
Unlike a clitoral vibe, it's definitely for penetration so lubrication, whether natural or bottled as one of the best lubes, matters. As mentioned above, it even comes with a sachet of Lelo Personal Moisturiser.
Lelo's combination of internal and external stimulation worked well. It adapted to our shape, let us control the position and stimulation, and gave easy orgasms. But it only really works if you want the dual stimulation. The shape means that it doesn't work as a standalone vibrator. For this, you may want to have a look at the best wand vibrators out there. If you want gentle stimulation, you can use a vibration-only setting on the Lelo Ina Wave 2 but still use the main body of the toy internally, like a dildo.
What are noise and charging like with the Lelo Ina Wave 2?
Noise is discreet when the toy is just in vibration mode but it's loud the minute you go animatronic. Someone in the next room would definitely hear it and it doesn't pass the "shrug and kid yourself it's an electric toothbrush" test. But you can stick with vibrator mode when you have guests around. It's still enjoyable.
Charging-wise, the Lelo Ina Wave 2 comes with a USB cable that plugs into a small socket at the base of the toy. While charging, the Lelo logo on the device flashes white. Charging doesn't take long and the light is solid when done. The cable is on the short side though at 50cm.
w&h verdict
The Lelo Ina Wave 2 is loud on animatronic modes but its dual stimulation works well, giving near-effortless orgasms, so you'll be louder. But that makes it better suited to solo than partner play, as it can make a partner redundant. Move over, Jessica. There's a new bunny in town!
By day, Mandy is an award-winning newspaper and magazine journalist and author, who writes about consumer electronics. By night, she's our anonymous undercover reporter, a secret sex toy reviewer, putting in time between the sheets to check out which vibes are worth buying, so that you get the best. This may never win her a Pulitzer Prize, but it's consumer journalism that truly matters. After all, unlike other gadgets, you may not want to buy a sex toy, decide that it's unsatisfying, then send it back for a refund. This is one purchase where hands-on reviews really count.