Best Kindles for digital book lovers - to help you decide which one to buy
These best Kindles offer you a whole universe of enthralling reading material at your fingertips, without having to lug around a hefty hardback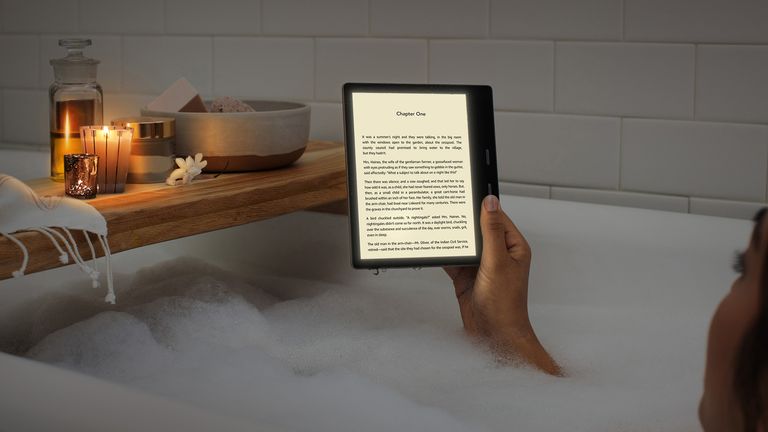 (Image credit: Amazon)
The best Kindles are a handy way to flick through your library of paperbacks - but now, they offer readers even more than hundreds of titles at your finger tips. The best eReaders come with all kinds of dazzling features - a reading light, extended battery life and even a handy Bluetooth connection. In fact, if you're on the hunt for one, these special features are now pretty much essential.
We're all well versed in the importance of finding time to disconnect from the daily grind. Some of us make take refuge in the mediative state yoga brings, while others prefer a crafty afternoon to help them relax. But, for us, escaping reality with a captivating read is one of the most effective ways to unwind.
The popularity of Kindles continues to skyrocket - as of 2018, it was reported that Amazon had sold up to 90 million Kindles so far. These nifty devices have made a name for themselves as some of the best eReaders on the market and they allow you to curl up with one of the best eBooks after another - new titles can be downloaded in seconds - and you can carry hundreds of books around with you at once. They're also versatile, whatever the weather. While tablets are backlit, lots of Kindles aren't. So you can read them reclining by the pool in bright sunshine with no issues whatsoever - even through sunglasses. You might want to purchase one of the best Kindle covers though, to ensure your device is protected for use in all climates.
Amazon is the frontrunner when it comes to the best Kindles, with an impressive range on the market. Below, we've rounded up the very best on offer right now - so you can make the right decision for you if you're planning on buying a Kindle. And if you're still unsure - see our guide in how to choose a good eReader right here.
The best Kindles as reviewed by our experts
1. Amazon Kindle
The best Kindle on a budget
Specifications
Screen size: 6-inch
Price: £79.99
Storage: 4GB
Reasons to buy
+Very affordable+Good battery life
Reasons to avoid
-Lower resolution screen-Only 4GB of storage
The entry-level Kindle that Amazon sells today is actually the 10th generation of the eReader that first appeared back in 2007. If you just want the core features at the cheapest price, then this is the Kindle to get. But while it might be the lowest price point, it's by no means a basic device. The Kindle comes with a built-in reading light, offers weeks of battery life between charges, has a glare-free display that works well under any lighting and – if you connect up Bluetooth headphones or speakers – it supports audiobooks (via another Amazon-owned brand, Audible). You can even switch between reading and listening if you want to.
So why wouldn't everyone buy this Kindle and save themselves some money? There are some areas where this Kindle cuts costs; the 167 pixels-per-inch resolution is fine but not as sharp as the other models, for example, and while 4GB is enough room for hundreds of e-books, you can get even more internal storage on the more expensive models. As a Wi-Fi-only model it means there's no downloading e-books over phone networks, though you can of course read them anywhere. If aesthetics are important to you, you have a choice of two colours: either black or white. For many people though, this Kindle will be more than good enough.
The best Kindle for most people
Specifications
Screen size: 6-inch
Price: from £119.99
Storage: 8GB or 32GB
Reasons to buy
+Excellent reading experience+Waterproof
Reasons to avoid
-Significantly more than the basic Kindle-Thick display bezels
The mid-range Kindle is the Kindle Paperwhite. Here, in return for spending a little bit more money than you would for the basic Kindle, you get some extra refinements. Those start with the screen, which is visually sharper (at 300 pixels-per-inch) and sits flush with the front of the display rather than being sunken. The display itself is still the same size as the cheaper Kindle, measuring 6 inches corner to corner. Another benefit of the Paperwhite Kindle is that it's waterproof, so you don't need to worry about dropping it in the bath or the pool.
As with the entry-level Kindle, it has a built-in reading light, but the extra LED (five instead of four) means that the Paperwhite's can be made that little bit brighter if needed. Another key upgrade is the storage – 8GB or 32GB instead of 4GB on the basic Kindle – so it may be worth considering if you want to carry around a lot of e-books, comics, and other documents around with you. It's also available in more colours than the basic Kindle (Black, Plum, Sage and Twilight Blue), and comes with the option of 4G, meaning you can download new books even when you're away from Wi-Fi. Whether it's worth the extra money depends on what you need from your Kindle.
See our full Amazon Kindle Paperwhite review.
The best premium Kindle
Specifications
Screen size: 7-inch
Price: from £229.99
Storage: 8GB or 32GB
Reasons to buy
+Very well crafted+Large 7-inch screen
Reasons to avoid
-On the expensive side-Unusual design
The Kindle Oasis is the premium Kindle - and it's the one to go for if you've got a larger budget and want the very best Kindle experience available today. Compared with the Kindle Paperwhite, it has a larger 7-inch screen but the same 300 pixels-per-inch resolution, waterproofing and flush display design. The lighting here is much more sophisticated though, enabling you to actually adjust the colour temperature of the display (from bright white to warm amber, for example) to suit your reading conditions/environment. The separate reading light can change its brightness automatically too, based on your surroundings.
The Kindle Oasis also has dedicated page-turning buttons, a rotating display and a collection of premium covers made by Amazon (although these will cost you an extra £40 plus). The storage options – 8GB and 32GB – are the same as the Paperwhite and, again, there's a 4G model if you want to be able to browse for and download new e-books when you're on the go. This model will cost you significantly more than the other two Kindles, but for serious e-book enthusiasts the Kindle Oasis manages to justify its price.
See our full Amazon Kindle Oasis review.
4. Amazon Kindle Kids Edition
The best Kindle for little ones
Specifications
Screen size: 6-inch
Price: £99.99
Storage: 4GB
Reasons to buy
+Tailored to kids+Difficult to damage
Reasons to avoid
-No apps or games-A little pricey
The name is a bit of a giveaway here; this is the perfect Kindle for your kids. As well as coming with some funky case covers – your choice of Blue, Pink, Rainbow Birds or Space Station – you also get a free year's subscription to Amazon Kids+ (usually £1.99 a month), which gives your children unlimited access to thousands of e-books. The final extra for this particular Kindle is the 2-year warranty, which means if it should happen to break – through a little bit of youthful exuberance or clumsy fingers – you can get a replacement straight from Amazon, no questions asked.
There's also a parent dashboard that you can run through the Kindle app on your phone, enabling you to check up on the reading progress of your youngsters and set new challenges for them. Essentially, beyond this dashboard, the bright colours and the Amazon Kids+ subscription, this is actually just a standard, entry-level 10th-generation Amazon Kindle. Specifically, a 6-inch, 167 pixels-per-inch screen, a reading light, 4GB of storage and everything else you would expect from an Amazon eReader on the software side. The advantage of getting one of these for your kids, rather than a tablet, is that there's no access to the web, no videos and no social media.
5. Amazon Fire 10 (2021)
Best tablet eReader
Specifications
Storage size: 32GB
Dimensions (H x W x D): 192 x 115 x 9.6 mm
Backlight: Yes
Warranty: 90-day limited limited
Reasons to buy
+Multifunctional tablet with wide variety of apps and functions
Reasons to avoid
-Shorter battery life
While this isn't technically a Kindle, it is an expansion on Amazon's range in the form of a more high-tech tablet that also has Kindle functionality.
We love that, while this tablet lets you connect to the Kindle store to download ebooks to your heart's content and read away in the compatible app, it also had a number of other apps that you can download for the ultimate entertainment hub.
However, as you're able to do a lot more with this tablet, it does also have a shorter battery life than traditional Kindle models, so you will need to make sure to keep it charged up.
Best Kindle deals
Frequently asked questions about the best Kindles
How do I reset my Kindle?
If you're coming across issues with your Kindle, you can reset your device in a few easy steps.
We'd suggest first trying to do a soft reset of your Kindle, before checking the battery and then doing a full hard reset.
Amazon customer services can also be super helpful in explaining how to reset your Kindle, so if all else fails then they would be the best people to contact.
Is Kindle Unlimited worth it?
Kindle unlimited is a subscription where you can sign up to the service for access to a whole collection of reading materials.
There is a monthly cost for the service or you can sign up to one of the subscription's various deals to try and get some money off.
And with books, magazines and audiobooks available we think it's well worth looking into. That being said, if you're a lover of the newest releases then you might not find many of your favourites on here, but they do provide a few gems - especially when it comes to thrillers.