How to reset your Kindle—3 simple solutions and what to do if it doesn't work
Here's how to reset a Kindle, because sometimes even the best ones fall victim to the dreaded curse of freezing.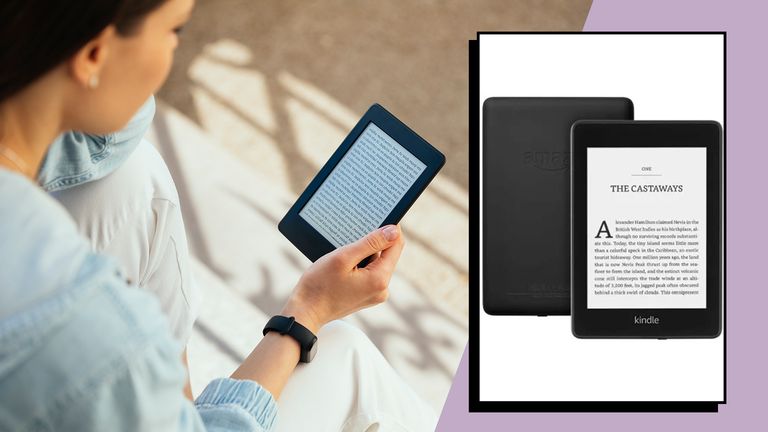 (Image credit: Future/Getty Images)
If your Kindle has gone awry, there's no need to fear. See our simple guide below on how to reset a Kindle, to get yours back up and running in no time. 
Picture the scene: you are all snuggled up on the sofa under a blanket, a mug of something hot steaming away beside you. Rain is lashing at the window, but you haven't even noticed because you're completely engrossed in your ebook, be it one of the best books of 2021, the best romance books, or the best science fiction books. The big twist you have been waiting for is about to be revealed and…. No! Your Kindle has just frozen at the crucial moment. 
A familiar occasional glitch that affects even the best eReaders, the first step to fixing it is to try not to panic. Technology, much as we love it, will sadly never be 100% reliable. And even the best Kindles and eReaders, much like mobile phones and laptops, sometimes fall victim to the dreaded curse of freezing or blacking out unexpectedly. Fortunately, however, there are a number of things you can do to reset or reboot your eReader, which should get it back to its fully functional best.
There are three options you can try for how to reset a Kindle, and a fourth solution if even these don't work. 
The three ways to reset a kindle are: 
Try a soft reset first.
Check the battery of your device.
Factory reset the Kindle.
If all else fails, contact Amazon support.
How to reset Kindle—3 options to try
1. Try a 'soft reset' first
The first and most straightforward option is to try a soft reset. Simply flip open your Kindle cover, and press and hold the power button (this is usually on the bottom of your device, but may be on the back) until a dialogue box appears or the screen goes black. Continue to hold down for a count of 40, then release. After a few seconds, your Kindle should reboot. Don't worry if the screen flashes during the process, as this is normal.
In the same way that it is important to fully shut down your desktop computer or laptop regularly, rather than leaving them in perpetual sleep mode, it is vital that you allow your Kindle a chance for a refresh every now and then. The soft reset won't wipe any of your data or mess up your settings, so it's perfectly safe to do as often as you need.
2. Double check the battery
If the soft reset doesn't work, you might need to check the charge of your device. This may sound obvious, but it is often a step that people overlook. Once you have plugged your device into a charging source, a light will appear on the bottom of your Kindle that will be green if the battery is fully charged and amber if it isn't. Making sure your device is full of juice is good practice before attempting any reset or reboot of a device from any eReader brand. 
All Kindles have a dialogue box that pops up if your battery is running low, but if you find that you are unable to charge your device, it may mean that the charging cable or the battery itself is damaged and needs fixing or replacing. 
If you suspect it's the cable, you can try plugging in with the micro USB cable that you use for your tablet or smartphone – often they are the same, and will also work with your Kindle, especially if it is a newer model. If this isn't an option, there are plenty of chargers for all models of Kindle available from Amazon and all good electrical retailers. Once plugged in, remember to look for the light, which will tell you if the device is charging correctly.
If this fails, it could be the battery that is the problem. There are a number of video tutorials online showing you how to fit a new battery yourself, but unless you are a technician, we would really advise leaving this particular task up to the experts (see step 4).
3. Factory reset your device
If your Kindle battery is fully functional and fully charged, and the device is still freezing up despite a soft reset, then it may be worth wiping the slate clean by restoring your eReader to its factory settings. If there are any glitches or bad bits of code, this is the best way to get rid of them. From the home screen of your Kindle select MENU, then SETTINGS, and from there take the option to RESET DEVICE. These steps may vary, depending on which model of Kindle or tablet you are using. Look for the three vertical dots in the top-right of your homepage if you are unsure, as these should link directly to your settings.
A factory reset essentially removes all the content from your device, but you will be able to re-download your apps, free eBooks, and your best ebook titles from the Cloud, or directly from your Amazon library. Be warned though, your WiFi connection and any parental controls you had set up will need to be entered again. 
As a side note, restoring factory settings is a handy trick to remember if you decide to sell your Kindle or give it away to someone; it enables you to present the device empty. All a new owner would need to do is re-register the Kindle to their own Amazon account.
What to do if all else fails
If you have tried all the steps above and to no avail, you may have to seek professional help through the official Kindle Digital Services and Device Support page. Here you will find a full library of help topics, forums where you can ask other Kindle users and Amazon staff for advice, plus dedicated user guides for every type of Kindle on the market. If your device is under warranty, you will be able to contact Amazon Customer Services and arrange for a local technician to carry out any repairs.
There is also an official Kindle Facebook page, which is a great community to join if you need quick help and advice from experts and users alike. You may find that you get a faster response here than you would via the main Amazon site. 
If the warranty has expired on your device, or you want a faster solution than the one Amazon is offering, you could try contacting a friendly neighborhood expert for help. Simply type 'local Kindle technicians near me' into your search engine to find out who's out there, but be sure to check their credentials and read customer reviews before you hand anything over.
Isabelle Broom is the author of eight escapist fiction novels. She won the Romantic Novelist's Association Best Contemporary Romance Novel award in 2019 and The Great British Write Off short story competition in 2015, with her winning entry, The Wedding Speech, later being adapted into a short film. 
Following a degree in Media Arts from the University of West London, she spent an eventful summer working in a bar on a Greek island, became an avid traveller, and vowed to one day write stories set in all her favourite locations around the world. Before this dream became a reality, Isabelle spent a gloriously fun 11 years working at heat magazine, 
As well as heading off on adventures abroad—a pastime she now gets to call 'research'—Isabelle is lucky enough to write book reviews and travel features on a freelance basis. To find out more about her novels—and her mildly chaotic Suffolk-based life—you can visit isabellebroom.com, follow her on Twitter and Instagram (@isabelle_broom) or search for Isabelle Broom Author on Facebook.