10 free eBooks with brilliant reviews to download on your eReader
To get you started on your quest for the best free eBooks, here are 10 titles (that received brilliant reviews) that you can download right now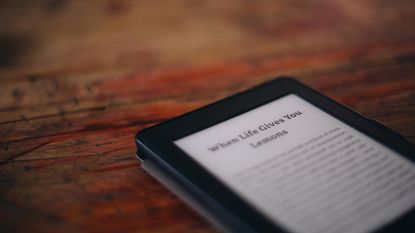 (Image credit: Getty)
woman&home newsletter
Sign up to our free daily email for the latest royal and entertainment news, interesting opinion, expert advice on styling and beauty trends, and no-nonsense guides to the health and wellness questions you want answered.
Thank you for signing up to . You will receive a verification email shortly.
There was a problem. Please refresh the page and try again.
You've figured out the best eReader (opens in new tab) for you, and want to start digging into your reading list. But, as even an eReader library can get expensive, you want to be savvy, too. You're in luck, given that there are currently around one million free ebooks available in the UK. That said, it can be tricky to know which are worth downloading onto your eReader.
Luckily, there are plenty of online resources to point you in the right direction, including Amazon's Top 100 Free chart and iBooks' Top chart. You can also sign up for free to the Kindle Daily Deals newsletter and BookBub – both of which will then send you emails containing information about price drops and promotions. If you are a member of Amazon Prime you will automatically have access to 1,000 free titles through Prime Reading, plus the option to try First Reads, while Kindle or Fire tablet owners can take advantage of the Kindle Owners' Lending Library.
It's worth checking in regularly, as publishers will usually put a time limit on a freebie offer. When it comes to the classics, locating a free title can be easy – and often when a copyright expires (70 years after the author's death) a title may become free indefinitely. A good place to start looking is Amazon's Top 100 Free Classic Fiction chart.
To get you started on your quest for the best free ebooks, here are 10 titles (that received brilliant reviews) that you can download right now.
(opens in new tab)
With more than 400 positive reviews on Amazon alone, this – the first in a series of books by Mills set in the fictional village of Tanglewood – is a tonic in these tumultuous times. The story follows patisserie chef Stevie, whose life is whipped up like one of her bowls of butter icing when her great aunt leaves her an inheritance, which she uses to open a tea shop in the Brecon Beacons. With an array of characters who are both easy to love and hate, a dishy (but grumpy) love interest (in local stable owner Nick) and plenty of entertaining antics thrown in for good measure, it's a delicious slice of light-hearted escapism.
(opens in new tab)
If you have yet to discover the number-one bestselling author Kimberley Chambers, then this could be your perfect opportunity. All of her books are set in the gritty underworlds of Essex and London's East End, and all ooze authenticity, suspense, drama and a host of unforgettable characters. Life Of Crime boasts more than 850 positive reviews on Amazon, with readers calling the crime thriller "sharp", "shocking" and "gobsmacking". No spoilers here – just know that it's well worth a download.
(opens in new tab)
Always ranking high in Amazon's Free Fiction Classics chart, The Great Gatsby is one of the all-time greatest American novels. Set in New York during the Roaring Twenties, the story is told through the eyes of young banker Nick Carraway, who becomes embroiled in the glitzy world of his neighbour, the outlandishly eccentric Jay Gatsby. Lauded for its satirical look at society, and for Fitzgerald's razor-sharp observations, there is much about this classic that still feels relevant today.
(opens in new tab)
We don't know about you, but the recent news that the sixth series of BBC drama Line Of Duty has finally begun filming has got us in the mood for a juicy detective novel. Ask No Questions, a gripping story delving deep into the shady world of police corruption, is the first in a collection of crime thrillers starring undercover detective Caelan Small. It has plenty of four-and-five-star reviews on Amazon backing it, and readers are calling the book "unputdownable". We'd say it's a freebie worth downloading.
(opens in new tab)
Who doesn't love a cosy romance set in beautiful Cornwall? Even better that this charming tale has the added bonus of a fictional vineyard. The premise of the story? After fleeing Penhallow Sands a year ago, Holly Dryden never thought she'd be back. However, that was before fate conspired to bring her life crashing down around her ears. Helping to run the family business once again, Holly realises that running away from the past is never the answer – especially when part of it is the handsome father of your child… An uplifting and poignant tale about family, love and finding your place in the world.
(opens in new tab)
An acclaimed screenwriter with TV and film credits for hits such as Cold Feet and Letters To Juliet, it's no wonder that Tim Sullivan is consistently well-reviewed on Amazon. Now you have the chance to sample some of his written work free of charge. The Dentist, the first in the author's DS Cross mystery series, follows the detective protagonist's quest to discover why a homeless man has been murdered in Bristol. Gritty, dark and satisfying, it's a real treat for fans of the genre.
(opens in new tab)
One of the bestselling writers on USA Today's book list, Leighann Dobbs has written an astonishing 15 books in the Lexy Baker Cozy Mystery series, and the first of them is currently free to download. Combining baking with super-sleuthing may not be the most obvious blend for fiction, but with more than 1,500 reviews on Amazon from satisfied readers, Dobbs is clearly doing something right. Killer Cupcakes sees Lexy joining forces with both her hunky detective neighbour and a gang of crime-solving grannies in order to catch the person who poisoned her horrible ex-boyfriend. Will she catch the killer and the man? You can find out for absolutely nothing!
(opens in new tab)
While going through her father's belongings after his death, Gina discovers evidence of a secret from his past. This triggers the decision to leave her demanding family behind in Australia and embark on a fact-finding mission to England. Meanwhile, in Blackpool, put-upon Peggy is sick of the constant verbal abuse she suffers from her husband and is in desperate need of escape. What neither woman expects, however, is the impact they will have on the other. This touching escapist read, which will appeal to fans of Patricia Scanlan and Liane Moriarty, has had a flood of wonderful reviews. Get it while it's free.
(opens in new tab)
If you're after something a little saucy, this fresh, funny (and free, natch) story about a woman who has a one-night-stand with a man who turns out to be her new employee, is about to become the easiest download of your day. The chemistry between the two lead characters sizzles, the entertaining plot gallops along and the ending will leave a big smile on your face. There are more than 150 positive reviews for this book on Amazon, and we can completely understand why.
(opens in new tab)
Chances are that you may already be a big fan of Penny Parkes' Larkford books – which follow the goings-on in and around a village medical practice. If you're not familiar with them yet, this free short story is the perfect way to dip a toe into Parkes' wonderful world. The author has created a fabulous cast of characters in a believable setting, and this delightful story more than deserves a place in your eReader library.
Isabelle Broom is the author of eight escapist fiction novels. She won the Romantic Novelist's Association Best Contemporary Romance Novel award in 2019 and The Great British Write Off short story competition in 2015, with her winning entry, The Wedding Speech, later being adapted into a short film.
As well as heading off on adventures abroad—a pastime she now gets to call 'research'—Isabelle is lucky enough to write book reviews and travel features on a freelance basis.