The best audiobooks to listen to on your commute, around the house, or on holiday
Dive into one of the best audiobooks for some escapism on the move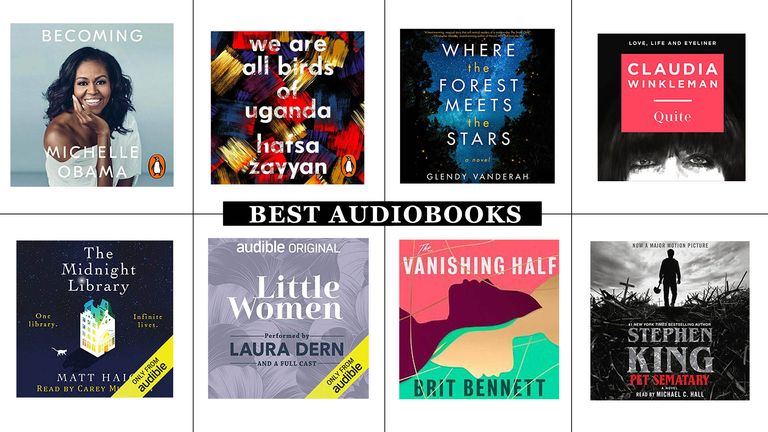 (Image credit: Future)
Downloading one of the best audiobooks is a decision you won't regret. After all, finding the time to settle down with a physical novel can be difficult during our hectic days, which is why audiobooks are such a gift.
Trying to carve out a peaceful hour—or even half an hour—in the day, when plenty of us are already busy with work life, home life, social lives, and trying to stay fit and healthy. Often, even 15 minutes of quiet alone time reading can feel nigh on impossible. But that's where audiobooks come in.
Audiobooks allow you to carry on with your everyday tasks while being able to dive into the next must-read on your list. They are a fantastic way to absorb yourself in a story without needing to stop completely if you don't want to. You can cook dinner, clean the house, get on with some work, or go on a walk, and at the same time, get to delve into the next chapter of one of the best thrillers, best romance books, or best historical fiction books.
While it's undoubtedly lovely to settle down with a paperback of the best books of 2021, or a new novel on your Kindle, audiobooks give us back the chance to read, even when we barely have a minute to sit down.
Best audiobooks
To help you figure out which audiobook to listen to next, we've picked out our selection of the best. Below, you'll find fascinating autobiographies (often read aloud by their famous authors), gripping horrors that will leave you spooked, and captivating love stories that will leave you feeling like you're watching a film.
So if you want to try out an audiobook for the first time, or are simply keen to read your next book club book as an audiobook, check out our list of the best audiobooks below...
Best audiobook autobiographies
Many of these autobiography audiobooks are read by the person who wrote them, so it's a fantastic way to read these books as they were meant to be read. From fascinating true stories of unconventional upbringings, to tales from inside The White House, you'll be hooked on their every word and every story.
---
---
---
---
---
---
---
Best audiobook romances
Reading (or listening to) an audiobook narration of a romance novel can be a brilliant way of absorbing these stories, as you listen to it as though it is a captivating romance movie. From old classics to modern marvels, these love stories are so much better enjoyed through the medium of listening.
---
---
---
Best audiobook thriller/horror
Audiobook horrors and thrillers will really bring the story to life. These picks will have you on the edge of your seat - and sometimes scared out of your wits....
---
---
---
---
---
---
---
---
Best literary audibooks
These novels cover a huge range of topics - from an enduring family story set in 1980s Glasgow to the story of the tale of two sisters in a Southern black community in the 1940s. The literary books are must-reads - ranging from important new releases to classic that everyone should tick off their list.
---
---
---
---
---
---
---
---
Best feel-good audiobooks
If you want to listen to a story that will have you giggling, weeping, and reflecting all in equal measure, these lovely - but thought-provoking - feel-good reads should tick all of your boxes. Plus, some are narrated by some very famous names...
---
---
---
---
---
---
---