21 best audiobooks to listen to throughout summer 2022
Covering a range of genres, our best audiobooks list will have you reaching for your headphones...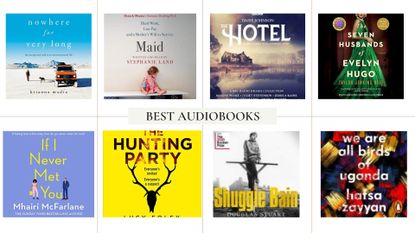 (Image credit: Future)
The best audiobooks allow you to immerse yourself in the world of a story in a way that just can't be done with a paperback, in that you can listen to a bestselling novel whilst walking, running, driving or powering through housework.
There are further benefits too; audiobooks mean we give our eyes a screen break, but the emotional and intellectual satisfaction we get from reading is still there. Researchers from UC Berkley (opens in new tab) analyzed scans and found the same areas of the brain lit up whether the participant was reading or listening to a book.
So whether the audiobooks you choose for this summer are plucked from a list of the best thrillers, the best romance books or is an entirely new genre for you, you can listen to it knowing that you're still gleaning all the benefits of reading straight from the page.
Best audiobooks: autobiographies
---
---
---
Best audiobooks: Romances
---
---
---
Best audiobooks: Thrillers and horror
---
---
---
Best audibooks: Fiction
---
Contributing Lifestyle Editor
Anna is an award-winning journalist with over 20 years experience as a writer and editor. The former Associate Editor of Stylist Magazine, Anna has also written for Elle, The Guardian, British Vogue and the New Statesman.
A self-confessed bibliophile, Anna has hosted live literature events and workshops and is also the host of new author recommendations podcast @readlikeapod (opens in new tab).