The best non-fiction books to read in 2021 packed with fascinating, real-life stories
The best non-fiction books are the perfect read when you're after real-life stories of heartbreak, hope, and happy endings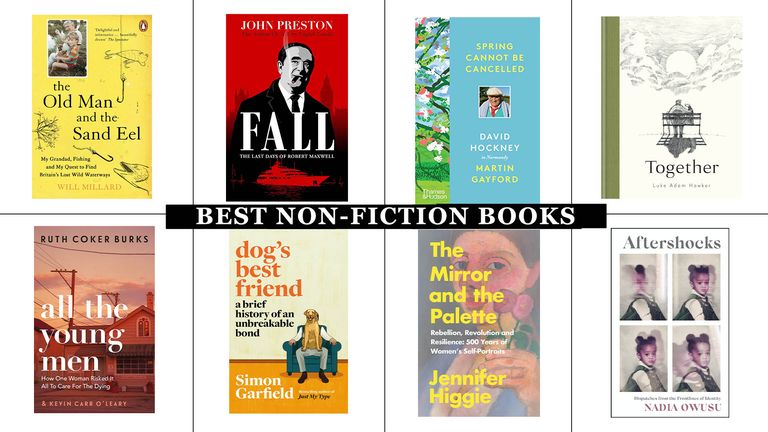 (Image credit: Future)
The best non-fiction books are just as compelling as our favorite fictional tales. While there is little more wonderfully indulgent than escaping into the pages of a novel, there is much to be said for a story that doesn't just come to life in our imagination, but is also rooted in the truth.
Human beings are curious creatures – and demonstrably very proud to be so, when you consider the popularity of the non-fiction genre. While we all love the best thriller books, the best historical fiction books, the best science fiction books, and the best romance books, we also want to hear real stories. We all want to learn and be taught, be surprised, and enthralled, challenged, and comforted. And there is perhaps a no better way of achieving all that than to delve deep into the life of another.
This collection of new, notable, and not-to-be-missed best non-fiction books offers something for every reader. In this selection, there are stories of those caring for people on Covid-19 wards, investigating a fallen hero, examining the history of female oppression through art, and unpicking the fascinating relationship between humans and their dogs. All are entertaining, all have been skillfully crafted, and all will teach you a lesson you may not even have known you needed to learn.
The best non-fiction books to read in 2021
Below you'll find the best non-fiction books from names you know and some names you may not know. But all of them tell fascinating stories - some reflecting the real-life stories behind huge world events, and others, telling the quiet, but meaningful, stories of everyday life. And it's this fact that makes them some of the best books of 2021. Now all you need to do is find your eReader, download your favorite one, and dive in...
Life In Pieces by Dawn O'Porter
Penned during the tumultuous and quite frankly terrifying 2020, this collection of musings about a year that changed us all is every bit as honest, funny, and bright as you would expect from the gloriously warm and witty mind of TV presenter and writer Dawn O'Porter. Reflecting on everything from motherhood to grief to bad hair days to hiding in cupboards, Dawn shares her innermost thoughts and feelings in a way that feels both fresh and relatable. A corker of a book. We'd go as far as to say one of the best non-fiction books out there.
---
All The Young Men by Ruth Coker Burks and Kevin Carr O'Leary
If you watched, loved –and cried your eyes out –watching the deeply affecting Channel 4 series It's A Sin, then it's likely you will find this remarkable true story every bit as moving. In 1986, young mom Ruth Corker Burks was visiting a friend in hospital when she noticed a door to one of the rooms had been painted red, and that the nurses on the ward seemed reluctant to enter. The man inside that room became the first of many that Ruth helped, supported, fed, cared for, educated, and loved as the AIDS crisis tore through her local community in the American South. It is a tale about prejudice, loss, and grief, but also one of hope, empathy, and humanity, which deserves to be read by all. An important book club book, too with plenty up for discussion.
---
Aftershocks by Nadia Owusu
Thi is one of the best non-fiction books on the theme of identity. Nadia Owusu was two when her mother fled Tanzania, leaving her and her older sister behind, and just a teenager when her much-loved Ghanaian father died of cancer. From there, Nadia felt adrift – both literally and figuratively – and she moved from country to country, mastering new languages and forging new identities as she went. Torn between who she felt she should become and the girl she remembered from long ago, it was perhaps inevitable that Nadia would eventually crack. This is the extraordinary story of what happened when she did, how she has fought to overcome it, and the lessons she has learned about the world and her place in it.
---
Breathtaking by Rachel Clarke
Palliative care nurse Rachel Clarke worked on Covid-19 wards during the first wave of the pandemic, caring for the gravely ill and acting as a conduit between those battling to survive and their anxious families. Breathtaking is her revealing and inspiring story of what it was really like to face a contagious killer from inside the UK's NHS, how staff coped with rising numbers of patients, rapidly depleting stocks of correct PPE, and the fears of those caught up in the crisis. It features testimony not only from hospital staff, but also the patients themselves as well as their loved ones, and while it is devastating, there is also much here that speaks of hope, of enduring love, and of courage in the face of devastation.
---
Fall: The Mystery Of Robert Maxwell by John Preston
Former MP and media mogul Robert Maxwell was greeted by a fanfare when he docked his yacht in Manhattan Harbour with a promise to buy and overhaul the New York Daily News. Just 10 months later, he would be dead, his body discovered in the water surrounding the Canary Islands. Having escaped persecution by the Nazis in Czechoslovakia and gone on to become a successful politician and businessman, Maxwell's popularity was a given in the early days of his career, but somewhere along the line, things went wrong, and only after he died did the full extent of his debts and dodgy dealings come to light. This insightful book dives deep into the life and untimely demise of a man who went from hero to hated and attempts to draw out the reasons why.
---
The Mirror And The Palette: Rebellion, Resolution and Resilience: 500 Years Of Women's Self-Portraits by Jennifer Higgie
Art critic Jennifer Higgie has created a masterpiece of her own within the pages of this rich, celebratory tome, which examines a cross-section of female artists spanning back across the past 500 years. Through a series of self-portraits, the reader is introduced to women who were brave enough to defy convention, those who pushed the boundaries of creativity, and others for whom art meant adventure or led to tragedy. Illuminating and captivating, this is a sumptuous and vital read for all lovers of art.
---
House Of Glass by Hadley Freeman
Waterstones Non-Fiction Book of the Month in March 2021, House Of Glass begins with its author Hadley Freeman discovering a shoebox full of secrets in the back of her French grandmother's closet. What follows is a decade-long hunt for the truth about Sala Glass and her siblings, Henri, Jacques, and Alex, which took Freeman from Paris to a remote farmhouse in Auvergne, to Long Island and Auschwitz, as she pieces together the clues left behind in photographs, letters, and an unpublished memoir. One of the best non-fiction books we've read.
---
The Old Man And The Sand Eel by Will Millard
TV presenter and adventurer Will Millard grew up in the Cambridgeshire fens and spent much of his childhood fishing the rivers with his grandfather. Taught to appreciate the simple pleasure of sitting serenely by water with a line in hand, Will nonetheless found himself hooked by the urge to catch bigger and more showy fish – a decision that eventually led him away from the banksides of his youth. Until one day, when he let a rare sand eel slip – quite literally – through his fingers and realized he had lost sight of what mattered. Part-memoir, part-ode to the beauty of the wild British Isles, this book is a joyful testament to Millard's talent as a storyteller.
---
Together by Luke Adam Hawker
Charlie Mackesy's The Boy, The Mole, The Fox And The Horse was one of the bestselling books of recent years, and this new illustrated tome is every bit as poignant and thought-provoking, which is why it makes a worthy entry on our best non-fiction books list. It follows a man and his dog as they navigate a storm, tackling danger, separation, and their fears to tell a tale of courage, self-acceptance, and survival. A charming addition to any coffee table that would also make a wonderful gift for a friend.
---
One: Pot, Pan, Planet by Anna Jones
Subtitled 'A greener way to cook for yourself, your family and the planet', this cookery book is chef Anna Jones's fifth since the ground-breaking A Modern Way To Eat, and it does not disappoint, which is why it also made our selection of the best cookbooks. With her firm goal in mind to minimize waste and maximize taste, Anna has concocted over 200 simple-to-make vegan and vegetarian recipes inspired by cuisine from all across the globe. The great thing about this cookbook is not simply the recipes – which are delicious and nutritious – but the ease with which everything can be prepared, be it in a single tray, pot, or skillet. A bookish treat to self that you can feel genuinely good about.
---
Dog's Best Friend by Simon Garfield
The relationship between people and dogs can be traced through history about as far back as it's possible to go – and that is exactly what author Simon Garfield has done here, as he attempts to unpick why and how canines have become our most loyal and treasured companions. Starting with ancient cave paintings and taking the reader on a journey from Buckingham Palace to the Soviet space program before heading into the genome lab, the book invites testimony from breeders, psychoanalysts, and pooch lovers the world over in its quest to work out the secrets behind the astonishing human-and-beast bond. A joy!
---
Spring Cannot Be Cancelled: David Hockney In Normandy by Martin Gayford and David Hockney
Renowned painter David Hockney was practicing the art of social distancing long before the global pandemic came along. Upon turning 80, he had swapped the bustle of urban life for an altogether quieter pace at La Grande Cour, a rustic Normandy farmhouse surrounded by a lush, verdant landscape, where he set out to paint the arrival of spring. Talking here to his long-time friend and collaborator Martin Gayford, Hockney shares examples of his new work alongside musings about his life, his passions, and what he has learned about the importance of returning to nature for inspiration.
---
Isabelle Broom is a bestselling author and lifestyle/books journalist. After 12 years at heat magazine, she set off on her freelancer writing career, and has now penned over nine hit novels. She is a regular contributor to woman&home, sharing her expert insight on the latest book releases—from fiction to fantasy—and when she's not pouring over novels (either writing or reading them), you can find her out walking her two adorable dogs in the Suffolk countryside.