The best mystery books—full of secrets and intrigue—to read in 2021
The best mystery books cover tales of crime, betrayal, and detective work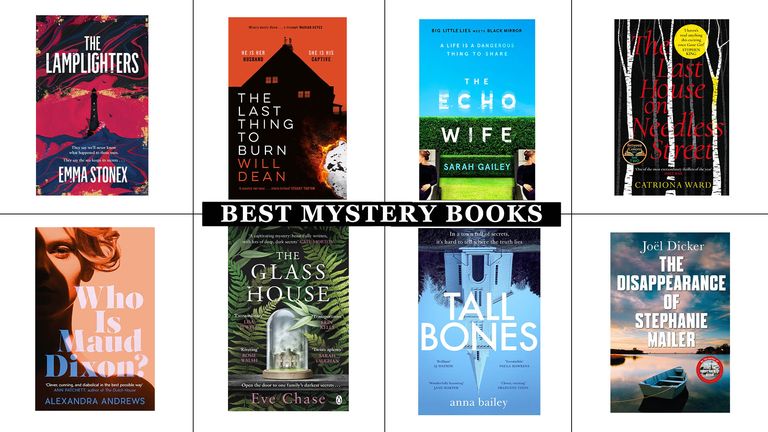 (Image credit: Future)
The best mystery books both scare us and satisfy us in equal measure. After all, seeking reassurance from fear is something we can all relate to. 
And just as we were soothed by the lovely outcomes of fairy tales in our youth or the best romance books into adulthood, so we search for more stories as adults that will confirm what we hope to be true: that mysteries will be solved and normality will resume. 
It is no surprise, then, that whodunnits, whydunnits, and what-the-heck-dunnits continue to dominate the best selling book charts. Because no matter how macabre a tale might be (and a few on this list truly are), we can be sure that by the time the final page is turned on our best eReader, we will have all the answers – and perhaps have learned an important lesson along the way.
The best mystery books to read in 2021
There has never been a more pertinent time to lose yourself in one of the best mystery books, and these spring titles offer everything from ruthless ballerinas to dark family secrets, missing teenagers to modern retellings of Gothic classics, clone scientists, people trafficking and bodies buried in back gardens. Take your pick and start devouring, because these standout stories deserve your undivided attention.
---
Watch Her Fall by Erin Kelly
From the million-copy bestselling author of He Said She Said comes to this hugely ambitious and utterly mesmerizing thriller set in the ballet world. Ava Karilova has worked hard and sacrificed everything to claw her way into every ballerina's most-coveted role – Swan Lake's Odette and Odile. To everyone around her, from her Russian father Mr K to the terrifying director of the London Russian Ballet Company where she's based, Ava is faultless and more than deserving of her success. But not everyone in Ava's life wants to see her star rise, and they will stop at nothing to pull her down…
---
The Glass House by Eve Chase
When the Harrington family discovers an abandoned baby in the Forest of Dean, they decide to keep her a secret and raise the child as their own. Within days, however, a body turns up in the grounds of their remote manor house, shattering the fragile bonds between them. Years later, Sylvie ventures into the same woods seeking answers about her past – but is she ready for the truth to be revealed? Set between the 1970s and the present day, The Glass House is a riveting and richly atmospheric mystery - and one of the best thrillers - and well-deserving of its status as one of Amazon's bestselling lockdown titles.
---
Tall Bones by Anna Bailey
This spellbinding and darkly beautiful novel is set in the small US town of Whistling Ridge, where murky secrets and resentments fester below a façade of community camaraderie. When 17-year-old Emma leaves her best friend Abi at a party in the woods, the last thing she expects is never to see her again. Someone must know what happened that night and all those close to the missing teen are under suspicion – Abi's older brother Noah, who she betrayed, her younger sibling Jude, who's hiding long-buried pain, and her devout parents Dolly and Samuel. Then there's mysterious outsider Rat, whose arrival in the town has both unsettled and excited its residents. Intricately plotted and exquisitely written, Tall Bones is a stunning debut.
---
The Last House On Needless Street by Catriona Ward
With critics and authors, the caliber of Stephen King lining up to heap praise never has the phrase 'believe the hype' felt more potent than it has for this extraordinary novel. The Last House On Needless Street will lure you in with pure creepiness and hold you there in breathless wonder as the story unfurls. On the surface, it is about a woman who moves in next door to the man she believes took her six-year-old sister years before, but it is so much more than that. Told through multiple narrators – some of whom may not be reliable – this is a confounding yet compulsively readable story that you will never forget.
---
The Lamplighters by Emma Stonex
Cornwall, 1972. Three keepers disappear from a remote lighthouse far from shore. The door is locked from the inside, the clock has stopped and a ferocious storm has been noted in the log despite skies being clear all week. Nobody can work out what happened or why. Twenty years later, a writer approaches the wives of the three missing men and offers them the chance to tell their side of the story. But are they strong enough to face their deepest fears?  One of 2021's most-anticipated novels, and a fabulous book club book, this chilling and atmospheric story more than delivers on its promise.
---
The Disappearance Of Stephenie Mailer by Joel Dicker 
The newest novel from the author of the international bestseller The Truth About The Harry Quebert Affair tells the tale of a missing journalist, a cold case, and a quiet seaside town hiding dark secrets. In the summer of 1994, a couple of rookie police officers crack the case of two brutal murders and arrest the killer, earning themselves promotion and the respect of their peers. Fast-forward 20 years and journalist Stephanie Mailer contacts one of the same officers to say she thinks he made a mistake, and that the real murderer may still be at large. Before she can provide any details, however, Stephanie disappears. Clearly, someone does not want the truth coming out, but of course, there is far more to the story than first meets the eye. A smart and twisty page-turner.
---
 Every Vow You Break by Peter Swanson
Brutal and unrelenting, this thriller follows newly-married Abigail Baskin as she's swept off on honeymoon by her husband, Silicon Valley billionaire Bruce Lamb, to a luxury resort on a remote island belonging to his friend. It should be the fairy-tale romantic vacation Abigail has been longing for ever since her whirlwind love story began, but then she recognizes someone. A man. The very same man who seduced her at the hen party only a few weeks ago. What is he doing there? And, more importantly, how can Abigail make sure her husband does not find out what happened? A suspenseful must.
---
The Wife Upstairs by Rachel Hawkins
Described as a 'retelling of Jane Eyre with a modern, noir twist', this New York Times bestseller is one to devour in a single sitting. When down-on-her-luck dog walker Jane meets handsome Eddie Rochester, she is immediately seduced by his wealth and power. A romantic figure, Eddie has lived alone in his vast mansion ever since his wife died, and to Jane, he seems to offer everything she needs – security, excitement, love. But there is something Eddie is hiding about his life, and that of the wife he professed to adore, and it's not the big reveal you might be expecting…
---
Who Is Maud Dixon? by Alexandra Andrews
Aspiring author Florence Darrow is determined to make a name for herself, so she jumps at the chance to become an assistant to the mysterious Maud Dixon – a celebrated novelist whose identity is a closely guarded secret. Before long, the two of them are off on a research trip to Morocco, and Florence finds herself living the creative and wonderfully immersive life she's long dreamed about. Until one morning, when she wakes up in hospital having narrowly survived a car crash and with no idea who was driving or where her elusive boss has gone. With Maud Dixon out of the picture and presumably not writing, however, could it finally be Florence's time to shine? A fast-paced and endlessly enjoyable mystery.
---
The Echo Wife by Sarah Gailey
Looking for one of the best science fiction books wrapped up in a mystery? Look no further. Award-winning scientist Evelyn Caldwell is supposed to be celebrating her recent breakthrough, but instead, she is brooding over the loss of her husband, Nathan. He has left her for a younger, better, newer woman and the two of them are having a baby – but it is not purely this that is disturbing Evelyn. It is the fact that this woman is extremely familiar, that she is altogether too close for comfort, and that by rights, she should not even exist…Gloriously inventive and full of surprises, this psychological thriller/mystery is as much a story about womanhood, family, and expectation as it is a sci-fi edged foray into a disturbingly plausible future.
---
The Coffinmaker's Garden by Stuart MacBride 
A storm is lashing against the shores of a village in the Scottish Highlands, and as the edge of coffin-maker Gordon Smith's garden begins to crumble into the sea, the truth of what lies buried beneath the earth is revealed. Just how many bodies there are and what this means is up to ex-Detective Inspector Ash Henderson to discover, but will he find the truth – and the right killer – before anyone else ends up dead? Stuart MacBride's taut pace, whip-smart dialogue, and fiendish plots have long marked his books out as unmissable, and The Coffinmaker's Garden is another outstanding example of his craft.
---
The Last Thing To Burn by Will Dean
You will not so much read as breathlessly inhale this standalone novel from the author of the Tuva Moodyson mystery series. Set in a remote farmhouse somewhere in the middle of England, it tells the story of a married couple "Jane" and Lenn. He tends to the land and looks after the pigs, while she cooks, cleans, and plots her escape. That is because Jane's real name is Thanh Dao. She is a victim of trafficking, sold into a life of slavery, fear, and unimaginable cruelty. What happens over the course of this book will haunt you long after you finish reading it. Brilliant - and one of the best books of 2021.
---