The best UK lighthouses to inspire your next holiday
The majesty and mystery of UK lighthouses can provide a magical backdrop for your next holiday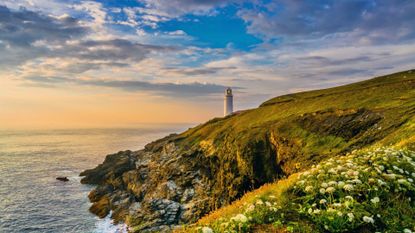 (Image credit: Getty)
woman&home newsletter
Sign up to our free daily email for the latest royal and entertainment news, interesting opinion, expert advice on styling and beauty trends, and no-nonsense guides to the health and wellness questions you want answered.
Thank you for signing up to . You will receive a verification email shortly.
There was a problem. Please refresh the page and try again.
UK lighthouses are steeped in mystery and intrigue. From Lundy South Lighthouse at the mouth of the Bristol Channel, to the mysterious Flannan Isles Lighthouse in the Outer Hebrides, you can discover some of history's greatest treasures if you just take the time to weave a visit into your next trip's itinerary.
Some of the best UK staycations have these majestic UK lighthouses right on their doorstep. Whether that be land lights that still illuminate the waters just off the best beaches in Devon and Cornwall, or old lighthouses overlooking some of the best beaches in Scotland.
Here, writer Emma Stonex, author of the novel The Lamplighters, a fictional tale inspired by real events about the unresolved fate of three Cornish lighthouse keepers who vanished in 1972, shares her passion and fascination for these unique and mystical structures; picking the lighthouses in the UK she loves the most...
The best UK lighthouses to visit
There's something about lighthouses. Land lights carry the romance of solitude and times gone by, while the majestic sea towers—those columns standing straight up out of the water—appear haunting and melancholy. Many times, I've stood on a promontory looking out at the ocean and wondered what that life would have been like. How did these lighthouse keepers survive it, and how did their families manage ashore?
As well as enjoying their connotations of mystery and tranquillity, I'm amazed at the ingenuity with which these UK lighthouses were conceived, as far back as the seventeenth century. Picture a slab of rock miles from land, beaten by waves, slapped by a vicious sea, then the nerve and tenacity it would have taken to build there with the tools of the day, prey to the whim of the weather, and once finished watch years of toil topple in a storm.
Despite numerous setbacks, lighthouses remained incredibly important, even when these stations took two centuries to perfect. Lighthouses save lives. They are beacons of hope and humanity, of safety, of the importance of putting light in dark places. In today's changing world, their symbolism means more than ever before.
1. Lundy South Lighthouse (and Lower Light), Bristol Channel
A gorgeous example of a rock light, Lundy South is one of three UK lighthouses on this small island in the Bristol Channel: there's another on the north coast (less than three miles away). There's the disused Old Lighthouse, which visitors can climb to get an idea of the narrow confines of these structures, and also, in this case, a sense of ghostly abandonment. I visited Lundy years ago and have never forgotten it. It's like time travel. One shop, one pub, a small collection of lodgings, and the MS Oldenburg ferry sailing to and from the mainland three times a week.
Walking: Lundy island's coastal footpath has magnificent sea views and look out for sika deer, goats and puffins. Full circle, it's 7.3m (11.84km) long and takes you past Britain's highest lighthouse.
2. Portland Bill Lighthouse, Dorset
Located on the Isle of Portland in Dorset, the Portland Bill Lighthouse is, for me, one of the most attractive UK lighthouses. I have a model version on my windowsill at home, although my three-year-old daughter recently snapped off the gallery rail. A relatively young lighthouse, she boasts amazing views of the English Channel and the dramatic Jurassic Coast. There's an opportunity to holiday in a cottage at the Old Higher Lighthouse, on the same island, and visit Portland Bill in the day, or alternatively take a break in one of the best hotels in Dorset and make the lighthouse a day trip.
Walking: A 3.5m (5.6km) gentle walk begins at the car park at Portland Bill and takes you around the southern tip of the island.
3. Bull Point Lighthouse, Devon
On the beautiful North Devon coast, not far from the picturesque resort of Ilfracombe, this unassuming land light holds a special place in my heart. I stayed there in keepers' cottages while writing The Lamplighters and it gave me a strong sense of the day-to-day life of families in the service. The location is so remote, as close to the sea as it is possible to be, down a narrow, winding track a mile from the village. The spectacular sea view is hugely liberating. At night, the lighthouse beam sweeps across your bed and seeps into your dreams.
Walking: Breath in the views of rocky headlands and sandy bays on this often deserted stretch of the coastal path. A 6m (9.6km) challenging walk from Mortehoe, near Woolacombe, towards Bull Point should take you around three hours.
4. The Needles Lighthouse, Isle of Wight
My grandma lived on the Isle of Wight, so the Needles is one of the first UK lighthouses I came across as a child. Its distinctive broad red-and-white stripes are matched by its unique location, at the tail end of a prehistoric spine of jagged chalk cliffs. Stay in nearby Alum Bay for excellent views across the Solent (and equally excellent ice cream). Visit the old and new military batteries on a walk down to the lighthouse, where, on a fine day, you'll see dazzling sunlight glimmering off the white rock—also a great place for nordic walking. There's also a wonderful 1940s-style tearoom with sea and lighthouse views.
Walking: The path along Tennyson Down provides a great view of the Needles. The 7m (11.2km) trail is challenging, but the sea views and the wildlife – including a peregrine falcon if you're lucky – will be reward enough.
5. Trevose Head Lighthouse, Cornwall
While researching The Lamplighters, I visited the Bedruthan Steps on the Cornish coast with a friend. It was wildly atmospheric, not least because we were engulfed by sea mists during our stay and out walking could scarcely see our own feet. One afternoon we ventured to Trevose Head, which was shrouded in fog. We didn't spot the lighthouse until we were right on top of her, a sheer white wall soaring up into a steaming sky, but we heard her foghorn from miles away. There was an eerie brilliance in following this ever-loudening siren on a path we couldn't make out. It captured the lonely soul of lighthouses in such a vivid and memorable way.
Walking: A 6.1m (9.7km) walk right past the lighthouse takes the coastal path from Constantine Bay. The easy to moderate route passes around Trevose Head to reach Padstow lifeboat station.
6. Eddystone Lighthouse, Cornwall
Twelve miles south of Plymouth Sound lies a treacherous reef responsible for wrecking many a vessel. The Eddystone tower we see today is the fourth built on that site, the remains of the third, colloquially known as 'Smeaton's Stump', standing alongside like a nervous younger brother. Like all the sea towers in England and Wales, Eddystone's interior is accessible only by permission of Trinity House (Scotland's lights are cared for by the Northern Lighthouse Board). Nowadays, there's a helipad on top so mechanics and other visiting personnel can land safely.
Walking: For a bird's eye view of the coastline, take the 2m (3.3km) circular path from Rame Head chapel car park. Eddystone should just be visible. This short loop has some ups and downs but is classed as easy and there's terrific bird watching to be had if you're after a great nature holiday in the UK.
7. Wolf Rock Lighthouse, Scilly Isles
The Wolf Rock sits eight nautical miles from Land's End and more than double that distance from the Scilly Isles. There is such barren wonder about the Wolf, in being so extreme and remote. Her name derives from the wind making a howling sound as it ricochets through the cracks in the rock. On a clear day, the tower is just visible from Land's End, a slender vertical vanishing in haze. This is without a doubt one of the most iconic UK lighthouses to visit.
Walking: The light from Wolf Rock can be seen from Land's End by day and night. This 3.9m (6.3km) easy to moderate walk follows the coast between Pordanack Point and Pedn Men Du, offering great views of Land's End in both directions.
See our guide to Isles of Scilly hotels and accommodation for tips on where to stay.
8. Flannan Isles Lighthouse, Outer Hebrides
Situated on the remote island of Eilean Mòr in the Outer Hebrides, this desolate light is the home of the true story that inspired The Lamplighters. In December 1900, three keepers manning the lighthouse vanished without a trace. To this day, nobody knows what happened to them. With respect to those men and their families, I've changed details in my novel, but the premise and atmosphere are the same. Visitors to Eilean Mòr claim to have witnessed three dark birds circling the lighthouse; others that they have seen strange lights in the sky above the tower. Was a supernatural element at play in the disappearance of the keepers? Or is this an embodiment of the mystique we bestow on UK lighthouses, as structures that will never fully reveal their secrets?
Walking: It's a bit of a trip to the Outer Hebrides, no matter where you're travelling from, so make a journey of it and rent a luxury campervan to get you there. Then, to reach the uninhabited Flannan Isles, hop aboard a charter boat out of one of the Outer Hebridean harbors. Once on land, you'll find wonderful wildlife – and look out to the Atlantic too, as whales and dolphins sometimes swim by.
Words by Emma Stonex.
View The Lamplighters by Emma Stonex on Amazon (opens in new tab).
Digital Editor - Woman & Home
An internationally published digital journalist and editor, Rachael has worked as a writer and editor for both news and lifestyle websites in the UK and abroad including Metro UK, Homes & Gardens, Ideal Home, GoodTo.com, honey.nine.com.au and body+soul.
Rachael's published work covers a broad spectrum of topics and she has written about everything from the future of sustainable travel, to the impact of the coronavirus pandemic on the world we live in, to the psychology of colour.