The Handmaid's Tale book vs show—these are the key differences you might have missed
There are so many The Handmaid's Tale book vs show differences you never knew about...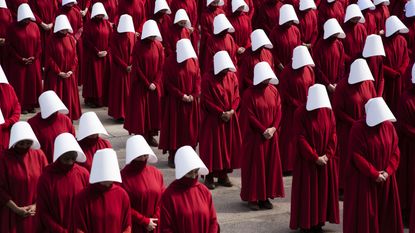 (Image credit: Getty Images)
The Handmaid's Tale book vs show differences won't be clear to everyone who's hooked on the hit drama, but the brilliant Hulu series has made some pretty major changes to Margaret Atwood's novel if you know where to look.
With filming delayed due to the Covid-19 pandemic, there had never been a better time to find out how to watch The Handmaid's Tale and catch up on all the dark plot twists and emotional moments you've missed. Three episodes have already been released from the new series that has everybody talking. The excited fan reaction to The Handmaid's Tale season 4 was huge as they tuned in to learn June's fate after *that* Handmaid's Tale season 3 finale.
While some die-hard fans might have also used the opportunity to re-read Canadian author Margaret Atwood's acclaimed 1985 book of the same name. The hit Hulu show was adapted from Atwood's The Handmaid's Tale novel. Along the way, the show often deviated from the book, though show-only fans might not realize exactly how significant some of these changes are.
Here we reveal the biggest The Handmaid's Tale book vs show differences that you might never have spotted before…
We never learn Offred's real name in The Handmaid's Tale book
Perhaps the biggest The Handmaid's Tale book vs show difference of all is the fact that the Hulu Original series reveals protagonist Offred's real name in the very first episode. In the show, she's known to fans as June Osborne, but in Margaret Atwood's book, this crucial detail is never revealed. Given the name Offred, because she is the property 'of Fred', this dehumanizing name remains the only identifier the character has in the novel.
This is a deliberate choice by Margaret, who went on to explain in a piece for The New York Times that she didn't originally intend for June to be her name, but that she's happy for readers to think this as it fits. The theory was inspired by a book scene where several handmaids are talking in the dormitory and their real names are whispered amongst them. Of these names, 'June' is the only one that never appears again.
The show chose to align with this theory and showrunner, Bruce Miller, previously discussed this on Insider's Showrunners podcast. "I had read that so long ago that I had always assumed her name was June", he revealed. "I just thought that was her name, so I just used it not knowing whether Margaret intended it or not."
However he chose to give her a name in any case, stating: " [I]t's an important thing that she has a name because part of the show is that she's not going to let that go".
Gilead is much more diverse in the show
In The Handmaid's Tale book, the ruling classes have separated people of different races in Gilead and anyone who isn't white has been "resettled". This is likely another way Margaret is showing the totalitarian, horrific society of Gilead and inspiring readers to want to see the current ruling order overturned.
However, the show chose to turn their backs on this completely. According to TIME, Bruce Miller has spoken of how he felt the change was necessary, stating: "That was a very big discussion with Margaret about what the difference was between reading the words, 'There are no people of color in this world' and seeing an all-white world on your television, which has a very different impact."
"What's the difference between making a TV show about racists and making a racist TV show where you don't hire any actors of color?" he continued.
The Handmaid's Tale show instead includes many characters who aren't white, including June Osborne's husband Luke and her best friend Moira.
We never learn Fred Waterford's last name in the book
Yet another The Handmaid's Tale book vs show difference is that it's not only Offred's name that's never mentioned in the novel. Neither is her master Fred's last name. In fact, he is primarily referred to as 'Commander', though from Offred's name it can be deduced that he is called 'Fred'. This adds to the sense of dehumanization that has come to characterize Gilead in the novel, but in the show his surname is given as 'Waterford'. In the show it also makes it clear that Commander Fred Waterford was heavily involved in the formation of the new government.
The Handmaid's Tale show modernizes aspects of Gilead's society
Margaret's The Handmaid's Tale book is set in a dystopian near-future society, though the show chose to bring in many elements that feel contemporary. This includes references to Uber and cell phones and Margaret acknowledged in an interview with TIME that when she was writing the original book, things were very different.
"Although I was setting it in the future when I was writing it, I didn't know anything about the future. I wrote that thing on an old typewriter in Berlin. We didn't even have personal computers yet," she explained.
This The Handmaid's Tale book vs show change definitely gives the adaptation a more realistic edge to it as it depicts a future society that is chillingly close to home in many ways.
The Handmaids' trackers don't exist in the book
This decision to modernize the Gilead setting slightly in The Handmaid's Tale show also lead to the invention of the trackers given to Handmaids. In the books they are given a tattoo on their ankle instead, though in the show, they each wear a red tag on their ear which has a corresponding identification number.
This updated technology creates an increased level of fear for the audience watching the adaptation, as it's immediately clear exactly how trapped the Handmaids are and what fate would befall them should they try and escape.
Offred never took part in any protests pre-Gilead in the book
In The Handmaid's Tale book, Offred reflects on how Gilead came to be established in what was the United States and reveals there were protests and marches organized against it after changes started to be made. Though these were violently suppressed and it's suggested that Offred never participated herself in any of these, afraid that she, her husband and daughter could end up losing their lives. However in the show, June/Offred does take part, with a flashback scene showing her protesting with Moira, before officials begin to fire at the assembled crowd.
Janine doesn't lose her eye in the book
Show-only fans of The Handmaid's Tale might be shocked to discover that the horrific plotline that saw Janine losing her right eye in the first episode never happened in the book.
Whilst in the book, Handmaids are punished if they resist during their "training" in the Red Center, a primary character is never referenced as having lost an eye. However it certainly sets out the law of this twisted land in the show and Janine serves as a constant reminder of the oppressive society they are living in and the consequences of their actions.
But whilst there are some pretty significant The Handmaid's Tale book vs show differences, that doesn't stop fans from enjoying them both in equal measure!
Emma is a Senior Lifestyle Writer with six years of experience working in digital publishing. Her specialist areas including literature, the British Royal Family and knowing all there is to know about the latest TV shows on the BBC, ITV, Channel 4 and every streaming service out there. When she's not writing about the next unmissable show to add to your to-watch list or delving into royal protocol, you can find Emma cooking and watching yet more crime dramas.