How to watch The Handmaid's Tale Season 4 online from anywhere in the world
The Handmaid's Tale Season 4 is well underway and we couldn't be more thrilled to have it back on our screens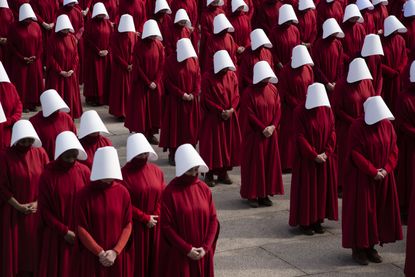 (Image credit: Getty Images)
woman&home newsletter
Sign up to our free daily email for the latest royal and entertainment news, interesting opinion, expert advice on styling and beauty trends, and no-nonsense guides to the health and wellness questions you want answered.
Thank you for signing up to Woman & Home. You will receive a verification email shortly.
There was a problem. Please refresh the page and try again.
The Handmaid's Tale season 4 may have kept fans waiting with anticipation for months, but now the hit drama is back on our screens and we couldn't be more excited.
Based on the bestselling novel of the same name by acclaimed Canadian author Margaret Atwood, The Handmaid's Tale season 3 concluded with a shocking finale that left many fans in floods of tears. Although filming was unfortunately delayed due to the Covid-19 pandemic, the showrunners soon came through for fans—and it looks like The Handmaid's Tale season 4 could be the best yet.
With so many questions needing to be answered and plotlines to be resolved, there's never been a better time to immerse yourself in the dystopian drama. Here's where and how you can watch The Handmaid's Tale season 4 online across the world...
How to watch The Handmaid's Tale season 4 in the US
The Handmaid's Tale season 4 has already released the first three episodes on streaming service Hulu for US fans to enjoy. And if you've yet to experience the hit show's drama, tears and tension, you can also use the service to get up to speed on everything you've missed, with seasons 1-3 available over there. If you already have a Hulu subscription, then things just got a whole lot easier for you to enjoy this binge-able show, but if not, this starts from $5.99 a month.
You can also get a free trial for one month before you sign-up to see if Hulu's right for you.
How to watch The Handmaid's Tale season 4 in the UK
Though several episodes of The Handmaid's Tale season 4 have been already released on Hulu, Channel 4 is the home of the hit drama in the UK. Having aired all three previous seasons of The Handmaid's Tale it seems pretty likely they will be showing season 4 at some point soon. When exactly this will be has sadly not yet been confirmed by Channel 4, though when season 3 launched in the US in June 2019, it went on to air in the UK just days after, so it could be UK fans won't have as long to wait as they imagine.
Despite the huge range of shows available to watch on their video-on-demand platform All 4, though, The Handmaid's Tale is not currently one of them, so you won't be able to catch up on your favorite drama this way.
Is The Handmaid's Tale on Amazon Prime?
For anyone who just can't wait until The Handmaid's Tale season 4 finally gets a UK release date, seasons 1-3 are currently available to watch on Amazon Prime Video if you have a subscription to their streaming service. An annual Amazon Prime membership is £79, while a monthly Amazon Prime membership is £7.99 a month. Or, you can get a 30-day Amazon Prime free trial and binge-watch to your heart's content.
If you're interested in binge-watching more must-see shows, you can also find out how to watch Married at First Sight Australia here and how to watch Gossip Girl online here.
What is The Handmaid's Tale about?
The Handmaid's Tale may have captivated us for a few years since it premiered in 2017, but it's based on a brilliant book by Margaret Atwood that was originally published back in 1985. Atwood published an equally gripping sequel more than 30 years later, The Testaments, which has also fed into the TV adaptation.
There are some key differences when it comes to The Handmaid's Tale book vs show—the adaptation is an extension of the original storyline—but the show's dystopian future is just as terrifying. Both the book and show follow Offred (Elisabeth Moss), so-named because, in the world of totalitarian Gilead, formerly America, she is the property 'of Fred', Commander Fred Waterford (Joseph Fiennes).
With fertility rates at an all-time low, fertile women who are "dishonorable" in the eyes of the state are "Fallen Women" in Gilead. Now known as Handmaids, are now assigned as to the homes of high-ranking couples—usually Commanders and their wives—and forced to bear children on their behalf.
If this isn't horrifying enough, society is arranged more generally into a strict system of classes, with freedoms dictated by the ruling class. It seems like there's no escape from this disturbing dictatorship...
*Warning: spoilers for The Handmaid's Tale seasons 1-4 ahead!*
Later in the show, viewers learn that Offred's real name is June Osborne. As June is her husband's second wife, her marriage is considered null and void under Gilead law, and she was chosen to be a Handmaid as they had a young daughter together, Hannah. As the series progresses, June is increasingly determined to find Hannah and to fight back against Gilead after years of abuse.
After conspiring with a rebel network to smuggle children out of Gilead in The Handmaid's Tale season 3 and get them to Canada, June chose to stay behind, partially as a distraction and partially as she hoped to find Hannah. It is here that The Handmaid's Tale Season 4 resumes, as the Handmaids set about cauterizing June's wound so they can get her to safety.
What have we learnt from The Handmaid's Tale season 4 trailer?
The Handmaid's Tale Season 4 trailer had fans hooked from the moment they watched it, promising yet another gripping season of the smash-hit dystopian show. The third season ended with June successfully freeing more than 80 children of Gilead—those either snatched from "fallen women" and placed with new families or birthed by Handmaids—by putting them on a plane to Canada.
A previous teaser trailer saw June Osborne declaring, "Together, we are an army", and the drama doesn't let up in the full-length version. Intercut with disturbing shots, it opens with June being asked about what she would expect were she to return to Gilead, hinting at the inevitable consequences of her actions in Season 3.
As a man monotonously asks her, "would you be subject to danger of torture, risk to your life, or a risk of cruel or unusual treatment or punishment?" viewers can't help but think back to all she has suffered in the past. For undeniably, the answer to all those questions is yes. But June is not beaten yet and she goes on to quietly affirm, "I made a promise to hurt them, the way we hurt".
The trailer goes on to provide glimpses of many heart-stopping moments, including June's reunion with her daughter, Hannah. As the eagerly-anticipated trailer draws to a suitably dramatic close, we see June standing in what appears to be a courtroom.
"I ask for justice," she says, staring down the camera with grim determination.
Where was The Handmaid's Tale filmed?
Very appropriately given that The Handmaid's Tale was written by such a prominent Canadian writer, the Hulu adaptation is filmed in multiple locations across Canada, despite being set in what was once America.
Toronto was a key filming location throughout the seasons, with Hamilton, Ontario, also being used for key external scenes. The series reportedly shot in Toronto City Hall in its early seasons, though the location was later destroyed in the show.
Will there be a The Handmaid's Tale Season 5?
Though fans of the Hulu Original show had to be patient when it came to waiting for The Handmaid's Tale season 4 to premiere, they were rewarded when it was confirmed in 2020 that season 5 was officially happening.
Elisabeth Moss, who plays June, joined her co-stars and took to Hulu's social media in a video that not only teased that they were back filming The Handmaid's Tale season 4, but that season 5 will soon be in the works. "I'm also thrilled to announce that we have been picked up for season 5," Elisabeth excitedly said.
✨The cast has a special message for you ✨Season 4 returns in 2021 …oh and praise be, we've also been renewed for Season 5! #HandmaidsTale pic.twitter.com/B8GauXz5yfDecember 10, 2020
See more
She later added, "It is my privilege and honor to tell this story," before teasing fans with the most intriguing statement. It's going to be a wild ride," Elisabeth declared.
Sign up to our free daily email for the latest royal and entertainment news, interesting opinion, expert advice on styling and beauty trends, and no-nonsense guides to the health and wellness questions you want answered.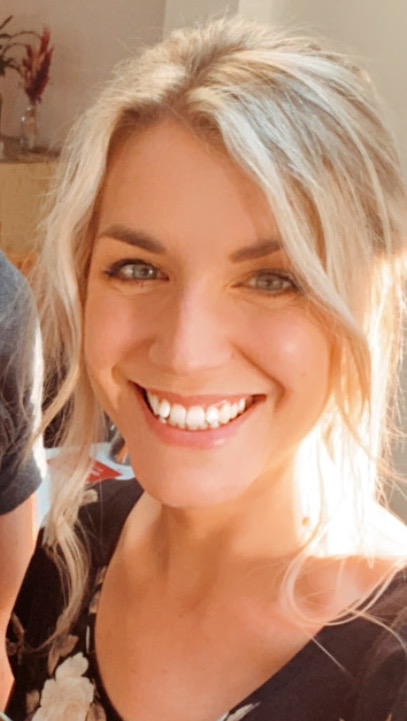 Digital Editor - Woman & Home
An internationally published digital journalist and editor, Rachael has worked as a writer and editor for both news and lifestyle websites in the UK and abroad including Metro UK, Homes & Gardens, Ideal Home, GoodTo.com, honey.nine.com.au and body+soul.
Rachael's published work covers a broad spectrum of topics and she has written about everything from the future of sustainable travel, to the impact of the coronavirus pandemic on the world we live in, to the psychology of colour.