Maid Netflix—all you need to know about the Stephanie Land drama starring Andie MacDowell and her real-life daughter
Maid—the new Netflix drama is packed with emotion, determination and fresh starts...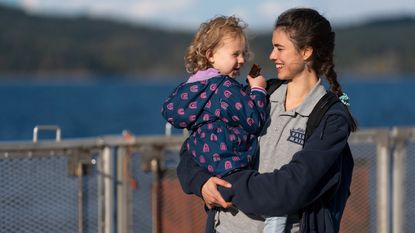 (Image credit: Netflix)
This year's Maid Netflix series stars Andie MacDowell and her daughter Margaret Qualley as they tell a heartbreaking yet hope-filled tale inspired by Stephanie Land's memoir.
Those who enjoy suspenseful shows such as Nine Perfect Strangers and Killing Eve will perhaps find themselves compelled by the more reality-driven elements. Whilst the emotional core of a mother's desire to forge a better life for herself and her child is sure to bring you to tears at points.
Netflix's new series Maid consists of ten episodes and is inspired by the memoir of writer Stephanie Land, starring Andie MacDowell and her daughter Margaret Qualley as on-screen mom and daughter. With its blend of truly heart-wrenching scenes and joyful moments, the series has been described as a powerful drama by the streaming platform.
Created by John Wells and Molly Metzler who both worked together on Shameless, Maid was also made in collaboration with Margot Robbie's production company, LuckyChap Entertainment. And with the Netflix premiere date now just weeks away and the trailer released, anticipation is already building.
But what is the new Maid Netflix series about, who's in the cast and where was it filmed?
*Warning: spoilers ahead!*
---
What is Maid on Netflix about?
The new Maid Netflix show is inspired by Stephanie Land's poignant memoir, Maid: Hard Work, Low Pay, and a Mother's Will to Survive. The series follows the story of Alex, played by Margaret Qualley, who is a single mother who escapes her abusive partner Sean, taking their young daughter Maddy with her.
With no money and living in a women's shelter, Alex begins cleaning houses to support herself and her child, all the while working to build a better life for both of them. Along the way, she must contend with her mother Paula, played by Andie MacDowell, who has her own inner battle.
At once both utterly heartbreaking, inspiring, and with some comedic elements, Maid tells the tale of one woman's determination and resilience in the face of devastation and adversity. As reported by Deadline back in 2019, the Maid Netflix producer John Wells spoke out about the "remarkably human story" that Stephanie's memoir tells and which the show has adapted.
"Stephanie tells the searing and remarkably human story of a young woman battling to find a secure future for herself and her infant daughter, Mia, in the face of overwhelming odds and governmental assistance programs of impossible complexity," John explained.
"We're delighted to be able to partner with LuckyChap, Warner Bros, and the extraordinarily talented Molly Metzler to tell this moving story."
Now two years later and fans of Stephanie's book are just weeks away from seeing Maid brought to life on screen.
Who's in the Maid Netflix cast?
Maid Netflix cast:
Alex—Margaret Qualley
Paula—Andie MacDowell
Sean—Nick Robinson
Regina—Anika Noni Rose
Yolanda—Tracy Vilar
Hank—Billy Burke
Maddy—Rylea Neveah Whittet
Perhaps the most prominent and established name in the Maid Netflix cast is Golden Globe nominee Andie MacDowell. Known for her roles in everything from Four Weddings and a Funeral to one of the best Christmas movies on Netflix this year, A Christmas Inheritance, Andie plays Paula, the on-screen mother of her real-life daughter Margaret. Paula is an eccentric artist and is also described in the trailer as a woman who is "undiagnosed bipolar".
In a recent interview with Vanity Fair, Andie described her character as a mean, difficult, and broken woman that she could relate to in some ways. "I have had so many dark experiences in my life, so I understand complexity. I know what mental illness is on a really deep level," said the actress. "It wasn't like I had to go out and do research. My life is my research."
In this role, Andie can be seen proudly embracing her natural gray hair as she portrays Paula's struggle to understand Alex's reasons for leaving the father of her child.
Andie's daughter Margaret Qualley plays Alex, who has left her abusive partner and taken her daughter with her. Working long hours for low pay to support herself and her child, Margaret's performance in the Maid Netflix cast is breathtaking if the new trailer is anything to go by.
Anika Noni Rose (The Quad) plays Regina, one of the wealthy homeowners for whom Alex works, whilst Nick Robinson (Jurassic World, A Teacher) plays Sean, Alex's ex-partner and the father of her child.
He and Margaret have previously played another on-screen couple in HBO's 2019 movie, Native Son. They are joined in the Maid cast by Tracy Vilar as Yolanda, Billy Burke (Twilight) as Hank, and Rylea Nevaeh Whittet as Maddy.
Where was Maid on Netflix filmed?
Maid was filmed entirely in Canada in British Columbia, primarily in the Greater Victoria area. Fisher Island is also a real location in British Colombia that features heavily in the show.
Filming locations in the show include, the city of Colwood, Langford, Sooke, and Saanich.
Stephanie Land's book on which this series is based is set in Port Townsend, Washington. The show however does not specify where this series is set.
Margaret Qualley: Who is Andie MacDowell's daughter and what has she been in before?
Andie's daughter Margaret was born on October 23, 1994. The talented star takes the central role in Maid on Netflix as single mom Alex, though this isn't her first foray into acting.
Margaret's acting debut came back in 2013 when she was 19 years old with a role in drama film Palo Alto and from there her career has gone from strength to strength as she landed this important role in Maid alongside her real-life mother.
Following in her famous mom's footsteps early on, Margaret has also appeared in 2017 supernatural film Death Note as Mia Sutton.
Whilst other fans might recognize her as "Pussycat" from Quentin Tarrantino's 2019 comedy-drama, Once Upon a Time in Hollywood, which also starred Brad Pitt, Don't Look Up star Leonardo DiCaprio and Margot Robbie. She has also starred as My Salinger Year as Joanna and Ann in miniseries, Fosse/Verdon.
In an interview with Vanity Fair, Margaret said that her greatest challenge when getting to grips with her character was trying to act believably as a mother.
"The biggest hurdle to get over [was] to be a believable mom," said the actress. "So my mission was focused on Rylea [who plays her daughter] the whole time...to make sure that she felt cozy and safe in my arms."
The actress revealed that she spent a lot of time with the young actress in order to gain a real bond. "We'd go through the scenes for the week together. If we were supposed to go to the grocery store, we'd go to the grocery store."
The star even revealed that she had baked with the young actress, although this was rather unsuccessful, "I'd cook her pancakes—and vegan ones. They tasted bad because I'd never cooked vegan pancakes before."
Watch the Maid trailer
For those eager to check out Maid on Netflix, then the premiere date is only weeks away and the first trailer has already teased some seriously tear-jerking moments. Released by the streaming giant on September 14, the Maid Netflix trailer shows Alex as she bravely sets out to give herself and her young child a better life.
Opening with Alex and her daughter in a waiting room, viewers hear the young mother being asked why they are there, to which she replies, "We don't have anywhere to sleep tonight."
As the woman asks her to confirm if she's homeless, viewers see Alex and her daughter leaving a house in the dead of night.
"I had a home and then we left it," Alex answers, going on to bravely reveal that she had been experiencing domestic abuse. As the woman declares that they need to find Alex and her daughter a home, she is taken to a domestic violence centre where she attempts to come to terms with her journey there.
Real-life mother and daughter Margaret Qualley and Andie MacDowell play mother and daughter in Maid, a new series inspired by the New York Times Best-selling memoir by Stephanie Land. pic.twitter.com/R8uEGwlQLzSeptember 14, 2021
See more
To support herself and her daughter as they begin their new life, Alex becomes a maid. And as the trailer builds toward its emotional conclusion, Alex shares her ambition to have her own space for her and her daughter.
"Our space is a home, because we love each other in it," she declares.
If this already heart-wrenching trailer doesn't already have you intrigued to see if Alex and her daughter go on to forge a happy life, then the stunning acting and story behind it certainly will.
Is Maid based on a true story?
Yes, Maid is based on a true story. Author, Stephanie Land, wrote Maid: Hard Work, Low Pay, and a Mother's Will to Survive, based on her own life experiences.
After catching the attention of a literary agent with an essay on cleaning houses published on Vox, she wrote her memoir and it was published in 2019. It went on to become not only the basis for Netflix's new Maid series, but a Barack Obama Summer Reading Club pick.
Opening up during an interview with The Atlantic in 2019, Stephanie discussed how she spoke with her daughter about the book and how much she featured in it.
"She's kind of grown up with me writing about her," the author told the publication. "I originally had a blog, and when I started publishing pieces, first in a local magazine and then online, she loved it. She loves knowing that her picture is in The Washington Post. She wants to be famous."
When asked about the book's more hopeful ending after she and Mia had moved to Montana and she had started school to get her degree, she revealed how much of a huge step this was.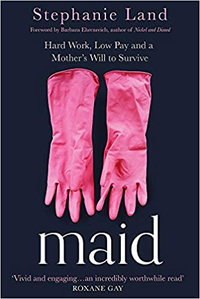 Maid by Stephanie Land | Amazon | $11.77 (£8.51)
This heartbreaking and honest memoir explores the reality of working for the upper-middle classes and gives a voice to the daily worker. Based on her own life experiences, Stephanie tells her story of struggling to survive and keep a roof over her daughter's head as a single mom. With a foreword by bestselling author Barbara Ehrenreich, this is not one to miss.
"There were a lot of times when I thought we were going to lose the place we lived. There were weeks when I was incredibly hungry. The book ends on a really happy note because it's a moment of celebration; it was a huge accomplishment for me to move," she said, adding that it "wasn't necessarily like, We're here and everything's fine."
Maid was Stephanie's literary debut and as of now is her only published book. Her writing has been featured in The Guardian, The New York Times and the Washington Post over the years, focusing on social and economic justice.
When does Maid come out on Netflix?
Maid was released on Netflix on Friday, October 1, 2021. The show did incredibly well after its initial release and has remained one of the top Netflix shows on the streaming platform. It is currently at number 3 on the Netflix top 10 list.
For those who have yet to try out Netflix then this might just be the time to see what the streaming giant has to offer. Netflix's pricing includes their basic plan which costs $8.99 per month for one screen service and to up the account to two screens, Netflix's standard plan costs $13.99 per month and their premium plan is now $17.99.
With your chosen subscription you can make the most of watching Netflix's brilliant series and movies, including the best French TV shows and their Netflix Originals.
Will there be a second season of Maid?
A second series of Maid in not anticipated from Netflix. The series has been described as the streaming giant as a 'limited series.'
As the show is based on a standalone novel, that does not have any sequels, a follow up in not precedented at this time. However, following the huge success of the first season, Netflix could attempt to continue the series and follow the characters into the next stage of their lives.
Emma is a Senior Lifestyle Writer with six years of experience working in digital publishing. Her specialist areas including literature, the British Royal Family and knowing all there is to know about the latest TV shows on the BBC, ITV, Channel 4 and every streaming service out there. When she's not writing about the next unmissable show to add to your to-watch list or delving into royal protocol, you can find Emma cooking and watching yet more crime dramas.