Don't Look Up—Leonardo DiCaprio's latest Netflix movie is full of star-power but when is it out and who else is in the cast?
Don't Look Up stars Oscar-winners Leonardo DiCaprio, Meryl Streep and Jennifer Lawrence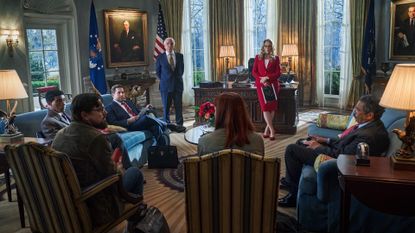 (Image credit: Netflix)
woman&home newsletter
Sign up to our free daily email for the latest royal and entertainment news, interesting opinion, expert advice on styling and beauty trends, and no-nonsense guides to the health and wellness questions you want answered.
Thank you for signing up to Woman & Home. You will receive a verification email shortly.
There was a problem. Please refresh the page and try again.
The Don't Look Up movie trailer has only just landed and with stars such as Meryl Streep and Leonardo DiCaprio in the cast and Oscar-winner Adam McKay as director, this promises to be a film to remember.
Movie fans all have their favorite actors, from the brilliant Reese Witherspoon to Nicole Kidman, star of hit new Hulu show Nine Perfect Strangers and The Starling's Melissa McCarthy. But whatever your acting preference, viewers won't be left disappointed by the new Don't Look Up movie with its glittering cast list. Directed by Adam McKay, the Don't Look Up cast includes none other than Oscar-winners Meryl Streep, Leonardo DiCaprio and Jennifer Lawrence, alongside many more.
Described as a disaster-comedy, the film's star power extends to the plot itself as two astronauts desperately attempt to warn the Earth of impending doom. Whether or not they'll be listened to is another matter, but from what we've seen so far in the new Don't Look Up trailer, there's plenty to get excited about.
But what is Don't Look Up about, what happens in the trailer and who is in the full cast?
*Warning: spoilers ahead!*
---
What is Don't Look Up about?
The new Don't Look Up movie has the perfect blend of humor and tension as it tells the tale of two astronomers, Dr Randall Mindy (Leonardo DiCaprio) and his graduate student Kate Dibiasky (Jennifer Lawrence). Upon making the shocking discovery that there is a comet currently on a direct collision course with Earth, Randall and Kate do their best to escalate the news to the highest possible level.
But despite informing President Janie Orlean (Meryl Streep) of the potentially disastrous consequences of the comet, they are left bemused by her indifference towards the situation. Both she and her son and chief-of-staff Jason (Jonah Hill) refuse to take the pair's warning seriously.
Determined not to let President Orlean's approach put others in danger, however, Kate and Randall join forces with Dr Oglethorpe (Tom Morgan) to go on a press tour, convincing others of the risk to humanity.
Coming into contact with media personalities and talk show hosts makes for many hilarious moments, though things take a serious turn as the astronomers wonder exactly what it would take to make people pay attention before it's too late.
Incorporating both humor and serious themes, it's thought that Adam McKay's Don't Look Up also looks to explore more current issues such as climate change and the constant media presence. And with such brilliant performances from the all-star cast, Don't Look Up looks set to be a film well worth waiting for.
Watch the Don't Look Up trailer
The full Don't Look Up trailer is still to come, though Netflix have now released the very first teaser trailer for this compelling movie. Opening in dramatic style, viewers are first introduced to Leonardo DiCaprio's character Dr Randall Mindy as he stands in a dimly lit bathroom, struggling to breathe, his hand clasping his side.
From there the pace increases as we see Jennifer Lawrence as Kate looking horrified by a discover in an astronomy room, as well as images of media talk shows and cities. Meanwhile, scenes of Randall attempting to calm himself continue to flash in and out as he repeats the phrase, "You are here now," over and over like a mantra.
The Don't Look Up trailer then shows viewers the first glimpse of Meryl Streep as President Ocean, looking distinctly unimpressed during an Oval Office meeting, despite Randall's plea that what they've found will "affect the entire planet".
With plenty of comedic quips, especially from President Orlean's son Jason, who maintains that Randall's breathing is "so stressful" after hearing much more terrifying news, the dark undertone is reinforced with shots of a fiery comet approaching the Earth.
As Kate calmly tells the President of the impending doom, she coolly responds, "Do you know how many 'the world is ending' meetings we've had over the last two years?" as Jason pronounces their concerns, "boring".
If this wasn't enough to have you screaming at the TV screens for President Orlean to take things seriously, then the disbelieving looks on Kate and Randall's faces as the trailer draws to a close surely will. But can the astronomers convince them in time to save the planet? Fans will just have to wait and find out...
Who is in the Don't Look Up cast?
Don't Look Up full cast list:
Dr Randall Mindy-Leonardo DiCaprio
Kate Dibiasky-Jennifer Lawrence
President Janie Orlean-Meryl Streep
Jason Orlean-Jonah Hill
Brie Evantee-Cate Blanchett
Colonel Ben Drask-Ron Perlman
Quentin-Timothée Chamalet
Peter Isherwell-Mark Rylance
Riley Bina-Ariana Grande
Jack Bremmer-Tyler Perry
Dr Oglethorpe-Rob Morgan
Dan Pawketty-Michael Chiklis
Abdul Grelio-Tomer Sisley
Phillip-Himesh Patel
June-Melanie Lynskey
Leonardo DiCaprio as Dr Randall Mindy
Leonardo DiCaprio stars as Dr Randall Mindy in the Don't Look Up cast. The acclaimed actor, who could've won an Oscar several times before securing one for The Revenant, has previously expressed his belief that director Adam McKay has incorporated a distinctly contemporary message into the comedy movie, adding another layer amidst the humor.
Opening up to Entertainment Weekly, Leonardo declared, "Adam has an unparalleled ability to spark conversation with humor and timely stories. I knew when I read his script that it was incredibly unique, as it struck an important chord concerning the modern world we live in.
"Adam has woven an incredibly timely message about society, how we communicate, our current priorities, and the climate crisis into an absurdly funny yet important movie."
As his character works alongside Jennifer Lawrence's fellow astronomer Kate Dibiasky to warn the world of the impending threat, it remains to be seen whether Earth will be brought back from the brink of disaster.
---
Jennifer Lawrence as Kate Dibiasky
Jennifer Lawrence is set to experience a Christmas to remember this year as she prepares not only for the highly-anticipated release of Don't Look Up, but also looks forward to becoming a mother in 2022 following the recent announcement she's expecting her first child. And she will surely be adding her role as Kate Dibiasky in Don't Look Up to the list of all her brilliant movies to show her future little one.
Working alongside Dr Randall Mindy to convince the world of the danger posed by an approaching comet, Kate is just as stunned by the Earth's apparent lack of concern. Not only is Jennifer's performance as Kate just as spellbinding as fans might have expected if the Don't Look Up trailer is anything to go by, but director Adam has revealed he actually wrote the part of Kate specifically for the Hunger Games star.
As reported by EW, Adam revealed, "I've known Jennifer for a good while now. One of the first meetings she ever took in Los Angeles was with me. She is a massive fan of Step Brothers. I've been a giant fan [of hers] since she first came on the scene and she just straight up makes me laugh.
"So I wrote this role for her," he continued. "She was the first actor in."
---
Meryl Streep as President Janie Orlean
Meryl Streep is yet another Oscar-winning actor who takes centre stage in the new Don't Look Up movie as she portrays US President Janie Orlean. As was suggested in the recently-released Don't Look Up trailer, Janie is a woman with a mission and is determined to keep her position of power and command the respect of the nation.
"She's very concerned about the poll numbers, very concerned about the politics, loves her own celebrity," said Adam McKay, describing Meryl's character, as reported by EW. "She's a hybrid of all the ridiculous leaders that we've had for the past ten, 20, 30 years."
Focused more on her own career than the warning being brought to her by astronomers Randall and Kate, it seems President Orlean's inaction could end up causing harm to the very people who elected her.
---
Leonardo, Meryl and Jennifer might be playing the most prominent characters in Don't Look Up, but they are in incredible company when it comes to the rest of the Don't Look Up cast. Acting alongside them as President Orlean's son and chief-of-staff Jason is Jonah Hill, who starred in The Wolf of Wall Street with Leonardo back in 2013.
Other actors featured in Don't Look Up include Cate Blanchett (The Lord of the Rings, Cinderella), Timothée Chamalet (Little Women), Mark Rylance (Bridge of Spies), Tyler Perry (Gone Girl), Melanie Lynskey (Two and a Half Men), Michael Chiklis (The Shield), and Tomer Sisley (Messiah), as well as many others.
And if that wasn't enough of a talented Don't Look Up cast to pique your interest, then pop music legend Ariana Grande will also be appearing in the film! With so many brilliant cast members and so much more still to learn about their individual characters, we can't wait to see what Don't Look Up has in store for each of them.
When does Don't Look Up come out?
As reported by RadioTimes, Don't Look Up will be released first in select cinemas on December 10 2021. So for anyone eager to get a glimpse at all the Don't Look Up cast in action, remember to check out theaters where you are this winter to ensure you don't miss out on a ticket. But if you'd prefer to save watching this space-focused comedy until the festive period is in full swing, then never fear! Don't Look Up will be arriving on streaming giant Netflix on Christmas Eve.
Making for the perfect family afternoon movie as you relax with loved ones during the holidays, it's well worth setting a reminder to check out Don't Look Up in December. After all, what would the festive period be without some on-screen drama?
Will Don't Look Up be on Netflix?
Don't Look Up will be landing on Netflix on December 24 after its initial theater release so good news for Netflix subscribers as you're already one step closer to enjoying this comedy-disaster film. And if you've yet to sign up to the streaming giant and want to check out Adam McKay's Don't Look Up movie as soon as it premieres on the platform, then this might just be the time to give it a go.
Netflix's pricing includes their basic plan which costs $8.99 per month for one screen service and to up the account to two screens, Netflix's standard plan costs $13.99 per month and their premium plan is now $17.99.
With your chosen subscription you can make the most of watching Netflix's brilliant series and movies, including the best French Netflix shows and their Netflix Originals, as well as Don't Look Up in just a few months.
Will you be giving Don't Look Up a watch this Christmas?
Sign up to our free daily email for the latest royal and entertainment news, interesting opinion, expert advice on styling and beauty trends, and no-nonsense guides to the health and wellness questions you want answered.
Emma is a Royal Editor with seven years of experience working in digital publishing. Her specialist areas including literature, the British Royal Family and knowing all there is to know about the latest TV shows on the BBC, ITV, Channel 4 and every streaming service out there. When she's not writing about the next unmissable show to add to your to-watch list or delving into royal protocol, you can find Emma cooking and watching yet more crime dramas.