Nine Perfect Strangers—everything you need to know about the cast, book and release date of the new Nicole Kidman thriller
Nine Perfect Strangers is based on Liane Moriarty's bestselling thriller, but do you know what lies in store?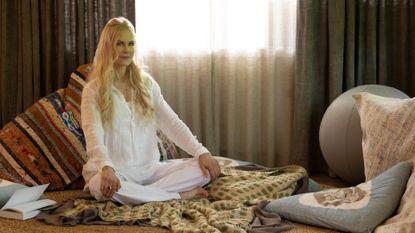 (Image credit: Hulu)
Nine Perfect Strangers had viewers hooked from the moment it landed and as sinister retreat owner Masha begins to manipulate her guests, fans can't help but wonder exactly what lies in store for their favorite characters.
Nine Perfect Strangers might not be the only one of Australian writer Liane Moriarty's chilling thrillers to inspire an equally gripping show. But ever since news broke that there would soon be another adaptation from the Big Little Lies writer, fans have been eager to see how Hulu's new miniseries would bring the twisted tale of Nine Perfect Strangers to life. And they have certainly had to be patient, as the Nine Perfect Strangers Trailer landed in April, more than a year after the streaming giant announced its plans to turn the Nine Perfect Strangers book into a TV show.
Perhaps set to be one of the best-book-to-movie adaptations, Nine Perfect Strangers tells the tale of power-hungry retreat owner Masha, played by Oscar-winner Nicole Kidman, as she gathers together nine strangers, all hoping to become more "perfect" versions of themselves.
As fans race through the first instalments of Hulu's latest thriller, we reveal all you need to know about the Nine Perfect Strangers cast, book, filming locations and much more...
*Warning: spoilers ahead!*
---
---
What is the plot of Nine Perfect Strangers?
Nine Perfect Strangers follows the same chilling premise as Liane Moriarty's bestselling Nine Perfect Strangers book, with nine complete strangers joining controlling Russian retreat owner Masha at Tranquillum House. Each person arrives hoping that the 10-day retreat will help them to solve a huge problem in their daily lives, ranging from the breakdown of a marriage, to being conned and the death of a son.
Little do they expect Masha's methods to become as manipulative and downright dangerous as they soon turn out to be, after being taken in by her intense but seemingly caring approach.
With only the first few episodes of Nine Perfect Strangers having been released so far, it's not yet known how closely the plot might follow that of the Nine Perfect Strangers book. However, one of the show's stars, Samara Weaving, has previously claimed that big changes will take place at the end.
"The script is very different from the book in that it ends very differently for a lot of different characters," Samara told Digital Spy (opens in new tab), before specifically suggesting that Nicole Kidman's character Masha will see her fate altered.
"Masha [Nicole Kidman] has a very different arc, so it'll be interesting to see what people think," she continued.
So will fans get to see Masha have an epiphany or will there be no mercy for the determined retreat owner? Only time will tell...
Is Nine Perfect Strangers based on a book?
Nine Perfect Strangers is based on the bestselling 2018 book of the same name by Australian writer Liane Moriarty, who is perhaps best known for her equally gripping novel, Big Little Lies. As in the Hulu miniseries, the book follows nine people as they arrive at Tranquillum House seeking to resolve deep-seated issues within themselves and their relationships.
Unlike in the show, however, the retreat itself is a historic manor house and not a shiny wellness centre. Each chapter is narrated by one of the nine guests, Masha herself or her employees and shortly after the strangers arrive, Masha insists that they will spend five days in total silence - a plot point that has not made its way into the TV adaptation.
Prior to this, they each had their phones, alcohol and any treats described as "contraband" confiscated. Instead, they start to enjoy Masha's homemade smoothies, which one of the guests, Heather Marconi, later correctly believes to have been spiked with drugs after her family begin to open up like never before.
Driven by her belief that the end result justifies her terrifying means, Masha continues to drug her guests, before seemingly locking them in the main room.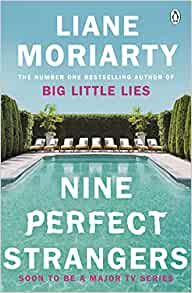 (opens in new tab)
Nine Perfect Strangers by Liane Moriarty | Amazon | £6.99 (opens in new tab)
Nine perfect strangers are each hiding the ultimate secret - all of them are living their own equally imperfect lives. In an attempt to resolve all of their problems, they find themselves coming together at a luxury retreat, entirely cut off from the outside world. Promised that 10 days there will change things forever, they soon learn that some promises are lies...
Though this later turns out not to be the case, the guests only discover they were free to escape after the police arrest Masha and her assistants Yao and Delilah after the two lose faith and Delilah is caught driving away in one of the guest's cars.
Masha's own tragic backstory is also explored, allowing readers to gain at least some understanding of how the manipulative woman became the way she is after she lost her child in a tragic accident and withdrew from her husband and living son. Ultimately, despite the terrifying ordeal they've been through during their time at the retreat, in a funny way, they do end up with some kind of resolution to their previous struggles.
Who's in the Nine Perfect Strangers cast?
The Nine Perfect Strangers cast list:
Nicole Kidman as Masha Dmitrichenko
Melissa McCarthy as Frances Welty
Michael Shannon as Napoleon Marconi
Asher Keddie as Heather Marconi
Grace Van Patten as Zoe Marconi
Melvin Gregg as Ben Chandler
Regina Hall as Carmel Schneider
Bobby Cannavale as Tony Hogburn
Luke Evans as Lars Lee
Samara Weaving as Jessica Chandler
Tiffany Boone as Delilah
Manny Jacinto as Yao
Zoe Terakes as Glory
If the plot wasn't enough to intrigue you, the Nine Perfect Strangers cast is bound to lure you in with their stand-out performances. Oscar winner Nicole Kidman stars as Masha, the Russian woman who runs the retreat, and it seems that getting into character was a challenging experience for the actor.
As reported by The Independent (opens in new tab), Nicole previously discussed her approach during a Television Critics Association panel, explaining, "I wanted a very calm healing energy to emanate all the time so I remember going over to people and sort of putting my hand on their heart, holding their hand, they would talk to me or use my name Nicole when I would completely ignore them."
Nicole continued, "The only way I could actually relate to people was that way because I felt like otherwise I would be doing a performance and I didn't want to feel that way."
Alongside Nicole as the mysterious Masha is another of the most well-known actors amongst the star-studded cast, Melissa McCarthy, who plays Frances, a romance author suffering from a broken heart after being tricked by a con-artist and having her latest book rejected.
Opening up to The Hollywood Reporter (opens in new tab), Melissa revealed that when she was first reading Liane Moriarty's book, "chapter after chapter, I kept thinking my God, what is going on. And just when you think it's weird and crazy enough, it hasn't started yet."
However, despite the sinister themes, the actor also found in Nine Perfect Strangers a powerful message that is made even more poignant given recent events.
"Compassion is the common denominator, not hate, even though hate is louder. I love that these group of strangers came together and people instinctually want to help people," she explained.
The Hulu series also delivers a batch of fresh new talent in Australian actors Samara Weaving (Home and Away's Indi Walker and niece of The Matrix star Hugo Weaving) and Asher Keddie (Offspring's Nina Proudman). Samara plays social media influencer Jessica who is hoping to repair her marriage to Ben, portrayed by Melvin Gregg, after winning the lottery puts a strain on their relationship.
Meanwhile, Asher plays Heather, who is struggling to come to terms with the loss of her son Zach. Michael Shannon, perhaps best known for his role as John in Revolutionary Road, joins the cast as Heather's husband Napoleon, whilst HBO The Sopranos star Grace Van Patten plays their daughter Zoe.
Yao, Delilah and Glory, Masha's devout employees, are played by Manny Jacinto (The Good Place's Jason Mendoza), Tiffany Boone (Hunters' Roxy Jones) and Zoe Terakes respectively.
Whilst Regina Hall (Scary Movie), Bobby Cannavale (Will & Grace) and Luke Evans (The Hobbit) play Carmel, Tony, Lars, who are fellow retreat attendees. Tony is suffering with drug addiction as Carmel struggles with life as a single mother after her husband left her for a younger woman. Meanwhile, Lars' secrets remain deeply buried.
Where did they film Nine Perfect Strangers?
The Nine Perfect Strangers filming location were certainly stunning, as some fans might have been expecting given the tranquil Australian scenery of Liane Moriarty's novel. Unlike the book, the Hulu adaptation has been brought stateside and is set in California but in a twist Liane herself could be proud of, the Nine Perfect Strangers filming location is none other than New South Wales, Australia. The production is understood to have moved after the Covid-19 pandemic meant that filming in California was not possible at the time.
As reported by Decider (opens in new tab), the hit thriller was filmed for five months in the picturesque Byron Bay, home throughout the years to Australian celebrities Chris Hemsworth and Olivia Newton-John. The area is also reportedly known for its spas, making it an even more appropriate choice for the retreat-focused drama.
And that's not the only Australian area used as a Nine Perfect Strangers filming location, with some scenes for flashbacks said to have been filmed at Killen Falls, Sydney and Ballina. Whilst Decider reports that Soma, a spa in Ewingsdale in Byron Bay, was used as the primary filming location for the series and stood in for Tranquillum House itself, surrounded by acres of beautiful rainforest, just as we see on screen.
And it seems that Nine Perfect Strangers director Jonathan Levine was determined to secure the ideal filming location for such a pivotal setting in the show. Opening up to Forbes magazine (opens in new tab) earlier this month, he explained, "The resort itself is such a big character and we ended up filming at a wellness center in Byron Bay and a private residence a few miles away
"It was perfect with its amazing woods, jungles and beaches, and captured the feeling we were looking for," Jonathan declared.
Watch the Nine Perfect Strangers trailer
The Nine Perfect Strangers trailer gives viewers a glimpse into the highly anticipated eight-part miniseries, which follows nine downtrodden people as they seek recovery at a remote wellness center.
The trailer begins with Nicole Kidman asking the strangers whether they want to get well, apparently seeking to help them, before she demands, "surrender yourself to me".
Promising to transform each of them in just ten days, the actions of the guests soon becomes increasing troubling as they seem to experience pains and engage in fights with one another.
"We are on the precipice of something great," she declares quietly as the trailer draws to its dramatic end.
What are fans' Nine Perfect Strangers reviews?
The Nine Perfect Strangers reviews from critics who were given a preview of the first six episodes were decidedly mixed. Whilst some applauded Nine Perfect Strangers' clever casting, others slammed its lack of depth.
Kristin Reid of Paste magazine praised the Hulu series for creating a "compelling group of individuals", noting Nicole and Michael's "standout performances" in particular. However, it seems that not everybody agreed with this glowing assessment.
Meanwhile, Dan Fienberg of The Hollywood Reporter contrastingly summarized the show as "'The White Lotus" sans satirical edge', criticizing its writers for failing to provide any "enlightenment on actual human behavior".
It's time for Frances to get well. ❤️ this Tweet to receive reminders from @9StrangersHulu for the premiere of #NinePerfectStrangers. Enter Tranquillum on August 18, only on @hulu. pic.twitter.com/zDH6UMG2h6August 6, 2021
See more
However, whilst critics' responses are varied, many fans have taken to Twitter to comment their excitement at the show finally landing. And seems the prospect of having to wait to find out what happens next has already got some eager for next week's instalments.
'HULU!!!! I watched the first three episodes and I am hooked only to find out the next five episodes will be weekly!!!!! The agony of it all having to wait!!! The cast is superior!' one person declared.
HULU!!!! I watched the first three episodes and I am hooked only to find out the next five episodes will be weekly!!!!! The agony of it all having to wait!!! The cast is superior!August 18, 2021
See more
Whilst another person echoed this sentiment and revealed that they can also hardly wait to find out what else lies in store, writing, 'This is so good I can't wait till Wednesday.'
'Very intriguing, mysterious & fabulous series. I watched the first 3 episodes as soon as I was able to stream it. I was not disappointed, pulls you in from the very beginning. Looking forward to the rest of the series', a fellow viewer commented, praising the dramatic tension built early on in the series.
Very intriguing, mysterious & fabulous series. I watched the first 3 episodes as soon as I was able to stream it. I was not disappointed, pulls you in from the very beginning. Looking forward to the rest of the series.August 18, 2021
See more
Meanwhile, a fourth person reflected on the brilliant performances of the Nine Perfect Strangers cast, commenting simply, 'I'm addicted! Loving the cast!'.
How to watch Nine Perfect Strangers
Nine Perfect Strangers has already released the first three episodes on streaming service Hulu for US fans to enjoy. And if you've yet to experience the hit show's drama, tears and tension, you can also use the service to get up to speed on everything you've missed. The show landed on Hulu on August 18 and if you already have a Hulu (opens in new tab) subscription, then things just got a whole lot easier for you to enjoy this binge-watchable series.
This starts from $5.99 a month and you can also get a free trial for one month (opens in new tab) before you sign-up to see if Hulu's right for you.
For anyone outside of the US, Nine Perfect Strangers is reportedly set to premiere on Amazon Prime Video on August 20 if you have a subscription to their streaming service. An annual Amazon Prime membership is £79, while a monthly Amazon Prime membership is £7.99 a month.
Or, you can get a 30-day Amazon Prime free trial (opens in new tab) and watch to your heart's content.
How many Nine Perfect Strangers episodes are there?
Nine Perfect Strangers consists of eight episodes and whilst fans might have been eager to clear their schedule for a marathon viewing session, the show will not be released all at once. With the first three episodes having already premiered on Hulu, new episodes will be aired weekly over the course of two months. This means fans can digest each of the dramatic twists and turns at a slower pace and avoid that all-too-familiar temptation to binge-watch. Will you be giving Nine Perfect Strangers a watch this summer?
When does the next episode of Nine Perfect Strangers come out?
Each of the remaining Nine Perfect Strangers episodes will premiere on Hulu on a weekly basis on Wednesdays. Episodes 1-3 have already landed, meaning that episode 4 will air on August 25, episode 5 on September 1, episode 6 on September 8 and episode 7 on September 15.
The all-important Nine Perfect Strangers finale will be available to watch on Hulu on September 22. So remember to mark your calendars or set yourself a reminder because this is one finale you won't want to miss.
Emma is a Lifestyle News Writer for woman&home. Hailing from the lovely city of Dublin, she mainly covers the Royal Family and the entertainment world, as well as the occasional health and wellness feature. Always up for a good conversation, she has a passion for interviewing everyone from A-list celebrities to the local GP - or just about anyone who will chat to her, really.
Emma holds an MA in International Journalism from City, University of London and a BA in English Literature from Trinity College Dublin.