The Starling is expected to be Netflix's next hit—here's everything you need to know about Melissa McCarthy's tearjerker
The Starling release date is just days away as Melissa McCarthy stars in this tale of grief and healing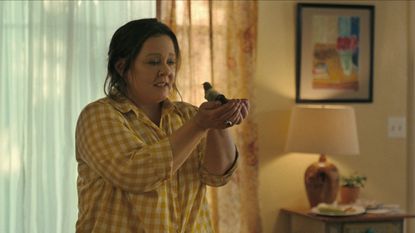 (Image credit: Netflix)
The Starling will soon be on everyone's to-watch list as the new Melissa McCarthy Netflix movie looks set to make us laugh and cry in equal measure when it premieres this month.
Although rumors regarding a Bridesmaids sequel are gaining traction, fans of the star-studded cast needn't wait to see some of its actors on screen again. The Starling stars Bridesmaids actors Melissa McCarthy and Chris O'Dowd. Although these particular stars are best known for their comedic prowess, this film tackles very serious subject matter and is an absolute tear-jerker.
The Starling will land on Netflix on September 24th. Packed with emotion as well as humor, Hollywood icon Melissa McCarthy stars in this tale of grief and love.
But what is The Starling about, who is in the cast and what happens in The Starling trailer? Here we reveal all you need to know about Melissa McCarthy's new Netflix movie.
*Warning: Spoilers ahead!*
---
You might also like...
Nine Perfect Strangers—everything you need to know about the cast, book and release date of the new Nicole Kidman thriller.
What is Melissa McCarthy's new Netflix movie The Starling about?
Whilst Melissa McCarthy might be best known for her comedic skills, including in her very memorable recent appearance in Meghan Markle's surprise 40th birthday video, The Starling will see her showcase the full range of her acting talent. Described as a drama-comedy, The Starling focuses on married couple Lilly (Melissa) and Jack Maynard, played by Irish actor Chris O'Dowd, at a turning point in their lives.
The Starling is about a woman adjusting to life after the loss of her baby daughter, contending with a feisty bird that's laid claim to her garden—and a husband who's struggling to find a way forward.
Facing the prospect of being ripped apart by the tragedy of losing their child, The Starling explores how Lilly and Jack experience grief in their own, very different, ways. According to Netflix's synopsis, "A woman adjusting to life after a loss contends with a feisty bird that's taken over her garden—and a husband who's struggling to find a way forward."
As Lilly attempts to find her way through her grief, she finds herself in a constant battle with the starling that has claimed dominion in her backyard and reportedly becomes comically obsessed with how to rid herself of it.
Whilst this blend of humor and emotional depth might surprise some, it's Lilly's quest to kill her nemesis that sees her cross paths with psychiatrist-turned-veterinarian, Larry, who decides to help her with her mourning process, as well as her bird problem.
Watch The Starling trailer
Taking viewers on a poignant journey of ever-changing emotions, The Starling trailer opens at a point of great joy in Lilly and Jack Maynard's lives. As fireworks light up the night sky above them, the couple watch from their garden, Lilly's growing baby bump clearly visible as Jack lovingly rests his hand on his wife.
Cutting to the next scene, things are now very different as it emerges that Jack is now undergoing therapy at a facility, where Lilly visits him, before viewers are shown a truly heartbreaking moment in the decorated, but empty, bedroom that was destined for their child. Lying on the floor, her eyes filled with tears as she stares up at the baby mobile, Lilly's voiceover declares simply, "I'm fine".
After her friends and colleagues become concerned about her changing behavior, Lilly is referred to psychologist-turned-vet Larry, before we see the first glimpse of the infamous starling. The tiny bird seems determined to attack Lilly as she digs in her garden, soon escalating into all-out war intercut with Larry and Lilly discussing the grieving process. The former psychologist gently tells her it's no longer about Katie, their beloved lost daughter, but about her and Jack and how they "re-start".
"Starlings just aren't meant to exist on their own," Larry tells Lilly in The Starling trailer's closing stages, to which she jokingly responds, "Real subtle stuff".
Smiling despite her grief, it seems that Lilly and Jack might find their way to move forwards and celebrate Katie's memory after all.
Melissa McCarthy on The Starling
Melissa told 9Honey Celebrity that the bird stepped in as a much-needed focus while her character, Lilly, couldn't face the depth of her pain.
"The character of the bird, which sounds like I've lost my mind saying that, it was such a nuisance. But the only way Lilly could cope with her grief was to simply keep moving forward," she said.
"Like a shark, can't stop moving, because if she did she feared, or I feared, I would fall into a million pieces," she explained. "That little bird just kept pecking away at that armor, that denial, that she had built up."
The Nine Perfect Strangers star continued, "When you're dealing with mental health and grief and loss you don't know where that help is going to come from, it could be the most unlikely of places which it was for Lilly,"
Discussing the comedic moments in the film, which she and Chris are well in tune with, she said, "I think it's relatable and you need it for the balance," McCarthy says of the comedic moments."
Who is in The Starling cast and production crew?
The Starling cast sees Melissa McCarthy, perhaps best known for her roles in Bridesmaids and Spy, acting opposite Chris O'Dowd (Bridesmaids, The IT Crowd) as husband-and-wife pairing Lilly and Jack Maynard. Opening up during an interview with Entertainment Weekly, Melissa spoke of how the mix of laughing and crying at significant moments is something that's relatable to all.
"It's the thing we all relate to: You laugh at funerals, you cry at weddings," Melissa told the publication as she reflected on the tone that guides the film's emotional storyline and praised director Theodore Melfi.
"Theodore Melfi is one of the most relatable, delicate directors, because he can still do humor and break your heart," she explained.
And it seems there was also a significant change that was made to Matt Harris' original screenplay. Director Theodore revealed to the publication that after reading the script, he felt that it would work better with Lilly as the stoic half of the couple, reversing the 'strong' man trope often found in movies.
"Switching Jack and Lily was not only more interesting, more compelling, fresher and more modern, it was simply more accurate," he reportedly stated. "Seeing a strong woman hold her life together and fight for her marriage while going through the worst circumstance any couple could go through is a story we need to see and a story that I had to tell."
The final The Starling movie is both hopeful and emotional—something Melissa McCarthy seems to have found profoundly moving.
"There are a lot of shoulds in our world: How you should behave, how you should react, how you should get over something. You should be over it by now," she said.
"The shoulds are always judgmental. Jack's not wrong for not wanting to join life again, and Lily's not wrong for barreling through, pretending it never happened. There's no right way to do it.
"Especially now when everybody wants to tell everybody else how to live with so much anger…. if everyone stopped thinking in terms of what other people should be doing and start thinking about what I could do to help, we'd have a very different world," Melissa declared.
She and Chris O'Dowd are joined in The Starling cast by Kevin Kline as Lilly's new friend and psychologist-vet Larry. Whilst according to Deadline, Timothy Olyphant, Daveed Diggs, Skyler Gisondo, Loretta Devine, Laura Harrier, Rosalind Chao and Kimberly Quinn also star in as-yet-unconfirmed roles.
What is The Starling release date?
The Starling release date on Netflix is set for September 24, 2021, so good news for those already eager to watch Melissa and Chris' moving yet hilarious performances.
And if you're keen to see the show in cinemas, it is being shown from September 17 in selected theatres. The movie's Netflix premiere comes after its official world premiere at the 2021 Toronto International Film Festival, which took place September 10th-18th.
How can you watch The Starling?
For anyone looking to watch The Starling as soon as it's released, then Netflix is the place to head. The new Melissa McCarthy movie will land on the streaming platform next month, available for all Netflix subscribers to watch for free. If you have yet to sign up to the streaming giant, then this might just be the time to give it a go. Netflix's pricing includes their basic plan which costs $8.99 per month for one screen service and to up the account to two screens, Netflix's standard plan costs $13.99 per month and their premium plan is now $17.99.
With your chosen subscription you can make the most of watching Netflix's brilliant series and movies, including the best French Netflix shows and their Netflix Originals, as well as The Starling in just a matter of weeks.
Will you be adding The Starling to your Netflix list this autumn?
Sign up to our free daily email for the latest royal and entertainment news, interesting opinion, expert advice on styling and beauty trends, and no-nonsense guides to the health and wellness questions you want answered.
Emma is a Royal Editor with seven years of experience working in digital publishing. Her specialist areas including literature, the British Royal Family and knowing all there is to know about the latest TV shows on the BBC, ITV, Channel 4 and every streaming service out there. When she's not writing about the next unmissable show to add to your to-watch list or delving into royal protocol, you can find Emma cooking and watching yet more crime dramas.