Killing Eve season 4: show bosses confirm the next series will be its last
Everything we know about our final instalment of Villanelle and Eve's cat-and-mouse chase…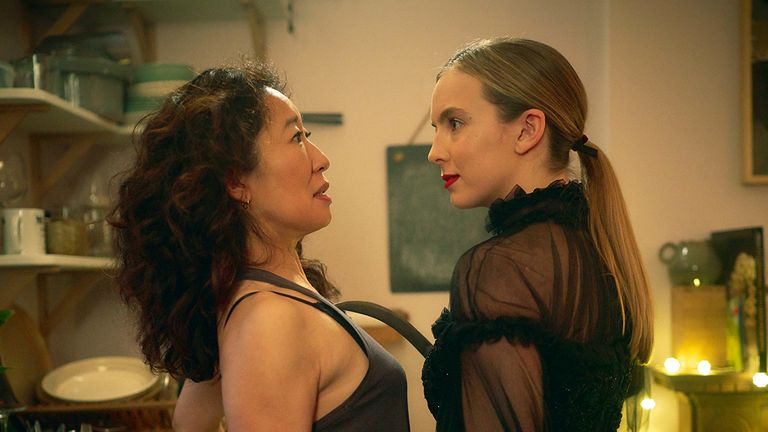 (Image credit: BBC )
Say it isn't so! Killing Eve season 4 will be the end of the show, bosses have confirmed. The eight-episode run will be our last fix of Villanelle and Eve chasing each other across the globe, so we should get all of our burning questions answered. 
The show is welcoming a new lead writer, Sex Education's Laura Neal, to head up its fourth and final season. It's not all doom and gloom however, as Variety reports that the production companies behind the show are working to develop spin-offs in future. 
"Killing Eve has been the most extraordinary journey and one that I will be forever grateful for," Villanelle actor Jodie Comer said of the news. "Thank you to all the fans who've supported us throughout and come along for the ride. Although all good things come to an end, it's not over yet. We aim to make this one to remember!"
More from woman&home:
• Line of Duty Season 6: we finally have a date for AC-12's return
• When is This Is Us Season 5 back? Here's when Episode 11 will air
• How to watch Locked Down starring Anne Hathaway from anywhere in the world
"Killing Eve has been one of my greatest experiences and I look forward to diving back into Eve's remarkable mind soon," said Sandra Oh, who plays MI5 agent Eve Polastri. "I'm so grateful for all cast and crew who have brought our story to life and to the fans who have joined us and will be back for our exciting and unpredictable fourth and final season."
What is Killing Eve about? 
Based on the Codename Villanelle books by Luke Jennings, Killing Eve was first adapted for our screens by Fleabag icon Phoebe Waller-Bridge and follows MI5 agent Eve Polastri and assassin Villanelle, played by Sandra Oh and Jodie Comer respectively. The pair end up chasing one another around the world in a twisted, obsessive game of "cat and mouse". As well as being gripping as hell it delivers almost endless killer fashion moments and, err, lots of grisly deaths. 
Do we have a Killing Eve season 4 release date yet? 
For now, all we know is that the show's fourth series will premiere in 2022. Filming was due to start at the start of 2020 but was delayed by, you guessed it, the coronavirus pandemic. The show's third season aired during the first half of 2020. 
Killing Eve Season 4 Trailer
As yet, there's no trailer for Killing Eve's fourth season (makes sense as filming isn't due to start until the summer). However, the show's Twitter account has posted the below teaser.
* Warning – if you're not caught up, spoilers for the most recent season of Killing Eve lie ahead! *
Anything worth having is worth the wait. #KillingEve pic.twitter.com/YCbdDPE8jtMarch 16, 2021
See more
What happened in Killing Eve Season 3? 
Both of the first two seasons ended – first Eve stabbed and seemingly left Villanelle for dead, then Villanelle shot Eve and left her for dead. (They have a complex relationship.) The third season ended on a far less life-threatening note, but a big cliffhanger nonetheless. Eve and Villanelle agreed to part ways and "never look back" – but both turn when near opposite ends of the bridge. Something tells us it won't take long for these two to be reunited, somehow.
The season also came with the revelation that Villanelle wanted out of her job as an assassin working for The Twelve. The show has previously shown viewers how tricky it is to untangle oneself from The Twelve, so how things will end for our young assassin remains to be seen.
How to watch Killing Eve Seasons 1-3
Not completely up to date on the most recent episodes of Killing Eve? You've plenty of time to catch up; seasons 1-3 are available to watch online on BBC America's website and on BBC iPlayer in the UK. 
Don't know about you, but we're already excited to get stuck in to the final instalment. 2022 can't come quickly enough!