Killing Eve season 4—everything you need to know before Jodie Comer returns in the chilling thriller
Killing Eve season 4 is already filming and it's set to be the show's last series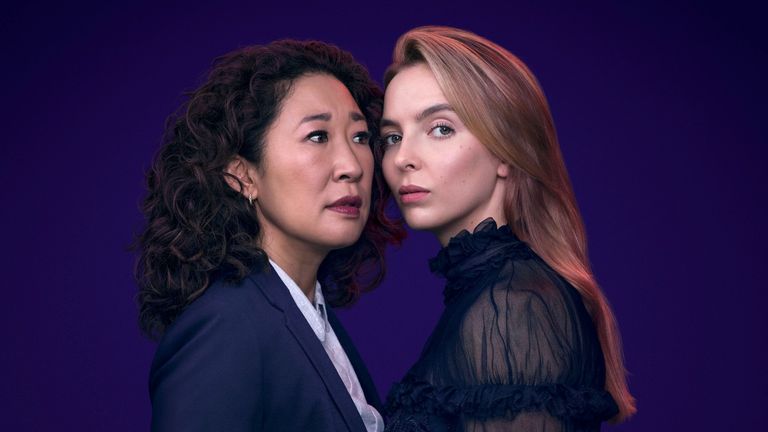 (Image credit: BBC)
Killing Eve season 4 has been on every fan's mind since season 3 ended with assassin Villanelle and intelligence investigator Eve seemingly walking away from each other in a twist we didn't see coming.
Killing Eve season 4 can't come fast enough for fans after the hit thriller captivated viewers' imaginations with it's chilling depiction of the cat-and-mouse battle between assassin Villanelle and MI5's Eve Polastri. Based on the Codename Villanelle books by writer Luke Jennings, Killing Eve was first adapted for our screens by Fleabag icon Phoebe Waller-Bridge and the show's fast-paced nature makes it perfect for fans of thrillers such as Vigil. It features many brutal scenes that shocked fans and stars Sandra Oh opposite Jodie Comer as the protagonist and her nemesis.
Killing Eve went on to be crowned the most-watched BBC show of 2019 and now having concluded its dramatic third season, Killing Eve season 4 is filming. With the Killing Eve season 4 release date edging closer, viewers will no doubt be looking forward to seeing their two favorite characters return to playing their deadly games.
Here we reveal all you need to know about Killing Eve season 4 ahead of the hit thriller's final outing.
*Warning: spoilers ahead!*
---
Is Killing Eve over or will there be a Killing Eve season 4?
Much to the delight of fans everywhere, Killing Eve season 4 was officially confirmed earlier this year. Though the news was perhaps a little bittersweet for Killing Eve fans as the BBC and AMC confirmed that Killing Eve season 4 would be the show's last.
As reported by Digital Spy, Dan McDermott, president of original programming for AMC Networks explained in a statement, "Killing Eve exploded in popular culture and attracted a dedicated and committed fan base from its very first episode".
He continued, "We could not be more thankful for the extraordinary talents and efforts of everyone involved, particularly Sandra and Jodie, who made Killing Eve much more than a television show. We look forward to what is sure to be an unforgettable final season."
This means that Killing Eve will soon be over and it's not just viewers who were left emotional at the news, as stars Jodie Comer and Sandra Oh shared their thoughts on the prospect of saying goodbye to their characters.
"Killing Eve has been the most extraordinary journey and one that I will be forever grateful for," Jodie Comer declared, as reported by Variety. "Thank you to all the fans who've supported us throughout and come along for the ride. Although all good things come to an end, it's not over yet. We aim to make this one to remember!"
Whilst Sandra echoed her sentiments, stating, "Killing Eve has been one of my greatest experiences and I look forward to diving back into Eve's remarkable mind soon. I'm so grateful for all the cast and crew who have brought our story to life and to the fans who have joined us and will be back for our exciting and unpredictable fourth and final season."
But whilst Killing Eve season 4 sadly marks the end of the hit show, however, it's not all doom and gloom. It's been reported that the production companies behind the show are working to develop spin-offs in future, so great news for Killing Eve fans!
What is the Killing Eve season 4 plot?
Killing Eve season 4 plot hasn't officially been confirmed yet, though there are plenty of possibilities after season 3's unnervingly peaceful ending. Both Killing Eve season 1 and 2 raced towards a dramatic conclusion, with the first seeing Eve stab and seemingly leave her nemesis Villanelle for dead. Whilst in season 2, it was the other way around, with Jodie Comer's Villanelle leaving Eve for dead. However Killing Eve season 3 ended on a far less threatening note, though with an equally unexpected cliff-hanger.
We last saw Eve and Villanelle in Killing Eve as they agreed to part ways and "never look back", though both break this promise pretty quickly, turning when they have reached opposite ends of the bridge where the conversation took place, possibly suggesting a potential reunion between the two in season 4.
Season 3 also saw Villanelle suggest that she wanted out of her job as an assassin working for the mysterious group, The Twelve. For a moment it seemed she was potentially going to join MI6 as a way out, though that never ended up happening. But with The Twelve known to not take too kindly to people trying to untangle themselves from their clutches, what fate awaits Villanelle remains to be seen.
As reported by the Daily Mail, Killing Eve star Jodie Comer, who plays Villanelle, opened up about filming her scenes for Killing Eve season 4 during an interview with NBC.
Discussing how Killing Eve season 4 is progressing so far, she revealed, "We have definitely got off to an exciting start. I think now, because we know it's the final season they are definitely pushing boundaries, especially with Villanelle."
Jodie continued, "Where we open with her is totally bonkers and brilliant. I hope people finally enjoy it when it hits the screen."
And that's not all that Jodie has hinted at when it comes to potential directions Killing Eve season 4 could take in terms of plot.
During an interview with W magazine last year, she also expressed her belief that the shift in Villanelle from cold-blooded killer to trying to get out of The Twelve for good could continue.
"I've said this before, but it's tricky for me because I feel like Villanelle's own worst enemy is herself. And I just don't know how you ever get away from that. Thinking about the person she is, I feel like she's going to be the cause of her own demise in many ways," Jodie said.
"So we will see. We see a very different side to her in season 3, so I'm hoping and looking forward to how the writers keep what we love about Villanelle but also find new ways of exploring certain things, like her interactions with Eve. I think there was a big shift in season 3, so I think that definitely has to continue in some way going forward," she added.
So whilst nothing has been officially announced regarding the Killing Eve season 4 plot, as the show ties up all the loose ends, fans might get to see even more sides of Villanelle and her deep bond with Eve as the assassin's journey to try and leave her murderous past behind her plays out.
Who is in the Killing Eve cast?
Killing Eve cast list:
Eve Polastri—Sandra Oh
Oksana Astankova AKA Villanelle—Jodie Comer
Carolyn Martens—Fiona Shaw
Konstantin Vasiliev—Kim Bodnia
Geraldine Martens—Gemma Whelan
Perhaps the most recognizable of all the Killing Eve cast members are Jodie Comer as Villanelle and Sandra Oh, of Grey's Anatomy fame, as Eve. It's thought a surprising public figure inspired Villanelle and Jodie has previously discussed her excitement at getting to act alongside Sandra and their connection off-screen.
Speaking to Digital Spy and other press ahead of the BAFTA Television Awards, Jodie shared, "What's incredible is sometimes you get to set and you can act with people and it can work well and it can be great and then sometimes, a handful of times, you can meet someone and there is so much that goes unsaid.
"There's a really strong connection and I feel like I found that, felt that, with Sandra from the moment I auditioned with her," she added.
Meanwhile, Sandra, who earlier this year delivered a powerful speech at a Stop Asian Hate rally, is also the Co-Executive Producer on the show. She has previously told the RadioTimes about how she feels Killing Eve's focus telling the story of these two determined female characters and their relationship is what sets it apart from other shows.
She revealed, "[T]he focus is unabashedly about the relationship and the psyche of these two female characters. There are plenty of shows where there are two women running around doing things. But the focus of this show – how much our characters are involved with each other in a deeply psychological way – is what's different.
"We've been investigating and living in the white, male psyche, and suddenly, when something else pops up, you think, 'Wait, that feels more like me!'" she added.
They are joined as main cast members by Harry Potter star Fiona Shaw who played Aunt Petunia in the magical films and it was her Killing Eve character who was originally meant to be portrayed by someone different in the thriller. Fiona plays Carolyn, Head of the Russia Section at MI6, whilst fellow main cast member Kim Bodnia portrays Villanelle's handler, Konstantin Vasiliev, and Game of Thrones actor Gemma Whelan joined the cast in season 3 as Carolyn's daughter Geraldine.
With so many wonderful actors having appeared throughout each of the seasons, who knows who else could end up making their Killing Eve debut in season 4?
Did Phoebe Waller-Bridge write Killing Eve?
Fleabag writer and actor Phoebe Waller-Bridge, who has recently quit the new Mr and Mrs Smith TV series, headed up the writing team on Killing Eve season 1. She was also the one who first adapted Luke Jennings' books for television in the form of Killing Eve. Since season 1 the head writer on each Killing Eve season has changed, with The Crown actor Emerald Fennell and Suzanne Heathcote taking up the mantle in seasons 2 and 3 respectively. Killing Eve season 4 has welcomed Sex Education's Laura Neal, to head up the writing on its final season.
Killing Eve Season 4 Trailer
With filming having only just started, it perhaps won't come as a surprise that there has not yet been an official Killing Eve season 4 trailer released. However, the teaser trailer that was previously shared by the Killing Eve official Twitter account is certainly building the anticipation.
Anything worth having is worth the wait. #KillingEve pic.twitter.com/YCbdDPE8jtMarch 16, 2021
See more
What is the Killing Eve season 4 release date?
At the moment, no official Killing Eve season 4 release date has been announced, though it's thought that it will likely premiere in 2022 on the same broadcasting networks that aired previous series, the BBC, BBC America and AMC. Filming was due to start at the start of 2020, but just like with many other shows, production is understood to have been delayed by the Covid-19 pandemic, before filming for Killing Eve season 4 started in June. With several of the previous seasons, Killing Eve has been released in the spring in the US on BBC America, ahead of landing on the BBC a few months later.
The change to the filming schedule might well mean that this particular time-frame might not continue for the last season. It seems fans will just have to be patient as they wait for Killing Eve season 4 to land on our TV screens, though there's plenty of other episodes to enjoy in the meantime.
Is Netflix getting Killing Eve?
Sadly for Netflix subscribers, Killing Eve's three previous spellbinding seasons are not currently available to watch on the streaming platform. Though there's good news for Hulu subscribers, as this is where fans should head if they're looking to catch-up on all the Villanelle and Eve action they might have missed ahead of Killing Eve season 4. A Hulu subscription starts from $5.99 a month and you can also get a free trial for one month before you sign-up to see if Hulu's right for you.
Whilst for anyone in the UK, all episodes of Killing Eve seasons 1-3 are available to watch on BBC iPlayer for free. So no matter which scenes you can't help wanting to revisit, there's plenty of time to binge-watch your way through this iconic thriller before King Eve Season 4 is released.
Will you be eagerly counting down the days until Killing Eve season 4 lands?