Killing Eve season 4—which cast members have returned and what to expect from the hit drama's sinister final season
Killing Eve season 4 is back with a vengeance, but how will Eve and Villanelle's cat-and-mouse game end?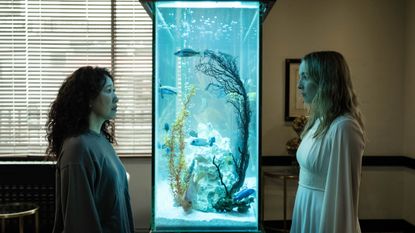 (Image credit: BBC)
Killing Eve season 4 promises to bring Eve and Villanelle's twisted tale to a gripping conclusion as the countdown to the final episode ever continues.
Killing Eve season 4 couldn't come fast enough for long-time fans and the sad confirmation that it would be the show's last has only added to the anticipation. Now back on our screens after two years, the hit BBC drama is perfect suspenseful viewing for anyone who can't get enough of the shocking twists and turns in Trigger Point ITV and Chloe BBC ending.
Killing Eve was inspired by Luke Jennings' Codename Villanelle books and was even crowned the most-watched BBC show of 2019. But now fans know when Killing Eve season 4 is on, many will be wondering what to expect when it comes to resolving things between intelligence officer Eve Polastri and assassin Villanelle.
Here we reveal which Killing Eve cast members returned for season 4, what you can expect from the final season and how many episodes there are before the finale…
*Warning: spoilers ahead!*
Who's in the Killing Eve season 4 cast?
Killing Eve season 4 cast members:
Eve Polastri—Sandra Oh
Oksana Astankova AKA Villanelle—Jodie Comer
Carolyn Martens—Fiona Shaw
Konstantin Vasiliev—Kim Bodnia
Hélène—Camille Cottin
May—Zindzi Hudson
Phil—Steve Oram
The most prominent Killing Eve cast members to return for season 4 are Sandra Oh as titular character Eve Polastri and Jodie Comer as her nemesis-turned-potential-love-interest Villanelle, who was inspired by a public figure. Killing Eve season 4 just wouldn't work without them and with the layers of emotional depth being stripped back more and more over the seasons, there's so many directions the final season could take the duo.
Opening up to TheWrap about the return of Killing Eve season 4, Jodie shed light on how Villanelle apparently attempting to change her ways this season. And it seems she's just as distrustful of her character as viewers are.
"It's interesting because I feel like Villanelle wants to on the surface, but … I'm not quite sure she knows who she's trying to change for," she explained. "It's like she's trying to prove something to everyone around her who's telling her she's incapable of doing it. So, it isn't coming from a truthful place."
Whilst Sandra Oh, perhaps best known outside Killing Eve for her role on medical drama Grey's Anatomy reflected that Eve has actually grown a lot herself in season 4.
She told the publication, "I'd say at the very beginning, Eve's change is much more integrated. You see her visually how she's trained. You see how she's taken on certain personas. You see how she's integrated elements of Villanelle, you know, and is putting it into practice that serves her own revenge mission."
In Killing Eve season 3, the two characters agreed to go their separate ways and walk away, departing for opposite sides of London bridge. Remarking upon this, Sandra added that Eve and Villanelle have come a long way in the time that's passed between then and season 4.
"So, that is definitely something that I really wanted to start the season with—that we felt there was a bit of time that passed between the bridge, and that they are at very different places and at their different places in accepting each other quite truthfully. But I do feel like we do get to that point."
Ultimately, regardless of how things go between their characters, Sandra and Jodie couldn't be more perfect at bringing them to life on screen. Speaking to Digital Spy and other press ahead of the BAFTA Television Awards 2021, Jodie got candid about the "incredible" time she has working alongside Sandra.
"What's incredible is sometimes you get to set and you can act with people and it can work well and it can be great and then sometimes, a handful of times, you can meet someone and there is so much that goes unsaid. There's a really strong connection and I feel like I found that, felt that, with Sandra from the moment I auditioned with her," she said.
Killing Eve season 4 has also seen the return of several other main cast members including Harry Potter star Fiona Shaw. Her character, Carolyn Martens is the former Head of the Russia Section at MI6 and was originally meant to be portrayed by someone different in the thriller. Already dwelling in the murky world of espionage, things are made more difficult for Carolyn this season as she has now been demoted.
After shooting her co-worker Paul in front of Villanelle's handler, Konstantin Vasiliev (played by Kim Bodnia) last season, she's now a cultural attaché. But whilst she might hate her job, she's got revenge on her mind too as Carolyn attempts to avenge her son Kevin's death by tracking down mysterious group, The Twelve—the same group Villanelle is trying to disentangle herself from and the group Paul was linked to.
Konstanin is also back as a regular Killing Eve cast member and as a handler and an employee of The Twelve, his arc could be one of the most interesting. After all, if anyone knows how far Eve and Carolyn are prepared to go it's him...
Sandra, Jodie, Fiona and Kim are also joined by Camille Cottin as Hélène, a senior figure in The Twelve who was introduced in season 3. New Killing Eve cast members this season include Zindzi Hudson as May and Steve Oram as Phil the vicar and May's father who is a little suspicious of church newcomer Villanelle and her bond with his daughter.
What can you expect from Killing Eve season 4?
With Killing Eve season 4 currently only a few episodes in, it's not yet clear exactly where the showrunners are taking Villanelle and Eve. However, if you loved all the intense moments that happened in No Return and couldn't wait to see if The Holiday book ending was just as dramatic as the show, then it's likely you won't be left disappointed as Killing Eve season 4 continues.
We last saw Eve and Villanelle in Killing Eve as they agreed to part ways and "never look back", though both break this promise pretty quickly, turning when they have reached opposite ends of the bridge. Season 3 also saw Villanelle suggest that she wanted out of her job as an assassin working for the mysterious group, The Twelve.
Now in Killing Eve season 4 Villanelle has turned to religion and Eve is determined to bring The Twelve to justice. And season 4 showrunner Laura Neal enjoys the changes that have taken place, revealing to Collider that this season the cat-and-mouse game between them will never be the same again.
"In terms of their relationship towards one another, I was excited by this idea that they're now in a place where they can find each other very easily, that the cat-and-mouse game has moved on. It's not like one of them is chasing the other necessarily," she said, remarking on a major difference between season 4 and previous seasons.
Instead, Laura disclosed that Eve has reached a realization that if she lets Villanelle in, she can't get things done. Nothing is more important to Eve this season that getting revenge on The Twelve and with her marriage over and Villanelle at least temporarily placed to one side, it looks like nothing will get in her way.
"I was really excited by this idea of an Eve untethered and an Eve who has finally done away with doing the right or the good thing, and now she's just doing what she wants to do for herself," Laura continued.
"She doesn't have any responsibility, she can act without fear of the consequences because she's kind of burned everything to the ground in her life. That feels like an Eve that we've never seen before, and that feels really exciting to me. It kind of feels like she's almost come full circle."
Full circle she may have come, but whilst Eve and Villanelle's relationship has changed in a major way, Sandra Oh's character isn't done with "dangerous women". Speaking to Entertainment Weekly ahead of the Killing Eve season 4 premiere Laura teased that Eve could transfer her obsession with Villanelle to The Twelve's Hélène.
Laura shared, "[Hélène] allows us to explore Eve's obsession with dangerous women through another dangerous woman. And what's exciting is that Eve is meeting this dangerous woman [as] a very different Eve to the Eve that she was when she met Villanelle."
"So what does it mean to Eve now to interact with somebody like Hélène, having been through what she's been through with Villanelle, having doled out chaos, having chaos thrust upon her?" the writer speculated. "How has that changed how she reacts to this kind of woman?"
With many episodes still to go before fans finally get the answer, it seems that the battle between The Twelve and the forces of justice in Killing Eve is going to be the focal point of the season. With Carolyn also desperate to bring the group down, Eve isn't alone in this ambition.
But just how much it could cost them and which side Villanelle will ultimately take is something that will be keeping us hooked until the very end…
How many episodes of Killing Eve season 4 are there?
Based on the number of episodes in previous installments, it's thought that Killing Eve season 4 will most likely be eight episodes long. Season 4 will air on a weekly basis, with the last ever episode of Killing Eve expected to be broadcast around April 10th in the US and April 11th in the UK.
Sadly, for anyone hoping for a last-minute renewal of the hit show, fans received confirmation that season 4 would definitely be the final one almost a year ago now. As reported by Digital Spy, Dan McDermott, president of original programming for AMC Networks explained in a statement, "We could not be more thankful for the extraordinary talents and efforts of everyone involved, particularly Sandra and Jodie, who made Killing Eve much more than a television show. We look forward to what is sure to be an unforgettable final season."
This means that Killing Eve will soon be over and it's not just viewers who were left emotional at the news, as stars Jodie Comer and Sandra Oh shared their thoughts on the prospect of saying goodbye to their characters.
"Killing Eve has been the most extraordinary journey and one that I will be forever grateful for," Jodie Comer declared, as reported by Variety. "Thank you to all the fans who've supported us throughout and come along for the ride. Although all good things come to an end, it's not over yet. We aim to make this one to remember!"
Sandra echoed her sentiments, stating, "I'm so grateful for all the cast and crew who have brought our story to life and to the fans who have joined us and will be back for our exciting and unpredictable fourth and final season."
But whilst Killing Eve season 4 sadly marks the end of the hit show, however, it's not all doom and gloom. It's been reported that the production companies behind the show are working to develop spin-offs in future.
And although the final Killing Eve episode will be bittersweet, Laura Neal already has another word for it: glorious!
"That felt like a key word. We threw it around a lot when talking about the final episode. The final episode could be a hundred different things, but it had to be glorious," she told EW.
Lucy is a UK-based beauty journalist who has written for the likes of Marie Claire, Cosmopolitan, OK!, Women's Health and more, as well as contributing to woman&home. Her work covers everything from expert skin and haircare tips to the latest product launches and the show-stopping beauty looks spotted backstage at London Fashion Week. During her career she's interviewed some seriously famous faces, from Little Mix to Drag Race royalty The Vivienne, as well as chatting to the industry's leading hairdressers, dermatologists and make-up artists.